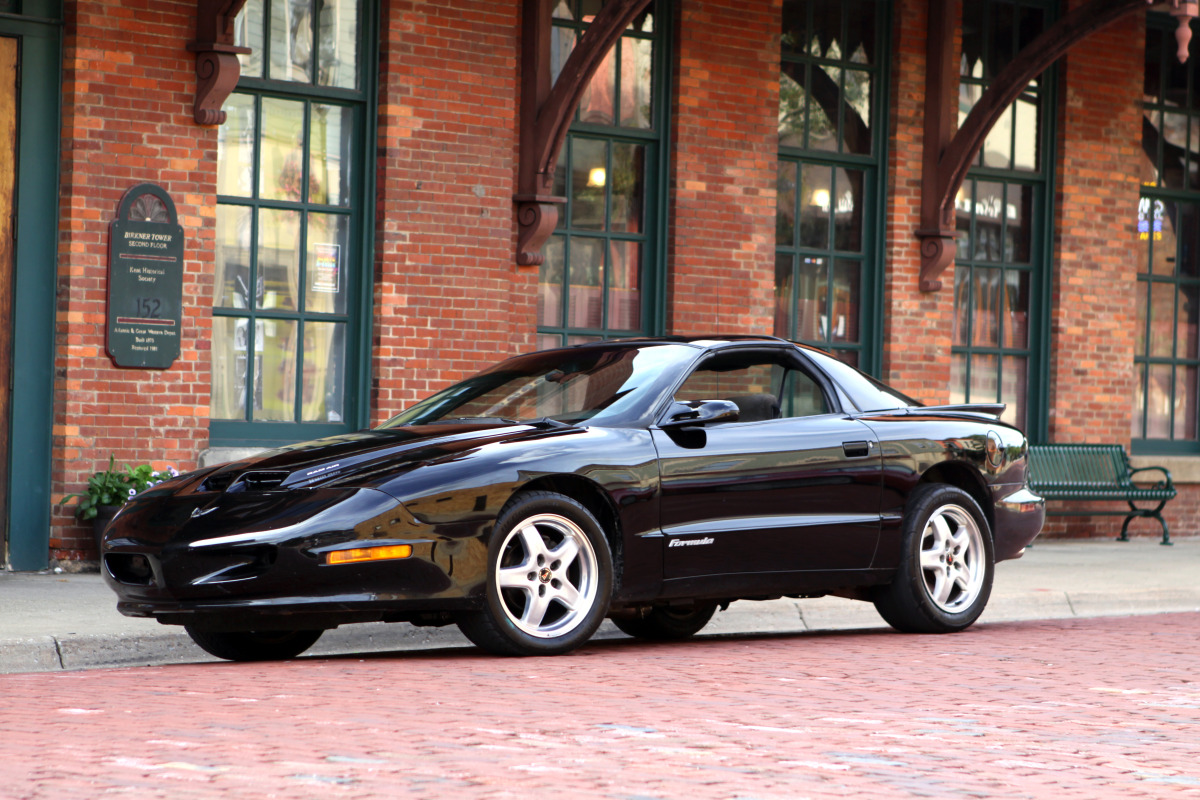 *Photography by: Beck Photography
In a small town in rural Ohio, this unassuming 4th-Gen Firebird roams the highways and byways on the prowl for unsuspecting Mustangs and imports. Looking much like an LT1-era Firehawk with the timeless "Speedline" wheels, it's actually an LS3-swapped '94 Formula; with an SLP hood, '02 WS6 rollers, and subtle '98-02 Firebird taillights. Oh, and there are a set of factory-painted silver '98-02 Formula door badges, too.
Owned by none other than your author's younger brother, Tom Seitz, a General Motors assembly-line worker at the Lordstown, Ohio plant, this Formula wasn't always so pretty. Purchased back in the summer of 2004 with its original slushbox-shifted LT1, the as-delivered condition of this Firebird left a lot to be desired.
As Tom recalls, "I bought it as my first car. While the engine itself ran flawlessly, the Formula needed a lot of work. The guy who sold it to me, my friend Gary, picked it up as a cheap and fun daily driver from a "budget" used car lot, but was convinced that there was somehow an 85-mph speed governor programmed into the car's ECU.
Weirdly, the entire circle of 'car guys' I hung out with at the time all agreed as well. It would seemingly hit a wall in acceleration once the speedometer hit that '85 mph' mark. Looking to unload the car quickly as a result of this (and too many other projects), I ended up scoring it pretty cheap considering the time period. Plus, I just really wanted a V8 Firebird as my first car."
"I bought it as my first car. While the engine itself ran flawlessly, the Formula needed a lot of work." -Tom Seitz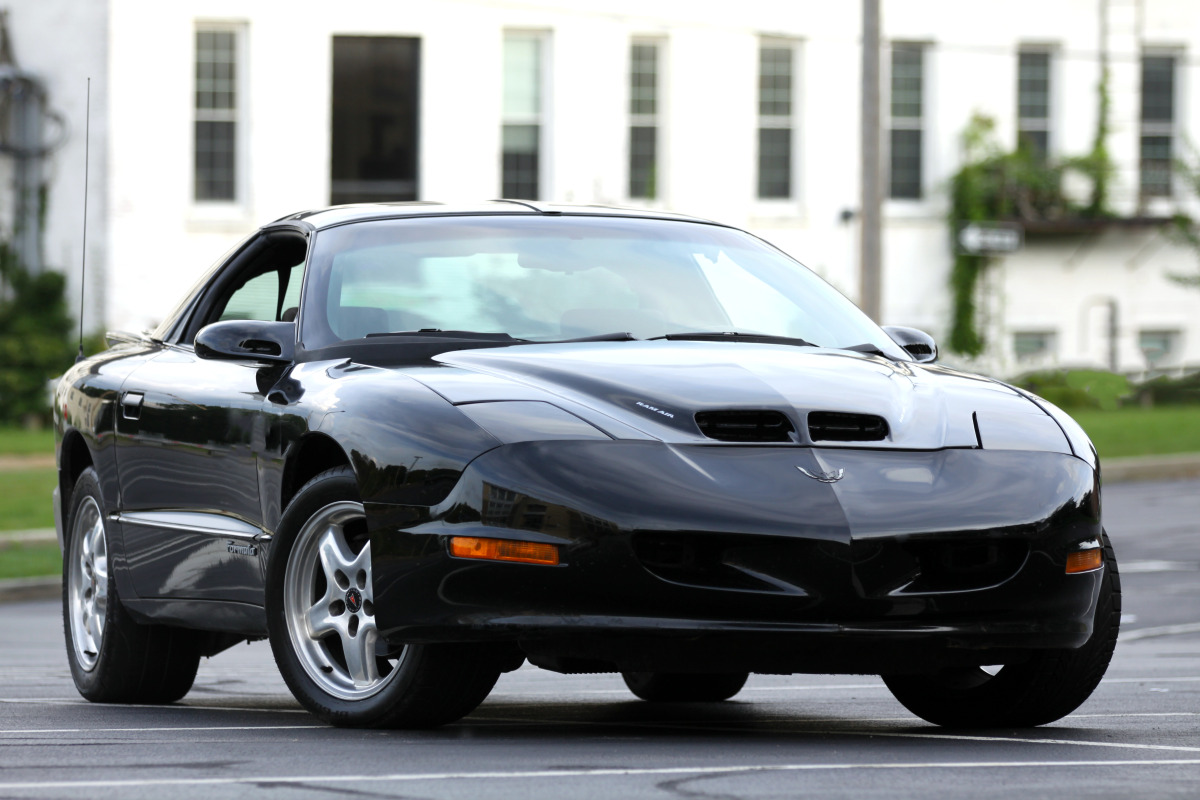 As it turned out, that "governor" was actually a bad U-joint in the driveshaft. During some spirited "testing in Mexico," Tom goosed the throttle once the car hit 85 mph, and the then 10-year old Pontiac began to accelerate (very rapidly) all the way up to 120 mph – or at least until he felt assured that there wasn't anything otherwise limiting the car's performance. Having discovered the culprit, he elected to forgo a simple U-joint repair, and instead, picked up an aluminum LS1 driveshaft from a member on Fbody.com.
That was only the beginning of his problems, however; the front bumper had cracks in several places, the hood was dented up, the driver's side fender had a chunk missing out of it, a cracked driver's side turn signal lens resided up front, and as he later found out, the front subframe was tweaked a bit in the front – all of which resulting from a careless previous owner (prior to the guy Tom bought it from). Throw in random scrapes and scratches on various parts of the body, and a busted taillight, and to say it was a fixer-upper would be an understatement. Luckily, the interior and the rest of the drivetrain were still relatively sound.
What you're looking at is 525 horsepower of Chevrolet Performance, plus a set of Hooker long-tube headers, an Airaid UBI kit, and a BMR strut tower brace helping tie it all together. Tom also installed a chrome BMR radiator support, too!
So Tom enlisted the help of his friends and family, and rebuilt the front end, literally, in his backyard. He ordered up the ram air hood, airbox, and a chambered Loudmouth catback exhaust directly from SLP,  and stuck a K&N filter inside the 'box. Up next was a BMR strut tower brace and Eibach lowering springs, ordered and recieved from Summit Racing. In the meantime, his older brother (who eagerly wanted Tom to ditch the OEM 16×8 "salad shooter" wheels for something slightly more attractive), decided to donate his OEM '02 WS6 17×9-inch wheels to the cause – which helped improve handling and looks, significantly.
He then had a local body shop handle the final paint and bodywork, and while it was in the shop, he picked up the aforementioned honeycomb taillights and door badges from Pace Performance. "I'm on a first name basis with all of those guys over there," Tom relates, but more on that in a minute.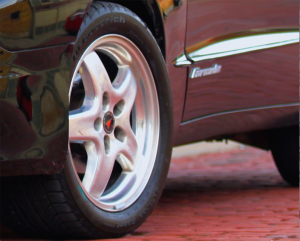 Once the car was out of the shop, Tom enjoyed the Firebird for a season or two as a low 14-second, summertime daily driver. He would later go on to install a set of cost-effective, but effective, ceramic coated Pace Setter headers and off-road Y-pipe, 3.73 gears, Moser Engineering axles, and after getting tired of bottoming out and scraping his recently painted front end, he swapped out the Pro-Kit for Eibach's line of drag springs, which lifted the front up high enough to clear the Ohio potholes and help keep the rear planted firmly to the pavement on the Quaker City Motorsports Park dragstrip. He was now solidly deep into the 13s, but he yearned for more.
Fast-forward to 2011, a few more bolt-ons, a speeding ticket or two, and countless sanctioned and unsanctioned racing events, and Tom was getting the itch for something much more significant – 13s wasn't going to cut it for him anymore.
Initially planning on a Golen-built LT1 383 stroker, Tom ultimately "settled" on a brand new LS3 crate engine. But not just any LS3, oh no. Tom felt that if he was going to put in the overtime at work, scraping by and saving for the purchase, in cash, he wanted to make sure it was all worth it. Having just learned about the then latest LS3 crate engine from Chevrolet Performance, the LS376/525, he promptly placed the order with Allen at Pace Performance.
To make things more interesting, as it turns out, Tom believes he was the very first person (of the general public, at least) on the ordering list for that particular crate engine. Partly because he ordered it the very day it was released, and partly because he was told that there were no other orders in front of him in the system for that engine. To say he was stoked, and pleasantly surprised, is putting it mildly.
Knowing that a stock LT1-era 4L60E wouldn't be able to handle the power and torque of the cam'd LS3, much less, the abuse Tom had planned on throwing at it, he enlisted the the services of Rossler Transmission in Girard, Ohio. Tom personally dealt with the man himself, Carl Rossler, when ordering up the Stage 3 4L60E that came with the necessary LS-style bellhousing. Backing up the 4L60E is a Strange S60 rear differential with 3.73 gears, while a Yank 3600-stall converter sits between the LS3 block and the 4L60E.
He enlisted the help of his buddy, Brian Sabo, and yours truly to perform the swap in Tom's garage. Using nothing more than jackstands, simple hand tools, a few reference manuals,  and a cherry picker from Summit Racing, the homebuilt hot rod is a genuine example of putting in the work yourself. Well, most of it.
Tom owes a huge thanks to Hutter Performance for working out  the kinks, handling the final wiring, and performing the dyno tune using HP Tuners software. The fruits of their labor truly paid off, and although there were a few issues on the dyno preventing Tom from making solid numbers, the simple bolt-on LS3 crate engine equipped with a mild street cam put this '94 Formula solidly in the 11.30s, with a time of 11.37 at 116 mph being Tom's current best. Naturally, he's just getting started.
While he won't comment on what his future plans are, don't be too shocked to see this thing putting down 4-digit power numbers to the rollers in the not too distant future.
TECH SHEET
CAR: 1994 Firebird Formula
OWNER: Tom Seitz
ENGINE: Chevrolet Performance LS376/525 (LS3)
BLOCK: Stock LS3
COMPRESSION RATIO: 10.7:1
CRANKSHAFT: Stock LS3
PISTONS: Stock LS3
CONNECTING RODS: Stock LS3
CYLINDER HEADS: L92 "as cast" 68cc
INTAKE MANIFOLD: Stock LS3
CAMSHAFT: Chevrolet Performance; Lift .525 intake .525 exhaust , Duration 226 intake, 236 exhaust, centerline 110 LSA
INDUCTION: AIRAID; UBI cold-air kit, 4-inch diameter tubing
EXHAUST: Hooker 1-7/8″ stainless steel long-tube headers and ORYP, SLP Loudmouth catback
FUEL DELIVERY: Aeromotive 340 pump, stock LS3 injectors
TRANSMISSION: 4L60E; Stage 3, built by Rossler Transmissions
CONVERTER: Yank; 3600-stall
DRIVESHAFT: Strange; 3-inch Chromemoly
DIFFERENTIAL: Strange; S60, 3.73 gears
SUSPENSION (front): BMR solid upper and lower adjustable A-arms, Eibach springs, KYB struts, stock sway bar
SUSPENSION (rear): Eibach drag springs, KYB shocks, stock sway bar
CHASSIS: BMR K-member, strut tower brace, subframe connectors and adjustable torque arm
REAREND: Strange S60, 35-spline axles, 3.73 gears
BRAKES: Stock
WHEELS: OEM '02 WS6 T/A 17×9
TIRES: BFG G-Force Sport Comp2;  275/40/17 (front), M/T ET drag radials 275/40/17 (rear)
BEST ET: 11.37 at 116 mph
BEST 60-FT: 1.53
Rick Seitz is the owner and founder of AutoCentric Media, and has a true love and passion for all vehicles; GM, Ford, Dodge, imports, trucks — you name it! When he isn't clacking away on his keyboard, he's building, tuning, driving or testing his current crop of personal projects!