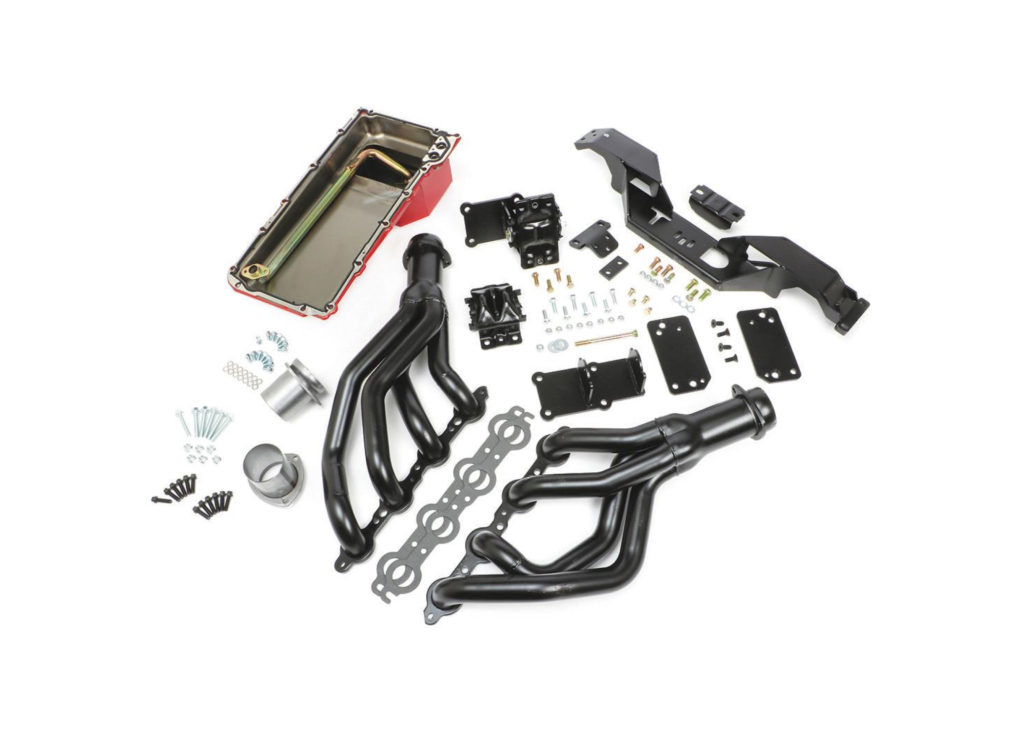 Official Release:
Trans-Dapt Swap-In-A-Box Complete Engine Swap Kits Make Swaps Easy(er)
 Back in the olden days, doing most engine swaps required a lot of work before you even turned a wrench. You had to determine if the engine would fit in your vehicle, then you had to source parts like engine mounts, an oil pan, and headers and hope they would all work together. More often than not, you had to modify factory parts or fabricate them yourself.
It's a different world today. Swap kits are readily available for putting all sorts of engines into all sorts of vehicles. Take Trans-Dapt's Swap-In-A-Box Complete Engine Swap Kits. Trans-Dapt got together with Hedman Headers and Hamburger's Performance Products to engineer kits that make engine swaps easy-peasy. Each kit includes these parts:
Hamburger's engine swap oil pan and pickup
• Hedman swap headers depending on application
• Trans-Dapt motor mounts and pads
• Required gaskets and hardwareMany kits also include a transmission crossmember and mount pad for an automatic or manual transmission. But the biggest choice you'll have to make is which headers you want—shorty, mid-length, or full length; steel, stainless steel, silver or black ceramic-coated; primary diameter—the whole nine yards.
Summit Racing has Trans-Dapt Swap-In-A-Box Complete Engine Swap Kits for GM LS, small block Chevy, and small block Ford engines. There are 75 kits just for LS engine swaps alone, and 38(!) kits for plopping a 1955-2000 small block Chevy in a Chevy or GMC S-series truck based on engine year, transmission, and header choice. Sheesh, that's a lot.
GM LS Applications
1967-81 Camaro and Firebird
• 1964-72 GM A-body
1968-74 Nova
1978-88 GM A- and G-body
• 1967-87 Chevy/GMC C10 pickup
1982-2005 Chevy S-10 pickup and Blazer
1976-86 Jeep CJ5 and CJ7
Small Block Chevy Applications
1982-2005 Chevy S-10 pickup and Blazer including 4WD models
1972-86 Jeep CJ5, CJ6, CJ7
Small Block Ford Applications
1983-97 Ranger pickup 2WD
SEE TRANS-DAPT SWAP-IN-A-BOX COMPLETE ENGINE SWAP KITS AT SUMMIT RACING
AutoCentric Media is the fastest-growing all-encompassing digital magazine, catered to automotive enthusiasts from all walks of life, with various interests.