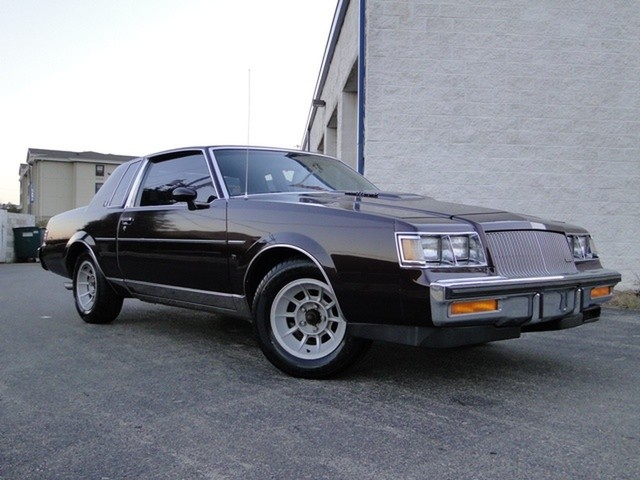 While pounding away at our keyboard today, we thought we would pick our favorite Top Five late-model GM sleepers form over the last few decades. What can we say, we're always thinking about cars around here.
When it comes to sleepers, or cars that provide a large amount of upfront performance or easily obtainable performance from an otherwise unassuming outward appearance (the '60s and early '70s were riddled with cars like these), the pickings were slim in later years. Mostly because after the energy crisis of the late-70s, any car that offered a smidgin of power typically had a ton of body add-ons and graphics covering the body.
So looking back over the last few decades, we thought long and hard of what can be considered a "sleeper" by today's standards. While there are certainly examples that could just as easily qualified as the cars listed below, such as the Trailblazer SS or its Saab cousin, the 9-7x Aero, we've elected to focus strictly on coupes and sedans for this list.
1. 1984-1987 Buick Regal T-Type/Turbo-T
While the Regal T-Type was actually launched for the 1983 model year, it would be the 1984 and later versions that would help its blacked-out stablemate, the Grand National, set the tone for '80s performance. Being available in the same interior and exterior color treatments like the Regal your grandpa drove, and packing the same 200hp/300lb-ft. in '84 and '85, 235/335 in '86, and 245/355 in 1987 like the GN, the T-Type/Turbo-T was a wolf in sheep's clothing.
In fact, thanks to their aluminum wheels, bumper supports, and lack of a rear spoiler, they were typically a little lighter and slightly quicker in the 1320′ than a similarly-equipped Grand National – making them easy high-13 second cars right out of the box. Throw a few mods at them, and you would be deep in the 12s for chump change.
2. 1994-1996 Chevy Caprice LT1/9C1
When the Impala SS hit the market for the 1994 model year, pretty much everyone who loved musclecars fell in love with the black-anodized full-sized beast. Under that long hood, resided an iron-headed version of the LT1 that was found in the Corvette and high-performance Camaros and Firebirds.
While 260 hp may not blow anybody away today, that LT1 is just as mod-friendly as any other small-block Chevy out there thanks to its design and aftermarket support. The sleeper, in this case, is the Caprice optioned with the LT1. Better still is the police car package (9C1) that has beefed up suspension, brake, and cooling systems. Mid-15 quarter-mile times were the norm, but get that engine to breathe and you would easily have a high 13-second family hauler on your hands.
3. 1997-2004 Buick Regal GS
This one has a lot to offer; subtle styling, a supercharged 3.8L V6, a huge trunk, and plenty of room for your friends. Being a direct descendant of the aforementioned Buick Regal T-Type, despite its front-wheel drive layout, it had a lot of potential. While the 240 hp limited the W-body (and its Grand Prix GTP stablemate) to performance on par with an LT1 Caprice, a smaller blower pulley, cold-air kit, less-restictive down pipe, and a tune would easily get the Buick to run as quick as a stock LS1-powered F-body.
The fact that these were FWD could actually be considered a plus, as it allows for all-season daily driving. Being mass produced and often overlooked, you can find clean, perfectly running early examples go as cheap as $2,000 on Auto Trader or Craigslist. We say pick one up, throw a few mods at it, get it tuned, and surprise a few Evo and STi owners during the off-season while you're building your racecar. It could be the best 2-grand you'll ever spend. Check out the build on our own W-body here.
4. 2004 Pontiac GTO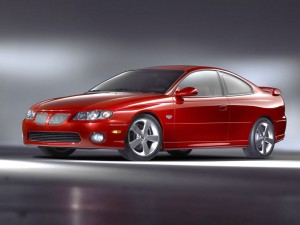 OK, so this one barely makes the cut. However, keep in mind that while the 2005-2006 version included a scooped hood, twin outlet exhausts, red PBR brake calipers, and available 18-inch wheels and a Sport Appearance Package body kit, these first-year examples were much more subtle.
In fact, many cynical types often refer to the '04 as a "Cavalier on steroids," or claiming it has bland styling. That's OK, because that blank canvas hides a 350 hp LS1, optional 6-speed transmission, and an independent rear suspension doing everything it can to withstand the brute force emitting from the rear wheels. Being rare to begin with, the number of these cars dwindle with each passing day so get them while they're still cheap and available!
5. 2008-2010 Cobalt SS Turbo Sedan
Before you think we simply listed this car to appease the sport compact enthusiasts, keep in mind that these offered a 260 hp, direct-injected, turbocharged 4-cylinder engine. Come to think of it, it's actually the second-highest rated horsepower car on this list, right after the GTO.
Like any other car equipped with a power-adder from the factory, spend a few bucks getting the boosted Ecotec to breathe, and you'll have a quick pocket rocket on your hands – beating the import guys at their own game. Being one of the first cars under $25k to come standard with launch control, Brembo brakes, a Nurburgring-tuned suspension, and tons of other great features that made it the one-time fastest FWD car around the 'Ring. Not only is this car a sleeper, but it could very well become a collector's item in the future. Stranger things have happened…
So that's our list and we're sticking to it. We'd love to hear your thoughts, so don't forget to leave your comments down below!
Rick Seitz is the owner and founder of AutoCentric Media, and has a true love and passion for all vehicles; GM, Ford, Dodge, imports, trucks — you name it! When he isn't clacking away on his keyboard, he's building, tuning, driving or testing his current crop of personal projects!