Photos by Rick Seitz/Video by Sam McConnell
Gordie Rutowski's Duster has a [Not So] Hidden Secret
In 1984, Gordie Rutkowski got a sibling hand-me-down when his sister Ann Marie had a 1973 Plymouth Duster that would become his. Believe it or not, this car started its life as a tan/gold Duster that wasn't much to speak of, really it was quite conservative compared to what it has become, or less conservative, but keep in mind that this car was built in the 1970s, so a lot of the tacky characteristics that came with it from Plymouth was what the business class wanted from their muscle cars. To further prove it was a car built in the 1970s, and for the people of the 1970s, it had a brown snakeskin top with brown stripes going down the sides, and gold Duster fender and tail panel decals, it was very era-appropriate, especially if your grandma wanted a sweet ride.
To add to the 'this really isn't anything special' factor, Gordie's Duster was originally equipped with a 255-cubic-inch slant-six engine that made roughly 100-horsepower, and was backed by a 3-speed automatic transmission.  imagine all that car with barely triple-digit power figures to get those heavy wheels turning. It's true, practically nothing was unique or noteworthy about this car, and over 249,000 brother Dusters made in 1973, so there was a whole lot of them roaming around at the time.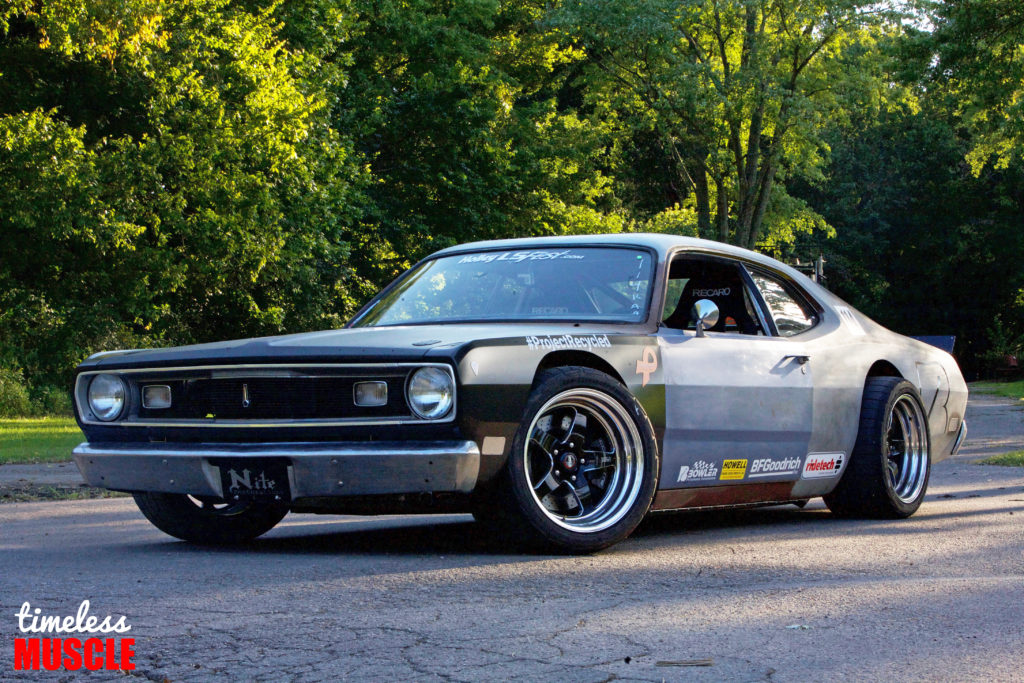 When the car got passed down, things started to slowly turn around for the car that wouldn't make you turn your head. When Gordie was about 17-years old, he painted it for the first time in his parent's garage. He used the old enamel type paint system and gave the Plymouth Duster a coat of 1975 Corvette yellow; the car went from a very mild cream color, to a bright yellow. It rolled around with the dog-dish hubcaps and six-cylinder engine, but Gordie still felt like a king when he drove it.
Project Recycled, as it is known by now, didn't start to really take shape for years to follow. This car has had many different engines and transmissions in it over the years, but a driveline from a C6 Corvette has totally transformed the performance of this build. It earned its named partially because this 1973 Plymouth Duster runs on a recycled Corvette drivetrain, but has since lost the Corvette yellow paint job it once sported.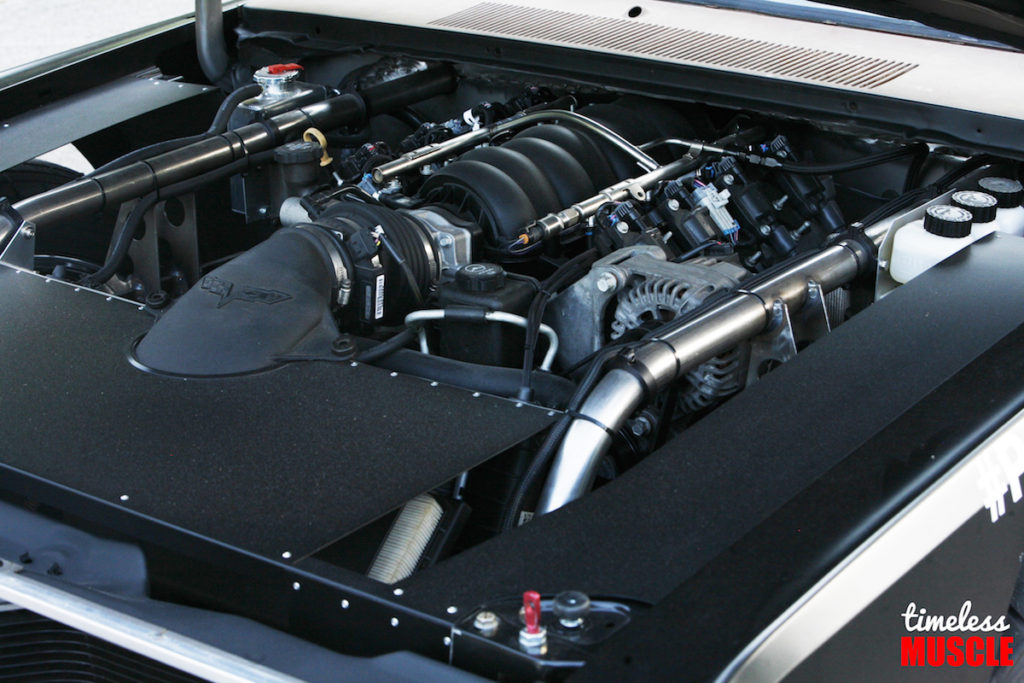 Another reason it's called Project Recycled is that it has been pieced back together, when it may have been easier to part it out and call it a day. To put it in simple terms, a C6 Corvette and 1973 Plymouth Duster are fused together, and Gordie wanted to make sure to use as much of each car as he could, or as he puts, he wanted to recycle the cars. The chassis was also enhanced with performance features, like an adjustable coil-over suspension, to make it an even better machine.
A lot of the parts on the car, in addition to the Corvette ones, have been sourced from many different places, including eBay for hard-to-find Duster parts he was missing. This car, still a work in progress, is a budget build, which is odd to say about a $22,000 build. However, when you consider that this car was essentially recreated from the ground up, $22k doesn't actually seem like a whole lot of money to spend. The car is also capable of competing against cars that cost over $100,000 in price and build, so for what it is, the car is a bargain.
"I wanted to use as much as I could off the Corvette and the Duster, and make something that performed well and made sense." -Gordie Rutkowski
The LS2 powered Duster rolls on massive 12" wide SR71 Weld wheels with the same backspacing as the Corvette so he doesn't lose any of the turning radius. BFGoodrich Rival S 335/30/R18 tires are wrapped around the wheels; this is a tire Gordie has used on his other cars with great results, and wanted to stick with what works.
Since the Corvette chassis used was equipped with a Z51 package, the brakes are already a huge upgrade over what the Duster had stock. A Tilton pedal set was pretty much the only thing that would work. The steering rack is from the Corvette, and he had to pick up a new steering column from Summit Racing to keep the budget down. Otherwise, it's largely a stock Corvette, or the parts from one at least. Even the radiator, engine cooler, and transmission cooler from the Z51 Corvette are all stock and put to good use.
"This car is a C6 Corvette with Z51 package, hiding under a Duster's body. The whole build followed the idea of keeping it simple and " -Gordie Rutkowski
An Aeromotive fuel tank was used because it was the best option for the money that was small enough to fit the position they needed, and in between the frame rails. The rollcage inside was built with the chassis; while it does offer safety, the main purpose is to maintain the strength and integrity of the frame. After trying out a few different Recaro seats, he picked out ones based on comfort.
You may already recognize this as it went viral at the end of last year when he posted a few pictures on his personal page that got shared across the web. While some feedback hasn't been exactly polite, for the most part, gearheads are fans of the build. And if you're not a believer, keep this in mind, with these new upgrades, this Duster is able to keep up with a Z06s at the track all day long!
Shawn Henry is a Texas native who has spent the majority of his career building and selling F-Bodies and Corvettes. Now studying journalism, he is taking a new direction with his love of GM Performance vehicles.