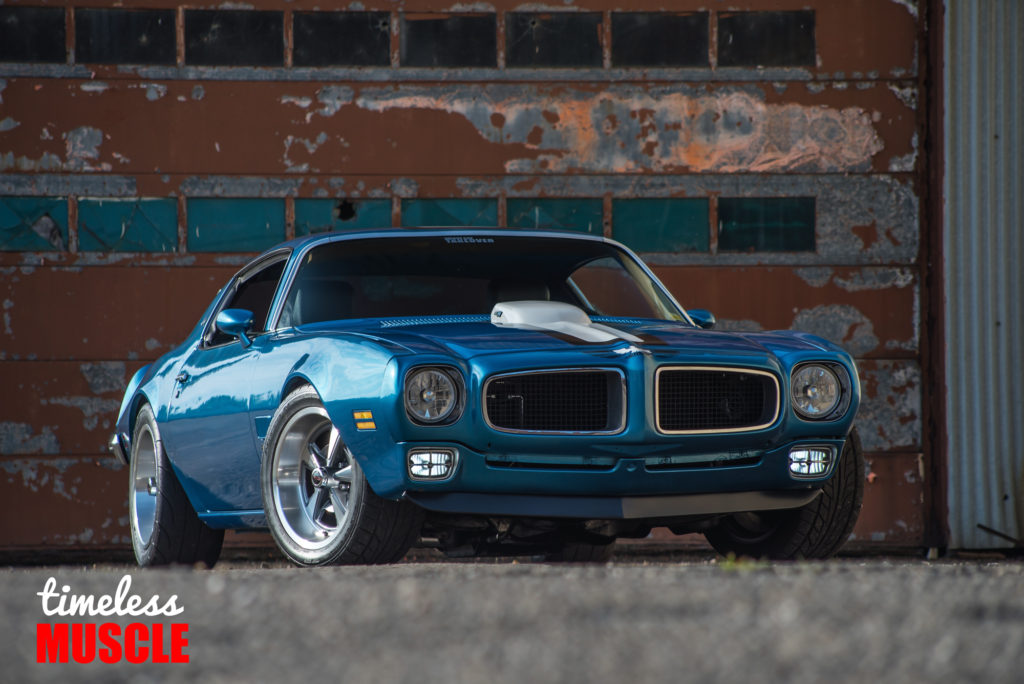 Photos by Scott Schwartz
A Tale of a '71 Firebird with a Modern Twist
Nathan Kluesner is a tried-and-true car guy, specifically a GM performance enthusiast, who has always had a place in his heart for the LS platforms. When it came time to transform his stunning 2nd-gen, he took a lot of what he knew about modern GM muscle, and rolled it into his Firebird Espirit.
<
a href="https://www.dreamgiveaway.com/tickets/hellcat?promo=TH0721H3" target="_blank" rel="noopener">
Rewinding almost four years now, Nathan was on the search for some old school muscle. He spent months upon months looking for the right 1970-1973 Firebird. He really wanted to find a Lucerne Blue car in good shape, and didn't want to drain his bank account over the purchase. After some intense and dedicated searching, the Jackson, Missouri resident found this Firebird through Craigslist in an ad posted by a seller in Jacksonville, Florida.
When Nathan found the car, it was in stock form. It had been repainted with a professional grade paint job, and was powered by a rebuilt engine and transmission with only 4,000 miles on the refresh. While the body was totally rust free and in good condition, and the powertrain was solid, the interior was trashed, and it rolled on 14-inch wheels. It was these two elements that needed addressing, that got things moving in terms of modifying the 1971 Pontiac Firebird Espirit.
The car came home with Nathan with a 350 CID Pontiac engine and turbo 350 automatic transmission. While it ran well, or rather, as intended, it was lacking power. Not only was it underpowered, the setup had other issues like fluid leaks and only got 10 miles to a gallon of gas. Something had to give, stock power from a 2nd-gen wasn't going to satisfy Nathan's need for power for very long.
Before owning this classic Firebird, Nathan had previously owned an Arctic White 2002 WS6 Trans Am which was a low mileage, bottle-fed car that made 600-horsepower. It ran 10s in the 1/4-mile all day long. He also had a Stryker Blue 2009 Pontiac G8 GT, so driving a car that didn't even put 200-horsepower to the ground, in the best condition, was not a natural transition for the gearhead.
Since he already knew he loved how the G8s feel when backed by a 6-speed automatic transmission, he jumped on a setup out of a 2008 Pontiac G8 as soon as he found a good deal. The radiator, fans, engine, transmission and seats were all pulled out of the donor car, and the swap got underway.
The heater and air conditioning also didn't work, so those had to go, and were replaced by a Vintage Air system. This choice was made so that he could keep the engine bay looking clean, especially considering the new powertrain that was going in the Firebird.
Another concern he had been with the packaging of the alternator and A/C compressors right up front. So he did a ton of research and test fitting to come up with brackets to relocate these components to a lower position; to do this, he ended up notching up the frame.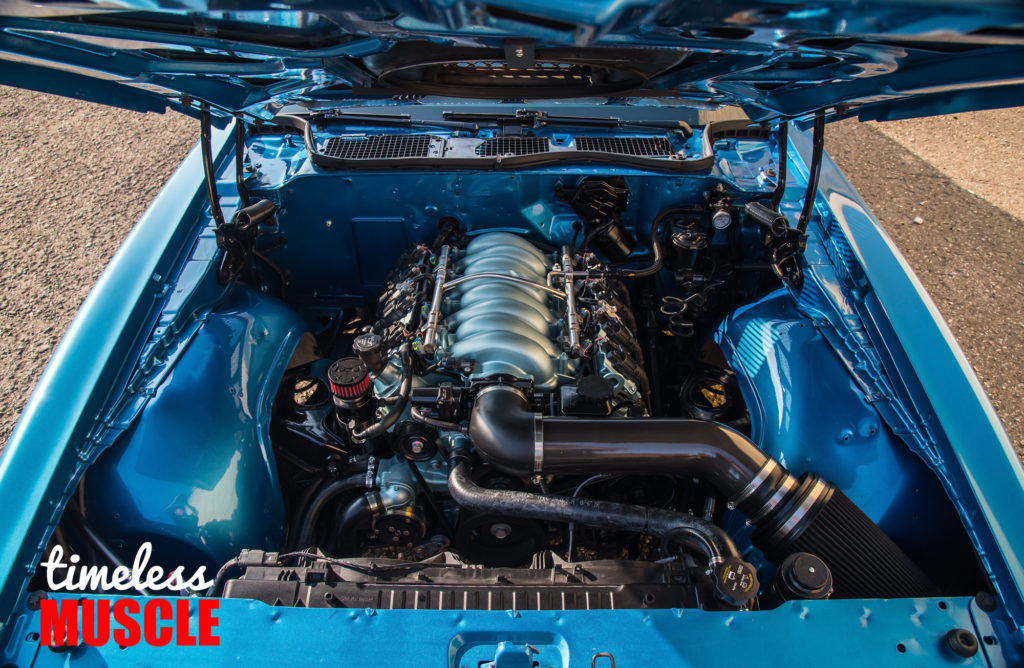 Another giant thorn in the side of the swap was the driveshaft. Making it work was a task since the 6L80E has a bolt-on, triangle-shaped flange, instead of using a traditional slip yoke needed for non-IRS equipped cars. To fix this issue without spending a ton of money, Nathan hunted down a bolt-on yoke from a Turbo 400, had it machined to make it shorter, and also had the inside milled so it would be compatible with the transmission.
From there, a slip-spline steel driveshaft was custom-made to fit the car. A skid-plate was made also to protect the transmission pan. This was needed since the transmission is so close to the ground.
Since adding a turbo to the car after the suspension overhaul is complete is part of the long-term plans for the car, Nathan picked his performance components to compliment the future power adder. One really smart decision he made right away was to upgrade the head bolts to ARP studs. The Cam Motion camshaft he picked out was custom spec'd for boost by Aaron Shoaf from SDPC. He's also added dual valve springs, hardened pushrods, and a new single roller timing chain.
As of now, the suspension is barely touched. Only PTFB bolt-in subframe connectors, and PTFB solid body bushings installed on the subframe have been changed. While Nathan has alluded to a suspension overhaul to handle the big power gains soon to come, he's not entirely unhappy with the suspension as it is.
"The car handles great, yet very firm and responsive for having an all original suspension." -Nathan
To keep the system fed, he chose to go with Chris Johnson's "Chris 1313" dual Walbro 450 fuel pump that he sells for the 4th-gen F-Bodies. Nathan modified the opening on the new EFI baffled Tanks Inc fuel tank to accept the fuel pump for the setup. A -8 AN feed line and -6 AN return runs to the Aeromotive regulator to make sure the duel system is 1200-horsepower ready at the fuel rails.
The exhaust runs through stock G8 manifolds into a Pypes 3" X-Pipe, and then into Pypes Race Pro mufflers. Nathan also decided to use an F-Body windage tray and pickup tube, and did the DOD delete mod using parts from SDPC. The 14″ wheels were replaced by YearOne Rally II wheels, with Nittos up front, and Mickey Thompson radials out back.
SpeedHut "Can-Bus" gauges caught Nathan's eye since they would run off his e38 ECM by just plugging them into the OBD II port after hardwiring in two wires, no extra sensors would have to be added to the engine to make them work. These were cheaper than a lot of other style gauges, but he could still customize them, so using them in the build was a no-brainer.
Comfortable seats were a necessity so the car could be taken on long road trips without making the occupants miserable. This is where the previously mentioned G8 seats come into play; the seats he had gotten from the G8 were powered and heated, and after a few hours (okay, maybe more than a few, more like 12) of modifying the seat tracks, they were adapted to bolt into the factory holes. To finish it off, a light blue loop style carpet replaced what was left of the original carpet.
This makeover took 8 months of garage time, and the end result speaks for itself. Nathan now has the car of his dreams, a classic muscle car with a modern feel and power. The car looks incredible, has the power of an LS/6-speed auto swap, clean engine bay, working heater and a/c, and of course, comfortable seats.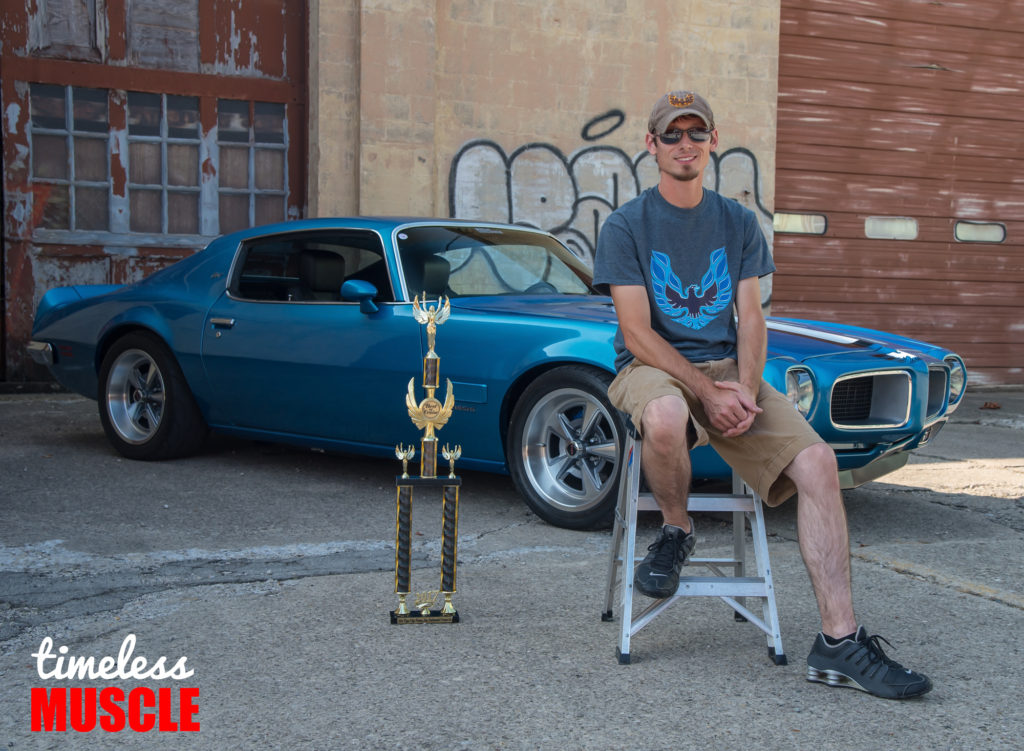 After just a few hundred miles, Nathan loaded up the Firebird to make a 1,048 mile trip to the Trans Am Nationals and back. The car had no issues making the run, and Nathan reports that it got an amazing 22 mpg with the a/c blasting, and he loved every minute of it. It's not just Nathan who loves the car, it gained a ton of attention along the trip, and even had people gathering around for pictures of it when he'd stop for gas.
Like most gearheads, Nathan has had a lot of support while he was working hard to get the overhaul done in such a short timeframe. He wanted to thank Chelsea Brown for support throughout the build, Aaron Shoaf at SDPC for the parts and technical advice, Greg Adams for getting the tune where it needed to be, Jason Amelunke, Chris, Kneezle, Ray Bucher, Phil Bucher, Don Glaus, Jeremy Horrell, George Thomas, Ben Brotherton, Cutis Kraus, Kevin Brown, Chris Johnson, and David Childress.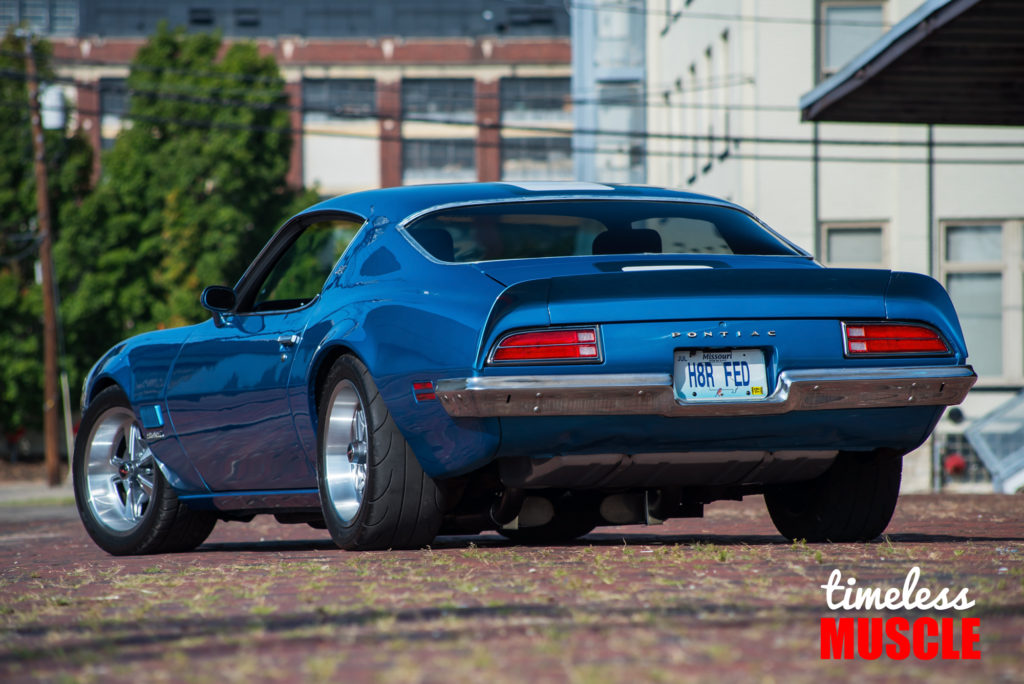 Shawn Henry is a Texas native who has spent the majority of his career building and selling F-Bodies and Corvettes. Now studying journalism, he is taking a new direction with his love of GM Performance vehicles.