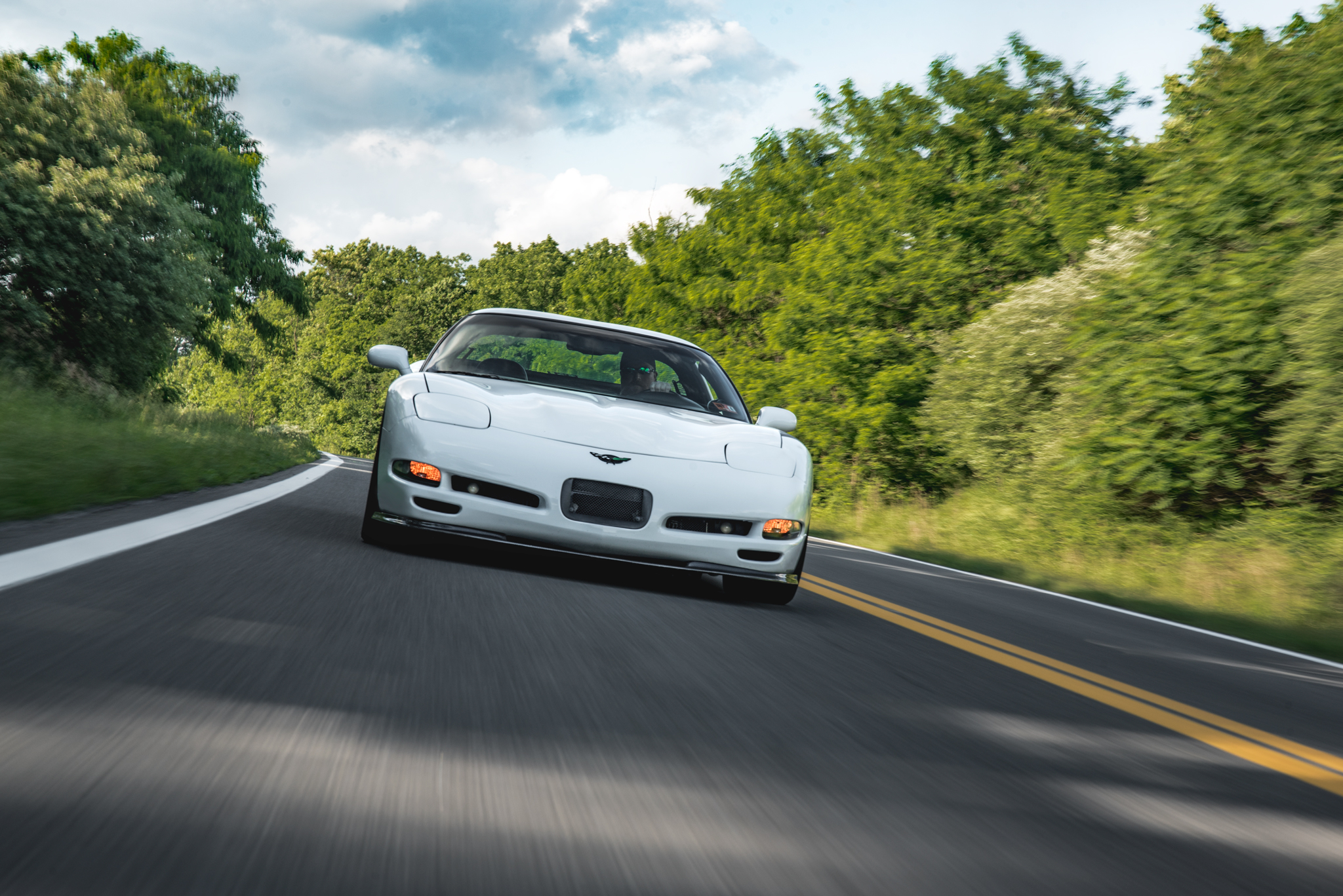 Photos and Video by Andy Weist
When Andy Bought His 1998 C5 Corvette, He Wanted a Break From a Project Car, But Things Didn't Go That Way!
Andy Weist, the owner of Lethal Shutter Productions, a vehicle and car feature cinematic speciality company, needed a break from his project car. You could say that Andy is a GM guy, he had been building a 1997 Trans Am for some time. It was a rare edition, but it WAS plagued with every issue on earth. Even though it was a boosted and built 383 powered machine, he wanted something that wouldn't give him such a hard time.
He bought his 1998 C5 Corvette in 2013 where it began its journey under Andy's care as a bone stock Vette with 20,000 miles on the clock as a garage kept car. The owner who he bought it from made him promise he would not modify the C5 in any way, shape, or form, but he had already purchased some parts for it, so that was a promise that would not be kept! Ironically enough, Andy wanted to buy this car because the Trans Am build of his was getting a little out of hand, so he just wanted a fun bolt-on LS powered car to drive around — but obviously, it did not stay that way. 
In 2015, Andy was driving the car around one night when the engine started experiencing the nitrous crank walk issues that happens when the engine thrust bearing has worn so badly that the crankshaft 'walks' back and forth. Since they had to take the front timing cover off anyway, Andy decided they might as well throw a camshaft in it when they replaced the bearings. As things always seem to go, the cam only car turned into a cam, heads, intake setup before too long. Ported 243 cylinder heads, a 228/228 .600/.600" Texas Speed 228R cam with a 112 LSA, and an LS6 intake would take duty on the engine, to give it some serious power.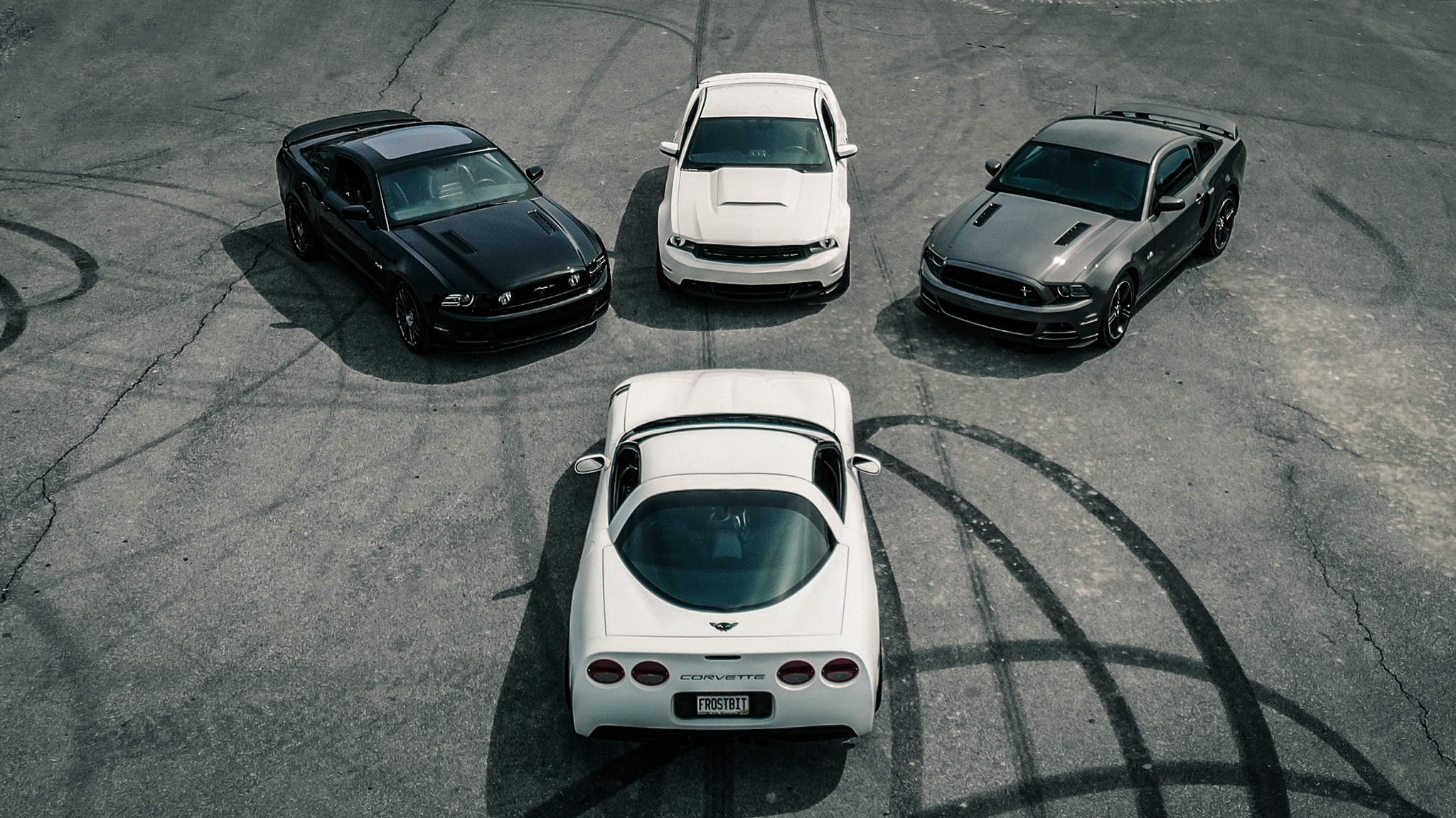 The C5 also got a FTI 3600 stall torque converter, a RPM Transmission shift kit, and Derale transmission cooler with the original setup with the heads, cam, and intake. With this configuration and a set of 3.42 Z06 rear gears, the best pass the C5 made was an 11.80 seconds at 118 miles per hour at the race track. After deciding he was happy with it, he decided to leave the setup alone, that is for about a year. After this, the C5 would take precedence over the project car Andy bought this car to get some relief from — the project car was sold shortly after. 
From this point, the C5 seemed to have an appetite for automatic transmissions as it went through three stock to mildly built 4L60e four speed transmissions, resulting in a load of frustration. After going through all these transmissions, Andy found out that Justin Miller of Vette Villains in Central PA had a lightly used RPM level 5 transmission for sale. 
After getting together the money, he headed over to meet Justin at the shop to pick it up. It was during this visit that he found an A&A Vortech supercharger kit for sale for the same amount of money Andy happened to bring along — it was a pure impulse decision to buy the blower, putting the horse a bit before the carriage. With a tune, Walbro fuel pump with Kenne Bell Boost-a-Pump, and 60 lbs Deka injectors, this setup made 547 RWHP and 609 RWTQ.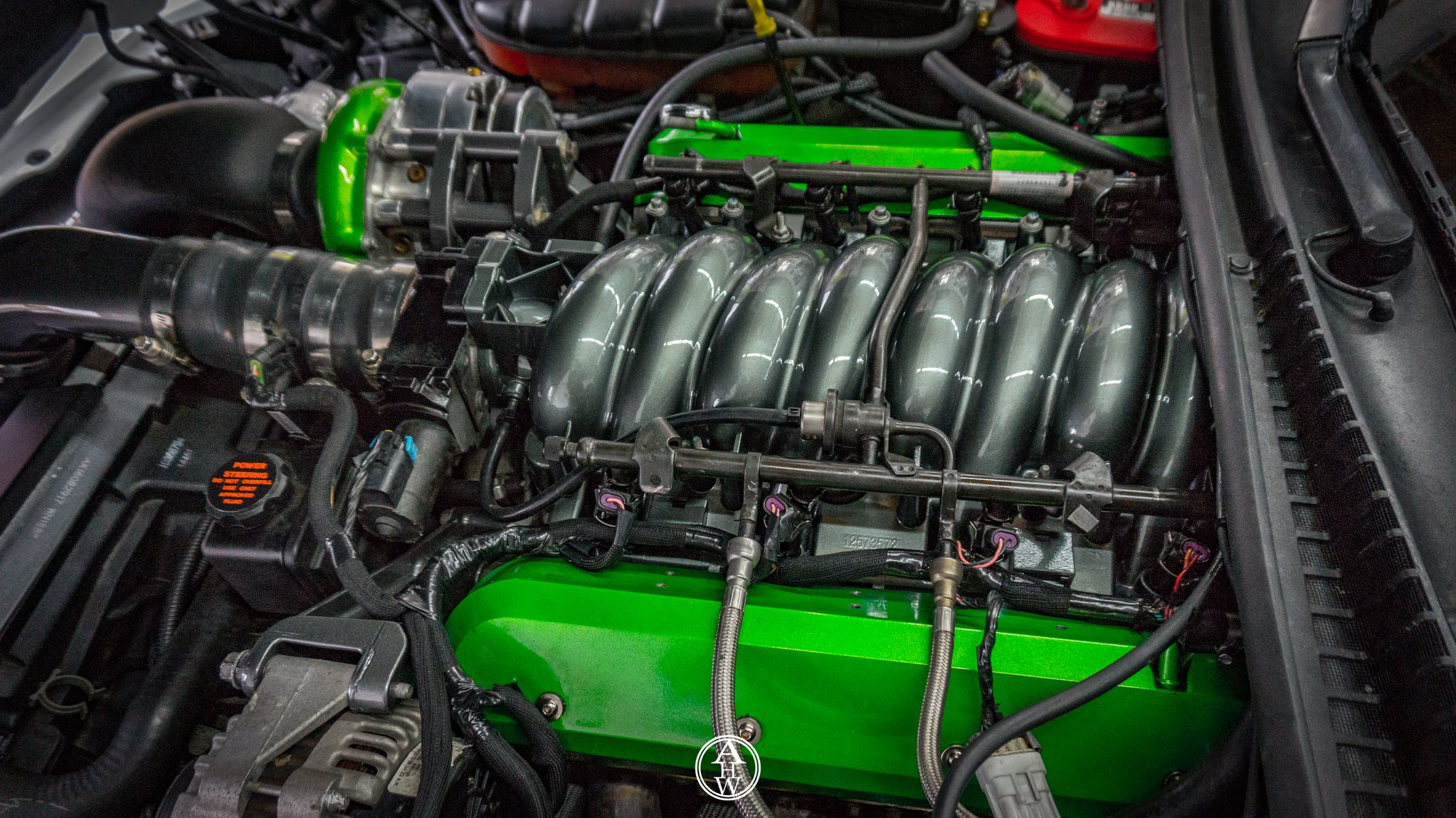 Another two years and another broke 4L60e would go down and Andy finally decided to invest in a Level 7 4L65e from the good people at RPM Transmissions. Now with 51,000 miles on the clock, they have not been able to get the C5 back to the track to test it, but are hoping it runs a solid 10.70-10.80 second pass in the quarter mile. It also had a few bugs that took some time to sort out before it was worthy to get back on the track, so that has been a means of delay until now.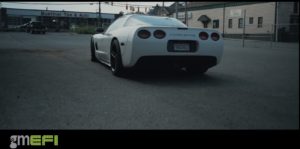 The Corvette also rolls on a set of 18×9-1/2" Z06 replica wheels that are wrapped in Mickey Thompson E/T Street S/S tires. It also gets an edge in the looks department thanks to a front and side splitter package from Corvette Creationz. On the inside, Andy changed out the steering wheel to the C6 version, installed a double din head unit that has Apple play, and has a custom shift handle. 
As for the future for the C5, the plan is to get it to a 1/2-mile race down south before too long since Andy is really curious to see how it performs under those conditions. After the intended 1/2-mile run, the plan is to crank up the boost and build a proper fuel system for it. He also wants to eventually ditch the stock 346 cubic inch block and opt to build a 6.0L iron block for it and add a Haltech ECU.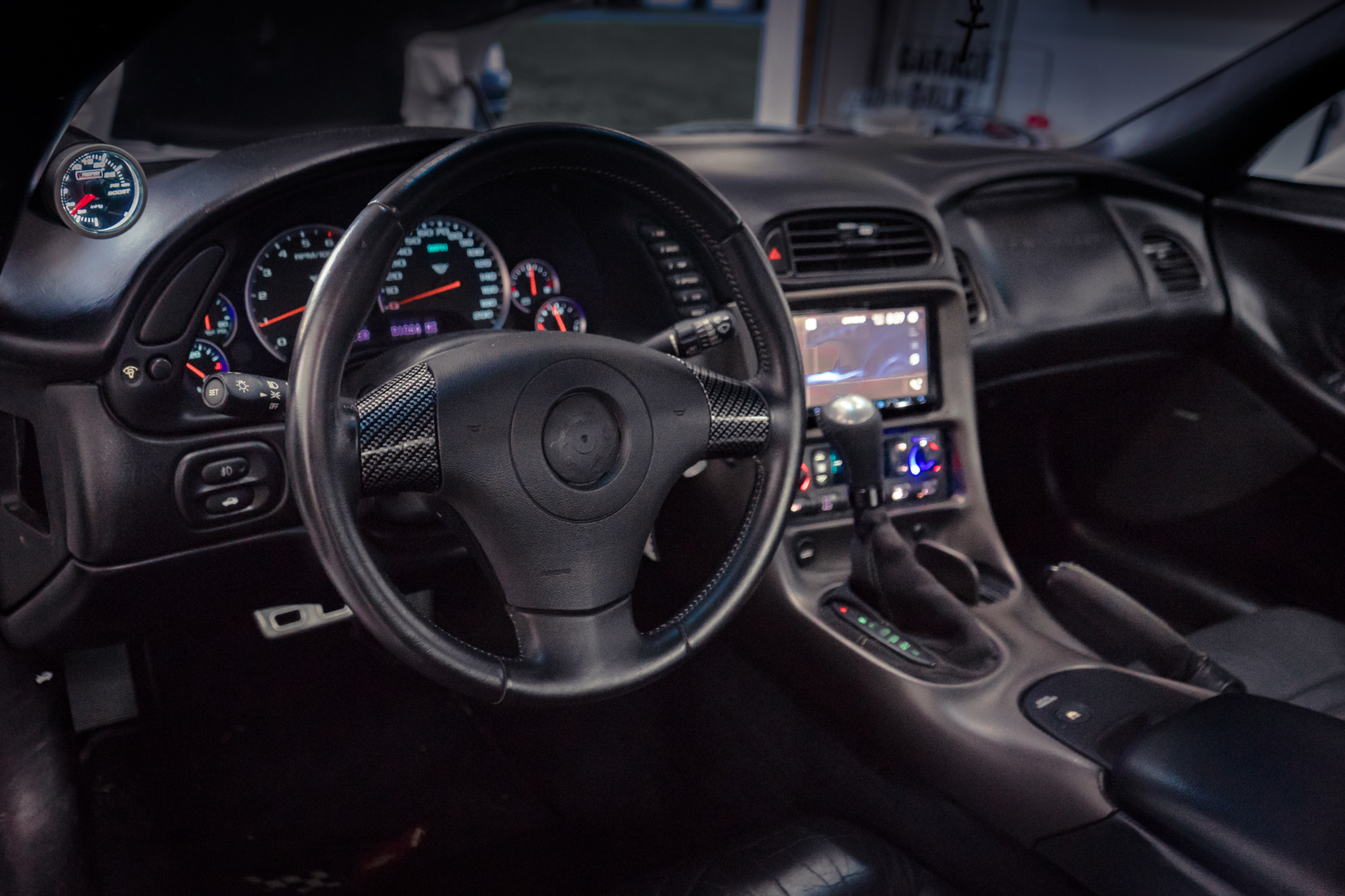 Andy wants to the thank Matt Tippett, John McLaughlin, Jeremy Jones and RPM Transmissions, Jason Smith and  Right Away Powder Coating, Kenny Obendorfer and Robby Estop of VPC motorsports, David Stuckey of Stookymedia, Chris Brown of Twisted Cinematics, Justing and Brian Miller of Vette Villains, and of most importance, his mom for putting up with his hobby for all these years. 
TECH SHEET:
CAR: 1998 C5 Corvette
OWNER: Andy Weist
ENGINE BLOCK: LS1
CRANKSHAFT: Stock
PISTONS: Stock
CONNECTING RODS: Stock
CAMSHAFT: Texas Speed 228R
CYLINDER HEADS: Ported 243

 

POWER ADDER: A&A Vortech supercharger with 4" pulley
BOOST: 6-8 lbs
EXHAUST: XS Power headers and x-pipe
FUEL DELIVERY: Walbro fuel pump with Kenne Bell Boost-a-Pump, 60 lbs Deka injectors
TUNING: John McLaughlin

 

TRANSMISSION: RPM Transmissions Level 7 4L65e
TORQUE CONVERTER: FTI 3600 stall converter

 

SHIFTER: RPM Transmission shift kit

 

REAREND: 3.42:1 Z06 gears
SUSPENSION: Stock
DRIVESHAFT: Stock
WHEELS: C6 Z06 Replica 18×9-1/2"
TIRES: Mickey Thompson ET Street S/S 285/40/18
HP/TQ.: 547/609
1/4-Mile E.T.: Unknown with current setup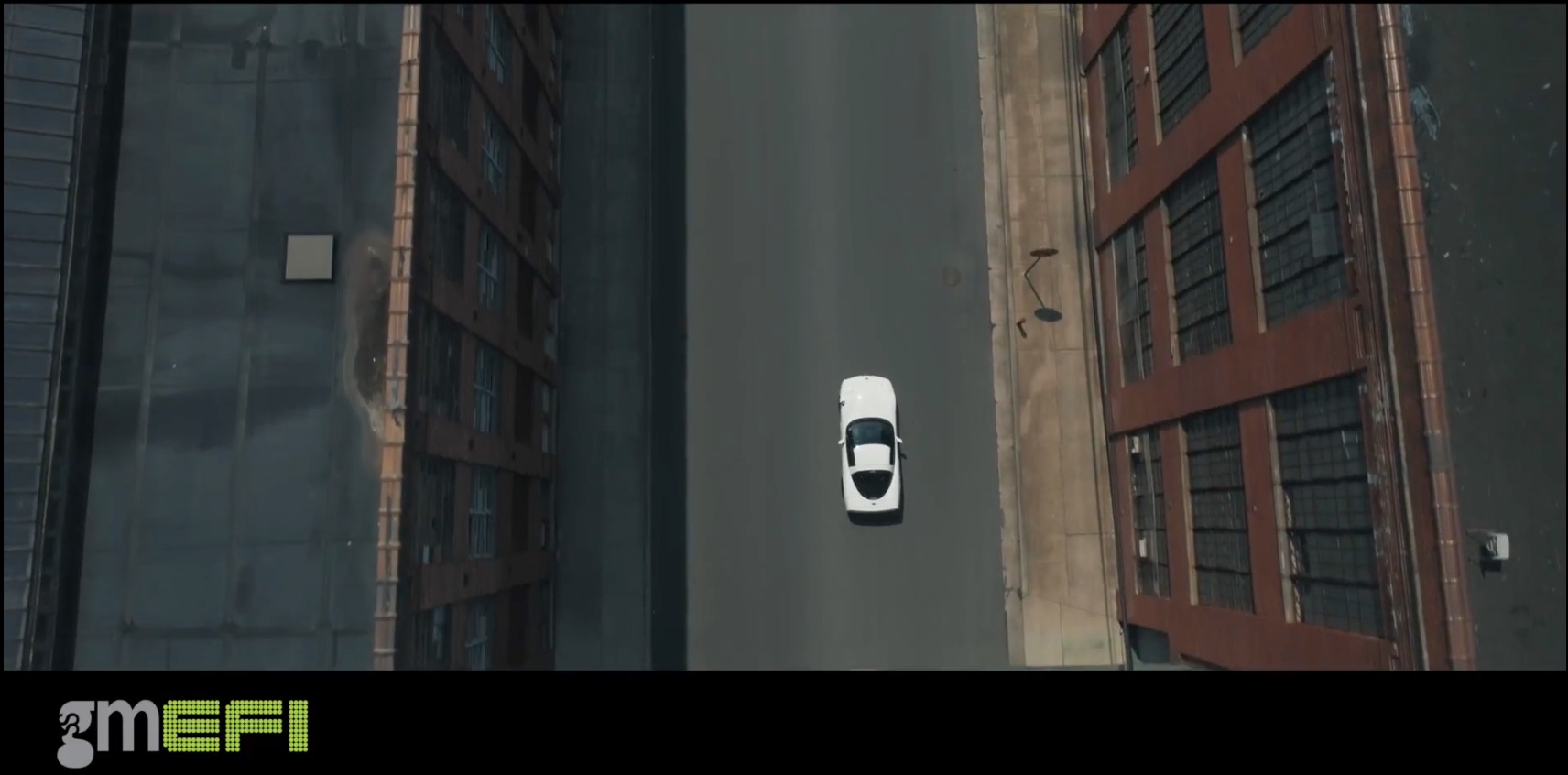 Elizabeth is hardcore horsepower enthusiast with unmatched intensity for making things faster and louder. She wakes up for power and performance and only sleeps to charge up for the next project that's heading to the track. From autocross to drag racing, Elizabeth is there with you, so stay tuned for her unique perspective on horsepower news, builds, tech info, and installs — with her, it'll never be boring!