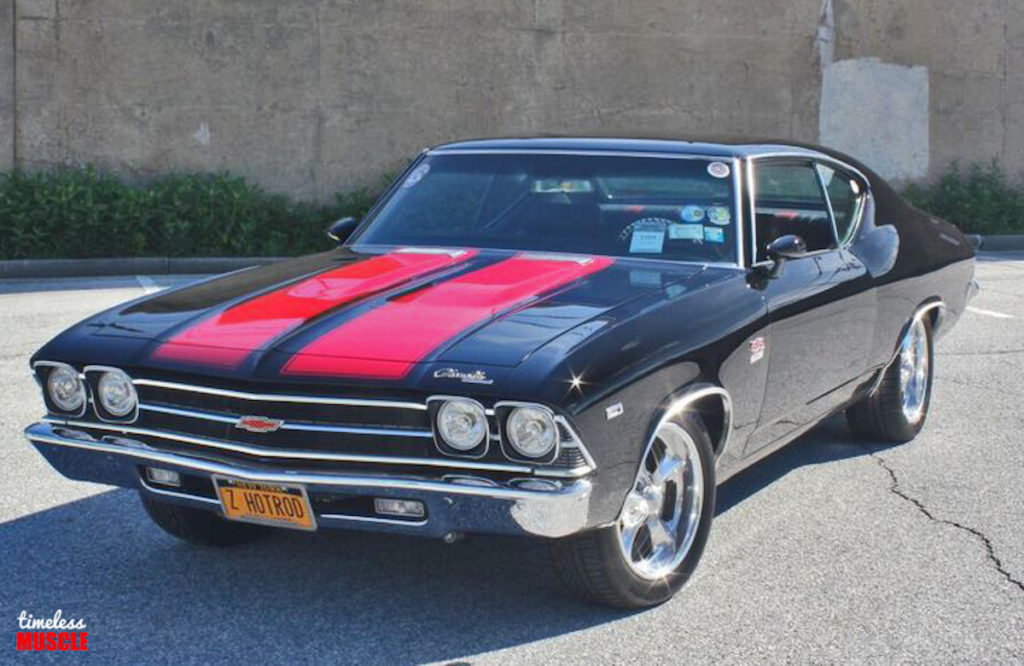 photos by: the author
Putting a LT4 Spin on Chevelle Street Machining 
Car guys are like an open book. No matter the make or model, the goal is always the same; to build their ideal example of whatever machine gets their motor running and make it the ultimate expression of their passion. And thank the heavens for them.
Long Island native and retired Wall Street executive, Nick Moscato, is one such car guy, whose love affair with cars and drag racing started a long time ago. Now 74, Nick's first new car was a '65 Mustang 289 coupe that he owned for four years, but in 1969, he yearned for more than his Blue Oval pony could provide. At this point, late brother-in-law Joe stepped in to the picture. Joe happened to own a topless '65 Chevelle and reminded Nick how "they were really Chevy people and loved the Chevelle's new body style." So, moving on Joe's words of wisdom, Nick purchased a dark green 1969 Chevelle SS 396 (L78; 375 hp) car with a four-speed and never looked back.
By the mid-'70s, things got a little strange, as Nick embraced the freethinking "Me Decade" and transformed his heavy Chevy into a rolling mural, literally. Being a huge Star Trek fan, Nick paid homage to the iconic sci-fi show by employing the artistic talents of "Colors by Kenny" to paint "Trekky" scenes on his hood, trunk and side panels. He also added window etching (big in those days), with the Chevelle's new nickname, "Starship Rat," referencing both the Star Ship Enterprise and the 396-cid big block under the hood. Nick captained his Super Sport Starship for another two decades, but by the late '90s, decided to liquidate his multi-car collection including his beloved Chevelle.
As the new century progressed, Nick found himself yearning for his lost love and he began to search for another. He scoured the still young Internet for a full two years, until one day in 2007, he found a 1969 black Chevelle SS 396-cid/4-speed car on eBay. Wanting to forgo the usual process, Nick offered the owner $30k, but was told he'd have to bid like everyone else.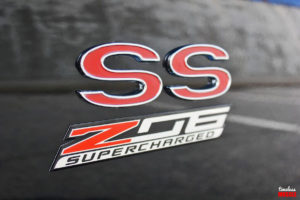 So that's exactly what he did and ended-up getting it for $27k — talk about meant to be! More good news followed as the car was just one town away and after an adrenaline-pumped 15-minute drive, Nick inspected the black beauty and cruised home, basking in the glory of his second SS Chevelle.
This time around, Nick had a master plan to resto-mod his vintage A-body Chevy, making it a Chevelle for the 21st Century. He wasted little time contacting his nephew, whose dad just happened to own Rockland County Chevrolet at the time. The family connection of Charlie and Charlie Junior, scored Nick a brand new Chevrolet Performance ZZ502 crate engine with all the fixin's. And that wasn't all. Nick brought the Chevelle to restoration master Bill Carberry at Cap-A Radiator in Farmingdale, New York.
Here, Nick's Chevelle would receive its engine transplant, a Tremec five-speed transmission, a full Hotchkis suspension kit with SSBC four-wheel disc brakes and 17-inch Billet Specialties wheels wrapped in Continental rubber keep the A-body planted in the corners.
A Vintage Air A/C with a custom serpentine system help keep the cockpit cool in the summer months as well.
It took a little over a year before Nick could pilot his Chevelle again, but with the end result netting 502 hp/502 lb-ft, it was well worth it. After a couple of years, Nick had the carburetor swapped-out for a modern Edelblock EFI system, for in his own words, "more efficient horsepower."
About this same time, Nick addressed the interior, adding custom black/with red striped leather/vinyl seat coverings and door panels, custom white-faced AutoMeter gauges, Bluetooth connectivity, a custom trunk liner and a Billet Specialties steering wheel to match his wheels.
Of course, Nick wanted his exterior to be as eye-catching as his engine bay and cockpit, so he brought the Chevelle to Vinny's Auto Body in Deer Park, New York. Here, the body was made laser straight and the door handles were shaved, before 5-coats of PPG base coat and clear coat was laid down, including an awesome pair of stunning red SS stripes, on the hood and trunk.
With his Chevelle now resto-modified to his liking, Nick was in big-block bliss, saying, "this car, it's second only to sex." But even with his love affair still red-hot, change was coming and in reference to his first '69 Chevelle, the Starship Rat, Nick was about "to explore new worlds and boldly go where no one has gone before."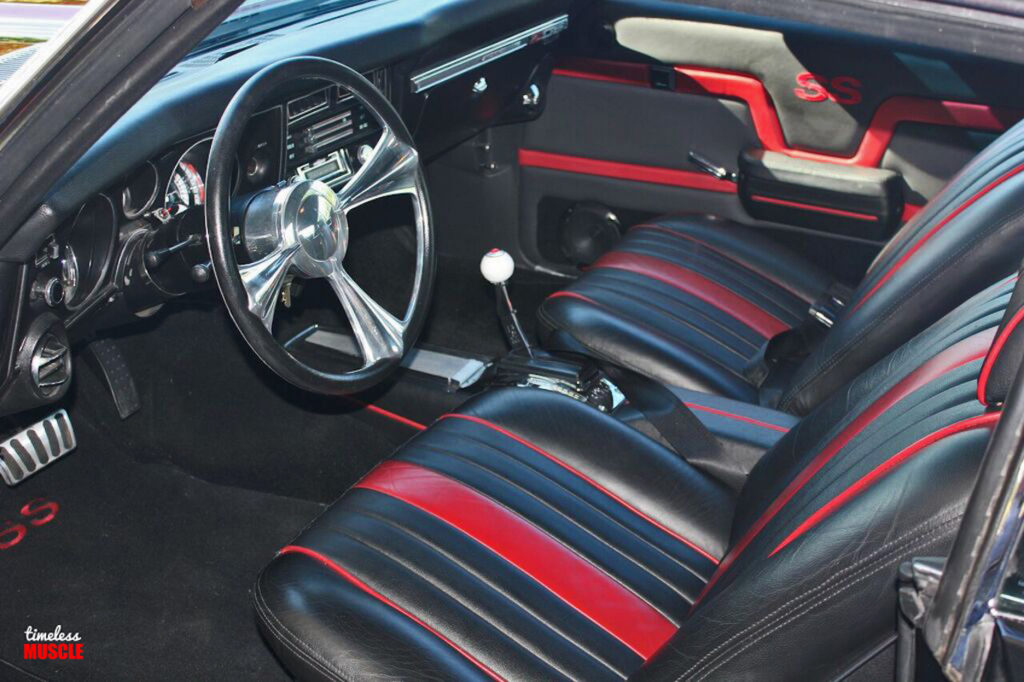 Television has been good to car people over the last decade and a half, embracing the car culture with multiple shows for the auto fanatic. With that said, in mid-2015, Nick contacted Fantom Works in Norfolk Virginia, now a world-famous restoration shop, recognized for their unwavering professionalism and skill.
Nick spoke with owner/founder Dan Short about upgrading his '69 Chevelle with a modern powerplant, as Nick puts it, "something with an up to date EFI system, that made consistent power, a more factory set-up." Nick's heart was set on a LS3 crate engine, a motor born for the C6 Corvette and found in the engines bay of various late-model GM cars today.
Dan Short agreed with Nick's choice of motor and was more than familiar with the Chevy small block's power potential. When fitted from the factory, the standard 6.2L/376-cid LS3 made 430 hp/424 lb-ft, while the crate version with its more aggressive cam, could pump out up to 525-horses and about 490-lb-ft-out of the box.
While the ZZ502 was certainly no pig, the LS3 was a leap forward in power and technology — just what Nick had in mind. By December, the Chevelle was in Fantom Works' most capable hands, awaiting the beginning of its engine transplant. As New Years 2016 rang-in however, Nick would make a very cool resolution.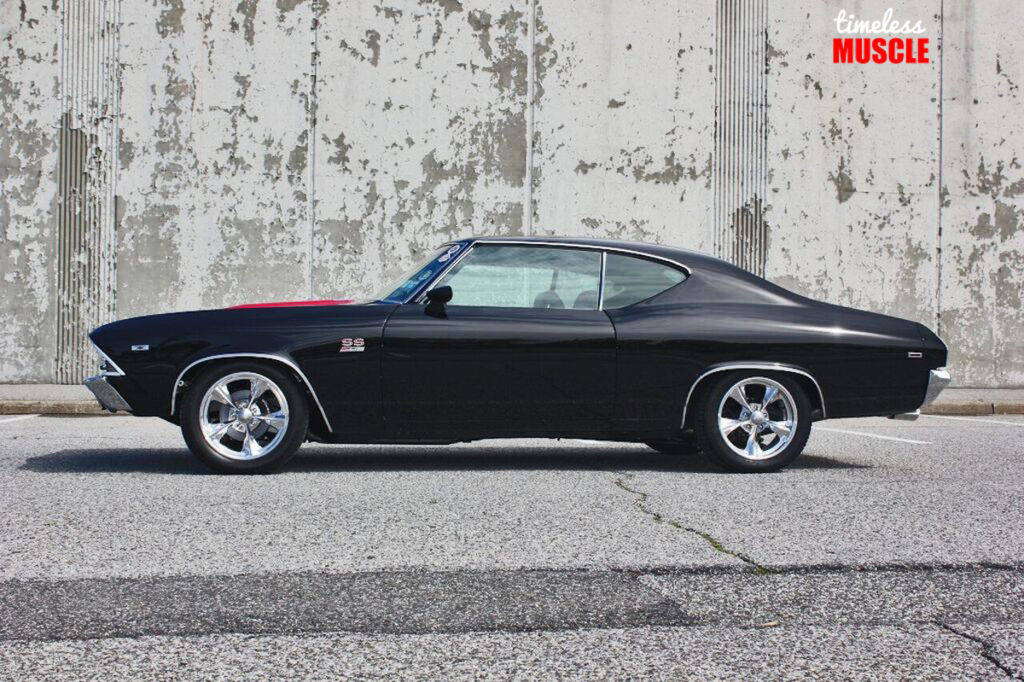 Just as Nick began to salivate at the thought of his new LS3, Dan phoned-in from Virginia with even more-tantalizing news. Dan informed Nick, that the supercharged LT4 V8, exclusive, up-till-then, to the C7 Corvette Z06 and Cadillac CTS-V, was now available as a crate engine. Enthralled and intrigued at the idea of having GMs top dog motor, capable of putting out 650 hp/650 lb-ft, dropped into his Chevelle, Nick hardly paused before giving Dan the 'OK.'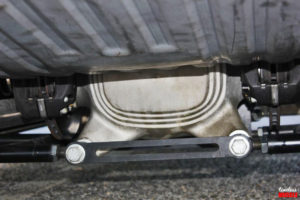 As work began, Dan quickly realized that the LT4 was a very different animal than the LS3, and physically larger, too. As the LS3 was V- or wedge-shaped, the LT4 was seemingly more of a square box. Far from plug-and-play, it was becoming obvious that an engine designed specifically for GM's two flagship performance vehicles, the Z06 Vette and Caddy CTS-V, was going to need more than a little shoehorning to fit into the engine compartment of the nearly half-century-old Chevelle.
With that said, Nick drove down from The Big Apple to confer with Dan, who, in not so many expletive words, explained the fitment (or lack there-of) issues to him. Dan went further, stating that "major surgery" was in order for the entire chassis, especially the front clip, the crossmember and all of mounting points to allow the LT4 to sit properly and safely.
Now engaging at a direct point of attack, the entire frame was altered, strengthened and stiffened, not only to fit the LT4, but to accept a Heidts custom-fabricated independent front and rear suspension, with rack and pinion steering and a soild-mounted 3rd member with upper and lower control arms and heavy-duty half-shafts, that utilizes a Ford 9-inch rearend differential housing 3.73 gears. All of which are more than capable of handling 800-horses.
The unique track width of the custom IRS made the use of inline rear disc brakes essential to the build, with Wilwood, 11-1/2 inch rotors and four-piston calipers employed front and rear.
With the frame and suspension now up to the task, the strongest transmission available was chosen to handle the immense power and torque of GM's trophy motor. Originally a commercial truck transmission, the 4L85E was further modified and topped off with a B&M shifter, while power transfer to the rear wheels is supremely executed by a custom-made carbon fiber driveshaft.
Letting the LT4 breathe like it should, the stock manifolds start things off, flowing through a custom-fabricated stainless exhaust, capped with a pair of Magnaflow mufflers. The Magnaflows provide the LT4 with a rabid bark — without being too obnoxious! Soon after this story was photographed Nick had his Chevelle-style tailpipes removed in favor of cleaner-looking and hidden turn-down pipes.
After ten months time, the fruits of Fantom Works' labor was evident, with the properly installed and tuned LT4 now looking right at home under the Chevelle's hood. Nick was ecstatic, as the promised 650-supercharged horses and equal torque were all there, along with a solid, tight-as-a-drum ride, courtesy of Fantom Works', world-class fabrication and technical prowess.
Since getting his car back in October 2016, Nick has cruised Long Island and to out-of-state shows with bold  confidence, and rightfully so, as his Chevelle is more than a match for just about anything on the road. He even returned to Norfolk, Virginia for a follow-up visit to Fantom Works, where he challenged Dan Short to a race. Dan accepted and built himself a '69 Camaro Pace Car replica, also powered by the LT4. The Camaro build and the race can be seen during season four of Fantom Works.
After years of ownership, two engines and a complete rebuild, it's safe to say, Nick is completely satisfied with his '69 LT4-powered Chevelle SS — and why not, as far as we know, it's the only one like it currently in existence.
Nick extends many thanks to all those talented technicians who made his dream car a reality, including Frank and Peter Mungo at Venturi Automotive Repairs, Joe Rossi from Vinny's Auto Body, Ronnie Gramazio from Rags Auto Collision and of course Dan Short and his crew from Fantom Works, whose supreme workmanship and level of expertise is matched by few shops in the nation.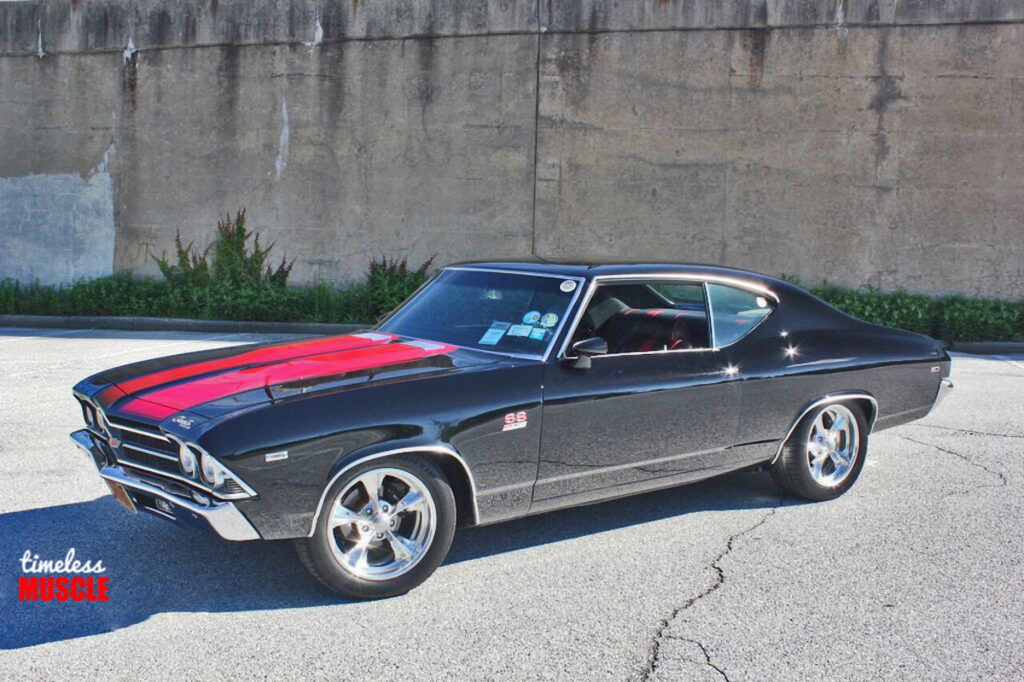 INTERVIEW WITH THE BUILDER, DAN SHORT:
Timeless Muscle felt that an interview with Dan Short was crucial to this story, considering the integral part he and Fantom Works had played in bringing Nick's aspirations to reality.
Timeless Muscle: Dan, what in particular drew you to Nick's Chevelle SS build?
Dan Short: Upon meeting Nick, I knew what he wanted and knew we could make the car better than it was. Once the decision was made to go with the LT4, we were excited, as this was the first time we used the engine.
TM: If you had gone with the LS3, as Nick originally wanted, would the build have been as complicated?
DS: No, we've done dozens of LS-based engine builds, the LS3 would not have required the amount of horrible modification to fit. We realized right away that the LT motors are very different in shape to the LS.
TM: What was the deciding factor in suggesting the LT4 crate as an option to Nick?
DS: Nick was looking for crazy horsepower and something no one else had. In January 2016, when the LT4 crate [engine] became available, it provided both.
TM: What were the most challenging aspects of the build?
DS: The complete re-architecture of the chassis and making the electronics work right, since this was the first time the LT4 was used in this application.
TM: From watching the show, we all know that you installed the LT4 into your beloved '69 Camaro, what are your opinions of the engine and would recommend it for future builds where applicable?
DS: The power is unbelievable, but the LT4 was designed specifically for the ZO6 Corvette and the CTSV Cadillac, the LS3, for example, is more compatible with multiple applications. For both, Nick's Chevelle and my Camaro, a complete redesign of the chassis steering, suspension, brakes and fuel system was necessary to make it work. Many custom pieces had to be made including the Heidts IFS/IRS set-ups along with the inline rear disc brake system. Heidts owner Wallace and chief engineer Mike were indispensable in making many one-off pieces that would be strong enough to handle the LT4's power.
Since obtaining his driver's license way back in 1987, Andrew's automotive interests have revolved around late-model, GM EFI iron. Predominantly a Pontiac guy, he had grown-up driving and experiencing many EFI cars from the '80s to the present. Since 2008, he's been a freelance writer/photographer for multiple niche auto enthusiast magazines and websites. Andrew claims to have a short yet definitve list of passions, in which late-model performance cars, hold a top spot.