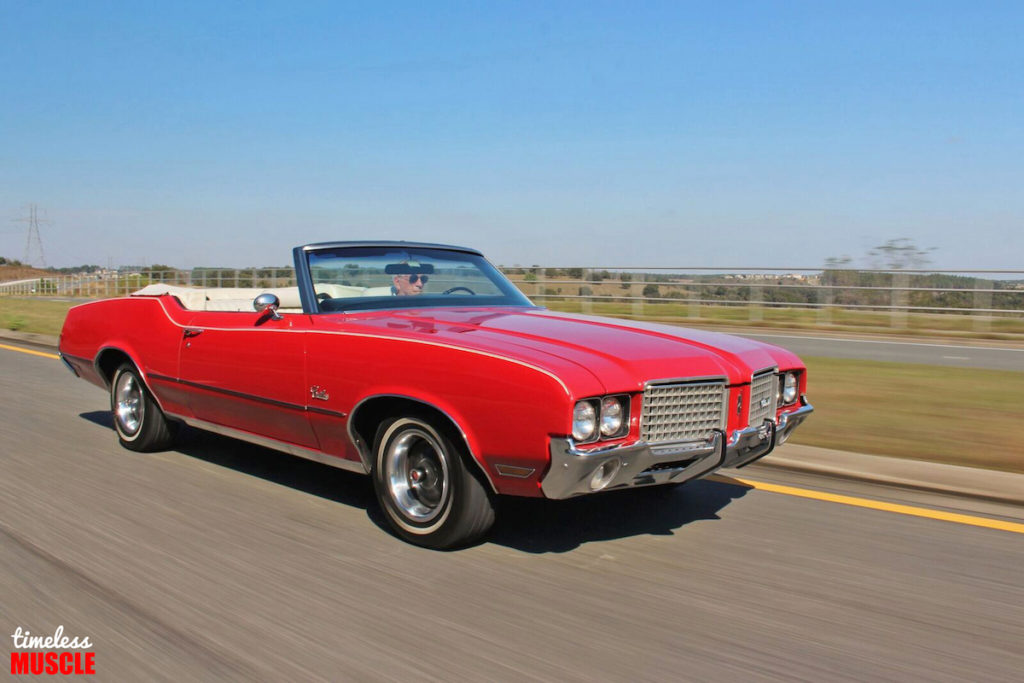 photos by: the author
Warren Ludwig's '72 Cutlass Droptop Reminds us that you can have a Slice of American Muscle for not a lot of Coin
We here at Timeless Muscle Magazine love factory produced, high-horsepower machines—models such as the Hemi 'Cuda, Boss 429 Mustang, and Oldsmobile 442 W-30 get our pulses pounding and represent the pinnacle of 1960s and 1970s American performance. The downside to these iconic automobiles is that they are rarely driven and oftentimes priced out of reach for the average enthusiast. Anyone who has witnessed a Barrett-Jackson or Mecum auction knows that these are premium cars that command premium prices, some reaching well over six figures.
Luckily for us, Detroit pounded out copious amounts of iron in the 1960s and 1970s, and the Big Three automakers recognized the fact that not everyone had bottomless pockets, or wished to endure rush hour traffic in a car equipped with a high-compression engine and a temperamental camshaft. There truly was something for everyone, anything from a purpose-built dragstrip menace, to a comfortable boulevard cruiser for date night at the local drive-in theater.
Warren Ludwig of Clermont, Florida is a lifelong car-guy and has been tinkering with everything automotive related since he was a child. Growing up in Parma, Ohio, Warren says, "I was doing tune-ups on our neighbors' cars when I was about 13 or 14. There was also a garage in town where I hung around, and I worked with the mechanic there, learning the ropes."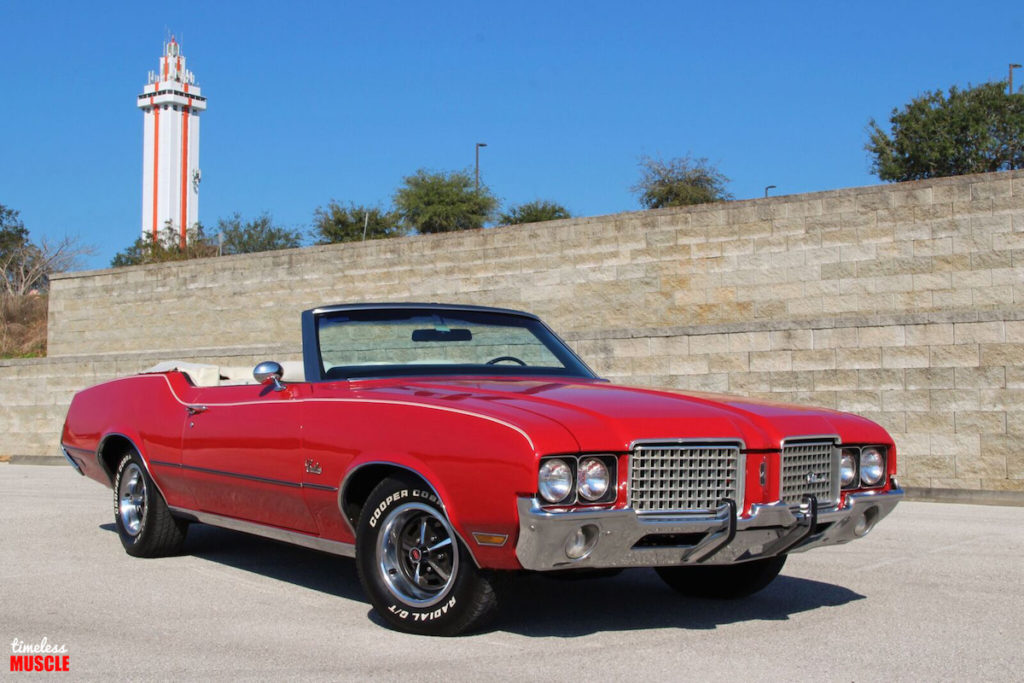 Around that same time, Warren also learned how to pirate his father's 1937 Plymouth Business Coupe, taking it out for late-night joy rides. "Me and a friend would push the car out of the driveway so we wouldn't wake anyone, then hop in and fire it up." It was a technique he perfected over time, and he never did get caught pilfering his dad's ride.
Warren's first car was a 1937 Plymouth (not the same one he hijacked from his parents' driveway) with an L-Head 6-cylinder engine, and he recalls, "That thing was a tank. I beat the living heck out of it." He also owned a blue and white 1953 Oldsmobile 2-door sedan equipped with the 303 ci Rocket V-8 engine, which he remembers fondly, "That was a real nice car." A few years ago, Warren and his wife, Kathy, decided it was time to get back into the classic car hobby and sought something they both could enjoy throughout the year-round cruising season in Central Florida.
The Ludwigs had a neighbor who owned a 1971 Oldsmobile Cutlass Supreme convertible; Kathy says, "We fell in love with that car; he was going to sell it, but later changed his mind. Now on the hunt for a similar Cutlass convertible, Warren and Kathy found Orlando Classic Cars in Taft, Florida. They struck a deal and became just the third owners of this Matador Red 1972 model.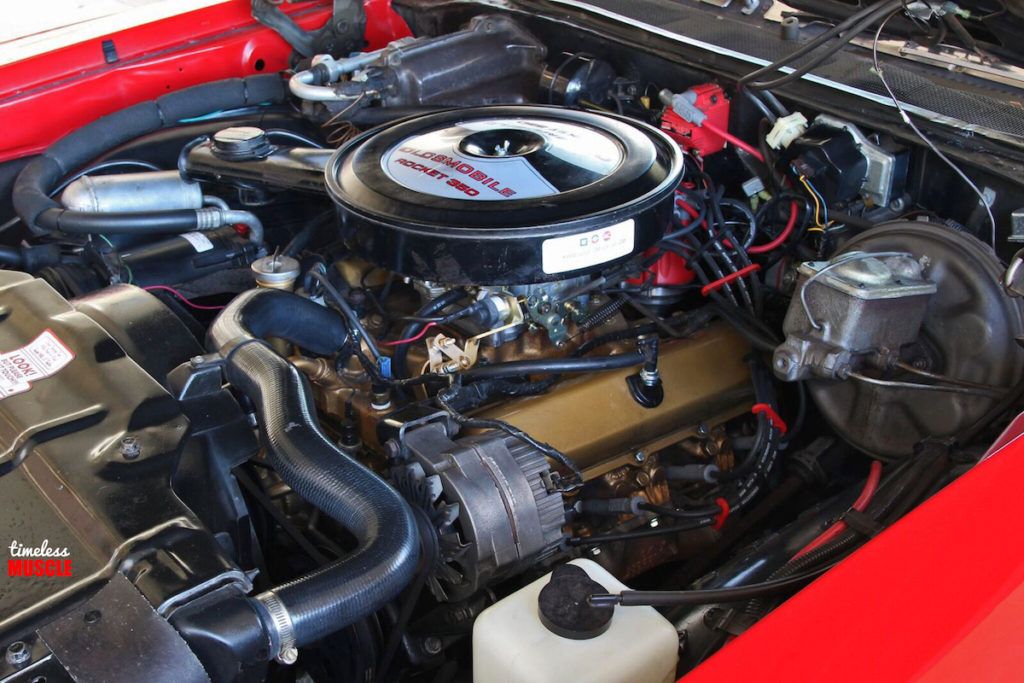 Armed with the legendary Oldsmobile Rocket 350 ci engine, it boasts enough power for spirited driving, yet is easily manageable in any situation. In 1972, the Rocket 350 was rated at 9:1 compression, which is a bit lower than previous years, but the upside is that the Cutlass runs perfectly fine on today's ethanol-infused gas. Originally equipped with a Rochester Quadrajet, the Olds now has a 650 cfm Edelbrock carburetor.
Warren says, "I kept having fuel leakage problems with the Q-Jet, had it rebuilt, but it still leaked. I then bought a remanufactured one and it had the same problem, so I just went with the Edelbrock. It's such a simple design."
Warren also upgraded the ignition system with an MSD distributor and coil, which results in a more complete combustion event. The spent fumes exit through stock cast iron manifolds into a dual system highlighted by Magnaflow mufflers, enhancing the classic muscle car tone. Power is transmitted to a TH-350 automatic transmission and a 10-bolt rear end with highway-ready 2.73 gears.
A stock braking system featuring front discs and rear drums brings the Oldsmobile to a stop straight and true. The factory rally wheels (officially named Super Stock I wheels) were originally shod with whitewall bias ply tires, but are now appointed with Cooper Cobra radials, sized 225/70/14 at all four corners. Warren loves the handling, saying it "drives like a new car," and he and Kathy regularly attend local car shows and cruise-ins, enjoying the camaraderie of fellow classic car aficionados.
This Cutlass is a well-optioned ride and includes power steering, power brakes, and power windows and locks. Additionally, the car is outfitted with factory air conditioning, quite a rare element for convertibles in the early 1970s. The white interior (with black carpet and dash) shows like new and features a bench seat with armrest, which General Motors called the Custom Sport seat. Warren is wary about relying on the factory warning lights pertaining to water temperature and oil pressure, so he plans on upgrading to either factory style or Autometer gauges in the near future to keep tabs on the engine's vital signs.
The Ludwigs' beloved Oldsmobile may not have the brute power of the fabled 1970 442 W-30 model, but it retains the classic style and attitude of its predecessors. They can load in their friends, drop the top, and hit the drive-in movie theatre in nearby Ocala, Florida 365 days a year.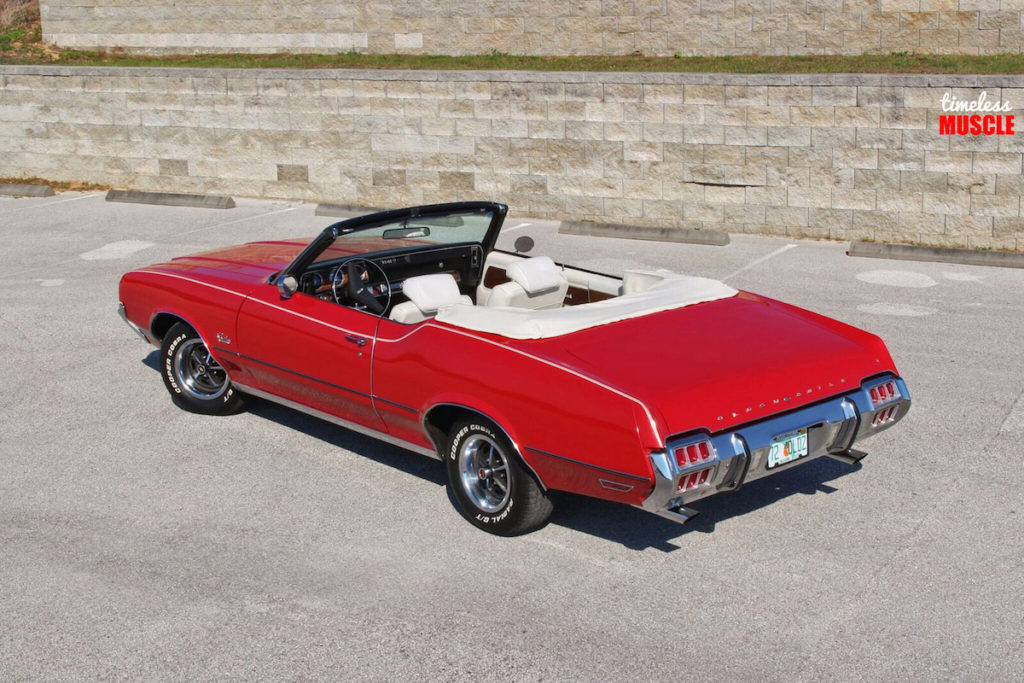 Dave's a very passionate musclecar aficionado. An automotive painter by trade, he's done a complete restoration on his very first car, a 1970 Pontiac LeMans that he's owned for over 20 years. Dave's superior photographic skills, writing talents and Florida location make him an ideal year-round contributor.