Tony Always Wanted a Pontiac GTO, and When He Finally Got One a Few Years Ago, He wanted to Make Sure it Had the Best of Modern Performance 
Tony Madonia owned a Pontiac Lemans when he was in high school, but he always wanted to bring a Pontiac GTO home. After owning a few different Pro Touring cars, he finally got his hands on his GTO in September of 2013. The plan was to build a high-end Pro Touring car from the GTO. After speaking with Blake at Speedtech Performance and going back and forth for almost a year, Tony decided it was time to pull the trigger on a brand new A-Body Extreme chassis. From there, a whole new kind of machine was born. 
It was thanks to an ad on ClassicCars.com that Tony was able to find this GTO in Michigan for sale. Despite being a 1969 Pontiac GTO muscle car, it now runs and drives like a modern sports car, but it took a lot of work to get it there. Powering the build is a 376 stroked to 416 cubic inch LS3 out of a 2011 Chevy Camaro. It has a Callies crankshaft, Wiseco pistons, Callies connecting rods, MAST Motorsports oil pan, Melling LS3 oil pump, and windage tray on the bottom end. 
At the top, an ultra aggressive Comp Cams hydraulic roller cam with 247/251 .624"/.624" lift and 114 LSA gives it some major get up and go. The Trick Flow Specialities cylinder heads were built up by Sullivan Performance, who did the rest of the work on the engine, with Trick Flow aluminum intake and exhaust valves, LS3 with trunion upgrade 1.7 rocker arms. Topping the engine is a Whipple supercharger that runs 12psi and has a 2.9-liter front inlet. 
A Holley Dominator EFI system, 85 lb/hr fuel injectors, and a VaporWorx dual fuel pump for a CTS-V keeps it well fed. Brian Macy of The EFI Store tuned it to run like a champ. MSD wires and NGK spark plugs makes it ignite with the highest efficiency. 
The exhaust flows into Speedtech headers from the engine, and into a 3" Stainless Works exhaust system with Stainless Works mufflers. When he needs a little more kick and a lot more growl, Tony employs his Quick Time Performance electronic exhaust cutout. 
Backing the engine is a tough as nails 4L80E automatic transmission, built by Rossler Transmission in Gerrard, Ohio. It has an ATI flexplate and 2800 stall Yank Performance torque converter that makes sure it leaves the line revving towards the cam's power band. A PRC transmission cooler keeps the heavy duty torque converter from causing the transmission fluid to overheat and burn, and a B&M shifter makes for more precise shifting.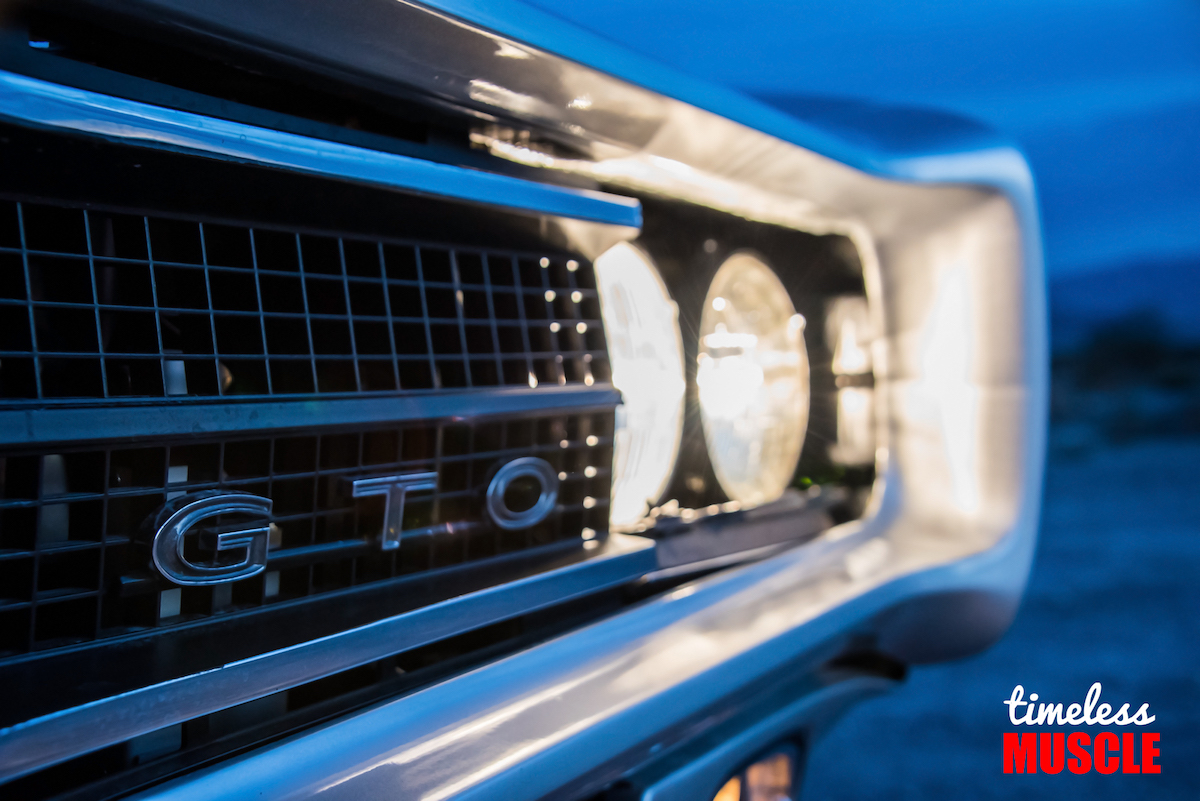 The power is fed into a Mark Williams aluminum driveshaft with safety loop to keep it from causing damage if the u-joints fail. A Ford 9" handles the power coming off the drivetrain, and is equipped with 3.73:1 gears, a Trutrac differential, and 31-spline axles. 
Back to the chassis work, the Speedtech Extreme A-Body chassis is the biggest overhaul of the whole car. Since it's a custom chassis, the builders could hand pick the components that would help Tony get the ride characteristics he wanted out of the GTO. The chassis has been loaded up with the best suspension parts out there to make it ride like a supercar, instead of an old school muscle car.
Viking Crusader shocks, a rising brand in popularity for any performance application, take duty on all four corners. Springs with a 450 lbs/in spring rate are up front, with 225 lbs/in rated springs in the back. A 1.25" splined sway bar up front and 1" splined sway bar in the rear controls body roll and improves handling. The GTO also has a Speedtech torque arm to round out the suspension, while a Sweet dual power steering rack gives Tony a lot more control while on the road or track. 
"It's amazing how the automotive aftermarket has made it possible for a 50 year old car to drive like a modern performance machine" -Tony Madonia
The engine setup equates to an 860 horsepower output. Track times are unknown, for now, but you can assume this GTO will cover a 1/4-mile in no time at all, especially with the use of the high stall converter so it will leave the line like an angry animal. Not to mention, it has the chassis and suspension to make it an amazing autocross or road race car — it's not just limited to drag racing. 
With great power comes a great braking need, so Baer Pro Plus 14" brakes are employed on the front and rear under a set of staggered Forgeline GT3C wheels. Michelin Super Sport tires in 295/30/19 up front and 345/30/20 in the rear give it some serious plant with the most ground contract possible. 
This 1969 Pontiac GTO isn't all go and no show, Tony has upgraded a lot appearance wise. The body has been covered in an attractive Blade Silver paint, it has brushed moldings, color matched bumpers, Ringbrothers door handles and hood hinges, and is finished off with a GTO Judge spoiler. 
Inside is just as great looking as the out with a combination of titanium gray suede, leather, and vinyl used where needed, with a custom console and seats out of a 2005 GTO. A roll bar has been added for improved safety for the occupants, which they'll probably be required to have to pass tech at most drag racing events, if the power is any indication of what kind of times this beast is capable of running. Classic Instruments gauges with matching hood tach give Tony the readouts on important information while driving. The complete interior was done by Divine One Customs of Henderson, NV. 
"I would like to thank Speedtech Performance, Divine One Customs, and Sullivan Performance for all the work they did on this car to make it possible to achieve my goals. I also want to thank my wife for having the patience to put up with me during the life of this build." -Tony Madonia
Elizabeth is hardcore horsepower enthusiast with unmatched intensity for making things faster and louder. She wakes up for power and performance and only sleeps to charge up for the next project that's heading to the track. From autocross to drag racing, Elizabeth is there with you, so stay tuned for her unique perspective on horsepower news, builds, tech info, and installs — with her, it'll never be boring!