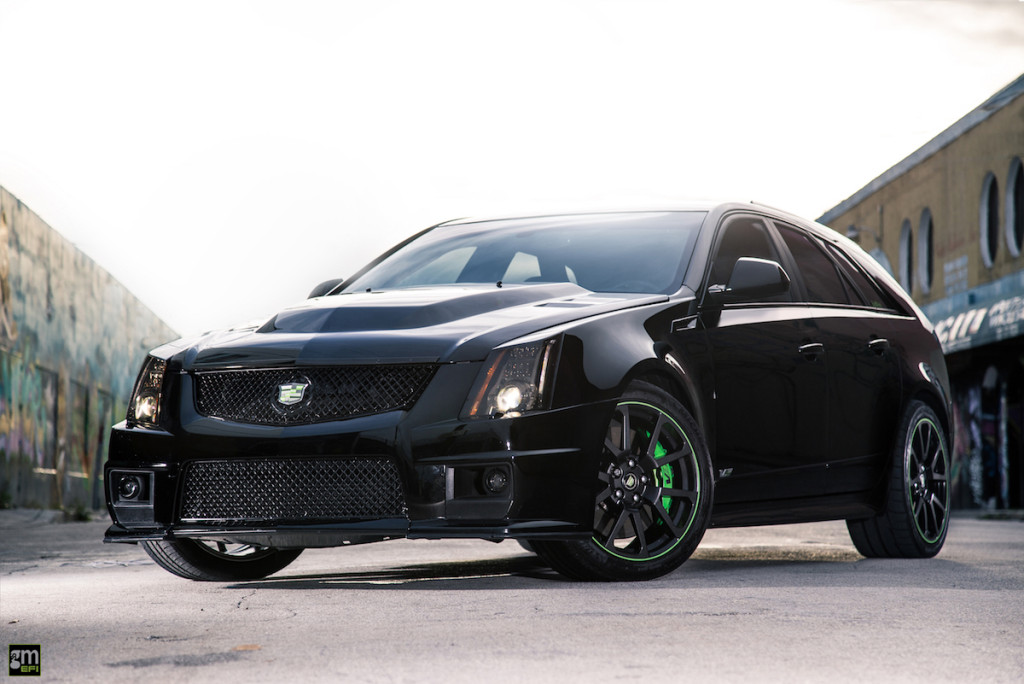 photos by: Kevin DiOssi
One Man Takes His Cadillac Station Wagon to the Next Level with Very Little
Cadillac certainly had its fair share of ups and downs over the last fifty years. From the highs of the '50s El Dorado to the it-can't-get-any-worse-than-this Cimmaron of the '80s, Cadillac bounced back big time in the middle of the last decade. Once the second-generation CTS-V was launched, it became clear that Cadillac was trying their best to reclaim "the standard of the world" title it had lost decades earlier.
The second-generation CTS-V, or V2 as it's known in car circles, was improved over the old model in basically every way apart from curb weight. Showing up to the track with a supercharged LSA and an additional 156 hp than the outgoing model, as well as substantially improved brakes and suspension, the V2 ultimately brought two additional body styles along with it; the coupe and the wagon.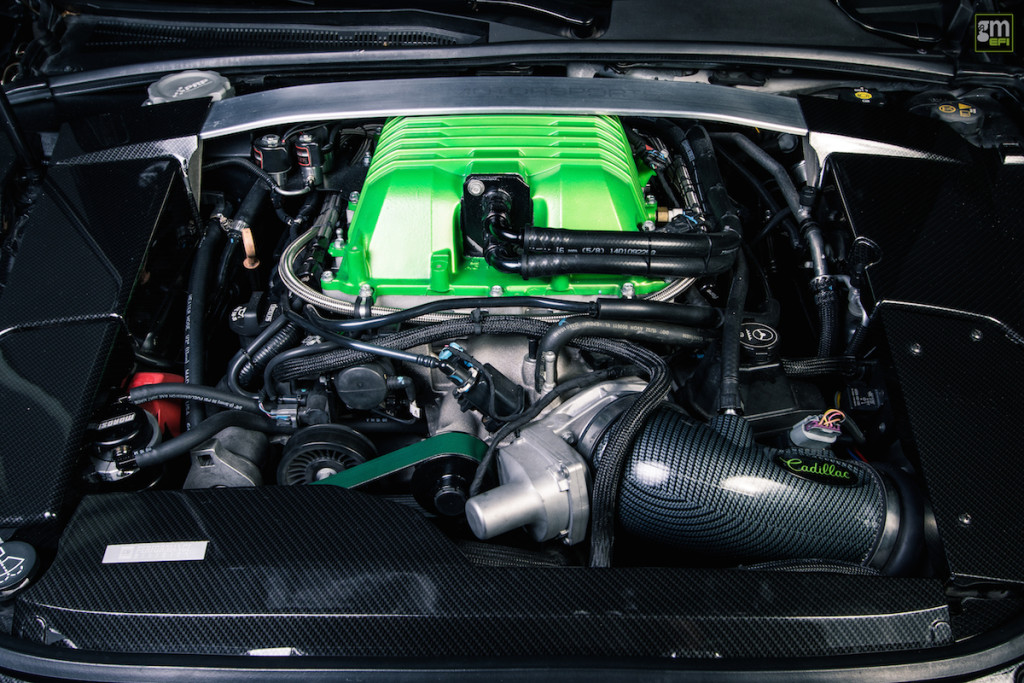 Don Drybread who's been the owner of an '80 Z28 for quite a few years, ordered this 2012 'V wagon in the Fall of 2011, and while it shares the same hue of paint as his classic second-gen Camaro, the similarities end there. You see, whereas his throwback F-body is content with naturally-aspirated small-block power, the V, naturally, has an E85-gulping LSA with close to 800 horsepower to the rear tires.
What makes this car particularly unique, however, is the formula in which Don executed for his build. He took a "keep it simple" approach that yielded huge gains with minimal modifications. He managed it so well, that he became the first CTS-V wagon in the 9s and in fact, the fastest V in the world.
Reaching out to his friends at Kraftworks, the entire long block was left totally stock, with only a camshaft and valvetrain upgrade to the alloy mill. Surprisingly, the Eaton 1.9L blower remains in place, unported, with only a switch to a ZL1 lid for improved cooling. Also thrown into the mix is a Griffin intercooler for increased cooling capabilities and a Metco 2.85-inch upper pulley/10.5 lower pulley system.
Air is fed through a Green air filter attached to a carbon fiber AIRAID cold-air induction kit, OEM MAF sensor and a ported 90mm LS7 throttle body. On the other end of the breathing spectrum, the exhaust has been upgraded with American Racing Headers long-tube headers with 1-7/8 inch primaries and X-pipe, along with a Stainless Works catback.
Of course it's going to take more then a few bolt-ons to produce 800 tire-shredding horsepower to the rear tires of a V2, so Don's car is equipped with a COMP Cams hydraulic bumpstick, speccing in at .226/.234 duration, 605/612 lift and a 120 lobe-separation angle. Interestingly enough, the factory heads are left in place – untouched – save for the necessary valvetrain upgrades that compliment the COMP cam.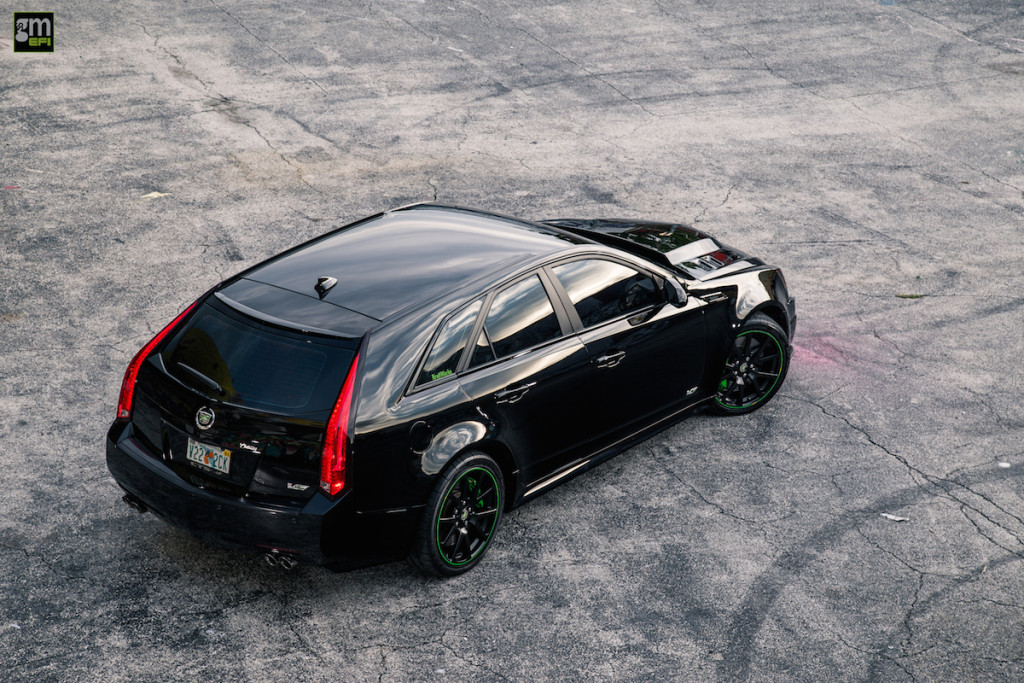 If the 15-psi. of boost wasn't enough, a single-stage Nitrous Outlet wet kit – good for a very modest 50 hp jetting – was selected to give the LSA just a slight bump in power. While that might not sound like a whole lot, the amount of boost already being forced into the cylinders, combined with Don's desire to have this engine last as long as possible were the ultimate deciding factors for such a conservative amount of nitrous.
But with so much air and spray working overtime to propel this 4,400-lb. beast forward, it only made sense for a upgraded fuel system to balance it all out. So a combination of Injector Dynamics 1300 injectors (designed for E85), Fore Innovations fuel rails, regulator and Level 4 triple-pump, adjusted to deliver 60-psi. of fuel pressure to the cylinders.
Common perception is that the OEM coil packs are able to supply adequate spark to each plug, and this remains to be true with Don's V wagon. The factory coil packs remain in place, with only the help of MSD plug wires and Brisk Racing Silver spark plugs helping with the cause. Kraftworks in Del Ray Beach, Florida is credited with tuning this combination, with the help of EFI Live.
If you think the engine has seen little in the way of aftermarket hardware, then you might even be more surprised to see that neither the transmission, nor the rearend, has been upgraded at all. They're just as they were the day the car left the factory – and just goes to show you how much more of an improvement the V2 platform was that over the original V1 cars.
Now although Don's wagon was equipped with the factory rollers for our shoot, you can find him pulling quarter-mile E.T.s in the high 9-second bracket with Weld Racing RT-S', shod with M&H Racemaster slicks and skinnies, respectively. His best pass at the time of this writing was a 9.84 at 139.59, with a 1.501 short time.
Oh, and for that final dyno number? This blacked-out V wagon rang in at 662 horsepower and 624-lb ft on the LSA's boost alone, with 757 horsepower and 756 lb-ft of torque realized when that Nitrous Outlet kit comes online. If there's any doubt left that a heavy station wagon with a cam and bolt-ons just can't bring in respectable numbers, be sure to remember this car.
Since we've originally ran the story, we've come to understand that at least two other members of the CTS-V community have since eclipsed Don's time; with a 9.90 and a 9.85, respectively.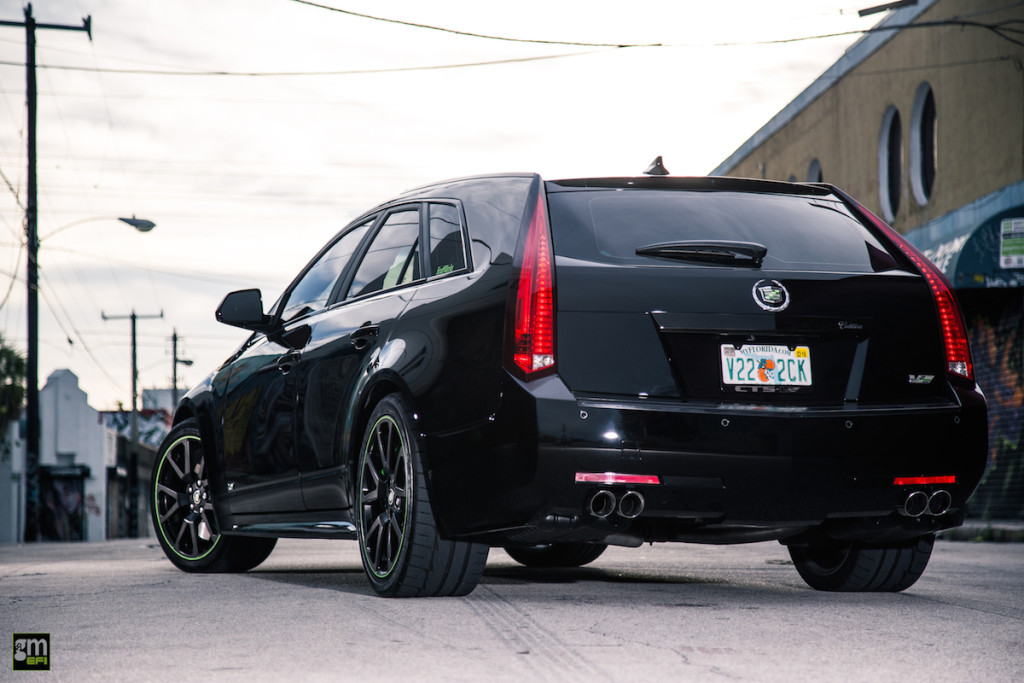 TECH SHEET:
CAR:  2012 CTS-V Wagon
OWNER: Don Drybread
ENGINE BLOCK: LSA; stock
CRANKSHAFT: LSA; stock
PISTONS: LSA; stock
CAMSHAFT: COMP Cams; hydraulic, .226/.234 duration, 605/612 lift, 120 LSA
CYLINDER HEADS: LSA; stock
COMPRESSION RATIO: 9.1:1
INDUCTION: Green filter, AIRAID CAI, stock MAF, 90mm ported LS7 throttle body
POWER ADDER: Eaton 1.9L (stock, unproved), ZL1 lid, Metco 2.85-inch upper pulley/10.5 lower pulley
INTERCOOLER: Griffin
NITROUS: Nitrous Outlet; wet kit, single stage 50 hp shot
BOOST: 15-lbs.
IGNITION: Stock coil packs, MSD wires, Brisk Silver Racing plugs
EXHAUST: American Racing Headers; 1-7/8-inch primaries and X-pipe, Stainless Works catback
FUEL DELIVERY: Injector Dynamics 1300 injectors for E85, Fore Innovations fuel rails, regulator and Level 4 triple-pump , 60-psi.
OILING: Stock
TUNING: Kraftworks; EFI Live
TRANSMISSION: 6L90E; stock
CONVERTER: Stock
FLEXPLATE: Stock
DRIVESHAFT: Stock
REAREND: Stock; 3.23 gears, stock
SUSPENSION: Stock
CHASSIS MODS: Stock
BRAKES: Stock; Brembo
WHEELS (strip): Weld RT-S 15×4 (front)/15×10 (rear)
TIRES (strip): M&H Racemaster
WHEELS (street): Stock
TIRES (street): Stock
HP/TQ.: 662/624 (boost only) – 757/756 (on spray)
BEST 1/4-MILE ET: 9.98 at 139.59
BEST 60-FT.: 1.501
Rick Seitz is the owner and founder of AutoCentric Media, and has a true love and passion for all vehicles; GM, Ford, Dodge, imports, trucks — you name it! When he isn't clacking away on his keyboard, he's building, tuning, driving or testing his current crop of personal projects!