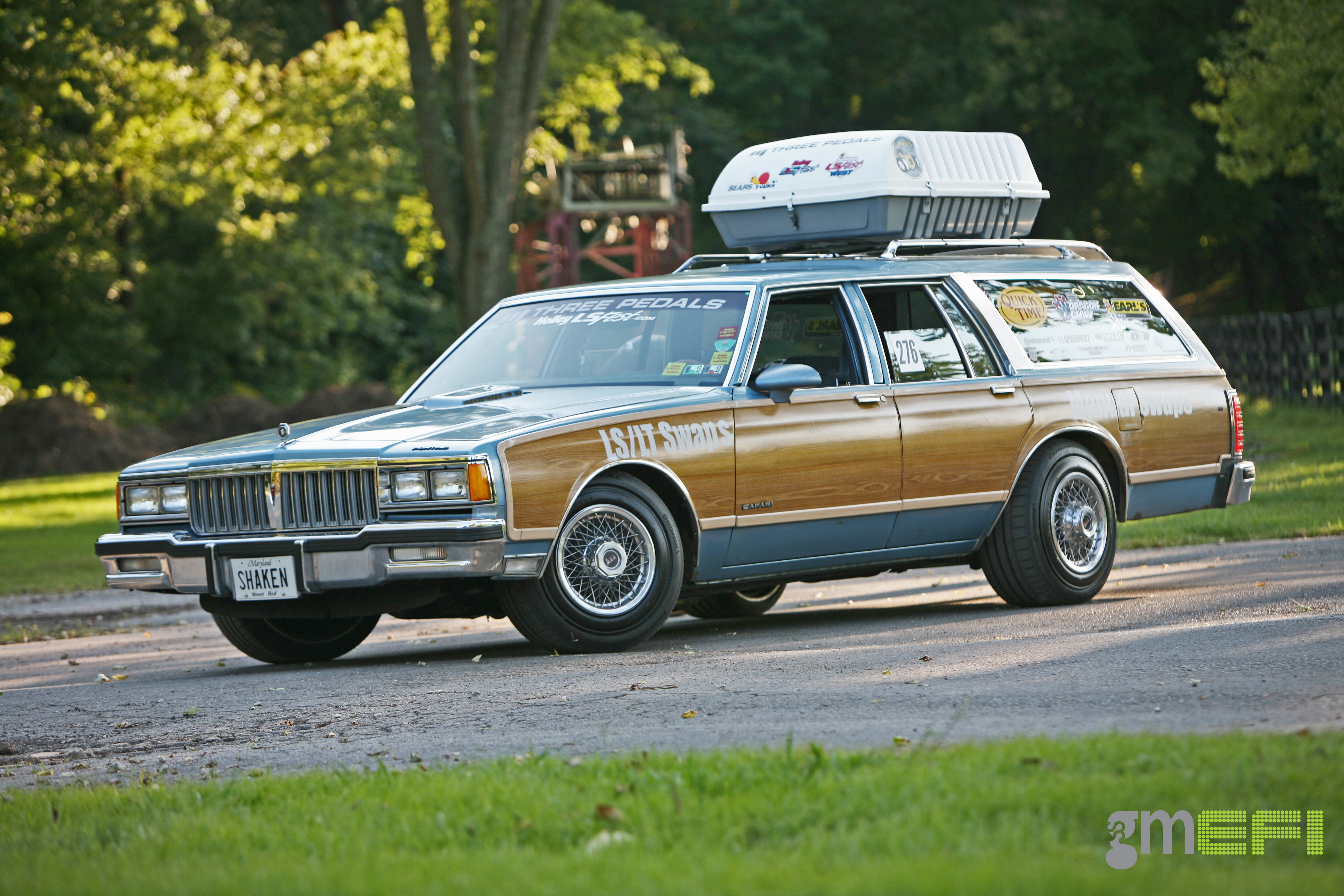 photos: Rick Seitz / Video: Sam McConnell
Three Pedals Takes a Family Hauler to Another Dimension
Debuting at the 2016 Holley LS Fest in Bowling Green, KY, we have been intrigued with the Three Pedals LS3-powered 1989 Pontiac Safari station wagon ever since we saw it. Known as Shaken & Stirred, this wagon started off as their prototype for the development of their new manual transmission kit for 1977-1990 GM B-Bodies (Chevrolet Caprice, Chevrolet Impala, Pontiac Safari, Pontiac Bonneville, Pontiac Parisienne, Oldsmobile Custom Cruiser, Buick LeSabre, & Buick Estate), and includes their proprietary integrated clutch and brake pedal assembly and proprietary transmission crossmember. However, this car is so much more than just a test-fit car over at Three Pedals.
Before the team at Three Pedals got their hands on this 1989 Pontiac Safari station wagon, it only had 94,997 miles on the clock. It had the original carbureted 307 engine and 200R4 4-speed automotive transmission. The body was in good shape and interior was nearly perfect. When they started working on the wagon, they threw in an all-aluminum LS3 engine and T56 6-speed, and while it still has this basic setup, the team pulled a major redo, a take-two if you will.
With a goal to make 540-horsepower, the LS3 engine needed some serious overhauling, thankfully, there are also plenty of options out there to get the ball rolling, While they did play with the idea of turbos or a supercharger for the build, what they really wanted for the wagon was a killer camshaft and tune from MAST Motorsports. Their SS cam and valvesprings package can get an engine to where they wanted it, when properly tuned.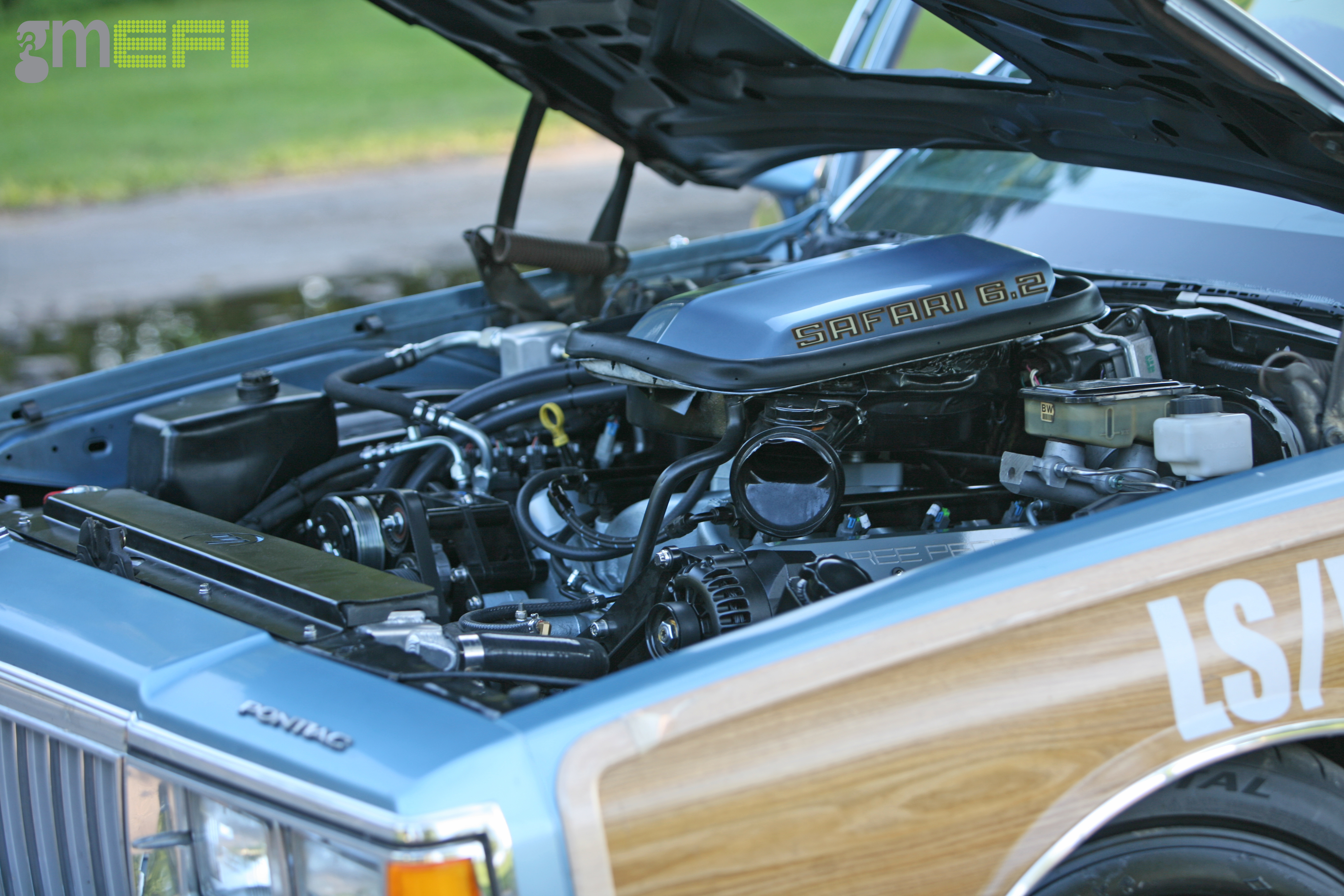 An upgraded exhaust and intake was also needed to get the engine there, which was no problem to source. To get the full potential out of the cam, MAST sent them a M90 ECU and wiring harness, complete with a pre-calibrated tune.
Along the way, they discovered a crack in the block from accident damage, and replaced it with a brand new block GM, part #12623967, weighing in at 105-pounds overall. Everything else on the inside and outside of the original engine in-use was fine, but they did decide it was a good time to do some upgrades. Before the block was installed, the had it painted in a 1960s era Pontiac engine color, and everything was cleaned, and cleaned again before assembly.
First upgrade was the connecting rod bolts, which were replaced with ARP bolts. This was done because the connecting rod bolts are the most stressed part of the engine as they are constantly being subjected to the force of travel when the piston moves up and down. For example, when your engine is at 6,500 RPM, your pistons are moving up and down at 108 times per second, so having a strong connecting bolt is a solid investment.
The factory piston rings were replaced by Total Seal's gapless top ring set, and Clevite coated bearings for the crankshaft mains and connecting rods were installed. Next came the camshaft and replacement of the timing chain with the same chain Katech uses on their Corvette Racing C5-R, C6.R, and C7.R. Stock pushrods were replaced with the Comp Cams 0.080" wall chromoly pushrods, and they used the Comp Cam trunnion kit to upgrade the factory rocker arms.
Since the factory head bolts are toss after use, AKA torque-to-yield, they opted to upgrade to ARP head studs instead. Finishing off the engine, the Three Pedals guys went a little nuts with the 12-point stainless steel bolts and used them in place of every bolt they could manage to replace.
At the bottom end, they chose to go with a MAST Motorsports oil pan to get the clearance needed to use with their frame crossmember. Up top, they basically have a fake-out carburetor that's essentially a truck-style drive-by-wire throttle body, thanks to the OldSkool adapter by MAST Motorsports. Holley fuel rails finishes it off in the engine bay.
The end result of the engine build wasn't quite within goal. Three Pedal's Shaken & Stirred wagon put down 435-horsepower to the wheel, which is about 500-horsepower at the crank. This equates to a more-than-capable Pontiac wagon.
Power feeds into a built Tremec T56 Magnum 6-speed manual transmission, which delivers power to a Eaton TrueTrac differential with 4.10:1 rear gearing. Stopping power is provided by Corvette C6 calipers at all four corners, and it rolls on Deluxe Wheels. Stability comes from Viking double adjustable coilovers at the front and rear.
This build isn't just a nice engine stuffed inside a Safari, it's got a lot of custom work at every corner. One of the highlights of the bodywork is the fabricated shaker-style hood scoop, which is a mix of factory and aftermarket or custom parts. The scoop is a nod to the 1970s Pontiac Trans Am.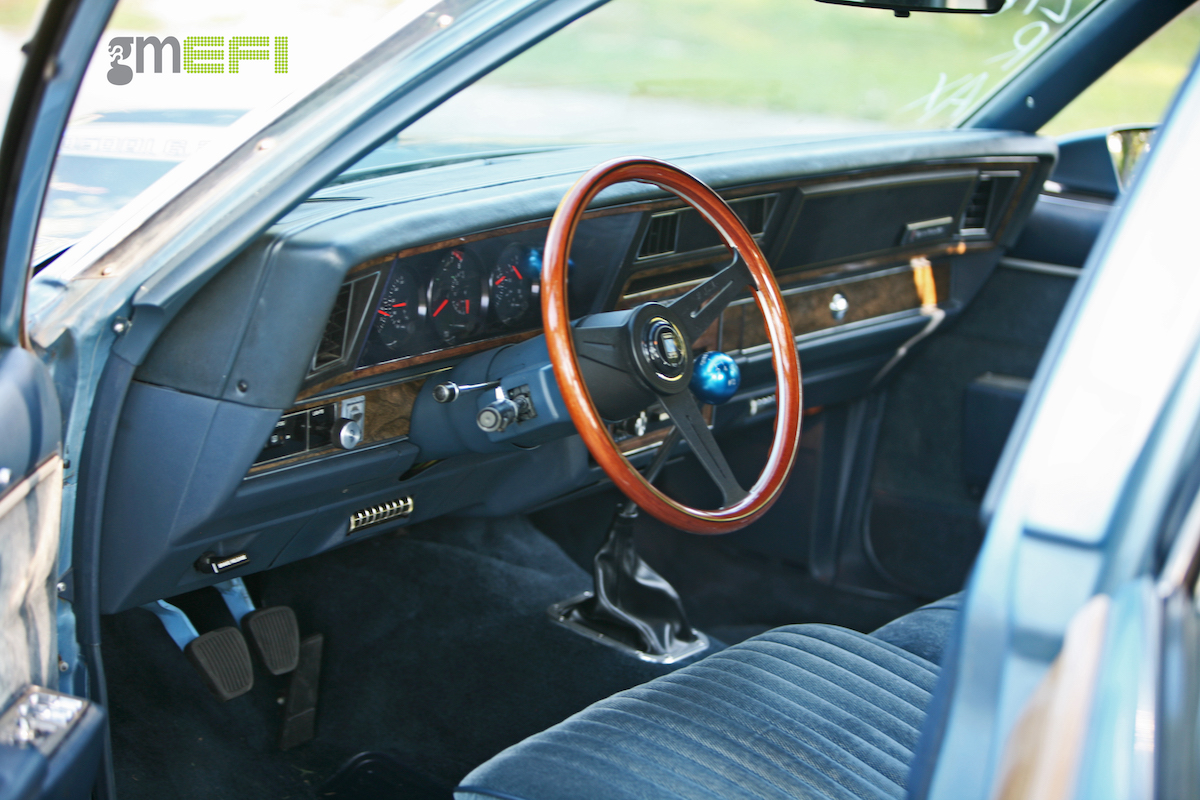 The interior has had quite the makeover. At the floor is a clutch and brake pedal assembly that's made to bolt into the factory position, with the capabilities of being able to use a hydraulic clutch system. Then came new carpet and protective Lloyd Mats featuring the Pontiac logo. They shift the car with a custom billet shift knob, and steer it with a wood and aluminum piece from Nardi that gives the interior some pop. Speedhut gauges finish it out with functionality and looks. We can't wait to catch up with them again this year during the LS Fest events to see what's in store next for their killer 1989 Pontiac Safari station wagon.
TECH SHEET:
CAR: 1989 Pontiac Safari station wagon
OWNER/DRIVER: Josh Korsower, Seth Betaharon, Seth Potack – Three Pedals
ENGINE BLOCK: LS3
CRANKSHAFT: Stock polished by Tyson's Automotive Machine
PISTONS: Stock with Total Seal gapless rings
CONNECTING RODS: Stock with ARP bolts
CAMSHAFT: MAST Motorsports custom ground
INDUCTION: Custom shaker hood scoop, modeled after 1970s Trans Ams, GM Performance Intake
IGNITION: Custom coil relocation
EXHAUST: Kooks long-tubes, 3″ custom stainless steel exhaust by Three Pedals, Vibrant Performance mufflers
OILING: MAST Motorsports oil pan
TUNING: MAST Motorsports
GAUGES: Speedhut
TRANSMISSION: Tremec T56 Magnum 6-speed transmission
CLUTCH: Hays Dragon Claw twin-disc clutch
SHIFTER: Driveline Components front mounted shifter with custom Three Pedals shift knob
DRIVESHAFT: 3.5″ aluminum, custom built by Inland Empire Driveline Service
REAREND: GM 10-bolt with Detriot TrueTrac differential and 4.10:1 Moser gears
SUSPENSION: Global West front upper and lower arms, designed for coilovers. Viking double adjustbale coilovers, and Metco upper and lower control arms.
BRAKES: Corvette C6 rotors and calipers
WHEELS: Deluxe Wheels
TIRES: Continental Extreme Contact
HP/TQ.: 435-RWHP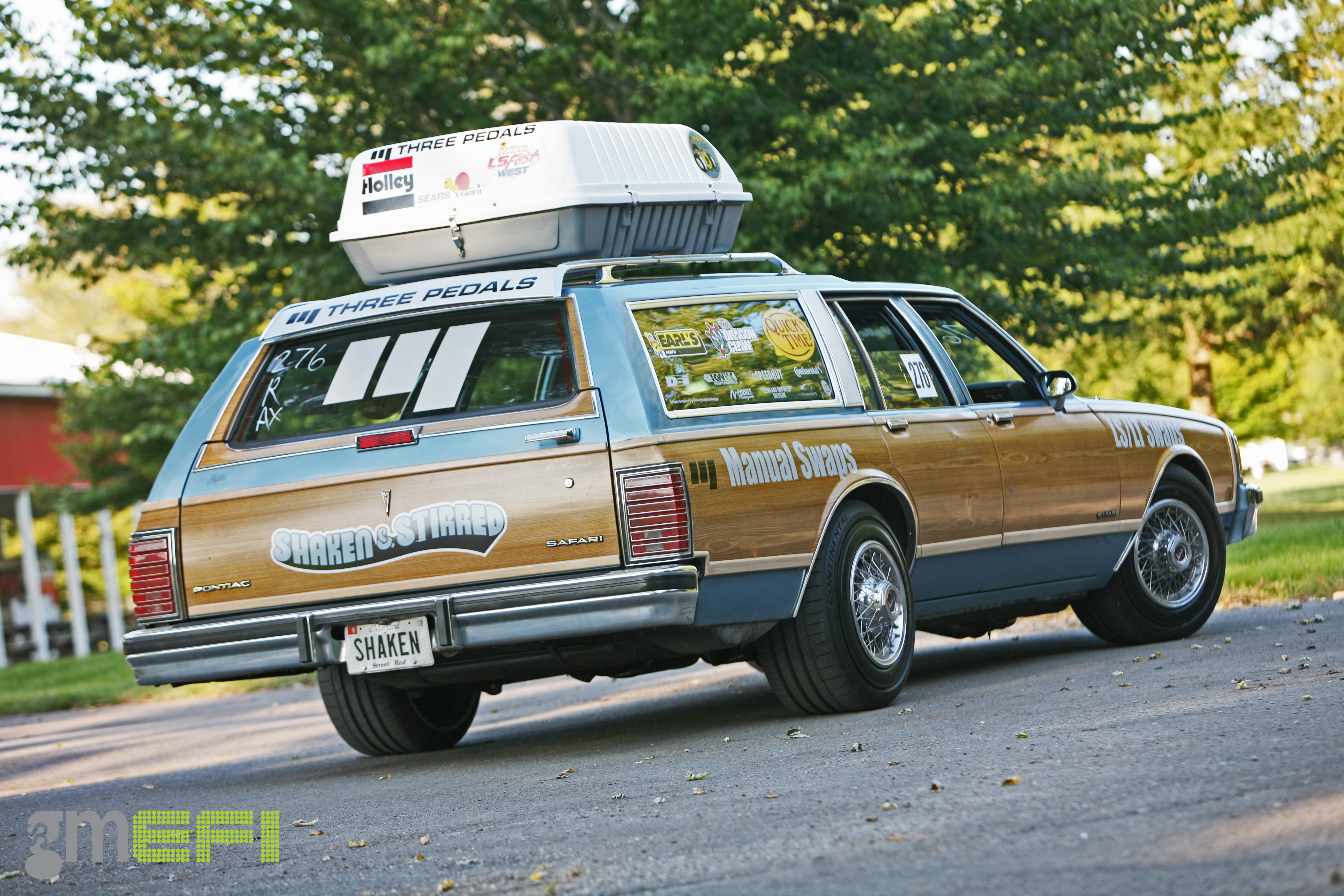 Shawn Henry is a Texas native who has spent the majority of his career building and selling F-Bodies and Corvettes. Now studying journalism, he is taking a new direction with his love of GM Performance vehicles.