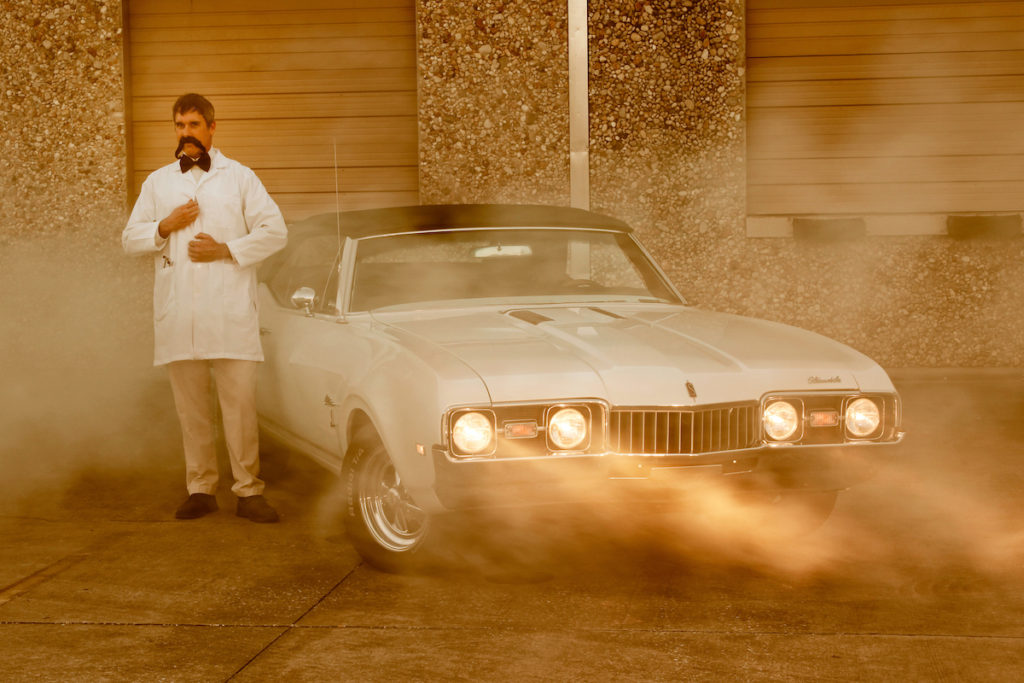 photos by: the author
Steve Chaires Applies the "Dr. Oldsmobile" Approach to His Cutlass 
By the late 1960s, advertising for American muscle cars was growing ever-more outrageous; Plymouth had adopted the Roadrunner and Wile E. Coyote cartoon characters to promote their successful Roadrunner model, while Pontiac was using bold courtroom imagery to market the new-for-1969 GTO Judge. With such a crowded marketplace, the buyer had a seemingly infinite number of cars from which to choose, and oftentimes, a fun, creative advertising campaign distinguished certain models from the rest of the pack.
Though Oldsmobile did not produce the variety of performance machines that sister divisions Chevrolet and Pontiac did, the brand was nonetheless heavily invested in the muscle car wars, with the Cutlass and 442 models becoming some of the most stylish and powerful automobiles of the era. For the 1969 models, Oldsmobile created the Doctor Oldsmobile character to 'inject' some flair and attitude into its marketing strategy.
Doctor Oldsmobile was a mad scientist-type who was usually pictured in his garage/laboratory, surrounded by an assortment of ghoulish assistants. The notion was that he and his minions were always devising exciting new ways to provide the Oldsmobile "W Machines" with a competitive edge. Kitschy and fun, it presented Oldsmobile with a successful advertising campaign that stood out, even among the scores of gimmicks of the era.
Steve Chaires of Tallahassee, Florida applied the Doctor Oldsmobile strategy to his 1968 Cutlass S, stuffing it with a ProCharged 455-ci. engine along with the accompanying go-fast goodies, but it was happenstance that Steve ended up with the Oldsmobile at all. Now retired, Steve once owned a moving company and was giving an estimate for a job; he soon realized the potential customer could not afford to pay for the work, but she did have in her possession a 1968 Oldsmobile Cutlass and the two parties struck a deal—Steve would perform the move in return for the car.
According to Steve, "It had one foot in the grave, a real rust bucket," but ever since he sold his 1975 Mustang II with a hopped up 302 V-8 (which funded the moving business), he promised himself he would someday own another fast American-made car.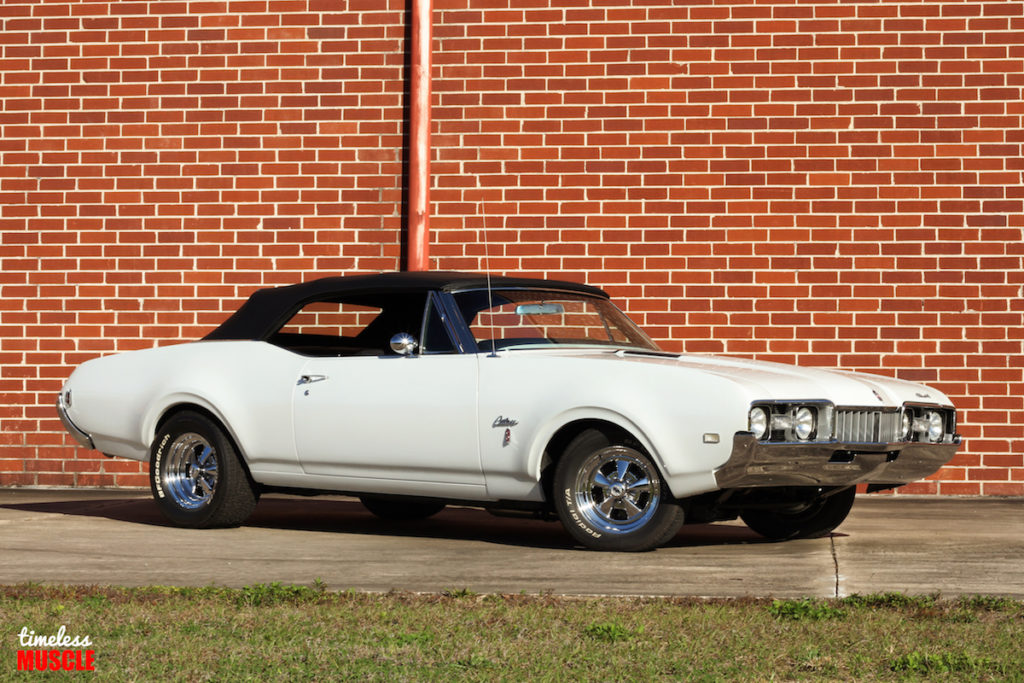 The Olds needed some serious rust repair, and Steve turned to Glenn Stull to perform his bodywork magic. New passenger and driver's side floor pans were installed, along with a new trunk floor. Other problem areas were addressed with metal patch panels, and all dings and dents were remedied. For a cleaner look, Steve decided he would not reinstall the body side or wheel opening moldings and those areas were smoothed accordingly. Countless hours of priming and block sanding followed until Glenn deemed the car straight and true, and ready for paint. A Diamont custom blend three-stage formula was applied, with three coats of white followed by four coats of pearl and eight coats of PPG Global clear coat. Allowing for proper cure time, the Olds was then laboriously wet sanded with ultra-fine sandpaper and polished to its glass-like finish. Steve says, "Most white pearls have a creamy yellow-look to them, but this one has a real pure-white appearance which I love."
The blue sapphire leather interior contrasts nicely with the pearl white finish and was handled masterfully by Larry McDaniel of the Recovery Room in Whigham, Georgia. Custom flourishes include leather-wrapped kick panels and leather dash pad. Bucket seats flank the console and factory issued shifter while a trio of gauges keep tabs on engine parameters. The wood steering wheel is a bit of a throwback, but coordinates well with the rest of the interior space. The stereo system features a Sony receiver and a 400-watt marine amplifier powering 5.25-inch speakers in the door panels and dual 3.5-inch dash-mounted units. The wiring is neat and clean, with the wires for the door speakers routed into a rubber boot through the door jamb.
Benny Lesch fitted the new black convertible top and Steve considers him the best in the nation. "Anyone who ever owned one of these cars asks me how I got the top so perfect and I simply say, Benny Lesch." The frame and various other components were powder coated black by David Watson of Iron Images. David also fabricated the necessary brackets for the ProCharger and the other belt-driven accessories. Living in Florida, Steve wanted his Cutlass to have air conditioning, but running the 455 ci mill and ProCharger set-up presented some challenges in the engine bay. The solution was to relocate the A/C compressor using custom-made brackets and trim the evaporator case to free up precious engine compartment real estate.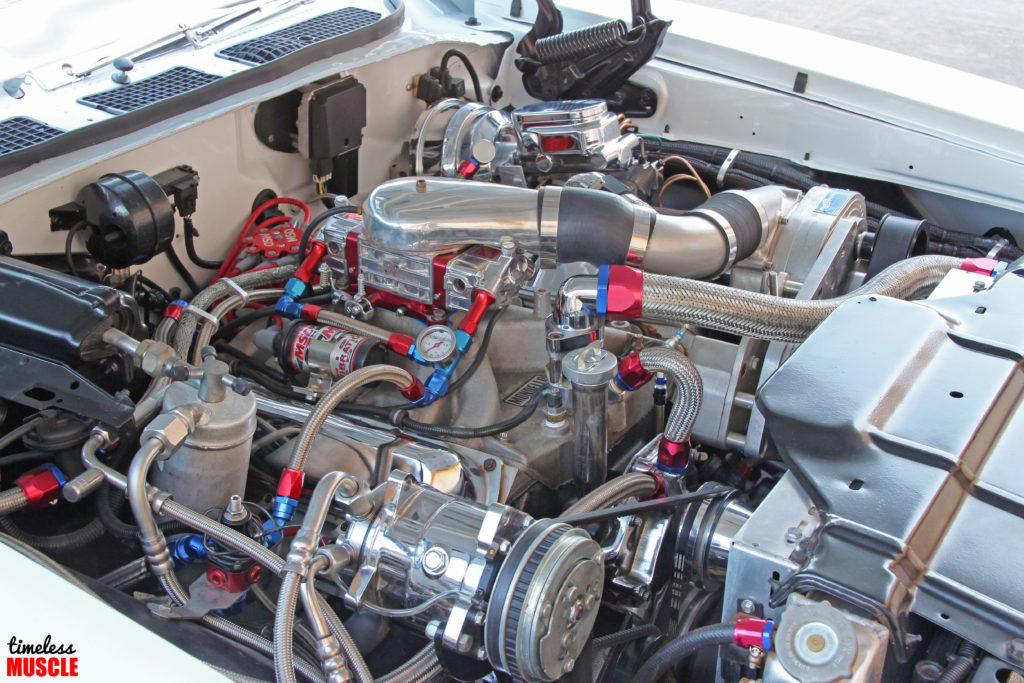 Judging by the show-quality paint and old-school Cragar wheels, one could easily assume that this Cutlass is a mild-mannered cruiser packing no more than a docile 350 ci mill, but that's where this Olds really gets interesting. Lurking under the hood is a ProCharged 455 ci beast built by Randy Cassels of Cassels' Automotive Machine in Cairo, Georgia which now displaces 468 cubic inches. Randy started
with a stock block and fitted it with a forged crankshaft, H-beam connecting rods, and Eagle forged pistons.
ARP fasteners were implemented throughout, and the entire rotating assembly was balanced to within 1/2 gram. To maximize the benefits of the forced induction set-up, a roller camshaft was employed featuring 230/236 duration @.050 lift and a whopping .545/.555 valve lift. The Edelbrock aluminum heads were ported by Randy and showcase 2.072-inch intake valves and 1.68-inch exhaust valves, which are activated by 1.6 roller rocker arms.
A Mondello aluminum intake manifold is topped off with a blow-through 850 cfm Quick Fuel carburetor that is force-fed by the ProCharger model D-ISC running 7.5 pounds of boost. An Aeromotive A-1000 electric fuel pump rated at 300 GPH keeps the thirsty engine quenched and ensures that Steve won't pass too many gas stations. A complete MSD ignition system, including distributor, coil, and ignition box make certain that the combustible mixture is thoroughly burned. Spent gasses exit via custom Hedman ceramic-coated headers into a dual 3-inch system employing Flowmaster mufflers, resulting in a ground-pounding muscle car tone.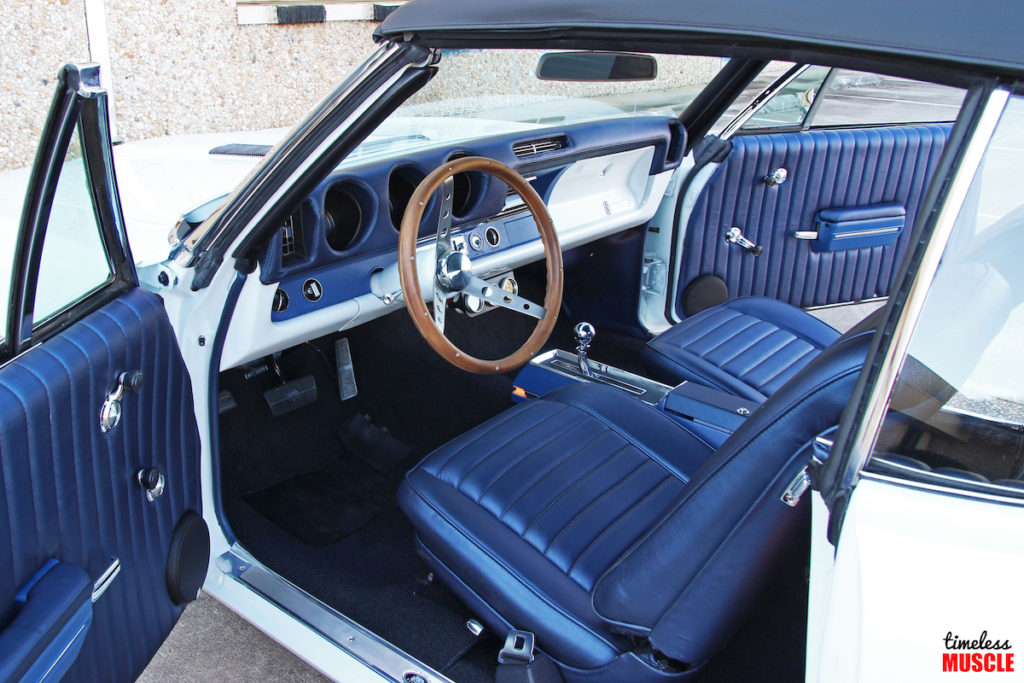 The gut-wrenching torque is handled by a TH-400 automatic transmission built by Mike Helton of Nationwide Transmissions in Tallahassee, Florida. The TH-400 features all new internals, additional clutch packs, a 2,800 RPM stall converter, and shift kit for more authoritative shifts. A new 3-inch diameter steel driveshaft sends the power to the 10-bolt rear end fitted with 3.23 gears and a limited-slip differential.
The suspension of the Cutlass may not be as radical as other aspects, but it was upgraded with new KYB shocks at all four corners, and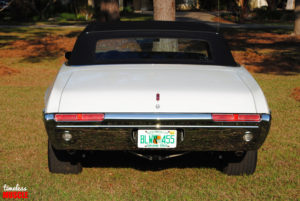 the rebuilt front and rear suspension components were fitted with polyurethane bushings. Four-wheel disc brakes with drilled and slotted rotors bring the car to a halt much quicker than stock, but Steve says, "She's old and heavy, and even with four-wheel disc brakes, she stops like a freight train. The steering is a bit touchy due to the sport steering gearbox, but she sure is fun to drive!"
With only 634 miles on the odometer since the complete restoration, Steve is still getting a feel for his beloved Cutlass, which he affectionately calls Pearl. He says, "She's just getting broken in, and is a torque monster. I'm confident we're pushing over 1,000 horsepower." A highlight for Steve was a first-place finish at the 2016 Oldsmobile Nationals in Kingsport, Tennessee, scoring an impressive 955/1000.
Displaying copious amounts of power and more attitude than a teenager in detention, Steve's machine is a prescription for anyone with 'Olds fever.' We can't wait to see the quarter-mile time slips and dyno numbers; we're sure it'll be just what the Doctor ordered.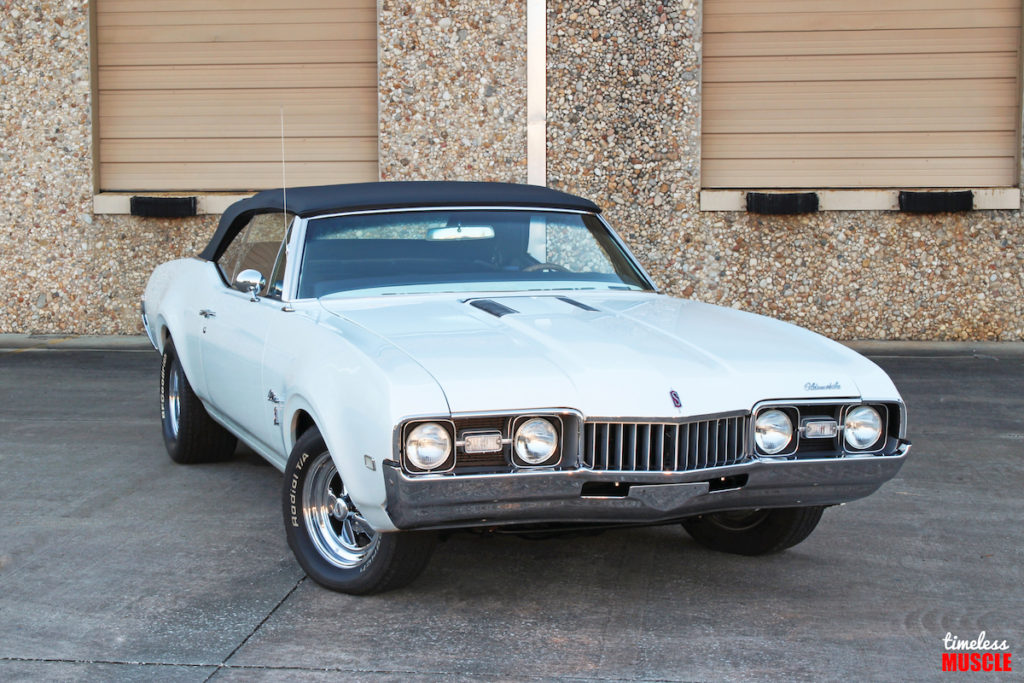 Dave's a very passionate musclecar aficionado. An automotive painter by trade, he's done a complete restoration on his very first car, a 1970 Pontiac LeMans that he's owned for over 20 years. Dave's superior photographic skills, writing talents and Florida location make him an ideal year-round contributor.