Photos by the Author
A First Year Torino With Grand Touring Capability
When you think about hot '68 Fords, the first thing that pops into your head is a Mustang. The second thing that pops into your head is…? Wait– what other Ford cars were hot in 1968? The Fairlanes and Galaxies were full-size tanks by then. We already mentioned the Mustang. What was the Ford mid-size offering in 1968? It was the all-new-for-1968 Torino! It shared a body with the Mercury Cyclone and represented the muscular mid-size choice for fans of the Blue Oval that year.
When we hear the name Torino, we typically think of the cool fastback GTs from the early '70s, with their full-width taillights and hideaway headlight options. Or, we think of the later "Starsky and Hutch" Gran Torinos from the mid-'70s, with their Coke bottle rear quarters and smog-laden engines. But, the Torino line actually launched in 1968 with a very attractive mid-sized platform, as we see here.
The fastback version of the car might be more familiar to some hardcore muscle car enthusiasts, as it was the basis for the rare (750 units made) 1969 Torino Talledegas made famous in NASCAR as a special edition, with a stretched nose, flush-mounted grille, custom front bumper, and rolled rocker panels — all to add in aerodynamics to compete with the winged Mopars on the super speedways.
This particular car is the less-common "Formal Roof" version, which might be a bit less sporty than the fastback, but we dig it for being really different. Like so many of the bigger Fords in 1968, this particular car was originally equipped with a 390-cube FE-Series V-8, which was originally backed with a C6 automatic, but current owner Jason Danielson of Andover, MN, has changed all of that.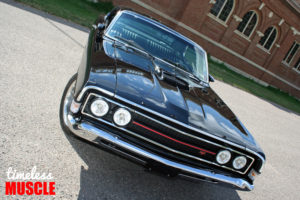 In fact, Jason has made a wide range of updates to this particular car, but most are so tastefully done you won't even notice them. The fact the car isn't a common, mainstream model makes the upgrades even less obvious. The way Jason explains it, "My vision for the car was to keep the original look to the interior, but to make some slight exterior and performance modifications."
The engine is a stroked 351 Windsor that now displaces 427 cubes, courtesy of a SCAT 4-inch stroker crank and a 4.125-inch bore. Full-floating Mahle forged pistons fill the holes and make 10.5:1 compression, and they're fed by Ford Performance aluminum "Z" heads. The 535-horse powerplant is backed by a Tremec 5-speed TKO600 manual transmission, with a RAM clutch connecting the two. It exhales through mid-length Doug's Headers and Flowmaster mufflers. Jason added electric cut-outs to the exhaust system so he can enjoy the lumpy .594/.618-inch lift cam profile without the Flowmasters working.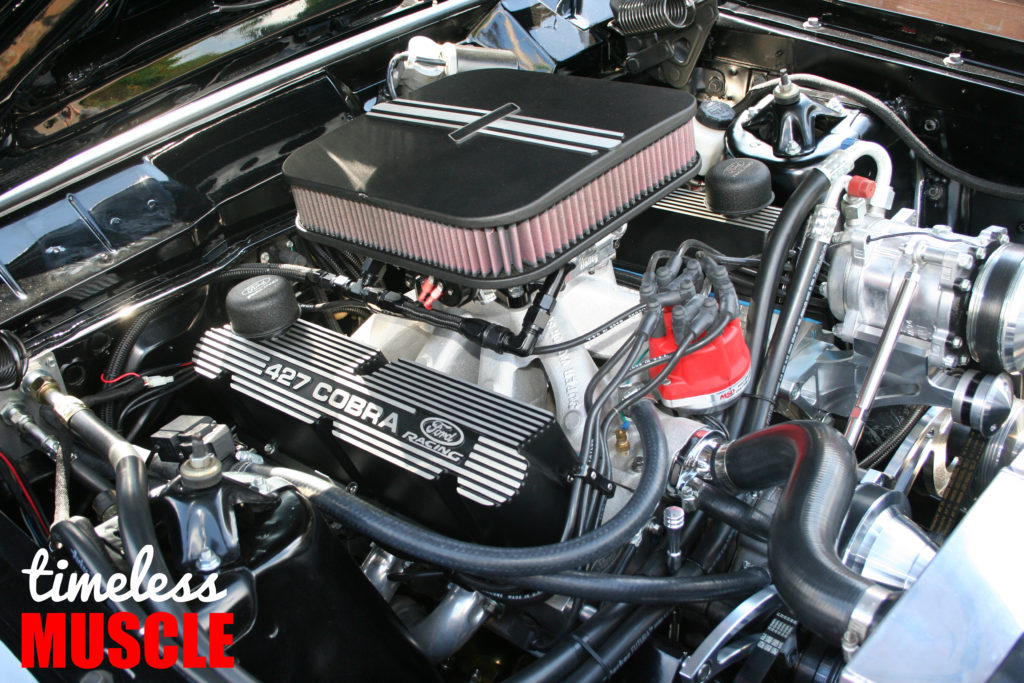 The drivetrain is pretty much bulletproof and powerful enough to make the unique Torino plenty quick. The arrow-straight body was finished in perfect gloss black by Jim McKinnon at Route 66 in Andover, Minnesota, after the factory vinyl top was removed. A 1969 "GT" grille was added to be a bit sportier, along with a cool factory hood scoop.
Inside the car, new factory seat covers are in-place along with a custom-made console to highlight the Longacre shifter stirring that TKO box. A factory tach looks right at home in the dash. Vintage Air A/C was added so the car would be comfortable to cruise in all summer.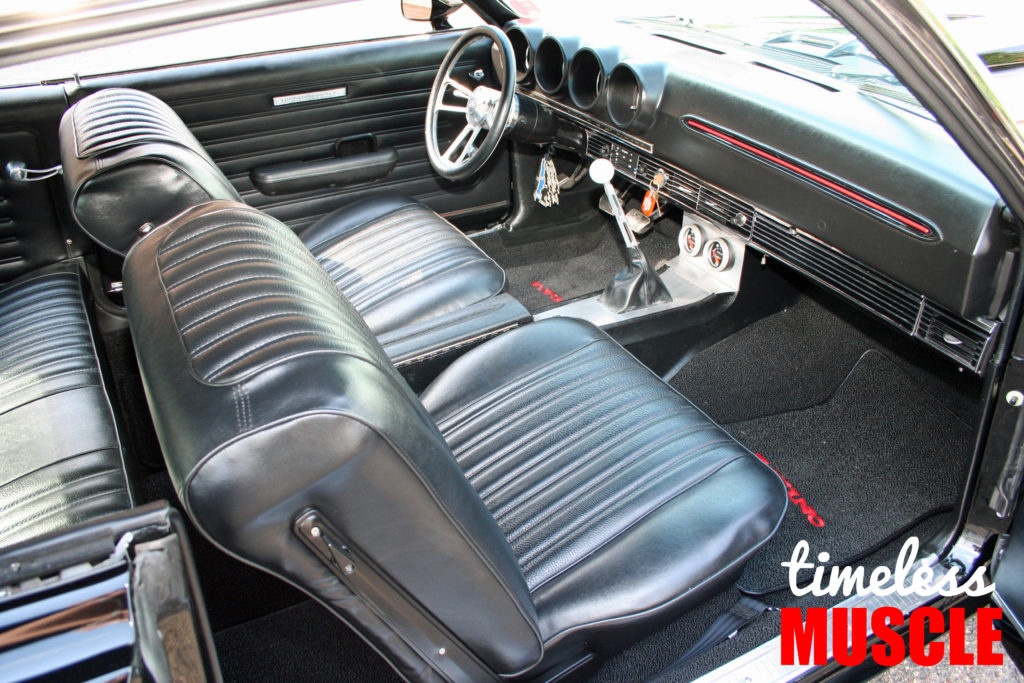 A subtle red stripe in front of the passenger mimics similar trim stripes in both the grill and across the deck lid, between the taillights. This subtle dose of color works surprisingly well against the stark blackness all over the rest of the car. Jason had some custom floor mats crafted with "Torino" lettering embroidered in bright red to match. It's a little detail thing, but it makes a big difference in a black car with a black interior.
Jason states that the stance was critical to the car's overall look, and he worked with Perry Heigl (Otsego, MN) to get the car exactly where it needed to be. Starting with Rocket Racing 18×8 and 18×9 wheels and Mickey Thompson Street Comp 245/45R-18 and 255/45R-18 tires front and rear, respectively, the car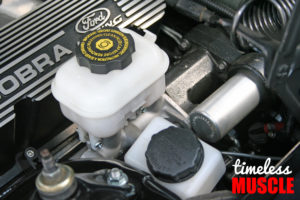 was lowered using 2-inch blocks in the rear and custom coils in the front. The rear suspension has been upgraded with a 9-inch housing from Strange Engineering and is equipped with 4.11:1 gears, a posi-traction unit, and hardened 31-spline axles.
Steering was upgraded with a power Unisteer rack-and-pinion setup from the original box, and KYB shocks were added at all four corners. Adjustable CalTracs bars were added to the rear to aid traction as well.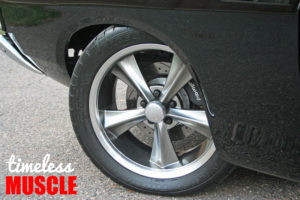 Brakes were upgraded to 4-piston Wilwood units with slotted rotors at all four corners, urged by a Hydroboost unit so engine vacuum is not a consideration to braking performance. With these mods in place, the car accelerates and turns with strength and confidence far beyond it's capabilities in showroom condition.
Since its completion three years ago, the car has proven to be a reliable and fun street machine. It's unique style and killer stance attract a lot of attention. Jason originally got this car from his father-in-law Mike Fallow, and it will certainly remain a family heirloom for many years to come. Jason also wanted to thank his father Ron Danielson for raising him with a passion for classic cars- especially Fords.
He also had to extend his appreciation for the talented work done by both Troy Deroshier and Perry Heigl to make the car look as good as it does. It's a great alternative to the more common muscle cars seen at most events, but carries a vision it's owner saw in a rarely-seen model. We're glad he chose to share it with us!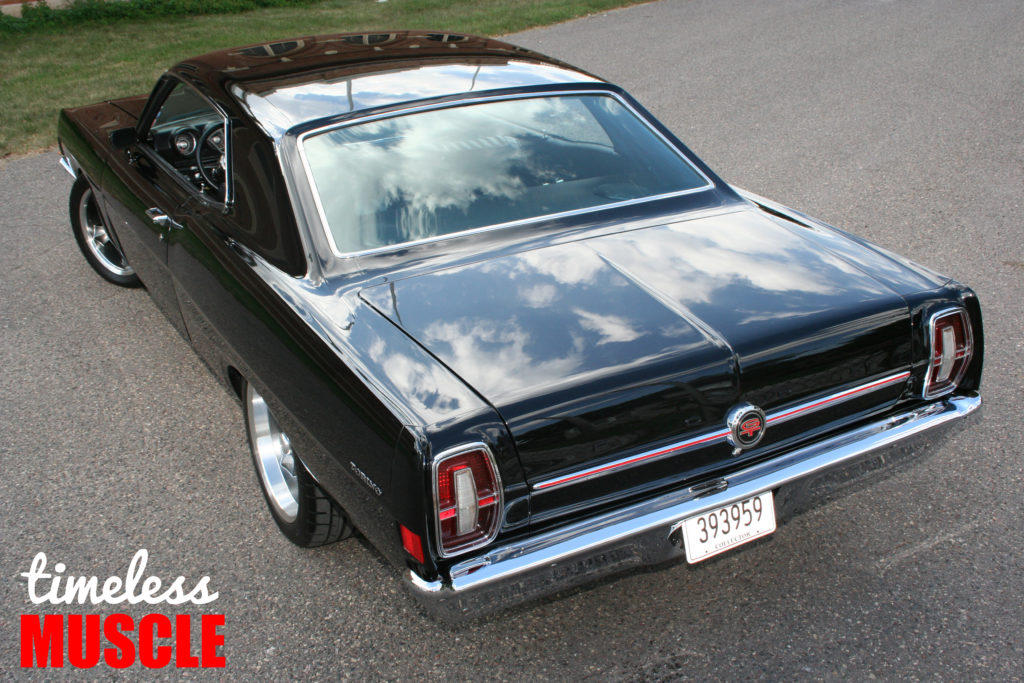 After spending almost a decade in the aerospace industry, Scott Parkhurst chose to learn about racing engines by working in some of Southern California's most respected engine shops. He took on the role of Tech Editor at Popular Hot Rodding magazine back in 1998, and was instrumental in the development of both the Engine Masters Challenge competition and Engine Masters Quarterly magazine. He was also the founding Editor of Street Thunder magazine and Author of the V8 Horsepower Performance Handbook.