photos/video: Scott Schwartz/Sam McConnell
A NASCAR-Inspired Legend is Infused with Some 21st-Century Flavor
It could be hard to imagine these days, but there was once a time when automotive design and functionality were influenced from the race cars on the high banks of the NASCAR circuits. Flush rear windows, smoothed-out grilles, extended front clips and yes, even tall deck rear "wings" found on production cars like the Plymouth Superbird and Dodge Daytona were intended for NASCAR homologation.
Another favorite, and sometimes overlooked, is the '69 Mercury Cyclone Spoiler II — the "II" denoting the NASCAR-inspired flush grille and extended front fenders. The most knowledgeable will also point out the fact that the front bumper, is in fact, a modified rear bumper. Pretty cool, huh?
Sharing underpinnings and much of its body styling with its Ford Torino [Talladega] counterpart, the Cyclone Spoiler II was offered for only one model year (1969), and in two trim varieties; the Cale Yarborough Special – a white car with red interior and exterior trim, and the Dan Gurney Special – a white car with blue interior and trim. Though all racing versions of the car received the hottest FE power plants available at the time, the production examples arrived to showrooms with a 351 Windsor and a column-shifted automatic, strangely.
However, the example that you're looking at on this page is something special — it breaks just about all of the rules that both Ford and NASCAR have set for it, featuring a color treatment, transmission, and several suspension modifications that couldn't be had in 1969. Owned by Cincinnati local, Michael Callahan, this particular example has taken its own path to notoriety.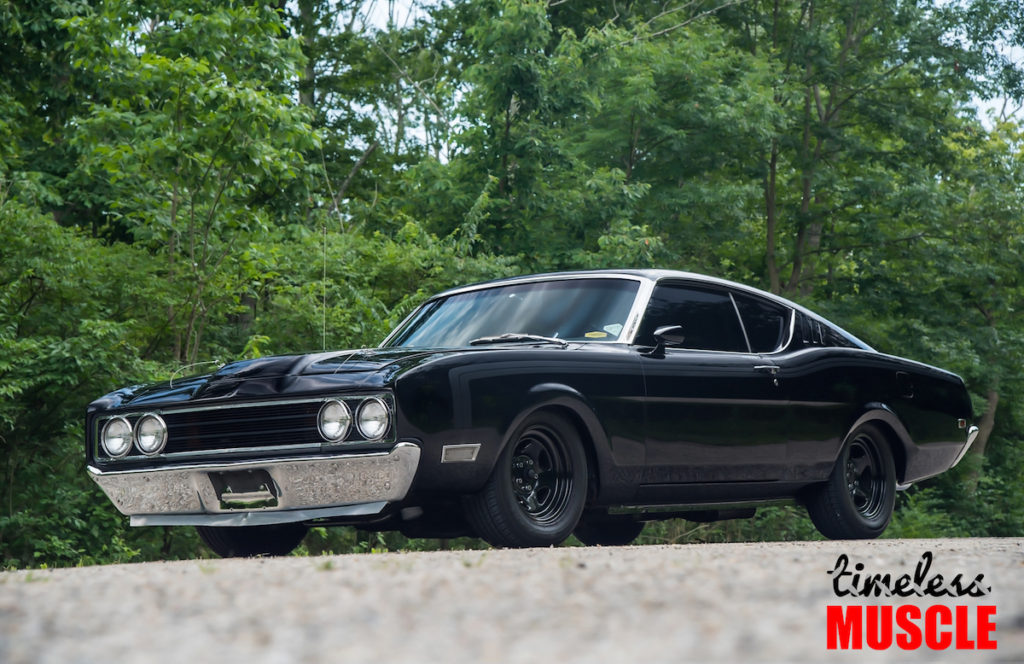 Michael first found his AeroWarrior on eBay, back in March of 2015. Looking to take the road less traveled, literally, Michael actually flew to Los Angeles to acquire the car, then drive the Spoiler II the 2200-mile journey from SoCal to Cincinnati, not only racking up more mileage on the classic Merc, but getting to know the car a bit better. As he tells us, by the time he reached home he had a laundry list of things he wanted to do with the car.
This included taking the car to Bonneville… as in the Salt Flats. To compete. That's right, this car isn't just a show-stopper — it's actually still used as a race car — just not in the way that Ford may have originally intended. This meant that there were many things that Callahan would have to address in making it ready; including a new clutch from McLeod, a Recaro driver seat, 5-point harness and a rear seat brace.
Cragar V7 15- and 16-inch wheels wrapped in V-rated rubber and a driveshaft loop were all implemented into the build for safety reasons as well, in addition to a skid plate for the fuel lines. In a weird strike of ill-timing or bad luck, the Bonneville trip was cancelled at the last-minute, where Michael would ultimately get invited to multiple shows all over the country. Not really built as a show car, Micheal claims to still have enjoyed the experiences and have garnered quite a bit off attention.
Now we're sure you want to know all of the details about what lay beneath the sheetmetal, and we'd be happy to tell you.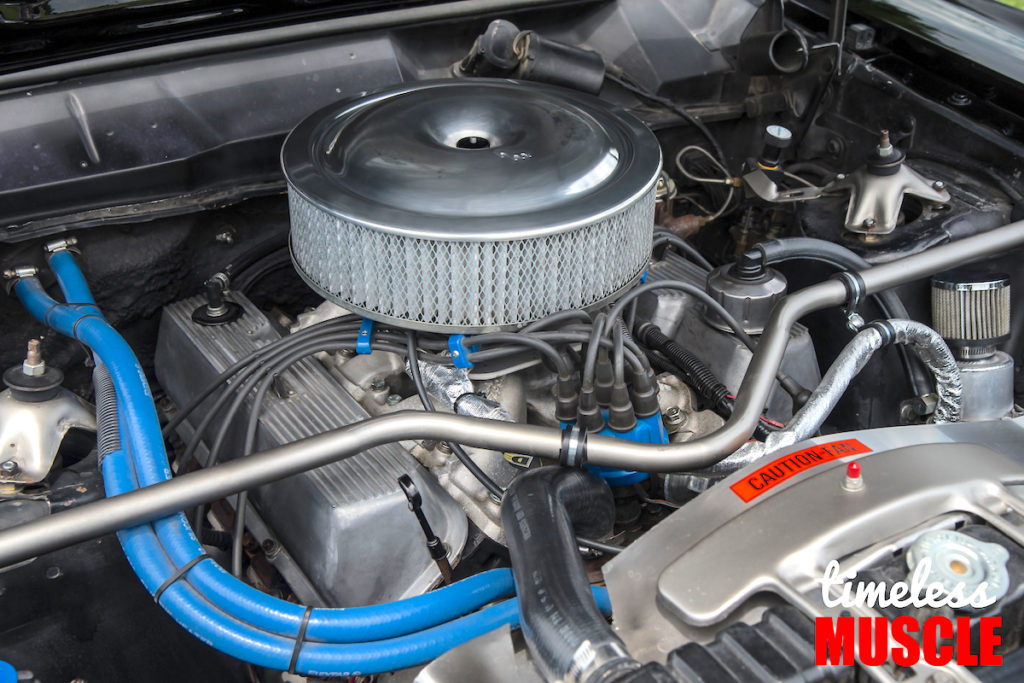 The engine, still a 351, was rebuilt utilizing a stock short block with a 11.0:1 compression ratio, a Barnes flat tappet hydraulic camshaft with cast iron Ford cylinder heads. The bumpstick specs in at 224/230 duration, a .535/.519 lift and a 110 lobe-separation angle. The old heads, received a nice cleanup, PAC beehive valvesprings, Ford Performance roller rockers (1.73 ratio) and 2.19/1.71 intake and exhaust valves. A pair of BOSS 351 valve covers sit on top o the heads.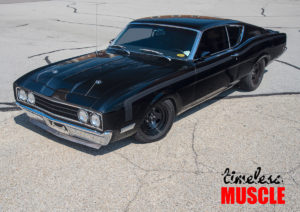 An Edelbrock Performer RPM Air Gap intake manifold sits on top of the small-block Ford, with a Holley 750 CFM carburetor and K&N stub stack air filter forcing as much air into the 351 as possible. Lubrication is very important for a car that sees action, so a TRW high-volume pump keeps those things in check. Spark responsibilities are left to a Pertronix coil and distributor, as well as set of Champion spark plug wires and Autolite ASF42C plugs.
With as much air as this car is breathing in, with an on-point electrical and oiling systems to boot, it only makes sense that the exhaust is up to snuff. As such a set of Hooker long-tube headers were implemented into the build, connected to a H-pipe, a pair of Super Turbo mufflers and 1.875-inch diameter tubing with dual 2.5-inch exhaust tips.
Sitting behind that FE 351 is a Top-Loader 4-speed, still paired with that aforementioned McLeod clutch, a OEM flywheel and a Hurst shifter. A 2.78 1st-gear ratio sends power to the 3.5-inch aluminum driveshaft to the 9-inch rearend out back. That sturdy rear is equipped with an Eaton Detroit Locker differential, 28-spline axles and a rather tall 2.75 gear set.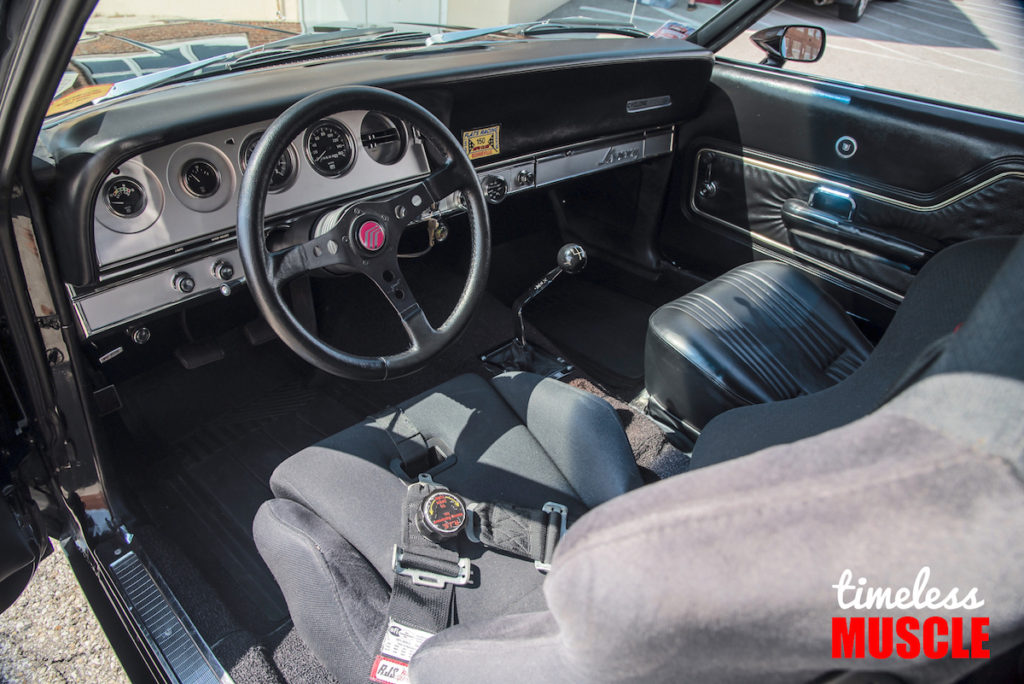 The engine was built by Lou Whitfield in Bakersfield, California, to the tune of 352 horsepower and 342 lb-ft of torque to the rear tires. It's not a massive number, but it's more than enough to navigate around town or the occasional car show, but it's also proven itself to produce a 154 mph trap speed at the Bonneville Salt Flats in the standing-mile. Of course it took some tuning and tweaking, some fuel octane adjustments and a switch in spark plugs but all of the really important parts remain in place of it to achieve such a feat.
Underneath the car, is largely standard OEM Cyclone II, with the exception of modern Gabriel shocks/struts at all four corners, Global West spring bushings, Eaton front springs (minus 1.5 coils) and a Stam-Bar rear sway bar. Stopping power is solely relied on manual disc brakes all the way around.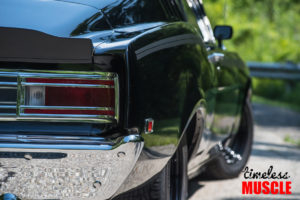 Now if you read our third paragraph, you may be wondering about that all-black color scheme. As it turns out, that's a 30-year old paint job from a previous owner using a PPG Deletion #9700 urethane hue. The purists may not like it, but we certainly do! It caught our attention as the car was sitting in the Tremec booth at the 2017 GoodGuys PPG Nationals in Columbus, Ohio.
Speaking to Michael, who you can see provide additional information in the above video, tells us additional information about the Merc, and what it means to him. For a well-used vehicle, it certainly presents well.
"In the last two years, I have driven the old school Mercury 12,000 miles. I've been on 2017 Hot Rod Power Tour, visited GoodGuys, Talladega, Woodward, Carlisle, MCACN and Bonneville. Driving the Merc is like going back in time. Yet, I'm going places and seeing new things every trip. I love the fact that I drive this 48-year old car everywhere, run over 150-mph at Bonneville, repeatedly, and then drive it home." — Michael Callahan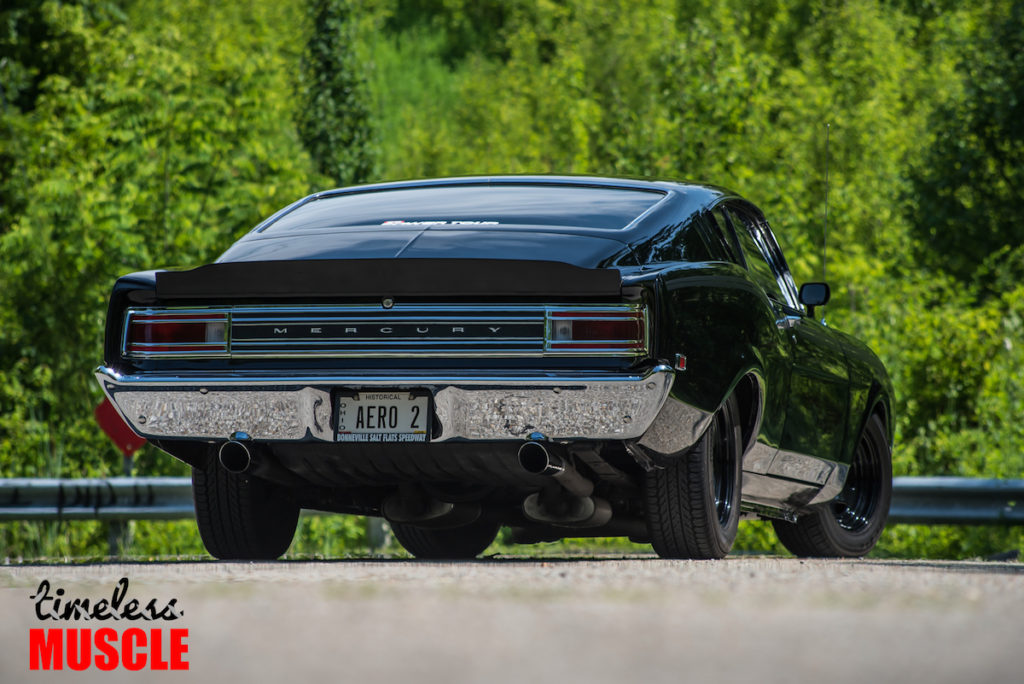 Rick Seitz is the owner and founder of AutoCentric Media, and has a true love and passion for all vehicles. When he isn't tuning, testing, or competing with the brand's current crop of project vehicles, he's busy tinkering and planning the next modifications for his own cars.