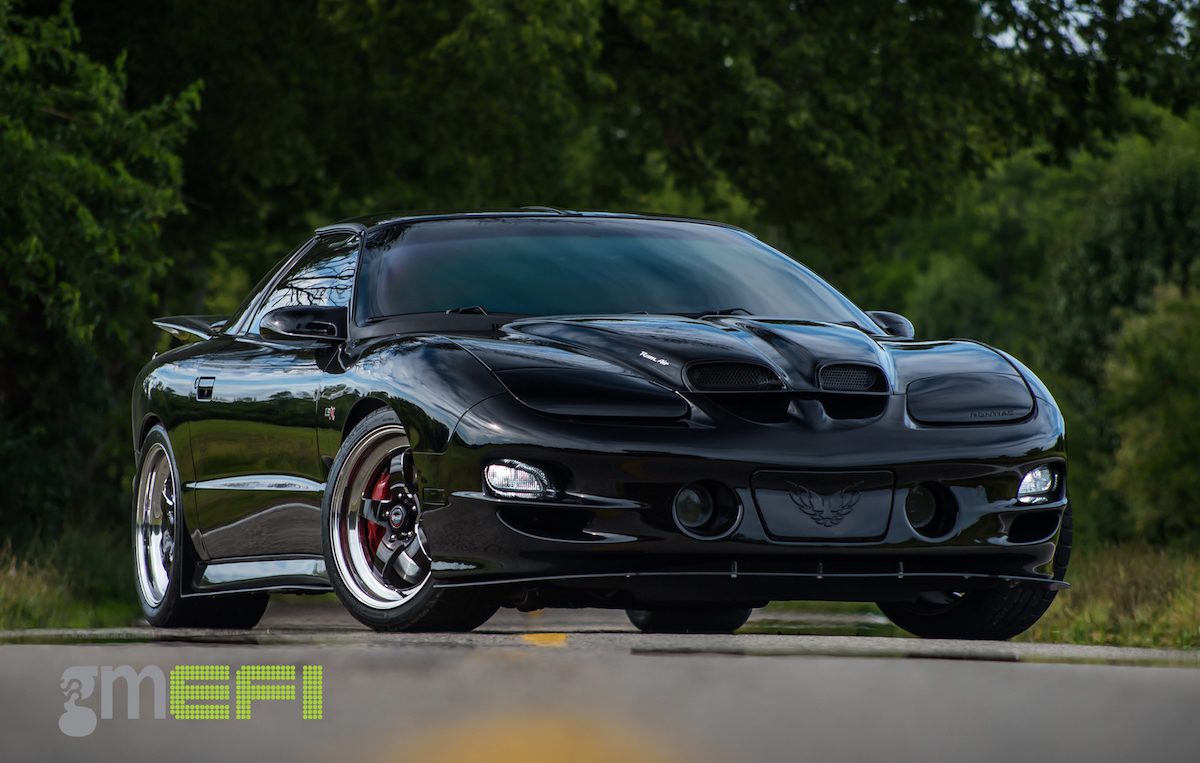 photos by: Scott Schwartz
In A World Filled with Craigslist Rejects, One Man Waves the Fourth-Gen Banner High
As somebody who picked up one of the final Trans Ams new from the showroom, sometimes your author still struggles with the fact that not only is Pontiac no more, but remaining Trans Ams have become hard to find in nice shape. out of them have been wrecked, parted out, turned into full-blown drag cars or just beat generally beyond belief.
There are a few off us still waving the F-body flag, in a world filled with 5th- and 6th-gen Camaros, modern CTS-Vs and Stingrays. Not only is yours truly doing so, but so is Dan Brincefield with his 2001 Trans Am WS6. Utilizing only subtle changes in key aspects of the car, the end result is a Trans Am that certainly stands out among the rest.
Tinted windows, blacked-out taillights and filler panel, clear-lensed running lamps, smoked fog lights and 6LE Designs front splitters, side splitters and rear canards add even more personality to the already aggressively styled car. The original WS6 hood still remains in place, and the LSX fender badges adds a nice little touch, too.
Digging deeper, the first thing you notice is the lowered stance, hunkered down on the Weld Racing RT-S five-spoke wheels wrapped in Cooper Zeon RS3, Nitto NT01 and  Mickey Thompson ET Street rubber (depending on the occasion) on all four corners. In case you're wondering, those highly popular rollers measure in at 18×9-inch (front) and 18×11-inch (rear). Brembo 14-inch rotors are installed up front, with stock rear brakes out back.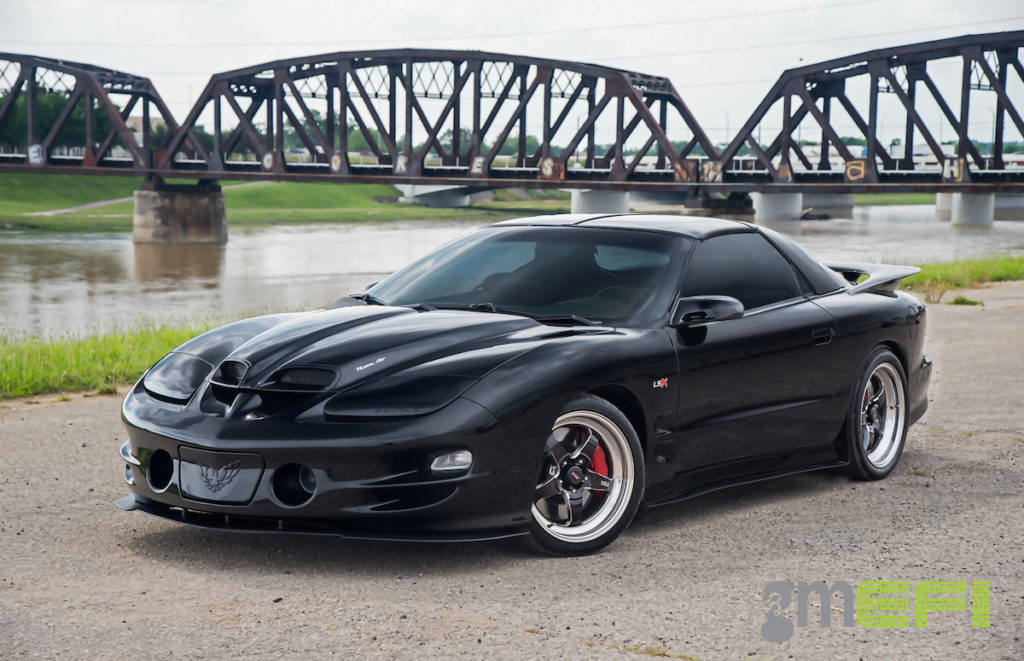 The lowered stance is attributed to the KYB AGX 8-way adjustable shocks at all four corners paired with Eibach Pro-Kit springs bring the car lower to the pavement, but also help in the handling department. In addition, the stock steering system and sway bars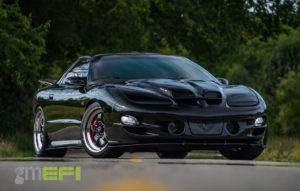 remain intact, but the rear has been infused with a BMR Panhard bar and torque arm. It also benefits from Spohn lower control arms and relocation brackets. Spohn subframe connectors tie it all together.
Sitting on top of that stock K-member is a 416 cubic-inch LS3 stuffed full of goodies. For a bottom end, it relies on a Callies forged 4340 crankshaft and Compstar connecting rods. The rods are paired with Wiseco Diamond pistons for increased reliability and strength. The resulting compression ratio is 11.8:1.  Stuffed inside the block is a COMP Cams bumpstick that's perfectly matched with a set of BTR .660 lift valve springs.
Sitting on top of the all-alloy block are a pair of Trick Flow-modified 243 heads, which provide incredible flow over the stock castings. If you were to remove the valve covers, you'd find the aforementioned BTR springs with 1.7 LS3 rocker arms and a trunnion upgrade.
Aiding the TFS heads in exhaust flow are Speed Engineering 1-7/8 long-tube headers feeding to a GMMG chambered exhaust. Those familiar with the old GMMG cars already know that the soundtrack is impressive as a result — and compliments the overall attitude to this WS6 perfectly.
Now of course, you must have the intake up to snuff if you're going to utilize such a low-restriction exhaust system, and that's exactly what Dan did with his car. On the induction front, you'll find a 104mm FTP air lid, K&N filter, Texas Speed MAF housing and a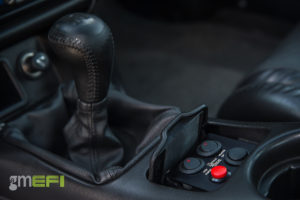 FAST 102 mm throttle body and intake manifold feeding cool, dense air into the 416.
Spark and fuel duties are left to a blend of stock components and 42-lb injectors, a Walbro 450lph pump, MSD wires and NGK spark plugs. The fuel pressure regulator and coil packs are standard-issue General Motors. With Jim Gray at QuickRev handling the tuning duties, courtesy of HP Tuners software, the Trans Am laid down a healthy 467 hp and 460 lb-ft of torque to the rear tires.
If that's not enough for the task at hand, there's a 200 hp wet shot of nitrous that utilizes a mix of hardware from Nitrous Outlet, Nitrous Express, Nitrous Oxide Systems and Lingenfelter. The activation switches are mounted in the ashtray, because let's face it, we doubt he smokes in this thing, anyway.
Contrary to what some believe, some WS6 cars left the factory with an automatic gearbox. Dan's didn't. Sitting behind that stroker LS3 is the tried-and-true Tremec T-56 gearbox with six forward gears, manually shifted with an MGW shifter. Between the two major drivetrain components, is an ACT clutch — which we've been seeing more and more of in modern muscle cars lately.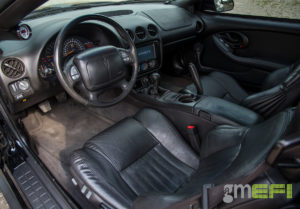 The OEM aluminum driveshaft still lives in place, surrounded by a BMR loop, and connected to a Moser 12-bolt rearend. The 12-bolt is an obvious reinforcement over the old 7.5 10-bolt that these cars were delivered with, as is the Eaton Detroit Locker differential, Moser 33-spline axles and the 3.73 gear set. From the OEM, the 6-speed cars left arrived at dealerships with a very modest 3.42 rear gear, so the 3.73 is a welcome improvement.
It's a street car, but living in Ohio, the WS6 certainly isn't Dan's all-season daily; he has a 2016 Impala LTZ for that. But in his own words, the car is raw. It's low, lean and mean. It's predictable and is an absolute blast to drive according to its owner. We didn't get a chance to jump in the driver's seat, but we'll have to take him at his word.
With guys like Dan Brincefield and others who continue to wave the 4th-gen banner, we think that many of the remaining examples out there will live on for future generations. Let's hope, anyway.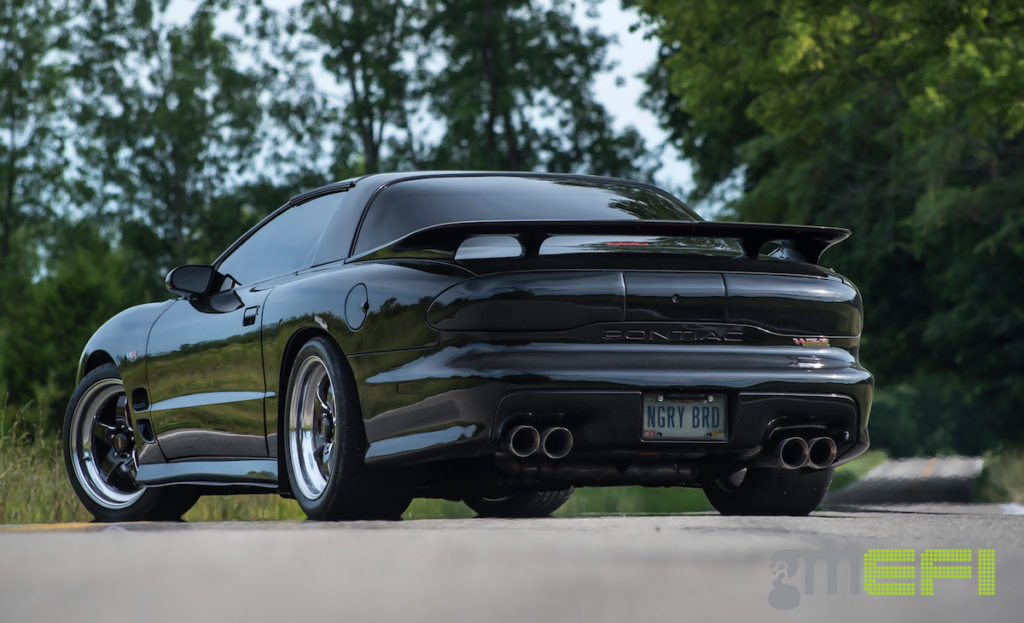 TECH SHEET:
CAR: 2001 Pontiac Trans Am WS6
OWNER: Dan Brincefield
ENGINE BLOCK: LS1; 416 cubic-inch (4.065 Bore / 4.000 Stroke)
CRANKSHAFT: Callies Compstar
PISTONS: Wiseco, Diamond
CONNECTING RODS: Callies H-beam CompStar
CAMSHAFT: COMP Cams; Hydraulic, 253/261 duration, .620/.620 lift, 
CYLINDER HEADS: Trick Flow; 255 castings
COMPRESSION RATIO: 11.8:1
INDUCTION: K&N air filter, 104mm FTP air lid, FAST 102mm intake and throttle body, 100mm Texas Speed MAF housing
POWER ADDER: NOS/Nitrous Outlet/Nitrous Express/LPE progressive nitrous system; wet, 200-shot
IGNITION: Stock coil packs, MSD 8.5mm wires, NGK BR7EF plugs
EXHAUST: Speed Engineering long-tube headers, GMMG 3-inch tubing and chambered muffler
FUEL DELIVERY: 42-lb. injectors, 450-lph  Walbro pump, stock regulator, 65-psi
OILING: C5R pump, stock pan
TUNING: Stock ECU; tuned by Rev Xtreme
TRANSMISSION: Tremec T-56 6-speed; built by Mike Pernia
 CLUTCH: ACT
SHIFTER: MGW
DRIVESHAFT: Stock; aluminum
REAREND: Moser 12-bolt, 3.73 gears, Detroit Locker spool, Moser 35-spline axles
SUSPENSION: Bilstein shocks/struts (front, rear), Eibach Pro-Kit springs (front and rear), stock sway bars, upper and lower A-arms, BMR torque arm and Panhard bar, SLP weld-in subframe connectors
CHASSIS MODIFICATIONS: BMR driveshaft loop
BRAKES: Brembo; 14-inch rotor (front), stock (rear)
WHEELS: Weld RT-S 18×9 (front), 18×11 (rear)
TIRES: Mickey Thompson skinnies (front), ET Streets (rear)
 HP/TQ.: 467/460 (conservative tune, motor only)
BEST 1/4-MILE ET: N/A
Rick Seitz is the owner and founder of AutoCentric Media, and has a true love and passion for all vehicles; GM, Ford, Dodge, imports, trucks — you name it! When he isn't clacking away on his keyboard, he's building, tuning, driving or testing his current crop of personal projects!