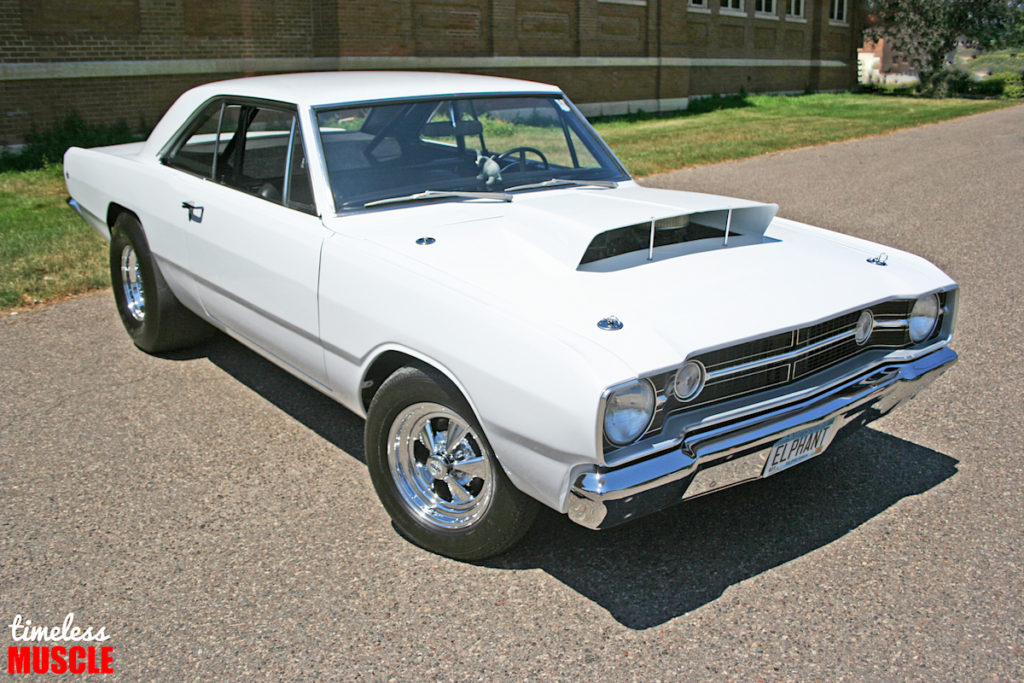 Photos by: the author
The Concept of a Flyweight Dart, Powered by a HEMI with a Stick Behind it, Motivated Jim Kirsch to Make this Dream a Reality
The '68 Hemi Dart may have been the ultimate muscle car. As the muscle car era of the '60s constantly churned out more powerful engines in lighter and lighter cars, the stakes grew higher and the cars became more and more interesting. The powers-that-be at Mopar knew the Hemi engine would fit into the small 1968 A-body chassis, and the Dart was a bit lighter than the Barracuda. While the Hemi-powered Barracudas became more famous, the Hemi-urged Darts were a bit lighter (and a bit quicker) as-delivered.
Jim Kirsch of Cloquet, MN, has always loved vintage Mopar muscle cars, and he wanted a Hemi-powered Dart like those ultra-rare factory examples. But, he also wanted to drive it on the street with confidence, and he was adamant it had to use pump gas so he could enjoy the car anywhere.
He had one more "must" on the list… it absolutely had to have a manual transmission. The concept of a flyweight Dart, powered by an Elephant engine, with a stick behind it, just motivated Jim to make this tribute to the 1968 Super Stock Hemi Dart a reality.
Knowing that the Hemi Dart was an incredibly rare animal Jim had to source a rolling chassis, or a donor vehicle, to build the iconic street/strip warrior. Having driven a few of them back in the day, and having quite enjoyed the experience, Jim wanted to blend those performance attributes into a car that can be driven on public roads.
Since he wasn't restoring a factory example, Jim had the freedom to make this car his own interpretation of the legendary Super Stock Hemi Darts. For the engine, Jim decided to work directly with Rod Marinucci of Plum Crazy Racing in Ladysmith, Wisconsin. Jim and Rod have worked together on other Mopar projects over the years, so this was a no-brainer decision.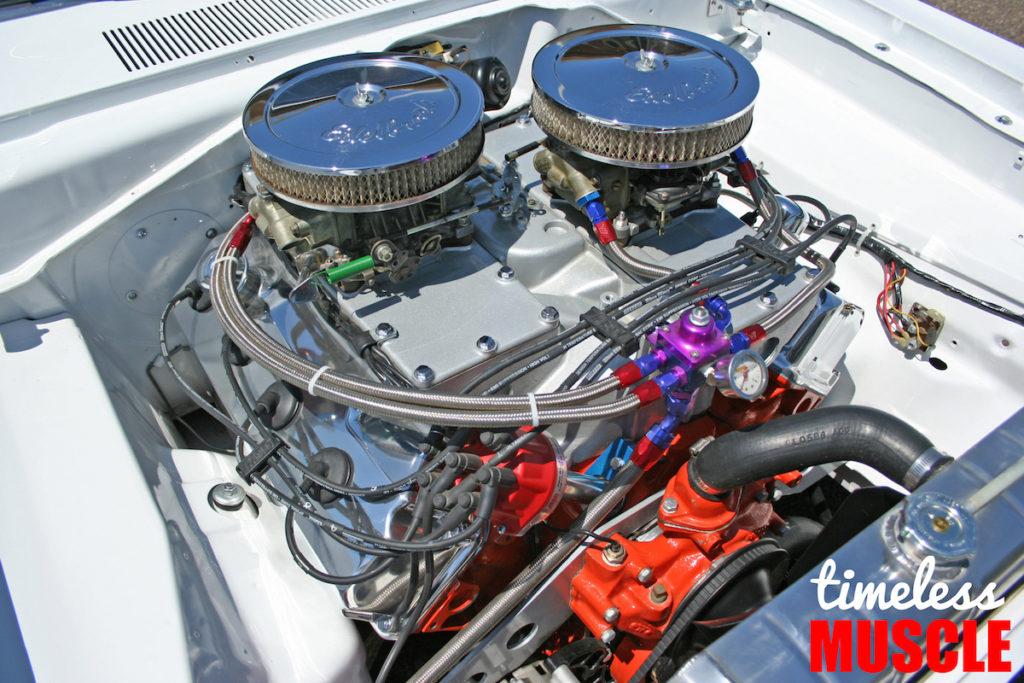 The engine displaces 480-cubes, courtesy of a 4.28-inch bore and a 4.15-inch stroke. Diamond pistons and Molnar rods fill the holes and squeeze into new Mopar aluminum heads making for a 10.9:1 compression ratio, which is still pump gas friendly. The Bullet Racing-sourced solid lifter cam is no slouch, with .597/.570 lift.
Valves are from Racing Engine Valves (REV), with 2.25-inch diameter on the intake side and 1.94-inch diameter for the exhaust. Rocker arms are factory iron 1.6:1 units. On the engine dyno, the 480ci Hemi made 647 horsepower and 612 foot-pounds of torque on 92-octane pump gas.
The big Hemi is fed by a pair of 750 cfm Holley dual-feed, vacuum-secondary carbs atop an internally-modified Mopar aluminum cross ram intake. Spark is provided by a complete MSD ignition system firing NGK plugs. Exhaust breathes through modified Hooker headers to 3-inch pipes and DynoMax UltraFlow mufflers. The car is surprisingly quiet, but the tone is deep and rich enough to make a statement.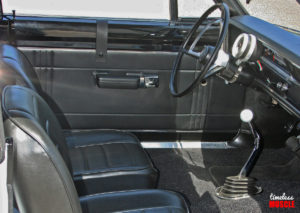 The transmission is one of Mopar's New Process 833 boxes with a 10.5-inch clutch and a Hurst Competition Plus shifter. A Dana 60 rear axle with a Moser limited-slip unit and 4.56:1 cogs puts power out to the sticky Mickey Thompson ET Street tires. Those gooey meats measure in at 31×16.5×15 and look perfect on the 12-inch wide Cragar S/S wheels.
Jim started with a rust-free Southern body and stripped it bare. He added fiberglass front fenders, lightened doors, a fiberglass hood (with that iconic Hemi Dart hood scoop), and cut the rear wheel openings to factory Super Stock Dart dimensions to nail the look of the originals.
He didn't stop there, using the same A100 van seats (and lightweight brackets), unique pull-up doors (to further save weight, since the crank mechanisms were much heavier than a simple strap), and a 6-point roll bar. A selection of Auto Meter gauges not only help keep Jim informed on engine vitals, but add much more accuracy over the OEM pods.
We asked Jim what the driving experience was like. Like the Hemi Dart itself, he was brutally honest:
"The car launches like a rocket ship. It's loud, it vibrates, the ride is stiff, and it has a real in-your-face attitude. What's not to like? It gets a lot of thumbs-up whenever I take it out."
As a lifetime Mopar enthusiast, Jim has owned a lot of great cars. He's raced some of the most memorable rides Chrysler ever built, including early '60s Max Wedge cars, a real (B029) Hemi Barracuda in the Super Stock A/H class, and another Hemi Dart (a '69 model) in Super Gas.
He's certainly the real deal, and the overall build quality and attention to detail in this '68 really stand out. You just know it's done right by looking at it- we couldn't resist shooting it for a feature. It was just recently completed after three solid years of work and more money than Jim was willing to admit. He thanks his wife Dee and his pal Rod Marinucci for making the car happen. We're glad they did, as this White Elephant certainly stands out in a crowd.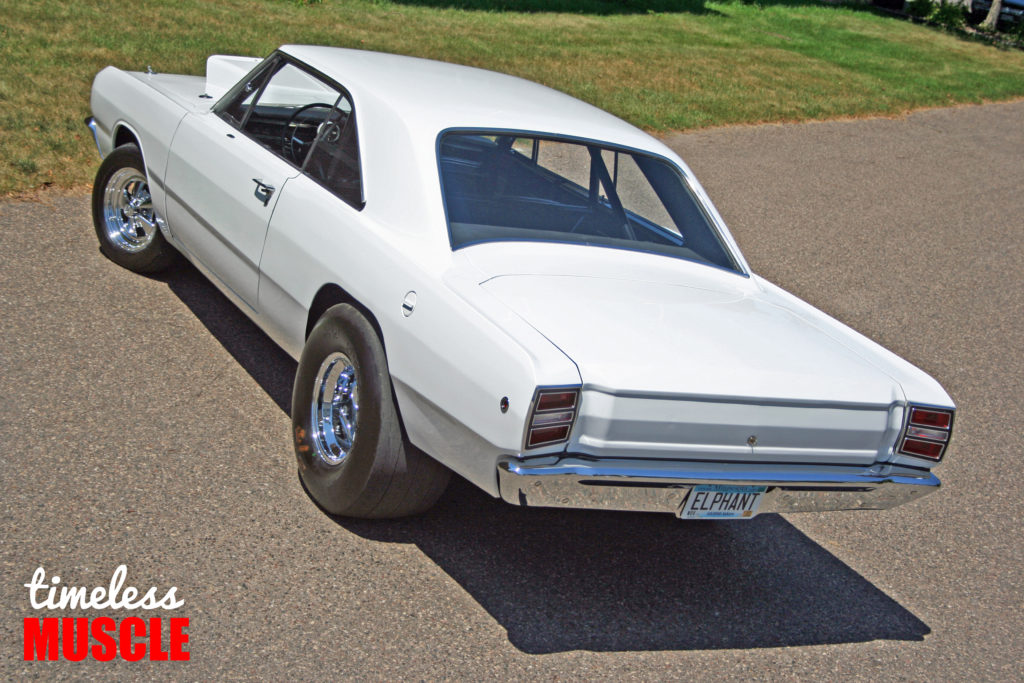 After spending almost a decade in the aerospace industry, Scott Parkhurst chose to learn about racing engines by working in some of Southern California's most respected engine shops. He took on the role of Tech Editor at Popular Hot Rodding magazine back in 1998, and was instrumental in the development of both the Engine Masters Challenge competition and Engine Masters Quarterly magazine. He was also the founding Editor of Street Thunder magazine and Author of the V8 Horsepower Performance Handbook.