photos by: Daean Chase
Through Trial and Error, a '72 Challenger Comes out on Top
As any car enthusiast knows, building a car from scratch (or dang near) can be an expensive, time-consuming and stressful way to spend a good portion of your life. As someone once said, "you have to have a lot of  passion for what you're doing, that if you don't, and you don't love it, that any rational person would give up." All too often, we hear horror stories from our readers, and especially our feature car owners, who had to struggle with their build from Day One. The story behind this beautiful Plum Crazy Purple '72 Challenger is no different. Owned by Brian Shembeda of Park Ridge, Illinois, the Challenger was once a hodgepodge bucket of bolts — at least mechanically.
Purchased back in 2012, Brian has been working diligently to not only improve on the Challenger's looks, but also the way it performs overall. As Brian tells us, "I once lived in Texas before relocating to Illinois, and I had to cut loose a Sublime '72 Challenger I had been working on for 4-1/2 years. Once I relocated, I spent the next ten years searching for a replacement. When I purchased this one it was mechanically a basket case, and I had to cut my Volksrod loose [to take on the project]." It's a sacrifice many us had made in the past, but that's the life of a car guy.
He continues, "Almost nothing on the car was done correctly [prior to my purchase], and the 440 powerplant was probably producing somewhere around 200 hp — it wouldn't even spin the bald tires that were mounted onto the car. On its return trip home, it stalled out and refused to restart. I was devastated and full of regret. That's when I knew that it was time to pull the engine and have it rebuilt by a competent shop."
The engine builder in question would be none other than Tony Schroeder of Automotive Engine Specialties, or AES Racing for short, and to state that there's a drastic difference in the way that the car performs would be an understatement. Every inch of the engine assembly was rebuilt, using top-notch components for the perfect balance of performance, streetability, drivability and reliability.
Starting with a '69 440 block, AES stuffed a set of Speed Pro pistons and a Mopar crank, to solidify a solid foundation for the short block. A set of Mopar Six-Pack connecting rods also make up the formula, while the aforementioned pistons contribute to the 93-octane, pump-gas friendly 10.75:1 compression ratio. The overbore pistons raise cubic-capacity to a full 452 cubic-inches.
Handling both intake and exhaust side of things, are a pair of Edelbrock Performer RPM aluminum cylinder heads that maximize flow while also saving a lot of weight over the factory Mopar castings. Nestled between the both of them is an Edelbrock Performer RPM intake manifold, with a Spectre air filter and a Holley 750 cfm double-pumper carb bolted to the top.
Bolted to those aluminum heads are a pair of Hooker headers that flow their spent fumes through dual 2.5-inch MagnaFlow stainless pipes and mufflers — for that "timeless muscle car" growl, without worry about having to replace it later, due to that Rust Belt corrosion. In the meantime, a complete MSD ignition system handles the role of spark, with a 6A ignition box, Blaster coil, Pro-Billet HEI distributor and Accel Extreme Ceramic plug wires attached to NGK plugs filling in. The combination is good for a reported 575 hp and 500-lb ft at the flywheel.
Sitting behind the 452 big-block is an AES-built 727 TorqueFlite automatic transmission that's equipped with a TCI high-stall converter and B&M flexplate. Backing the high-powered mill and fortified TorqueFlite gearbox, is the factory Mopar 8-3/4 rearend that is stuffed with a 4.10 gear set. While a Gear Vendors overdrive is definitely in this car's future, Brian makes his current setup work around town. Mopar C-body tie-rod ends, ProForged billet sleeves and Prothane bushings bring it all together.
Of course, a solid drivetrain can only go so far with a somewhat limited and archaic suspension system, and like Brian pointed out earlier, the stock setup was rather underwhelming. The handling woes have been remedied, thanks to QA1 tubular upper and lower control arms, KYB front and rear shocks/struts, Hellwig front and rear sway bars, Mopar Performance leaf springs in the rear and torsion bars up front. Stopping power comes from a Mopar disc brake upgrade with Powerstop drilled and slotted rotors and Hawk pads bring the car to a halt. Out back, drums still remain, but with Hawk pads also installed. The binders since tucked behind forged American Racing 17-inch rollers, wrapped in Hankook Ventus rubber. Putting the power to the pavement is what it's all about and Brian's Challenger is doing it in spades.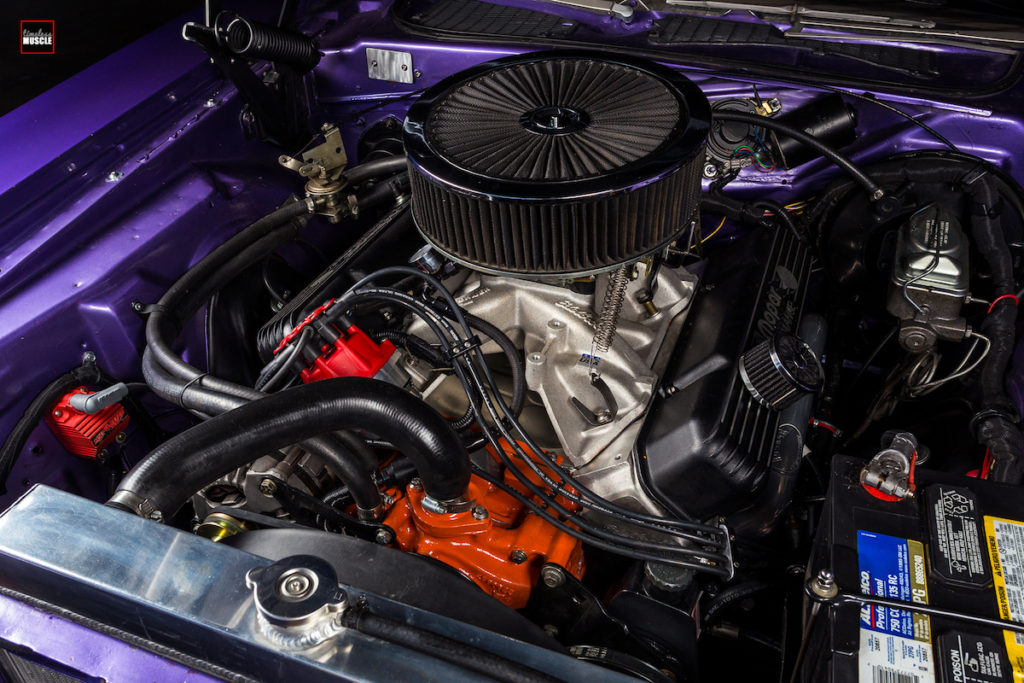 Brian has also taken the styling to a whole new level, too, without implementing any fly-by-night trends or cheesy paint schemes. The aforementioned Plum Crazy hue is complimented by a Challenger T/A hood and spoiler, lending style, class and an attitude that's all Dodge and no fluff.  The look is clean and simple, and you could go as far as calling it timeless. More often than not do we see modified vehicle that look dated or cheesy just a few years after they've been built, but we don't see that happening to Brian Shembeda's Challenger any time soon.
Rick Seitz is the owner and founder of AutoCentric Media, and has a true love and passion for all vehicles. When he isn't tuning, testing, or competing with the brand's current crop of project vehicles, he's busy tinkering and planning the next modifications for his own cars.