photos by: the author
Have you ever owned a car that was nothing but total bad luck? Whether it was from a force of nature, car thieves, wild animals or driver error, there are those of us out there who have owned a vehicle (or two, or three) that no matter how hard we tried, persisted and persevered, our cars just never could cooperate.
While most of us eventually throw in a towel one such Buick aficionado, Mike Littlejohn, has been through thick and thin with his '72 Buick Skylark. Although the car is a factory Sun Coupe example with the retractable cloth roof, the GS and Stage 1 callouts are there in purely tribute form. However, what the Skylark lacks in paperwork credentials, it makes up for in its execution… and its story.
"Getting the Sun Coupe was not without its sacrifices; he had to sell his previous cars, get married, buy a house and live life Buick-less for several years." Mike Little john
For Mike, this story begins way back in 1988 while he was in the Navy. In the market for a new-to-him daily driver, Mike's father had located a '72 Skylark coupe, complete with a 350 and a 2-bbl carburetor from a co-worker of his for Mike. Once back on our shores and with the Buick now in his possession, Mike swapped on a 4-bbl intake and carb, and enjoyed it as it were – for a few minutes.
After he redeployed, he decided he wanted to go full-tilt and build a 455 Buick with dual 4-bbl carburetors on top, using parts from then-Buick specialists Kenne-Bell and Poston Enterprises (now defunct). Trouble is, the carbs and Offenheiser dual quad intake manifold needed extra under hood space than what the factory, base model Skylark hood could provide. Looking to remedy this, as well as add some aggressive aesthetics to the look of the car and increased airflow, Mike installed a Mr. Gasket street scoop to his combination. He tells us that making the 200-mile trek back to base required two tanks of fuel, at 6mpg!
As it would turn out, Mike would pick up (and sell) a legit, '71 GS 455 while the Skylark was under his ownership. He would go on to own a total of seven Buicks between then and now, including another '72 Skylark, a '71 Skylark, a '70 Skylark, a '78 Skyhawk and the '72 Sun Coupe that's now in his possession and on this page.
"We spent 12-16 hours a weekend, for 85% of the weekends over the next 10 months, building a new frame, cleaning and repairing the Sun Coupe's body and getting it all put together…" – Mike Littlejohn
But getting the Sun Coupe was not without its sacrifices; he had to sell his previous cars, get married, buy a house and live life Buick-less for several years. It wasn't until Mike suggested to his wife that he was interested in a new Harley-Davidson where fate (and his lovely wife) intervened (and implored) that she rather he didn't purchase the potentially dangerous two-wheeler. Instead, she suggested he search for another Buick – just so long that they could fit it into their budget.
Now enthused, Mike hopped onto the internet and scoured eBay for days; searching for just the right Buick musclecar to wet his whistle. He ultimately settled on the '72 Sun Coupe, where as it turned out, was being offered for sale by the very same individual that his father bought the Skylark off of years earlier! After a laugh and a moment surrealism, the car was re-listed for a Buy-it-Now price that Mike and the seller could agree on. The car was now his.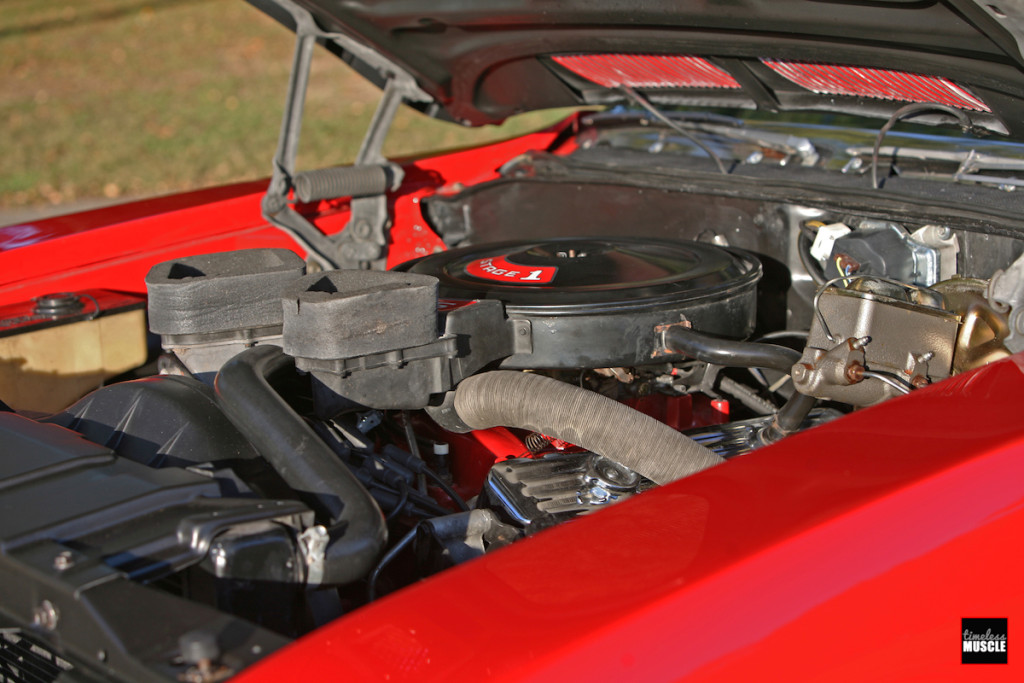 However, his new pride and joy wouldn't let him off that easy, even getting a flat tire on the way home. It was a relatively small, but inconvenient prelude to the events that would ultimately follow. Because not long after acquiring the Sun Coupe (and the white fuzzy dice hanging from the rearview mirror), the classic Buick had an unfortunate incident with a power pole, totaling the car shortly after moving to Southeast Georgia from upstate New York.
Being emotionally distraught, Mike was lucky enough to befriend Jim Rodgers, a hardcore Buick enthusiast himself who not only helped Mike locate a donor parts vehicle in Tampa, Florida to rebuild his cherished Sun Coupe, but ultimately put in tons of wrench time on the car himself.  We spoke to Mike quite thoroughly about the process, where he revealed quite a lot.
"Rebuilding this car meant spending 12-16 hours a weekend, for 85% of the weekends over the next ten months; building a new frame, cleaning and repairing the Sun Coupe's body and getting it all put together – making it ready to go for paint in Marietta, Georgia, " Mike tells us.
"Starting from the foundation up, we sandblasted the frame and all suspension components, and followed up with POR15 painting and topcoating to protect from UV light. We wire-wheeled all the undercoating from the bottom of the body and added metal in the few spots needed in the wheel wells for the smooth finish of a restored car.
Jim and I assembled the car and took it to Then And Now Auto Restorations for the final paintwork. We picked the car back up that September to return it back to the Savannah area, and put the finishing touches on it. We finished the restoration just in time for the 2012 Buick GS Nationals in Bowling Green, Kentucky."
Mike's car would ultimately end up taking home the First Place price in Buick Stock Appearing (BSA) – where he had to run the stock suspension, exhaust manifolds and a Rochester Quadrajet carburetor. But it was to his utter surprise where  realized that not only did he take home top honors in his class on the dragstip, but he was also awarded with the Larry Miller Best of Show award – essentially the highest honor a car can take home from the GS Nationals.
"We finished the restoration just in time for the 2012 Buick GS Nationals in Bowling Green, Kentucky." – Mike Littlejohn
The Buick has had its ups and downs since, but when we first stumbled upon it while at the 2015 Buick GS Nationals this year it was still among the top contenders at the show and was presented very well! We were first attracted to its Code 75 Fire Red paint and retractable sunroof – one of which that has escaped forty-three years of time and a mid-'70s recall for leaking seals, causing the A-body's roofline to rust prematurely.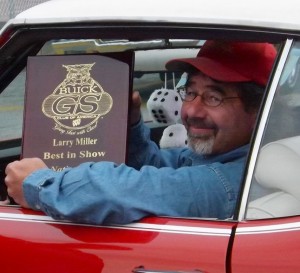 A one-year only model, the official production numbers are left in question, ranging anywhere from 1,600 to 3,200. Since Buick wasn't the best in keeping production records in those days, nobody knows how many Sun Coupe were actually built, and ultimately survive to this day. A select few left the plant as GS' and even fewer, as Stage 1 examples. As mentioned earlier, Mike's isn't a part of that crowd, but he and Jim, as well as Then and Now, have done a superb job in turning it into a very respectable tribute.
Under the hood, the meager 350 has been replaced with an honest-to-goodness 455 Stage 1, that's packing some pretty impressive hardware. The foundation begins with a factory crankshaft and connecting rods, attached to a set of .030 overbore TRW pistons, bumping the displacement to 462 cubic-inches and the compression to 8.6:1.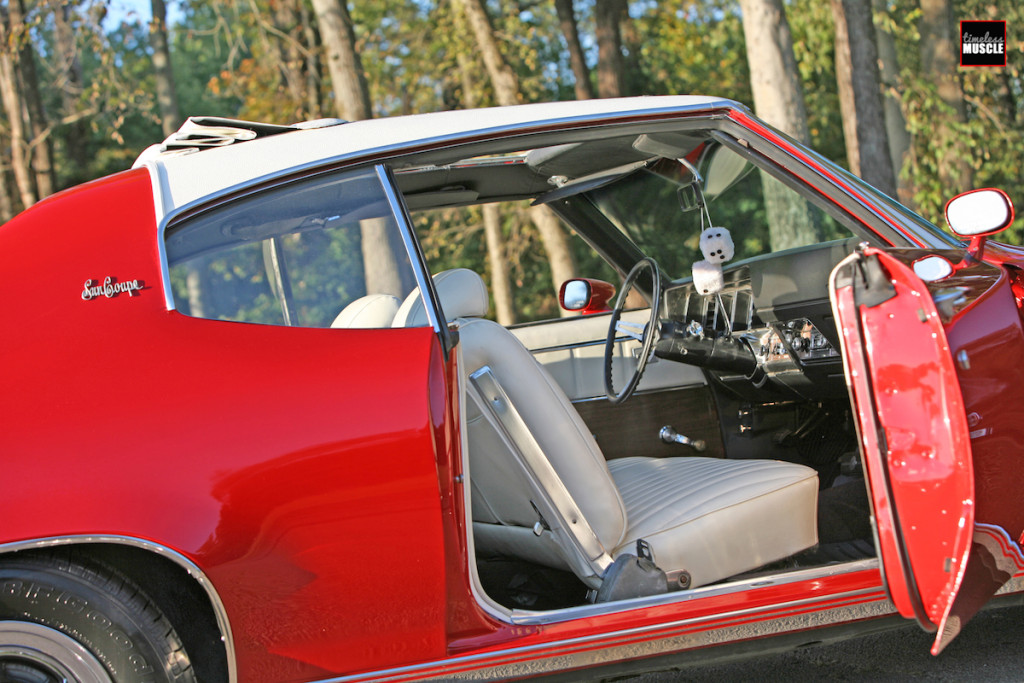 The crew at Killians Porting Service were called upon to handle the cleanup, porting and assembly of the factory cast iron heads that are stuffed with stainless steel intake and exhaust valves and T&D 1.6 ratio rocker arms. The heads were also port-matched to the (also ported) Edelbrock Performer intake manifold.
Buick engine specialists, Wildcat Performance Engines, handled the final assembly; bringing the entire long block together by installing a Reed hydraulic roller camshaft, spec'ing with a duration of 228/242, a lift of 512/512 and a lobe separation angle of 112.
The engine electrics have been upgraded with an MSD Blaster II coil, a factory distributor with a Crane XR1 points conversion, NGK UR5 spark plugs and ACCEL 8mm wires. With the spark under control, the fuel and oiling systems have maintained an OEM format, using factory components.
Remember, the combination for the engine had to retain its factory appearance to compete in BSA, so the OEM exhaust manifolds remain in place, although Mike does admit that the primaries have received a port job, thanks to his friend Jim Rodgers. The manifolds are backed by a 2-5 inch X-pipe and an OEM-style exhaust system.
Sitting behind the 462ci. Stage 1 is a Coan-modified TH350 transmission stuffed with a stock flexplate and a 3500-stall converter, sending power through a stock steel driveshaft and a 3.42-geared GM 10-bolt rearend.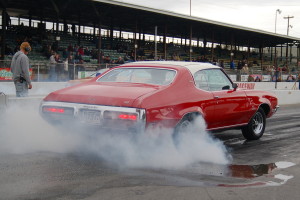 Factory Buick Magnum wheels sit at all four corners, and depending on what the Buick is being used for, Mike switches from BFGoodrich Radial T/As or Mickey Thompson drag radials. The result is a current best of 12.40 at 106.56 mph and an impressive 432 horsepower and 523 lb-ft. of twist being sent to the tires!
Underneath, the car remains completely stock, which matches its original white vinyl upholstery – adding a touch of class and elegance to the otherwise striking red monster. Of course, nothing in life is perfect and even those old gremlins surfaced during our photo shoot, as Mike was having cooling issues stemming from what he later discovered as the heater core being the culprit.
Mike's journey with the Buick continues, however, as he's one of the most passionate Tri-Sheild guys around, and is already looking forward to next year's GS Nationals with great enthusiasm.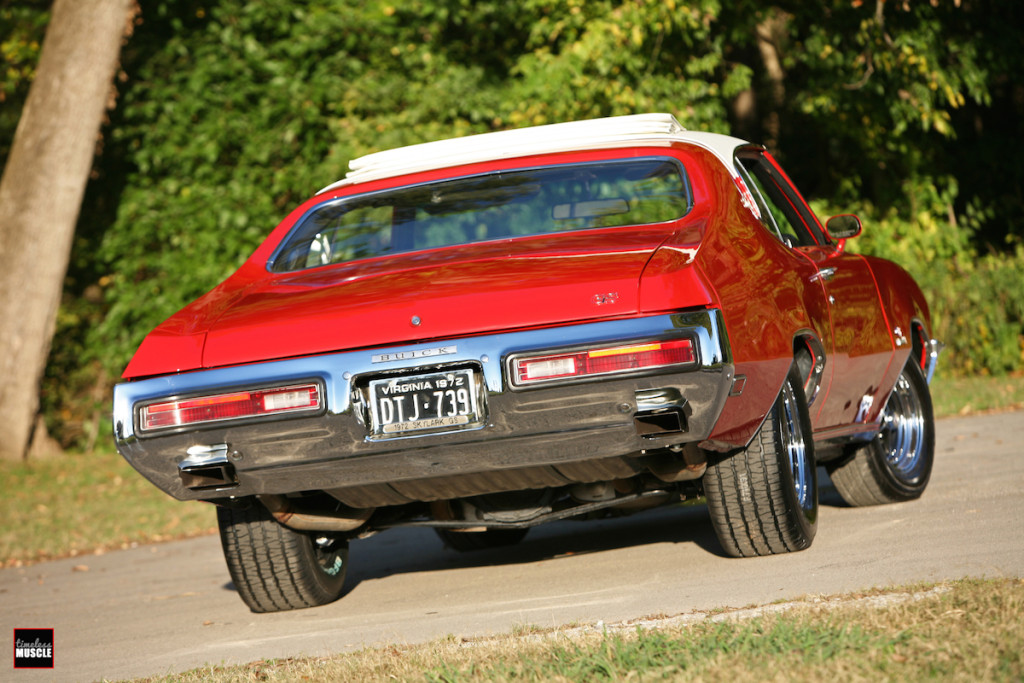 Rick Seitz is the owner and founder of AutoCentric Media, and has a true love and passion for all vehicles. When he isn't tuning, testing, or competing with the brand's current crop of project vehicles, he's busy tinkering and planning the next modifications for his own cars.