https://www.youtube.com/watch?v=vp1lkz3VtS8
Ok, we'll be the first to admit it – the contents in this video isn't exactly news or groundbreaking. In fact, it's been done time and time again over the course of the last sixteen years or so.
As these aging F-bodies depreciate and find new owners, many of these cars are now ending up in the hands of younger enthusiasts who were still in Kindergarden when the last F-body rolled off of the assembly line (yes, it's really been that long).
As a result Millenials, and new F-body owners in general, may have their hands full when the time comes to pull the engine. There are tons of manuals on how to do it, and plenty of forums like LS1Tech.com, with threads dating back to as long as these cars have been around on how to go about removing the LS1 or LT1 in your 4th-Gen.
However, thanks to the invention of YouTube, it's now easy to get some quick tips and advice through your mobile device on removing a 4th-Gen's engine. Now you can have Chuck Hansen, and the guys from  Horsepower TV show, give you young-ins the ins and outs of how to do it.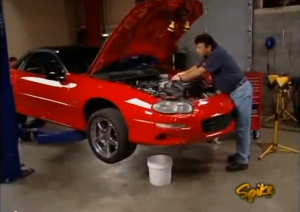 By the way, although it is possible to pull the engine from the top, but trust us, it makes way more sense to remove it from the bottom. Don't ask us how we know.
With the engine out of the car, the guys also clue you in on the unique details about an LS1 engine while they tear it down, and point out some of the interesting features as to why the LS1 is such a great engine platform to build upon.
It might not be news to all of you, but if we can teach a handful of budding car enthusiasts on how it's done, we feel we've accomplished our goal.
Rick Seitz is the owner and founder of AutoCentric Media, and has a true love and passion for all vehicles; GM, Ford, Dodge, imports, trucks — you name it! When he isn't clacking away on his keyboard, he's building, tuning, driving or testing his current crop of personal projects!