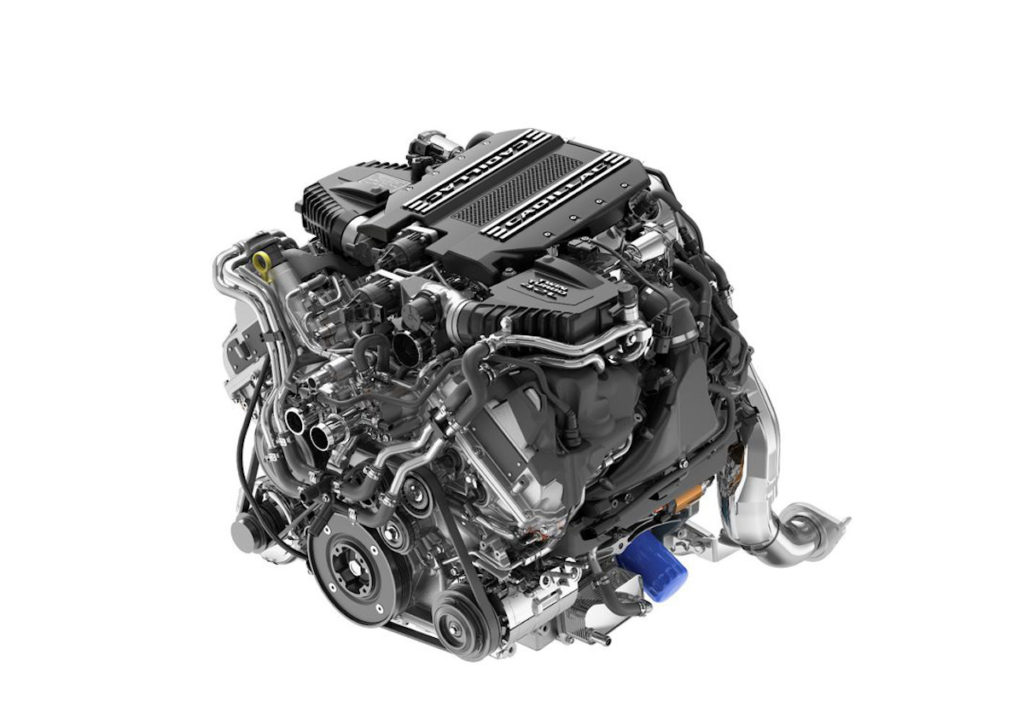 It's been over a decade since Cadillac has manufactured one of their own engines, with the 4.6L and supercharged 4.4L Northstar V8. Over the last decade Caddy has been regulated to corporate V6s, turbocharged four-cylinders and various LS and LT V8s.
With the fabled Wreath and Crest brand longing for its own edge, to help truly put it in the same category and as the Germans that it competes against the time finally came to give it its own powerplant.
Official Release:
Cadillac begins a new chapter in its high-performance legacy with today's introduction of the brand's first-ever twin-turbo V-8 engine. It is the centerpiece of the new CT6 V-Sport, an engaging sports sedan infused with DNA of Cadillac's world-renowned motorsports program.
Developed as a small-displacement V-8 in the classic vein and offering exceptional power density of 131 hp (98 kW) per liter, this new Cadillac-exclusive 4.2L Twin Turbo V-8 — GM estimated at 550 horsepower (410 kW) and 627 lb-ft of torque (850 Nm) — elevates the CT6's performance to a new plateau and offers drivers an unparalleled experience behind the wheel.  An optional 500-horsepower version will also be available.
"Cadillac's performance technology reaches new heights with the new and exclusive 4.2L Twin Turbo V-8," said Cadillac President Johan de Nysschen. "The engineering prowess embodies the very spirit of Cadillac performance on and off the racetrack."
The new Cadillac Twin Turbo V-8 is a clean-sheet design that also introduces unique design elements developed to balance performance and efficiency with compact, mass-efficient packaging.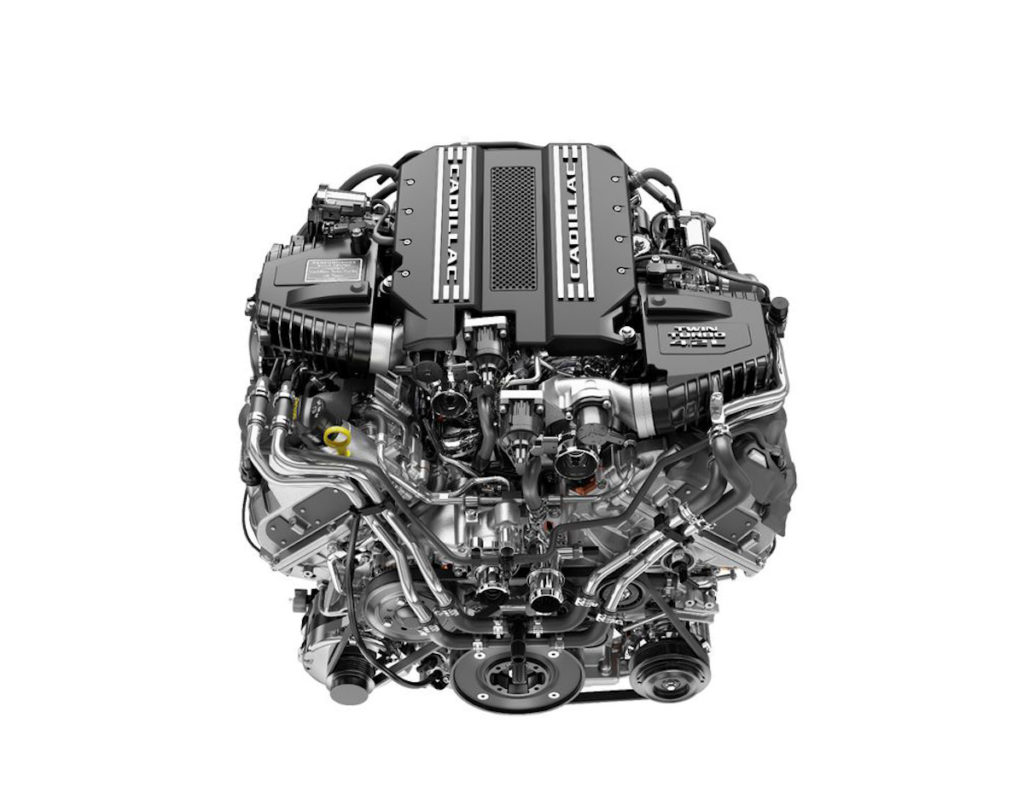 "Designing an all-new engine was the best way to achieve the performance goals for the CT6 V-Sport," said Jordan Lee, 4.2L TT V-8 chief engineer. "It builds on Cadillac's well-established turbocharging know-how and forges new ground with innovative features that deliver exceptional performance and refinement."
At the center of the 4.2L Twin Turbo V-8 is a "hot V" configuration that transposes the conventional layout of the cylinder heads' intake and exhaust systems to mount the turbochargers at the top of the engine — in the valley between the heads — to virtually eliminate turbo lag and reduce the engine's overall packaging size.
In a conventional turbocharged engine, the cylinder heads receive the pressurized air charge through ports at the top of the engine and the exhaust exits through ports on the lower outside of the heads into manifolds connected to the turbochargers.
With Cadillac's innovative hot V design, the intake-charged air enters through the lower outside of the heads and exits through the top inside — where the turbochargers are integrated with the exhaust manifolds — for quick spool-up that translates into more immediate power delivery. The design also allows closer mounting of the catalytic converters, for efficient packaging.
Additional engine highlights:
Twin-scroll turbochargers
Electronic wastegate control
Twin water-to-air charge coolers
Twin throttle bodies
Direct injection
Dual-independent camshaft phasing
Active Fuel Management (cylinder deactivation)
Variable-pressure oiling system
Stop/start technology
Each engine will be hand-built at the Performance Build Center in Bowling Green, Kentucky.
SMALL DISPLACEMENT, LARGE EFFECT
The new Cadillac Twin Turbo V-8's foundation is an all-new, durable and lightweight aluminum cylinder block that houses an equally robust, lightweight rotating assembly composed of a forged steel crankshaft, forged steel connecting rods and high-strength aluminum pistons.
The crankshaft's 90.2mm (3.55 inch) stroke complements the cylinder bores' 86mm (3.39 inch) diameter to give the engine its 4.2L (255 cubic-inch) displacement.
Its comparatively small bore dimension enables the reduction in the size and weight of the pistons, optimizing the engine's geometry to match the fast-rev capability permitted by the engine's low-inertia, twin-scroll turbochargers. The result is exceptional responsiveness and immediacy of power across the rpm band.
The turbochargers produce up to 20 pounds of boost (1.38 bar) and are matched with electronic wastegate control for more precise boost management and more responsive torque production. In fact, 90 percent of the engine's peak torque is available at only 2000 rpm, and it is carried through 5200 rpm for a confident, virtually bottomless power reserve.
TWIN-SCROLL TURBOCHARGERS
The turbos' twin-scroll design broadens their performance capability, offering quicker response and greater efficiency. Rather than a single spiral chamber (scroll) feeding exhaust gas from the exhaust manifold to drive the turbine on each turbocharger, the twin-scroll design has a divided housing with two exhaust gas inlets and two nozzles to drive the turbine. Generally, one of the nozzles contributes to quicker response and boost production, while the other contributes to overall peak performance.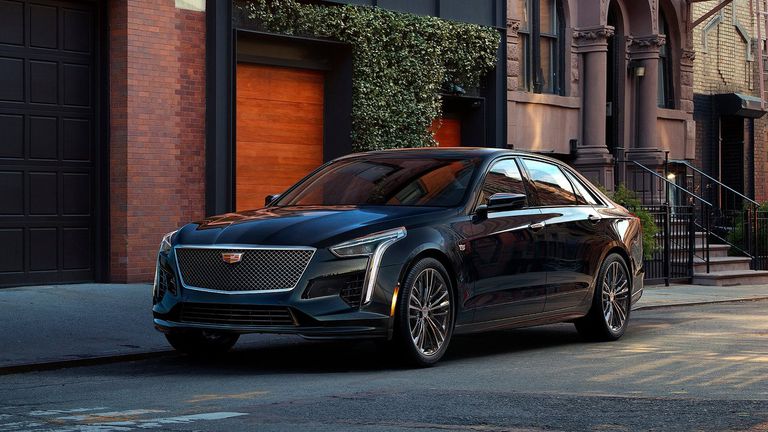 Each of the engine's integrated exhaust manifolds/turbocharger housings splits the exhaust channels from the cylinder head so the exhaust flows through separate scrolls based on the engine's exhaust pulses. When matched with precise valve timing, that separation leverages exhaust-scavenging techniques to optimize gas flow, improves turbine efficiency and reduces turbo lag.
The electronically controlled wastegates — one per turbocharger — are used for more precise management of the engine's boost pressure and subsequent torque response for smoother, more consistent performance. They are independently controlled on each cylinder bank to balance the turbo compressors' output, for greater boost pressure response.
WATER-TO-AIR CHARGE COOLING AND DUAL THROTTLE BODIES
An efficient water-to-air charge-cooling system contributes to the engine's performance, enhancing the turbochargers' effectiveness. Similar in concept to an engine's radiator, the system's intercoolers cool the boosted air charge before it enters the cylinders. Cooler air is denser, which means there is more oxygen in a given volume, resulting in optimal combustion and more power.
The system features a pair of heat exchangers located above the valley-mounted exhaust manifold/turbocharger housings. The turbos pump pressurized air directly through the heat exchangers and into the cylinder heads. The heat exchangers are cooled by their own coolant circuit.
The intercoolers lower the air charge temperature by more than 130 degrees F (74 C), packing the combustion chambers with cooler, denser air. Also, the system achieves more than 80 percent cooling efficiency with only about 1 psi (7 kPa) flow restriction at peak power, which contributes to fast torque production.
Before entering the combustion chambers, the cooled air charge flows through a pair of throttle bodies, one for each engine bank. Each electronically controlled throttle body has a 59mm diameter opening.
NEW 10-SPEED TRANSMISSION
The new Cadillac Twin Turbo V-8 is matched with a 10-speed automatic transmission. Its wide, 7.39 overall gear ratio spread enhances off-the-line performance and contributes to reduced engine speed on the highway, which enhances refinement and efficiency. Smaller steps between the gears also help the engine maintain the optimal speed for maximum power at almost all vehicle speeds.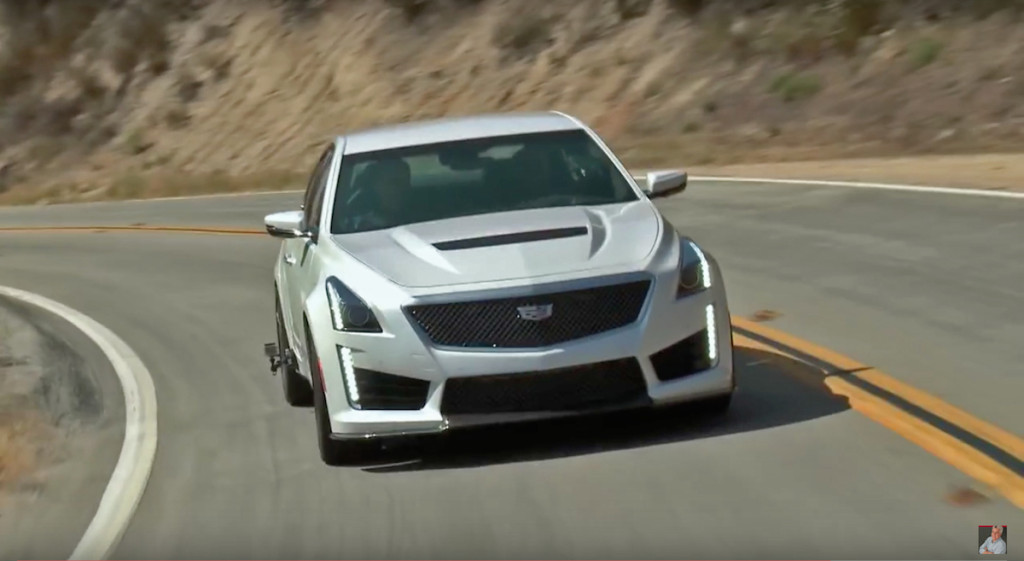 ADDITIONAL TECHNOLOGIES
Direct fuel injection is used to optimize efficiency and performance. With direct injection, a higher compression ratio — 9.8:1 — is possible because of a cooling effect as the injected fuel vaporizes in the combustion chamber, reducing the charge temperature to lessen the likelihood of spark knock. A pair of engine-mounted, camshaft-driven high-pressure fuel pumps supplies fuel to the specialized injectors at 5,075 psi (350 bar), with each pump supplying fuel to one bank of the engine.
Active Fuel Management (AFM), also known as cylinder deactivation, imperceptibly shuts down half of the engine's cylinders in certain light-load driving conditions to enhance fuel economy. Unique deactivating rocker arms are used for each of the four valves of the cylinder being deactivated.
Dual overhead camshafts and a virtually silent chain-driven valvetrain contribute to the smoothness and the high output of the Cadillac Twin Turbo V-8, while dual independent continuously variable valve timing helps deliver optimal performance and efficiency. The dual independent system, which allows the intake and exhaust valves to be phased at different rates, promotes linear delivery of torque with near-peak levels over a broad rpm range, and high specific output (horsepower per liter of displacement) without sacrificing overall engine response or drivability.
Oil jets located in the block are employed for performance and temperature control. Four jet assemblies in the engine drench the underside of the pistons and the surrounding cylinder walls with an extra layer of cooling, friction-reducing oil. The jets reduce piston temperature, allowing the engine to produce more power without reducing long-term durability.
Variable-pressure oiling system. A variable-displacement vane oil pump enhances efficiency by optimizing oil pressure as a function of engine speed. With it, the oil supply is matched to the engine load rather than the linear operation of a conventional, fixed-flow oil pump.  The engine uses 10 quarts of General Motors' dexos2 0W40 motor oil.
Stop/start technology shuts down the engine when the vehicle stops momentarily, such as at stoplights. The engine automatically restarts when the driver takes their foot off the brake. An auxiliary battery powers electric accessories such as the climate system, power windows and radio during engine restarts.
###
SPECIFICATIONS
ENGINE
Type:
4.2L twin-turbocharged DOHC V-8 with Active Fuel Management, direct injection and stop/start
Bore and stroke       (in / mm):
3.39 x 3.55 / 86 x 90.2
Block configuration:
90-degree V-8 with five cross-bolted nodular iron main bearing caps; with provisions for jet-spray oil cooling
Block material:
A319 sand-cast aluminum with pressed-in iron liners
Crankshaft:
Forged steel
Pistons:
High-strength hypereutectic aluminum with friction-reducing polymer skirt coating
Connecting rods:
Forged steel with floating wrist pins
Cylinder heads:
Cast aluminum "hot V"-type with 36mm intake valves and 29mm sodium-filled exhaust valves
Compression ratio:
9.8:1
Valvetrain:
Dual overhead camshafts; four valves per cylinder with and dual independent valve timing
Firing order:
1-5-4-3-6-8-7-2 (1-4-6-7 with Active Fuel Management engaged)
Ignition system:
Coil-on-plug
Fuel delivery:
Direct injection with dual electronically controlled 59mm throttle bodies
Turbocharging system:
Two low-inertia twin-scroll turbochargers with electronically controlled wastegates and water-to-air intercooling
Max boost:
20 psi (1.38 bar / 138 kPa)
Horsepower             (hp / kW @ rpm):
550 / 410 @ 5700 (CT6 V-Sport) – est.

500 / 373 @ 5000-5200 (CT6) – est.

Torque
(lb.-ft. / Nm):
627 / 850 @ 3200-4000 (CT6 V-Sport) – est.

553 / 750 @ 2600-4600 (CT6) – est.
TRANSMISSION
Type:
Hydra-Matic 10L90 ten-speed electronically controlled automatic
Gear ratios (:1)
4.696 – 1st

2.985 – 2nd

2.146 – 3rd

1.769 – 4th

1.520 – 5th

1.275 – 6th

1.000 – 7th

0.854 – 8th

0.689 – 9th

0.636 – 10th

4.866 – Reverse
Rick Seitz is the owner and founder of AutoCentric Media, and has a true love and passion for all vehicles; GM, Ford, Dodge, imports, trucks — you name it! When he isn't clacking away on his keyboard, he's building, tuning, driving or testing his current crop of personal projects!