For those of you familiar with the School of Automotive Machinists, or SAM, know that not only are they one of the best tech schools for the next generation of engine builders to attend, but are the home of several record-breaking race cars. We received this release this week saying that PowerNation will feature SAM's 2013 COPO for an upcoming episode on Sunday, September 27th. Learn more in the official release below.
Official Release:
Houston, TX—The School of Automotive Machinists (SAM) will take center stage in an upcoming episode of the popular Engine Power show on the Power Nation that's set toair on CBS Sports Network and on Spike TV this weekend.
The episode can be see on CBS Sports Network at 6:30 am (EST), and features SAM's NHRA drag race Gen 5 Chevrolet COPO Camaro. Students of the school will enhance the look of the Chevy by swapping body components to transform the 2013 COPO Camaro into 2014 model.
"It's cool to show just how this is an easy conversion, and how you can simply update your car," said Judson Massingill, Director of Education and co-owner at the SAM. "Running the current-year body is important in NHRA Stock, Super Stock, Pro Stock, and Funny Car, as wins contribute towards the NHRA Manufacturer's Cup.
Our Camaro fits in the BB/S class. It uses a 427 engine and is backed by a manual transmission and makes well over 700 horsepower," Massingill explained. "The Camaro can run 9.40s at about 140 mph. Of course, the focus of the school is on engine building, but this was a fun project," he added.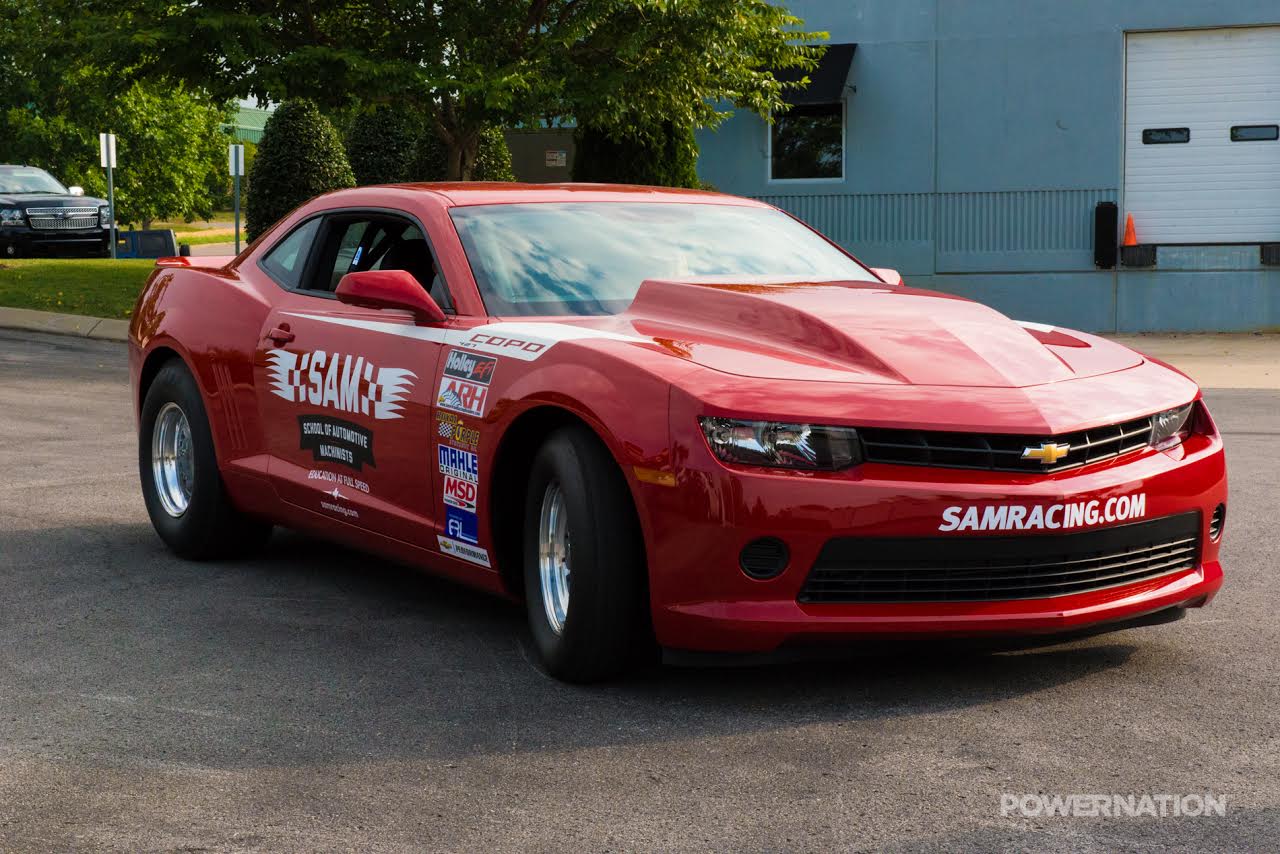 In case you miss it, the episode will be rebroadcast on Spike TV Sunday at 9:30, on CBS SN at 7:30 am, and on NBC Sports Network Tuesday September 30th at 4:30 pm. All times are Eastern Standard.
 About SAM:
The School of Automotive Machinists is an accredited college, located in Houston, Texas, where students can earn an Academic Associate of Applied Science degree. In addition, SAM teaches professionalism and prepares students for life in the fast-paced world of motorsports. Classes range from Engine Block Machining and to Cylinder Head Machining and preparation, to CNC Machining and operation, plus all other facets of engine machining and building. Programs last from 7-24 months and the school has a top-rated job placement program. SAM students regularly find employment with the most respected engine builders including Hendrick Motorsports, Roush Yates Racing Engines, Steve Schmidt as well as professional NHRA, NASCAR, Indy Car race teams.
"Financial Aid is available for those who qualify and SAM is also a military-friendly school, approved to train VA (GI Bill) persons," stated Linda Massingill, the school's Director and Co-Owner. "Students also benefit from real-world training in the field, as many class-projects include field trips to the races, where SAM enters race vehicles and the students work on the cars under live race conditions."
 Additional air dates are:
9/27/14 Saturday 6:30 am (EST) CBS SN Engine Power
9/28/14 Sunday 7:30 am (EST) CBS SN Engine Power
9/28/14 Sunday 9:30 am (EST) Spike TV Engine Power
9/30/14 Tuesday 4:30 pm (EST) NBC SN Engine Power
Rick Seitz is the owner and founder of AutoCentric Media, and has a true love and passion for all vehicles; GM, Ford, Dodge, imports, trucks — you name it! When he isn't clacking away on his keyboard, he's building, tuning, driving or testing his current crop of personal projects!