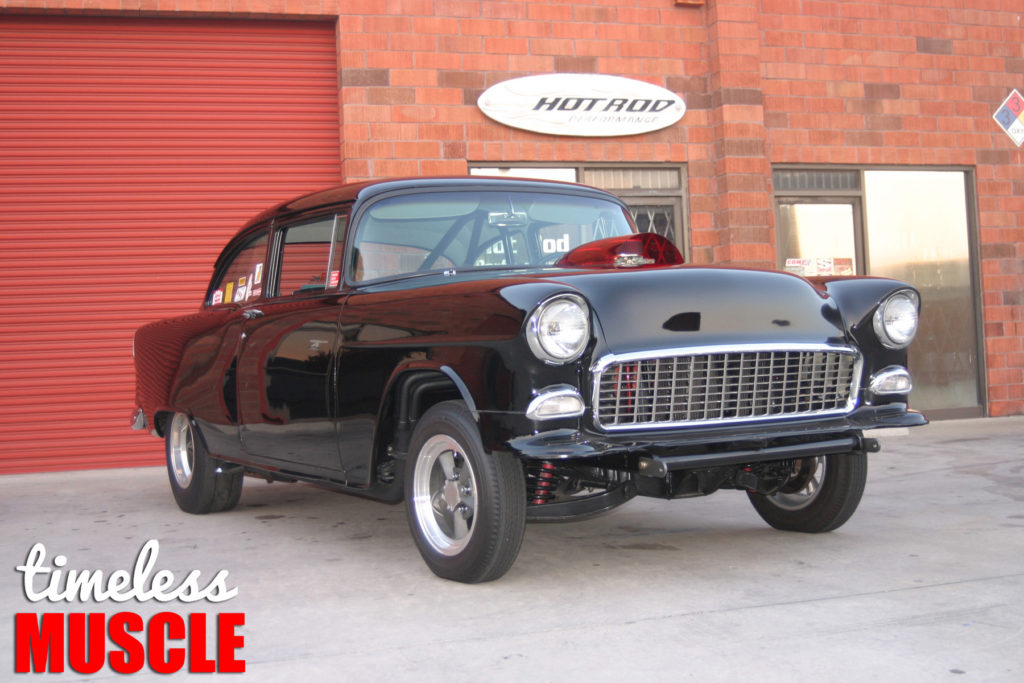 A Boyhood 1955 Chevy Gasser Dream Comes True for a LIfetime Hot Rodder
Photos by: PJ Rentie
When Brian Omatsu was a kid growing up in Torrance, California, his uncle took him to Lions Dragstrip where he watched a family friend racing his black 1955 Chevy gasser. The car was all black, with a red Plexiglas hood scoop. Brian fell immediately in love and knew he had to have that car. Unfortunately, the racy '55 he wanted so badly was sold off before he could buy it. The car you see is built as closely as he could to that one. He says now that this is the first car he really wanted, and it will also be the last car he ever builds.
Brian has been a hot rodder as long as he's been alive. He was raised to understand how old cars can be modified to improve their looks, performance, and value. But, ultimately, the changes one makes serve to make a car more fun, and that is the bottom line.
His father was also a hot rodder, and while cancer took him away from this earth way too early, Brian has carried on the family tradition of building great cars to enjoy, one at a time. Over the last thirty-plus years, Brian has enjoyed a wide range of classic drag cars, traditional customs, his father's 1930 Model A 5-window Ford hot rod, and a broad selection of vintage motorcycles.
As the '55 Chevy you see before you began to take shape, he didn't have to make too many major decisions. The build has been in his head since he was a kid. No trim, a tall stance…how about wide rear tires? Sure, but not so wide as to require the body to be cut out around them for clearance.
The body would be black, shaved of all the side trim, and arrow-straight. There would be no need for a front bumper, but the beautiful factory egg crate grille would have to stay. The trim color would be red, but it would be used very sparingly. A period-perfect Plexiglas see-through hood scoop was a must-have, and the fuel lines, some hardware bits, the air cleaner elements would all look good in red against the black.

The powerplant would be a version of the engine that has powered so many of Brian's cars over the years- the reliable and effective small-block Chevy. This particular version displaces 406 cubes (a 400-inch engine, plus a .030-inch overbore) and wears the kind of go-fast equipment any hot rodder would have killed for in the '60s. The heads are aluminum AFR units, armed with Manley stainless valves that are tickled open and closed by a cam from Isky, located in nearby Gardena. The engine is topped by a BDS 6-71 Roots blower, fed by twin Holley four barrel carbs and boosting horsepower to 700.
Ignition duties are accomplished by an MSD box, coil, and distributor, while classic Accel yellow wires bring the fire to NGK plugs. Fenderwell headers (from Sanderson) were essential to a build in this style, and they feed a pair of DynoMax Turbo mufflers that dump just ahead of the rear tires. Torrance's own Hot Rod Performance shop, where Brian can be found spending a lot of hard won time and hard-earned money, built the 406, and Mark Milhollin tuned it, keeping the car a local effort. He extends his thanks to both Mark and Wayne Wright of Hot Rod Performance for all of their assistance in making the car happen.
Backing the blown mouse motor is an old-school Muncie M-21 four-speed manual transmission. There's a Hays clutch and a Lakewood bellhousing between the engine and trans, and a classic Mr. Gasket V-Gate shifter grinds through the gears. All 700 ponies travel aft to a Mopar 8-3/4-inch rear axle, armed with a posi unit and 3.50:1 gears. The rear axle housing is fortified with Lakewood slapper bars.
Inside the car, the door panels are covered with black and white vinyl, and '65 Impala buckets are equipped with Deist belts. Brian's pal and fellow drag racer Mike Saiki did the roll cage, and the minimalist interior is finished off with some vintage-looking SW gauges and a column-mounted Sun tach.
Of course, he finished the exterior look off with classic 5-spoke American Racing wheels, pie crust cheater slicks, and skinnies up front. A nod to modern safety exists with the CPP front disc brakes, but Brian swears this car is just a cruiser. We think he might tempted to take it for a run down the dragstrip with all that power under the hood. He's been there plenty of times, so we might have to update this story down the road with some quarter-mile times. The math puts this car on the edge of 10-second times, depending on how well those cheater slicks grab (and whether that old Muncie box can hold together on the launch) but the potential is certainly there.
Whether he ends up at the track or not, we respect Brian's effort in this car. Everything is really nice, no corners have been cut, and it looks, sounds, and runs the way a bad-ass '55 Chevy street car done in the Gasser style should. He claims it's his last car build, and if that's the case, it's a solid exclamation point on the end of a lifelong sentence.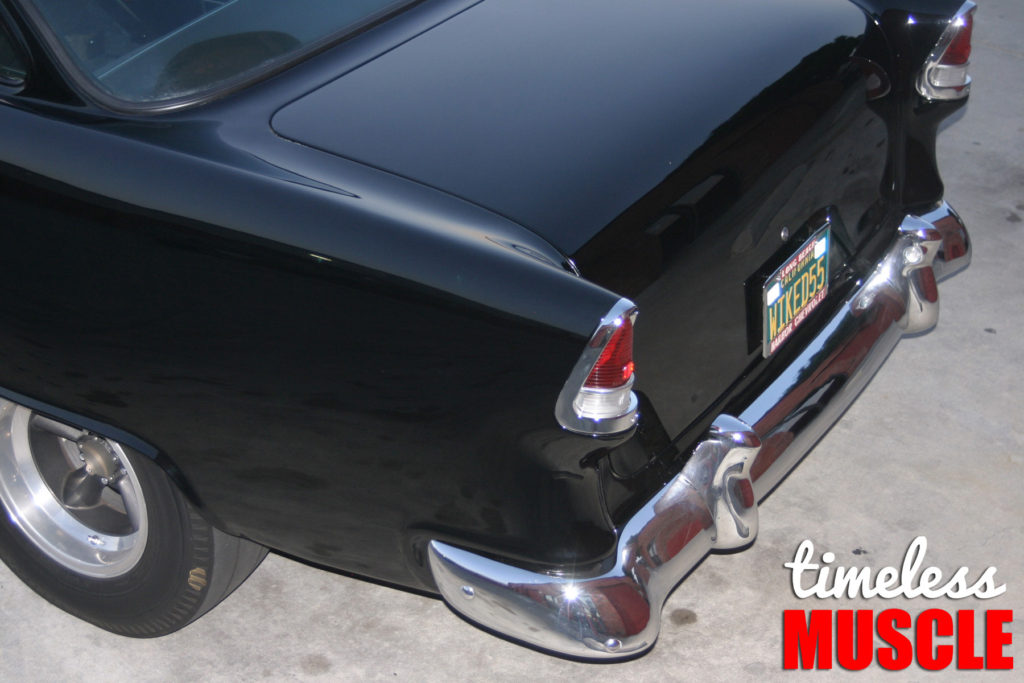 After spending almost a decade in the aerospace industry, Scott Parkhurst chose to learn about racing engines by working in some of Southern California's most respected engine shops. He took on the role of Tech Editor at Popular Hot Rodding magazine back in 1998, and was instrumental in the development of both the Engine Masters Challenge competition and Engine Masters Quarterly magazine. He was also the founding Editor of Street Thunder magazine and Author of the V8 Horsepower Performance Handbook.