photos by: the author
An IROC-Z is Reinvigorated with a Z/28 Driveline
The Z/28 nameplate is filled with rich DNA; from its Trans-Am Racing Series heritage, to its general mystique during its first three years of production. Intended for use in SCCA racing and for road course use in general, it was a car that was shrouded in mystery during its initial release. Introduced alongside the Camaro in which it was based for 1967, the first-year Zee didn't even depict any emblems or signage on its flanks to let would-be rivals know that something was amiss.
Packing a "290hp" 302 cubic-inch powerplant, it was a blend of 283 and 327 small-block parts that provided a high-revving power band on top, but offered little in torque on the low-end. As such, most of those cars, which all featured four-speed manuals, were usually paired with steep gears for additional acceleration capabilities.
Although only 602 examples rolled off of the assembly line for '67, by 1969, over 20,000 Z/28s would hit the showrooms. For the following generation, it was toned down a bit in its "rawness," but production, cubes and power crept up in tally. As the '70s wore on, and CAFE and EPA emission standards became far more strict, the Z-28 (now with a hyphen) would became a shadow of its former track car self.
By 1982, the Z28 (no hyphen or slash) was now a bogged down, smogged down, 145hp slug that had essentially morphed into a generic, me-too V8 Camaro that was just there to take on the Mustang GT. It looked great, handled well, but left enthusiasts more than underwhelmed with its performance. A 165hp Cross-Fire Injected version of the 305 was available in '82 and '83, but it did little to pique interests.
Naturally, things would pick back up in the power department; with a MPFI fuel-injected version of the 305, and later, a 350 being offered. For 1985, Chevrolet unveiled an IROC-Z version of the Camaro.
The IROC-Z was intended to be a Z28 with additional attitude and curb appeal. The intention was to channel the popular (and very awesome) International Race Of Champions, that pitted the top drivers from NASCAR, Formula 1 and other segments of motorsport into one race, giving them equal cars to see who truly was the best driver out there. The Camaro was the car of choice at the time, and as such, the IROC-Z was born.
Largely a cosmetic package on the Z28, it offered body color matched ground effects, unique 15- and 16-inch aluminum wheels, specific badging and striping, louvered hood scoops and grille mounted fog lights, along with a few other little details. They sold very well, and to most high school kids of the '80s, the IROC was pretty much the "it car" to have. The IROC-Z would bid adios after the 1990 model year, and so too, would the Z28 after the Camaro was canceled in 2002. When the Camaro returned for 2010, the Z/28 package was MIA, making the SS the mainstream V8 Camaro.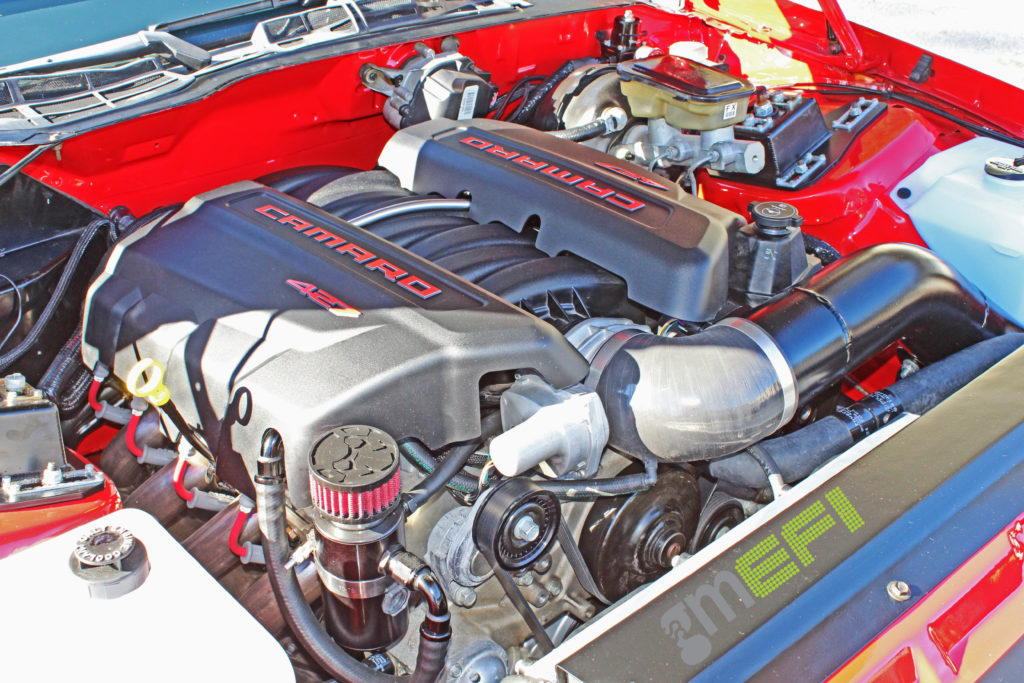 Fast-forward to 2014, and the Z/28 was back — with the slash! Wanting to take the car back to its roots, and perhaps, right a couple of wrongs from earlier cars, the new Z/28 would be rocking a 505hp LS7 V8, which provided high revs and low-end torque. This time around, weight reduction was added to the formula as well; thinner glass, removal of the back seat, no A/C or radio (although optional), fully functioning and adjustable aero, less cabin sound deadening — the lot. Everywhere Chevrolet could cut, shave or completely remove weight with the Z/28, they did.
If that wasn't enough, the car received massive 15-inch ceramic carbon Brembo brakes — the same brakes that were intended for the then-upcoming C7 Z06 Corvette, as well as a suspension setup that was not that far removed from the Aston Martin One-77 concept car. The $75,000 sticker put a lot of people out of the potential price bracket, but the car was intended to be a very low-volume unit, anyway.
Wind the clock a few more years in advance, and now we're turning to Brad Bedsaul, and his 1987 IROC-Z. Brad's car started as a fairly standard-issue IROC-Z. It had all of the flash and flair of the most popular '80s pony car, but it was ordered with little of the frills. No T-tops, the base 305 minus the Tuned Port Injection, and essentially, the general amenities that came standard with an '87 IROC. His example, only shows a mere 8,000 miles on the clock.
Wanting more pop, pizazz and basically, more power, he enlisted the help of Bruce Hawkins of Hawks Motorsports in Easley, South Carolina to turn this up to 11. So out went the entire stock drivetrain, and in went the heart of a 5th-gen Z/28 — as a start. The bottom end and the block itself were left alone, however, an upgraded custom-grind camshaft and ported heads went into place, as did a Mighty Mouse catch can.
Responsible for keeping things cool under the hood, a Wizard Cooling heavy-duty aluminum radiator and SPAL fans went into the recipe.
A chambered exhaust system replaced the factory catback, and a Tremec 6-speed replaced the original 5-speed. Out back, a GearFX Ford 9-inch rear axle, stuffed with an Eaton TrueTrac, Dutchman Motorsports 31-spline alloy axles and 3.89 gear set certainly solidify things in that department. A Dynatech driveshaft connect the gearbox to the rear axle.
Underneath, a complete Detroit Speed Kit 3 suspension system replaced the aging OEM hardware, which included the sway bars, Panhard bar, torque arm, control arms and so on. The components are designed to improve handling, drop a few pounds off of the curb weight and offer adjustability to the owner who's looking to "dial-in" his or her suspension for the road course or autocross.
Sitting snuggly behind the 18-inch Forgeline VXR1 rollers, are OEM 15-inch Brembo brakes borrowed from a 5th-gen Z/28. Not only does it help immensely with the braking power, especially with 650-hp under the hood, but it lends to the whole blending of generations theme that Brad and Bruce were going for.
The them continues into the interior as well, where the Z/28s Recaro seats were installed into the interior, for additional comfort and support over the throwback chairs. A set of Classic Instruments gauges were installed for better accuracy, and Simpson harnesses were implemented for increased safety. Make no mistake; this car presents very well, but it's far from a trailer queen — Brad has full intentions of racing this thing. Some additional touches includes Hawks' billet steering wheel, and a custom shifter.
Although the Camaro retains all of the original bodywork and paint, in the engine bay, it was determined to move forward with a total cleaning and a respray from Bruce's friends at Kolorworks in Traveler's Rest, South Carolina. They did an excellent job, not only with the work itself, but matching the paint to the outer shell. The car didn't necessarily need it, but Bruce is always taking his attention to detail to the next level, and it shows with every car he and his crew touch.
Speaking of touches, the final details rounding out the package include a front splitter and rear wicker, which again, ties into the theme of implementing 5th-gen Z/28 mannerisms into an IROC-Z. It may not be for everyone, but it sure captures our attention.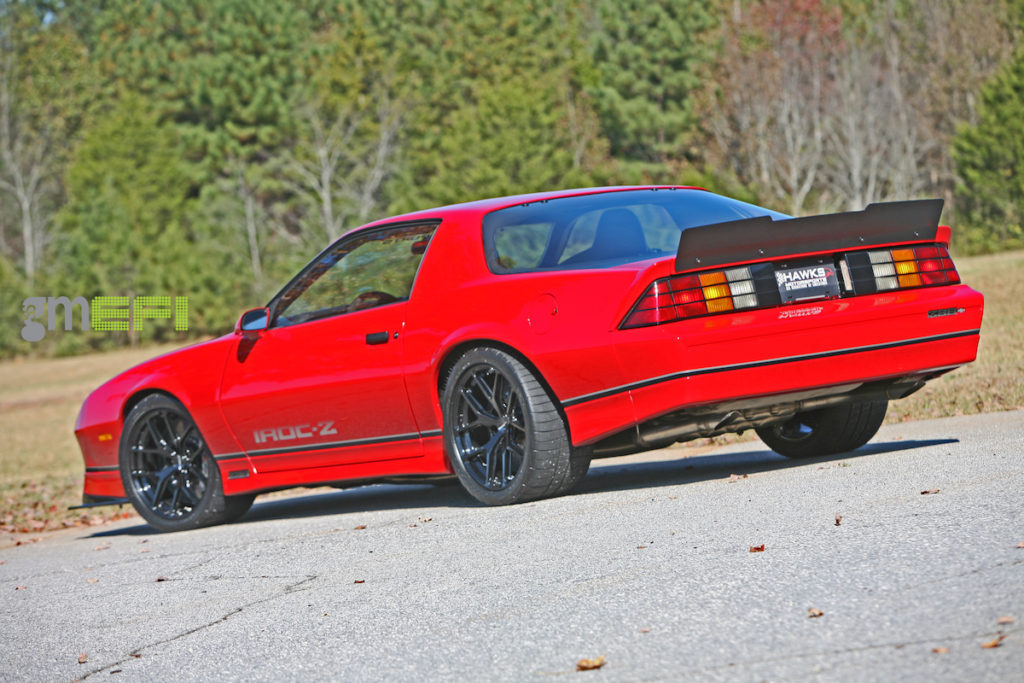 TECH SHEET
CAR: 1987 Camaro IROC-Z
OWNER: Brad Bedsaul
ENGINE BLOCK: LS7
DISPLACEMENT: 427 cubic-inch
CRANKSHAFT: Stock LS7
CONNECTING RODS: Stock LS7
PISTONS: Stock LS7
CAMSHAFT: Hawks Motorsports; custom hydraulic cam
ROCKER ARMS: Stock 1.8 ratio LS7, w/ trunnion upgrade
CYLINDER HEADS: LS7 CNC-ported
COMPRESSION RATIO: 10.5:1
IGNITION: MSD spark plug wires, stock style coils and NGK BR7 plugs
INDUCTION: Hawks-fabbed custom intake tube, K&N filter, stock LS7 intake
OILING: Melling pump, F-body pan
EXHAUST: Holley 1-7/8 long-tube headers, Y-pipe and mufflers, w/dual 2.5-inch diameter tubing
FUEL DELIVERY: FIC 120-lb/hr. injectors, twin E85 450-LPH pumps, Aeromotive Boost Reference regulator (58-psi.)
TUNING: Holley HP; tuned by Hawks Motorsports
TRANSMISSION: T-56 Magnum by Hawks
CLUTCH: RAM twin-disc clutch and flywheel w/floater plate
DRIVESHAFT: Dynatech; balanced steel 3.5×4.25-inch
REAREND: Gear FX Ford 9-inch, Eaton TrueTrac, Dutchman Motorsports 31-spline alloy axles, 3.89 gears
SUSPENSION: Detroit Speed; sway bars, front and rear control arms, torque arm, Panhard bar, single-adjustable coil-overs
CHASSIS: DSE; subframe connectors
STEERING: TurnOne 7:1 ratio
BRAKES: 5th-Gen Z/28 Brembo
WHEELS: Forgeline VXR1; 18×10
TIRES: BFGoodrich;  Rival
HP.: 650
Rick Seitz is the owner and founder of AutoCentric Media, and has a true love and passion for all vehicles; GM, Ford, Dodge, imports, trucks — you name it! When he isn't clacking away on his keyboard, he's building, tuning, driving or testing his current crop of personal projects!