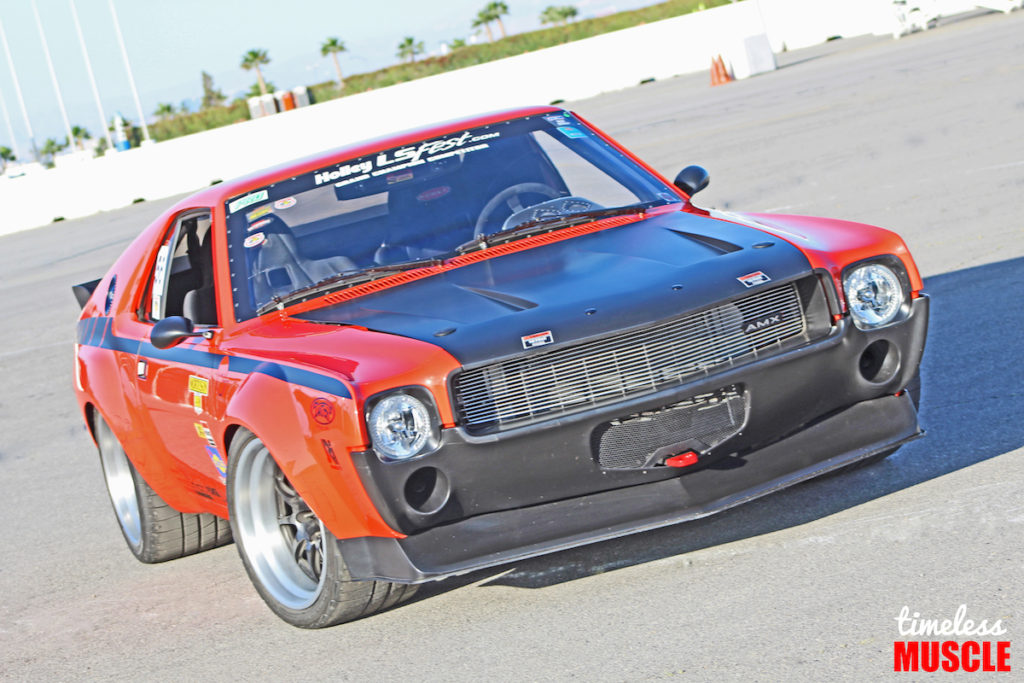 photos by: the author
An AMX Purpose-Built for Action
When we think of the muscle cars of days gone by, we typically think of examples from the Big Three; GM, Ford and Chrysler. With Woodward Avenue and the dragstrips of the day packed full of Camaros, Mustangs and GTOs, the offerings from pokey little American Motors Corporation typically get ignored, or overlooked.
Although we wish that wasn't so, it's simply true. But that's not a blanket statement, and that's not to suggest that nobody is tinkering with these cars, because there's such a loyal following for all-things AMC, that.
Such is the case of one Bob Gawlik and his AMC, of Scottsdale, Arizona. We should probably point out, that Bob isn't a weekend warrior, and you probably won't find him at the local cruise-in spot.
Instead, you're more likely to see this car hitting up autocrosses and road courses in the Southwest, and that's exactly where we caught up with it — at Holley's LS Fest West in Las Vegas.
Starting with a '68 AMX, the original drivetrain was left on the shelf, and a lightweight, aluminum LS7 powerplant went in under the hood. Utilizing a largely stock LS7 crate engine, a few adjustments were made. It retains natural aspiration, with a pair of CNC-ported Lingenfelter heads going in place, as did a custom-grind hydraulic camshaft with undisclosed specs.
On the induction side, a stock LS7 intake that's paired with a 92mm throttle body and K&N air filter feeds oxygen into the engine. Spent fumes are exited, via, Detroit Speed headers, a custom X-pipe, and Magnaflow mufflers with 3-inch tubing round out the exhaust system. The fuel system was relatively easy to put together, using off the shelf, GM LS7 parts; from the pump and regulator, to the injectors.
GM coil packs were left in place for the build, too. The oiling system was left largely in-tact from the OEM 2014 LS7, with the exception of a modified windage tray. The engine now has 11.0:1, and was built by Greg LaFontess ADS in Chandler, Arizona. A fire suppression system can be found in the engine and fuel tank areas, for the ability of quick resonse.
With such a healthy mill under the hood, the rest of the drivetrain would certainly need to be brought to par — including the transmission. Taking a somewhat unusual approach to his gearbox choice, Bob went with a TH400 automatic, that was built by Bowler.  A transmission cooler sourced from a Cummins diesel was implemented, as was a B&M shifter, a 2400-stall torque converter and a driveshaft loop. A 3-inch aluminum driveshaft connects the TH400 to the rear IRS that houses 3.73 gears.
For suspension, Detroit Speed front upper and lower control arms, sway bars and JRi shocks and struts were bolted into place. The DSE components allow Bob the ability to adjust the suspension to suit the track or the street. Progressive rate 650-lb. (front) and 550-lb. (rear) springs help the car's perfect 50/50 weight balance in the corners.
Now as anyone who races in autocross or on the road course knows, there's so much that goes into a road racing machine than just a powerful engine and great suspension geometry. Namely, you'll need a sufficient braking system and that's why Bob went with a set from Baer Brakes for additional stopping power. They're nicely tucked behind a set of Forgeline wheels that measure in at 18×11 in the front, and 18×12 rear with 315/30/18 on the front and 335/30/18 out back.
The exterior of the AMX is shod with Lava Orange paint, from PPG, and the car's short wheel base (97-inches) is a particular point of Bob's enthusiasm as it provides a quick turn-in when compared to some of his competitors. As he tells us, it comes in handy when he's running on various autocross circuits, like those found in CAM/SCCA, the Pro Class in GoodGuys events or even in LS Fest West, where we caught up with him.
Now we've featured a couple of LS-swapped AMCs in the past, and perhaps, the purists may not like it. But we'd much rather see cars like this at the forefront of modern auto sport, than letting them rot away in someone's back yard, or sitting in a museum somewhere never to be used properly again.
We like the car, simply because it's different. But we also like it because it's not a trailer queen — far from it, and that's what it's all about.
*Bob wanted to take a second to thank his partners, sponsors, friends and everyone who helped with the project, including Roger Burman of Lakeside Rods + Rides.
Rick Seitz is the owner and founder of AutoCentric Media, and has a true love and passion for all vehicles; GM, Ford, Dodge, imports, trucks — you name it! When he isn't clacking away on his keyboard, he's building, tuning, driving or testing his current crop of personal projects!