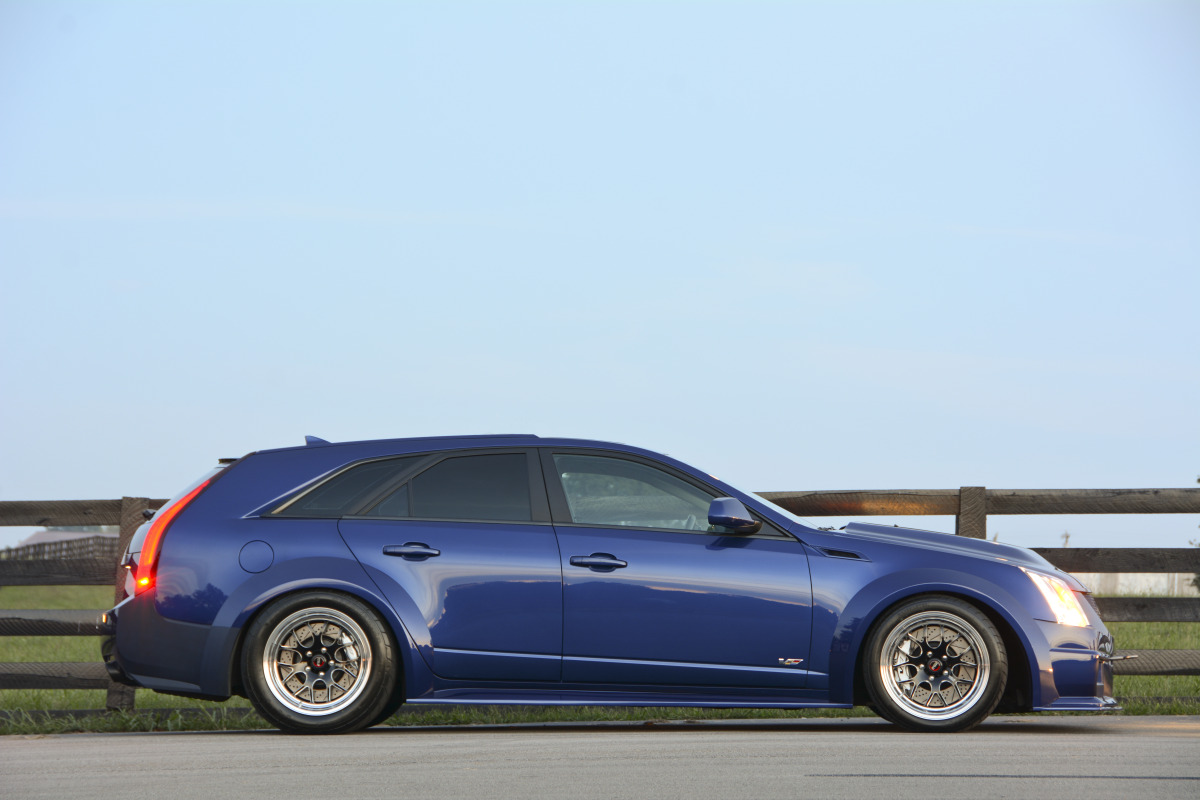 *Photography by: Tommy Lee Byrd
There have been plenty of vehicles over the course of GM's history that stood out like a wolf among sheep, and it seems that every ten years or so, there's another one being added to the roster. In GM EFI Land, there were the turbo Grand Nationals and GNXs of the '80s, the '90s had the Impala SS and GMC Syclone/Typhoon, and the 2000s had the GTO (don't hate). If there ever were a car that stood out as an anomaly amongst its peers, these days, that car would be the CTS-V wagon.
The CTS-V itself is a vehicle that countered convention during its release in 2004. Being a Cadillac, but with power, performance, European styling and handling, and a fun factor that no Caddy had ever seen before it rewrote the rulebook for GM's premier luxury marque. When there were a total of three body styles for the 'V in the second generation, one of which being a wagon, all bets were off.
Charlie Miller's CTS-V wagon takes all of that to an entirely new level. The 2012 example you see on this page is not only painted in the highly-coveted Opulent Blue Metallic, but has undergone plastic surgery as well. Those flared wheel arches aren't factory; it's a Canepa Wide Body Kit, and Charlie claims he has only seen one other car with it installed. It's even more stunning in person.
As Charlie tells us, "I had a 2009 CTS-V sedan in silver before I owned this car, but once the wagon was released, I had 'wagon envy.' It wasn't long before the sedan was for sale and I spotted this one advertised on CTSVOwners.com.
I vigorously pursued this car relentlessly until the former owner and I settled on a price that was fair. But when it arrived from California (which I purchased sight unseen, by the way) there were cracks in the fender flares, and there were a few stone chips in the paint. I was able to get it sorted out though, and although I drive it daily and haul the kids in it, I try my best to keep it looking perfect.
But before you go thinking this is just some all potatoes and no meat show queen stocker, you better think again, because Charlie and his V are bringing their A-game!
Starting under the hood, the V has undergone a serious upgrade that consists of a Weapon X Reaper Stage 2 camshaft and CNC-ported Trick Flow cylinder head package, courtesy of Ben Herdon at Weapon X Motorsports.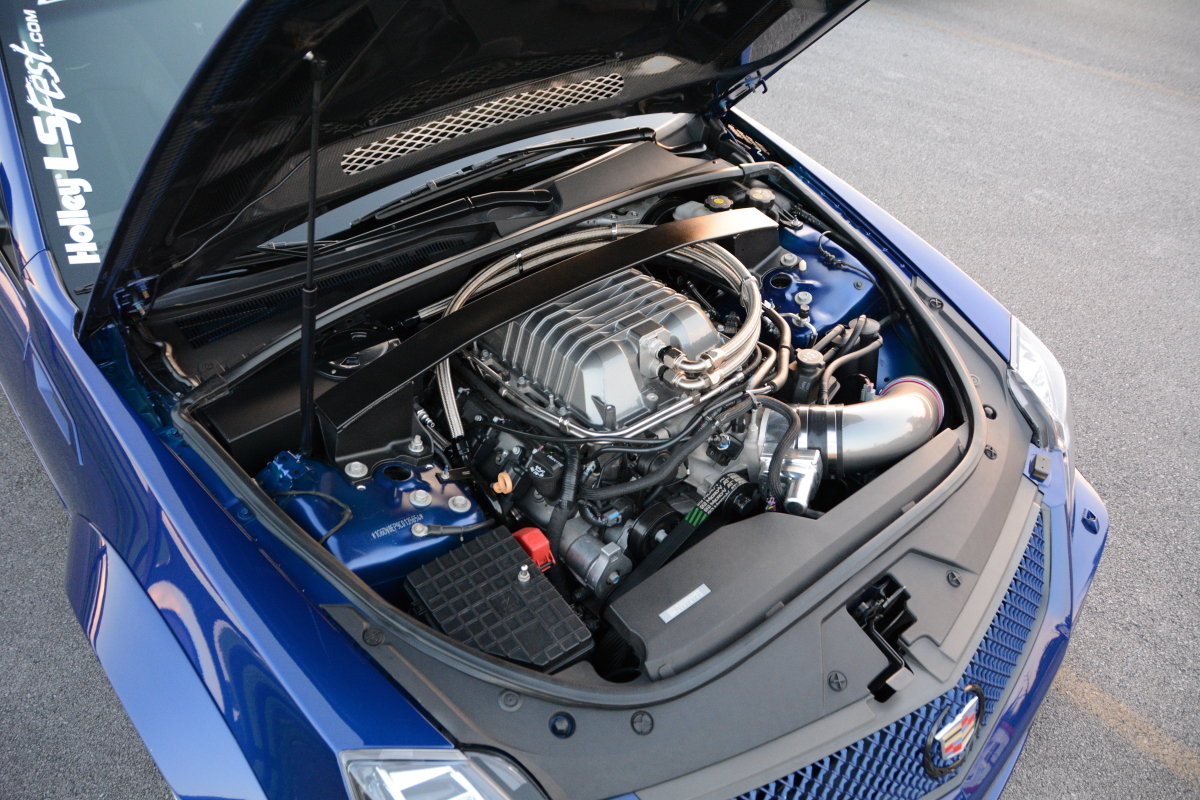 Feeding air to this stout top-end package to begins with a G-force cold-air induction tube with a Green air filter clamped to the end, a Nick Williams 102mm throttle body, and a ported snout, blower, and ZL1 lid, all handled by CTS-V guru, Jeremy Formato, of Fasterproms. Eric Nash powdercoated the ZL1 lid and intake tube, for a classy look.
A Weapon X double wide heat exchanger and a Norcal ice box helps keep under hood temps low. So do the heat exchangers in the Weapon X Sleeper hood that's made from a combination of carbon fiber and fiberglass.
With all of that air pumping into the engine, and the high-flow heads spewing out the spent gases in quick order, no way was Charlie going to rely on the stock exhaust manifolds. Starting from the engine and working his way back, 2-inch primary American Racing Headers feeding into a catless, 3-inch crossover pipe and a stock after cat exhaust provide the perfect balance of power and sound resonance in the cabin. After all, this is Charlie's kid-hauling daily-driver!
Surprisingly, the 680 rwhp monster puts its power down through a stock converter, transmission, driveshaft, and rear axle – something that would have been completely impossible to do in a first-generation CTS-V.
At least, not without completely annihilating something along the way. How long will it last is anyone's guess, but we're surprised with its endurance, nonetheless. At this point, Charlie's proud to say that he puts it through its paces every chance he gets!
Even though the drivetrain has been left alone, Charlie didn't ignore the brakes or suspension. The V handles hard launches and tough corners, thanks to a quadrant of KW HLS shocks aiding KW V3 coilovers at all four posts, while Hawk Performance carbon ceramic pads and R1 drilled and slotted rotors bring the two-ton behemoth to a halt.
The "SHGNVGN" rolls on two sets of wheels, depending on the task at hand; HRE P40 wheels measuring 19×11 (front), 20×13 (rear), wrapped in Michelin Pilot Sport rubber for the street, and Weld Racing S77B 18×5.5 (front), 18×12 (rear) with M&H Racemaster skinnies on the front and drag radials in the rear for the dragstrip.
With 681 hp and 646 lb-ft. of twist to the rear tires, Charlie was rewarded with a best of 10.85 at 127.55 during the weekend of the 2014 Holley LS Fest at Beech Bend Raceway.
Charlie credits Chad Elder from Moonlight Automotive as putting in the wrench time on the hard parts with Charlie helping, during the wee-hours of the morning. Jeremy of Fasterproms handled the final tuning duties. Last but certainly not least, is his loving wife, Brittany, and his two children, Rowan and Ford, for their loving support and allowing Charlie the time he needs with his car. Without which, none of this would have been possible.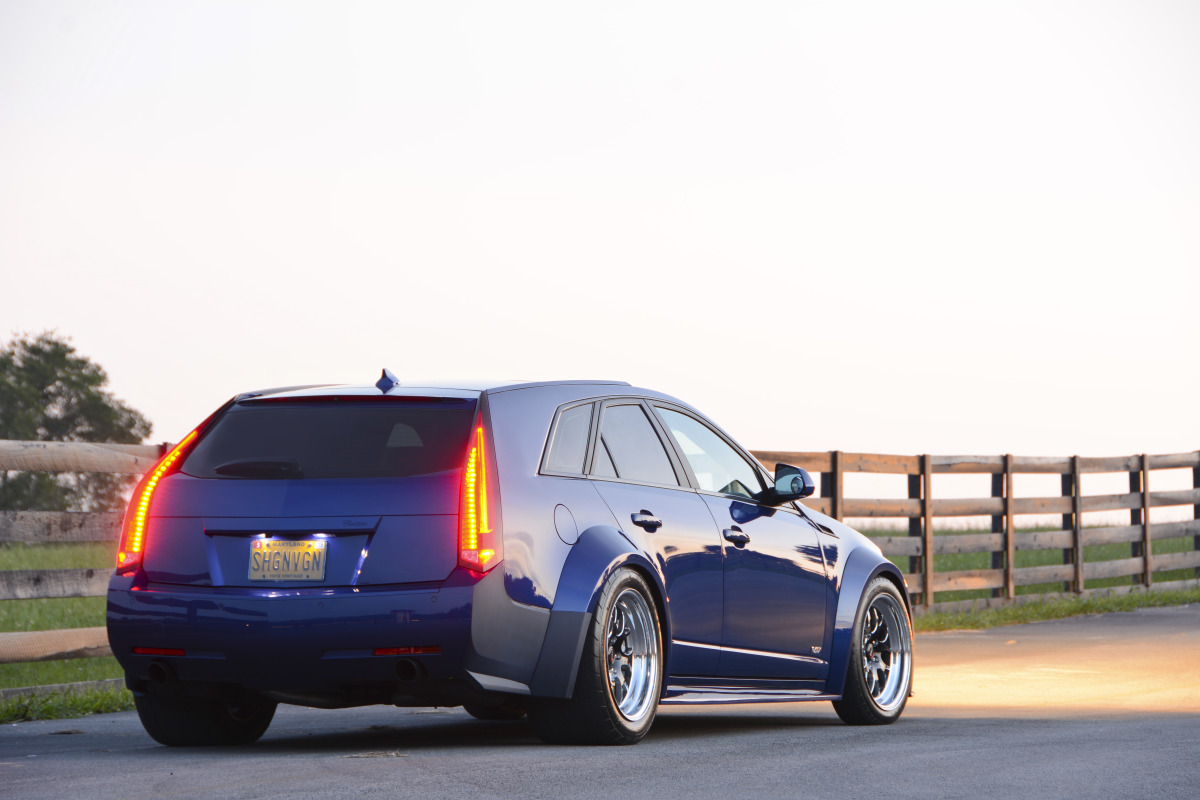 TECH SHEET:
CAR: 2012 CTS-V Wagon
OWNER: Charlie Miller
ENGINE BLOCK: Stock, LSA
CRANKSHAFT: Stock, LSA
PISTONS: Stock, LSA
CAMSHAFT: Weapons X; Reaper Stage 2, Intake 277/295, duration .050 227/242, .613/.593 lift, LSA 122
CYLINDER HEADS: Trick Flow GenX255
COMPRESSION RATIO: 9.1:1
INDUCTION: Gforce cold-air intake, Green filter, Nick Williams 102mm throttle body
POWER ADDER: Stock TVS 1900 blower, ported, with a ZL1 lid and ported snout
INTERCOOLER: WeaponX double-wide heat exchanger
BOOST: 15.5-lbs.
IGNITION: Stock coil packs, MSD plug wires
EXHAUST: American Racing 2-inch long-tube headers, cats removed, 3-inch crossover, stock exhaust
FUEL DELIVERY: Injector Dynamics ID850 injectors, stock pump
OILING: Stock
TUNING: Jeremy Formato, Fasterproms
TRANSMISSION: Stock, 6L90E
CONVERTER: Stock
DRIVESHAFT: Stock
REAREND: Stock
SUSPENSION: KW HLS shocks and KW V3 coilovers at all four corners; 1.5-inch drop in the front, 2-inch drop in the rear
CHASSIS MODS: None
BRAKES: R1 drilled and slotted rotors, Hawk carbon ceramic pads
WHEELS (street): HRE P40 19×11 (front), 20×13 (rear)
TIRES (street): Michelin Pilot Super Sports 285/40/19 (front), 345/30/20 (rear)
WHEELS (track): Weld Racing S77B 18×5.5 (front), 18×12 (rear)
TIRES (track): MH Racemaster 185/50/18 (front), MH Drag Radial 345/35/18 (rear)
HP/TQ.: 681/646
BEST 1/4-MILE ET: 10.85 at 127.55
BEST 60-FT.: 1.62
Rick Seitz is the owner and founder of AutoCentric Media, and has a true love and passion for all vehicles; GM, Ford, Dodge, imports, trucks — you name it! When he isn't clacking away on his keyboard, he's building, tuning, driving or testing his current crop of personal projects!