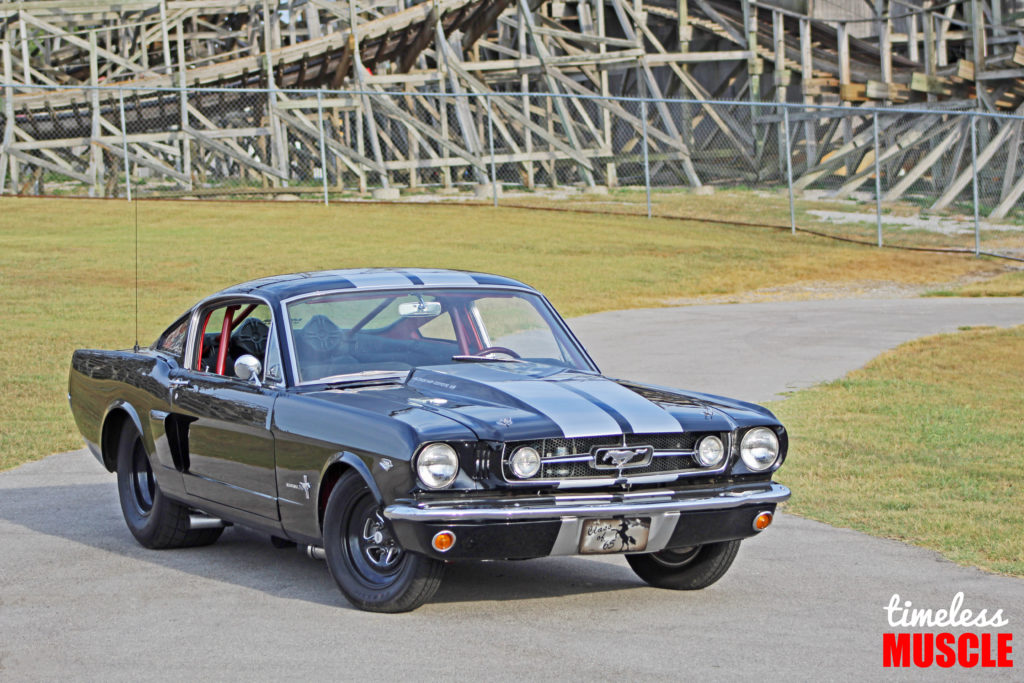 photos by: the author
Putting a Different Kind of Twist on a Classic Pro-Street Favorite
Whenever you go to a Ford event, you know you're going to see a few things; plenty of Mustangs, lots of horsepower and very typically, drag racing and a car show. During our trip to the Holley Intergalactic Ford Fest in Bowling Green, Kentucky, we've encountered all of that, and much more.
One particular Mustang caught our eye, a '65 Fastback, that one would expect to have a traditional small-block or big-block Ford squeezed between the fenders. Neither appeared. And while we were elated to not see a Brand X under the hood, we were equally elated to see the world's most popular, modern, four-cammer nestled between the flanks. Namely, a 5-liter Coyote sourced from a 2014 Mustang GT.
Owned by Rick McPeake since 1996, the Mustang was discovered sitting outside along the side of a house seemingly abandoned, buried under tree sap and grime. As it turns out, the house was occupied and the then owner was somebody Rick knew from way back in the day. After telling him of his plan to convert it into a race car, Rick and the seller agreed on a price and the Mustang was soon his — just so long as Rick sent him a photo pf the finished product. Rick one-upped that, and drove the car over to the gentleman's house some time after
"I saw the car sitting in a side yard under a tree with sap and grime a half-inch deep." -Rick McPeake
The 'Stang has seen a few different engine and transmission combinations through the years, including a 363 cubic-inch Small Block Windsor that cranked out well over 600hp, and produced a best 1/8-mile time of 6.18 at 111. However, as time and technology marched on, Rick found himself more akin to sticking with the classic lines of the '65 Fastback, but wanted to infuse it with modern technology.
Although the engine itself is largely standard issue, there are a few things that set it apart from how it left the Ford Motor Company. In addition, the rest of the car has been significantly altered and modernized, to max out the 600+ horsepower that the car is now utilizing. The first thing you notice, is the K&N cold-air kit attached to the throttle body.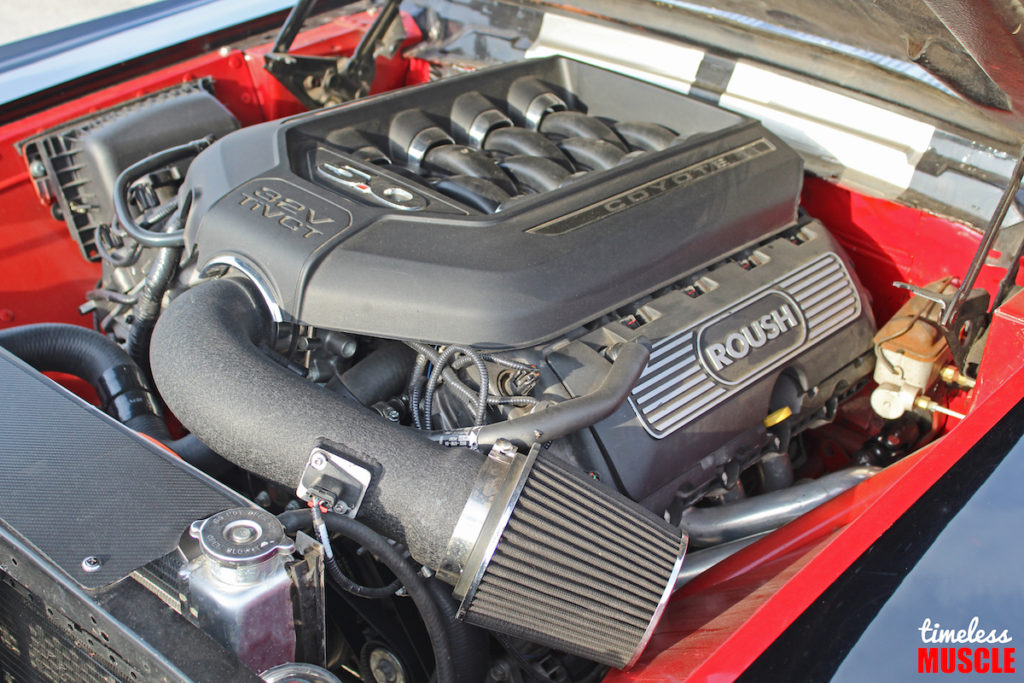 The fuel system has been improved upon, using a pump and fuel pressure regulator from Holley. GWT Engineering out of Selmer, Tennessee fabricated a set of custom long-tube headers for the car, that are paired with 2.5-inch diameter exhaust tubing. Aiding in exhaust flow efficiency, as well as lending a tremendous growl to the engine, are a pair of 3-chamber Flowmaster mufflers.
The DOHC engine is backed by a stout, and easily-shifted TREMEC TKO-500 6-speed transmission that makes it a departure from most Pro-Street style builds that we see. Squeezed between the engine block and the gearbox, is a RAM Powergrip clutch.
Underneath the car, is a complete Chris Alston Chassisworks Kit — including aluminum floors and tubs, a 4-link, a driveshaft loop, front upper and lower control arms and a square use chassis. QA1 front and rear single-adjustable shocks with 130-lb/rate rear springs, and 350-lb/rate front springs.
The rear axle is about as heavy-duty as you can get, utilizing a Ford 9-inch with 4.10 gears, Strange 31-spline axles, and a Ford Performance Traction Unit differential. Rounding out the rear axle is a pair of Wilwood rear bakes for additional stopping power. They work in unison with the Aerospace brakes up front, to bring the car to a halt in a hurry.
Weld Alumastar wheels, measuring in at 15-inch diameters (3.5-inches up front, 12-inches in the rear) at all four corners keep the rotating weight down, and they're matched with M&H tires 3.6x15x24 front, and 390/45/15 out back.
With the mechanicals sorted out, the shell was something else to get into. The car was originally Poppy Red, with red interior, but Rick decided to add his own style to the Mustang. Keeping most of the the original sheetmetal, the only change to the skin was the addition of a Harwood fiberglass hood. Adding to the back sinister appearance, are a pair of Shelby-style stripes running the length of the car, in silver. Rick credits M&M Body in Henderson, Tennessee for the work.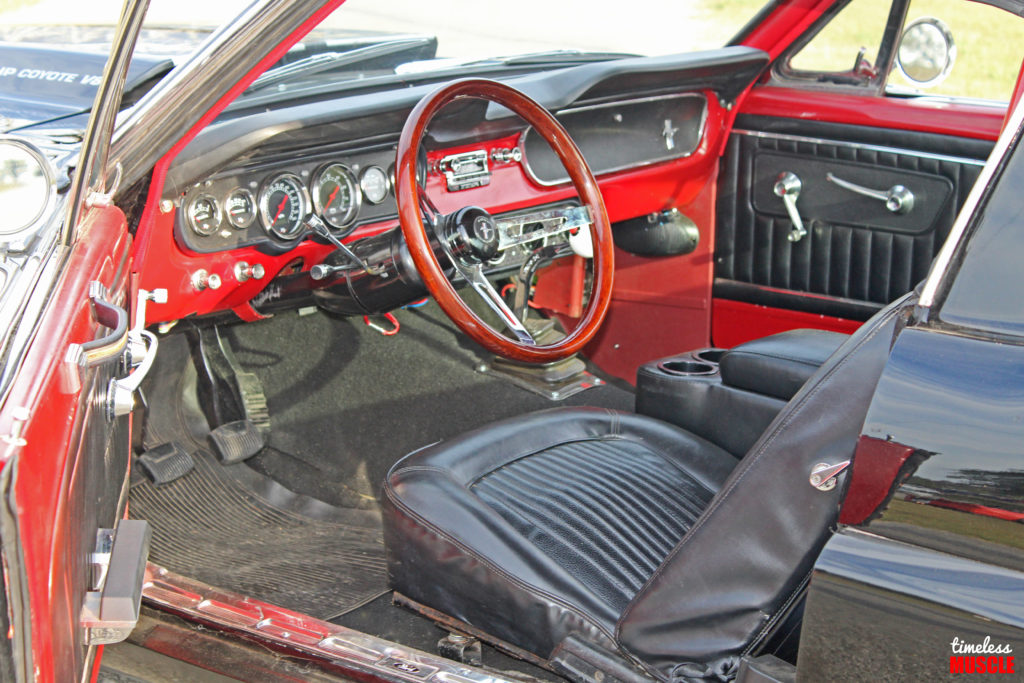 Peeking inside the cockpit, and the first thing you notice is the red and black interior trim. It looks familiar and largely original, but the dash has been replaced with MP Performance Products dash and gauges, and the climate control system has been updated with a unit from Vintage Air.
The seats were sourced from a '67 Mustang, and a hoop roll bar connected to rear frame rails for increased strength, rigidity, and of course, safety. A modern audio system provides Rick with the secondary soundtrack that he desires, second only to the engine of course.
Rick admits that his favorite powerplant was the 363 that powered this Mustang prior; the car would lift its front tires on launch, generated nearly 650hp and laid down some solid E.T.s at the track. It was a competent performer, until a failed run at the dragstrip that led to its demise.
However, Rick admits that it wasn't the most street-friendly car out there, and was looking to spend more time at the car shows with his son at this stage in his life. When it comes to the hobby, many will tell you that it's best enjoyed with those closest to you. We couldn't agree more.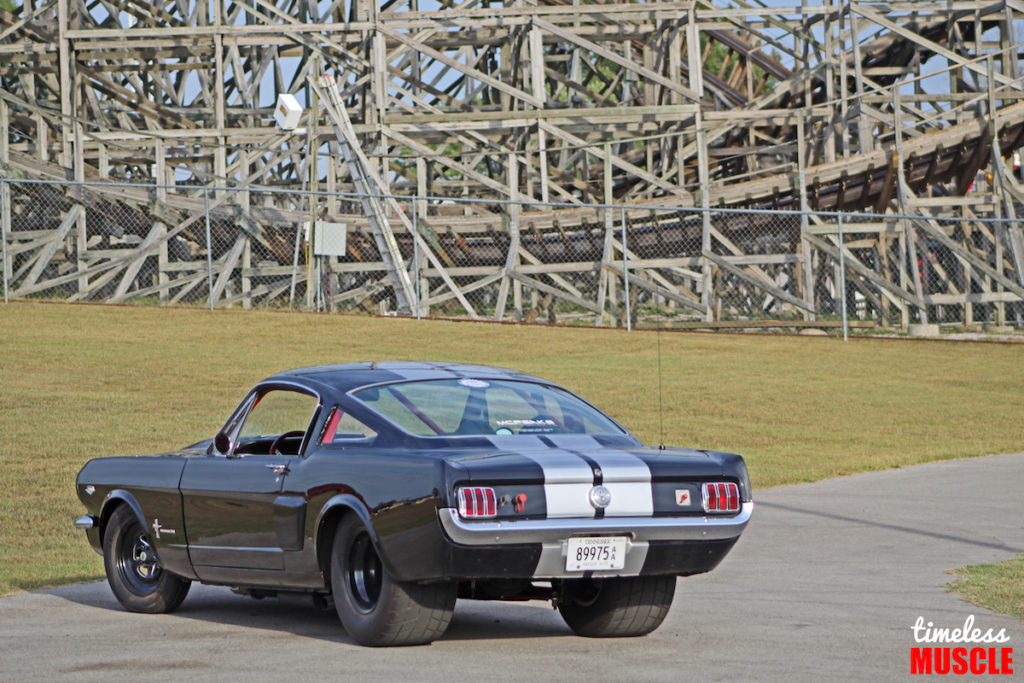 Rick Seitz is the owner and founder of AutoCentric Media, and has a true love and passion for all vehicles; GM, Ford, Dodge, imports, trucks — you name it! When he isn't clacking away on his keyboard, he's building, tuning, driving or testing his current crop of personal projects!