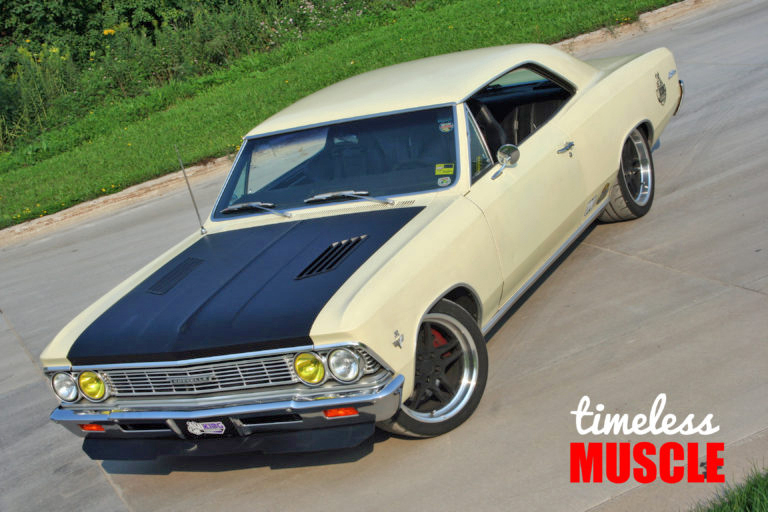 photos by: the author
The Nall Family 1966 Chevelle Evolves With Each Generation
Justin and Sheryl Nall's 1966 Chevelle is a common sight at Pro-Touring events around the Midwest. If there is a cool autocross or muscle car performance driving challenge taking place, the odds are strong you'll see this Lemonwood Yellow '66 Malibu competing. Either Justin or Sheryl could be driving- they happily take turns and encourage each other to get faster. The car makes a signature whoosh sound as it flies by- a result of the big turbocharger feeding the 6.0-liter LS-based engine.
If the '66-only body color with the flat-black hood isn't enough to identify the car, just look for the signature hood vents. You might recognize them as being factory Chevy Lumina Z34 bits, but few do. Who uses Lumina parts on their Chevelles? It's creative touches like this that prompted us to look deeper into this cool muscle car. We learned that the history behind it was as intriguing as the well-refined modifications.
"This Chevelle was bought by my family when I was 2 or 3 years old. I remember riding in the back seat when we had to give the previous owner a ride home after the transaction was completed. The car was originally a 283/3-speed manual car. We still have the California Protect-o-Plate. When we received the car it had been converted to a mild cammed 350 with a Powerglide automatic with a factory floor shift setup. It was not until the current build that we found out it was originally a 3-speed manual transmission car."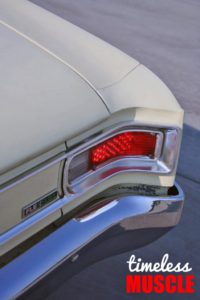 Of course, the car wasn't always equipped with an LS/Turbo combination. But, it's been far from what the factory delivered for decades. The fact it's "always" been a hot rod only encouraged Justin and Sheryl to make it their own.
"With my dad previously owning and running a used car lot in downtown Minneapolis, we were accustomed to having cool cars in and out of the home garage. The car was considered a long-term purchase for us, due to the classic body style and rust free condition. The family would load up on weekends to make trips North to see family. The Chevelle was home to 2 or 3 different traditional small-block Chevy V-8s over the years, and was stepped up to a hot 400 horsepower 355 for most of my childhood. It was a family tradition to take it cruising every summer weekend to the legendary Porky's drive-in on University Avenue in St. Paul, MN. We would 'test the power' on the freeway on-ramps heading home."
Obviously, Justin was raised in a gearhead environment. Cars were always more than transportation appliances. Rather, they were opportunities to express oneself while improving the performance engineering contained within. The Malibu wasn't Justin's first project either- he started with a couple other interesting examples of GM performance machinery.
"I started driving and first played around with a 1992 Chevy 454SS truck, and then moved on to a GMC Typhoon, so the Chevelle was put on the back burner for a while. My father also had a '67 Camaro SS/RS convertible that he was finishing restoring after more than 20 years of ownership. I focused my gearhead sights on off-roading, snowmobiling, and the GMC Typhoon during my college years. In that time, the 355ci V-8 was pulled from the Chevelle and transplanted into the newly-completed Camaro. The Chevelle sat for around 6 years in storage until it was deemed ready for the next phase of upgrades."
Modern lighting upgrades include LED tailights with programmable pattern functions, and halo-equipped HID headlights. The front spoiler is a homemade ABS plastic piece.
"When I graduated from Michigan Technological University with a Mechanical Engineering degree, we made plans to replace the old 355 with a higher horsepower engine. My recent experience with the turbocharged/EFI-equipped Typhoon pushed us to want a more modern drivetrain that included EFI, a turbo, and an electronically-controlled transmission. During the time I was at college, my father also purchased 2 other GMC Typhoons and he too was addicted to how easy and smooth that turbo power was. The newer GM LS-series engines were gaining in popularity, and wrecked full-size trucks were looking appealing for their drivetrain."
"After landing a full time job in Eau Claire, WI, I was able to find a house with a shop and within a few months, we had moved the Chevelle into its stall for upgrades. I leaned on my friend Jeff Jost for help with all the LS swap questions. I also spent lots of time on the LS1tech.com forum looking for inspiration and cheap second-hand parts.  We sourced 90 percent of all the speed parts used from that site. I bought my first welder and learned how to rework an EFI wiring harness during this process. We sourced out some local help for tuning, transmission work, and anything else we were not equipped to handle on our own."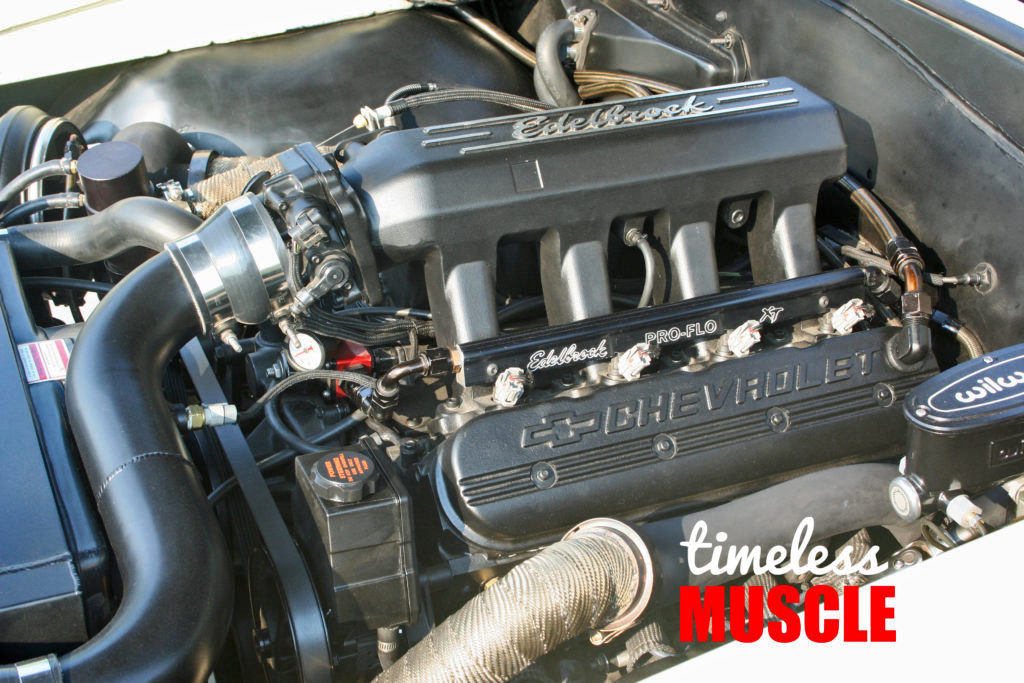 The current version of the power plant displaces 364 cubes, relying on a stock 2004-era 6.0-liter block. The factory bores are filled with Wiseco forged flat-top pistons and 6.125-inch long forged Callies H-beam connecting rods for 10.3:1 compression. The engine inhales through an Edelbrock Pro Flo LS1 intake manifold equipped with a factory GM throttle body and an AFE cone filter on the inlet side of the Borg Warner S480 billet T4 turbocharger with a 1.15 AR exhaust housing, which is capable of providing 25 lbs of boost but the Nalls keep it between 15-20 psi with this setup. Pressurized air flows through a Treadstone intercooler before heading into the engine.
The cylinder heads are factory GM LS6 "243" aluminum castings, which have been CNC-ported and had competition valve work by Next Gen Performance.  The stock valve sizes were retained, as were the factory 1.7:1 rocker arms, though they did receive a Straub trunion upgrade. More factory goodies include stock truck exhaust manifolds that are plumbed to feed the turbo. The machine work was accomplished by TPiS of Chaska, MN, and the engine was assembled by Jakson Stevens of Rosemount, MN.
The electronic engine controls include a GM Gen3 411 Computer tuned with HP Tuners 3 Bar operating system, driving 210 lb. Bosch/FIC High Impedance injectors. The ECU reads from a 3 Bar GM MAP sensor. The ECU was tuned by Carl Thomas of CJTunes of St Paul, MN. The E85 fuel system is pressurized by a Magnafuel 4303 pump, and pressure is limited to 58 psi by an Aeromotive boost-referenced regulator.
"It took about 2 years to complete the car from a rolling chassis to a running and driving example that was safe and reliable. Our first chance to drive the car was right after the tuning was completed from Carl Thomas. The car just put down a good 600 rear-wheel horsepower baseline and he handed us the keys to go get lunch during the dyno day rental. It spun the tires so hard when accelerating, it truly did scare us both."
Justin tells us "The power has been a bit more manageable with seat time, but it is still almost too much to handle. Since then, some of the used and second-hand parts have been upgraded, due to wear, failure, and reliability concerns. We pushed the limits of the stock bottom end 6.0-liter engine that was pulled from a wrecked 2500 HD truck for four years before finally having a piston ring-land let go. That paved the way for the current 6.0."
The engine is backed by a custom 4L80-E built by John Freuler of Lakeville, MN. John included a CK Performance 36-element sprag upgrade and separator plate kit to the trans before teaming it with a PTC single-disc lockup torque converter. Power moves aft to a GM 12-bolt rear axle that has been equipped with 3.31:1 gears and high-strength axles from Nitro Gear and Axle. A limited-slip Posi unit from Eaton splits power between both rear tires.
The interior retains a lot of stock flavor, with the notable addition of an Ididit steering column boasting a grippy Sparco wheel, and Cipher seats. Safety considerations include Schroth harnesses, a fire extinguisher mount, while additional gauges help monitor the underhood exotica. The console-mounted shifter is a factory unit that has been modified to control the modern 4-speed overdrive automatic with a Shiftworks kit.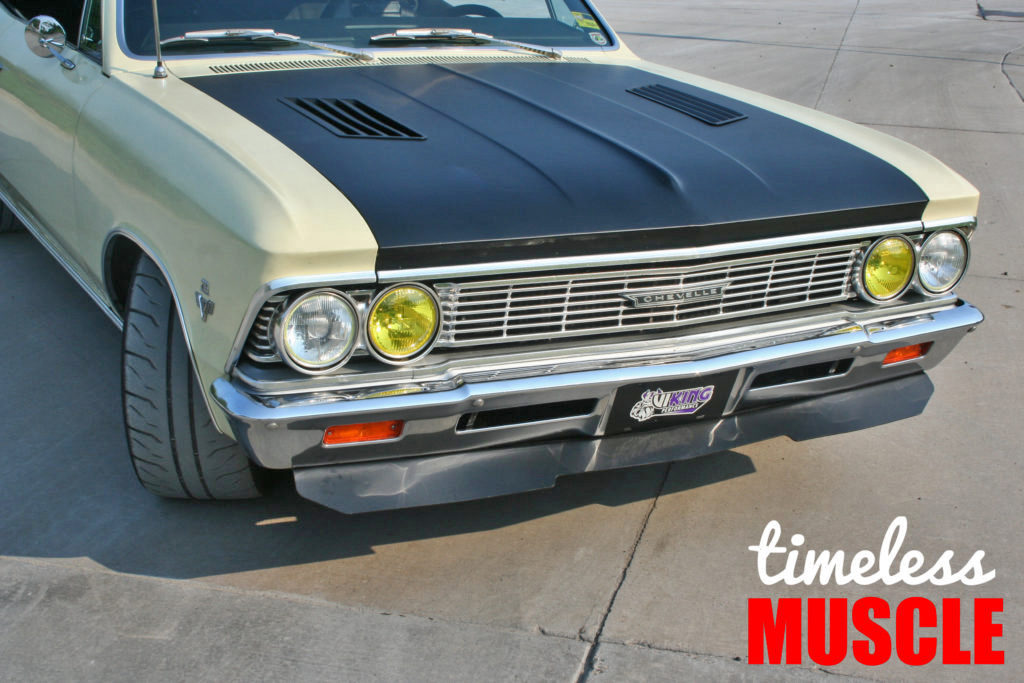 They include a TurboSmart Eboost2 boost controller/monitor, an AEM wide-band gauge, and an AutoMeter oil pressure, voltage, and transmission temperature 3-gauge set. A cool UltraGauge OBD2 scan gauge lives atop the steering column for keeping an eye on all of the engine parameters, including timing advance, intake air temperature, turbo boost pressure, and coolant temperature in addition to the essentials like engine rpm and vehicle speed.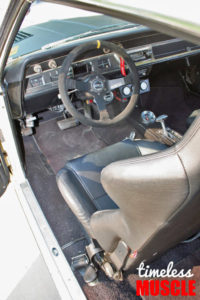 "Competing in several Pro-Touring-style events pushed us to upgrade brakes, tires, and seats to increase our comfort, performance, and confidence. The car is now working great whether it's on an autocross or an open track, and is consistently competitive in its class at the events we love to attend." The car has also been taken to the drag strip, where it ran easy 11.20-second quarter-mile times at 137 mph. The 1.8-second 60-foot times reflect the challenge of putting the 700 ft-lbs of power down using street tires, but the trap speed shows the potential in the combination.
Suspension upgrades are critical to the car's performance on the autocross and on high-speed road courses. In the front, UMI lower control arms are teamed with SPC uppers to provide a strong, adjustable combination. The Viking double-adjustable Crusader shock absorbers allow for precise compression and rebound control at any track event, or on the street. The coil springs are also from Viking, and check in at a stiff 850-lb rating. The anti-sway bar is a hollow, lightweight Hellwig unit, while additional support is provided by a custom front brace between the frame rails.
The steering system needs to be precise and strong to hustle the heavy Malibu around the autocross course, and the entire system has been upgraded. The Ididit column is connected to a Jeep Grand Cherokee steering box (a cool bolt-in upgrade) with a 12.7:1 ratio, and a UMI anti-bump steer kit is installed. All of the steering system linkage parts were replaced with ProForged components.
The front wheels are replica BMW forgings measuring 18×9.5-inch and wearing Bridgestone RE71 275/35-18 tires. The front brakes are based on CPP aluminum hubs with ½-inch wheel studs, C5 12.88-inch diameter rotors, Camaro LS1 calipers (with custom mount brackets) loaded with Hawk HP+ pads, and a Wilwood 7/8-inch bore manual master cylinder.
In the rear, more Viking double-adjustable coil overs are in place, along with Viking 325-lb springs and another (matching) Hellwig anti-sway bar. They've also added CPP control arm braces, a custom upper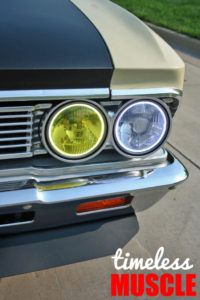 coil-over frame brace, and a set of Delrin bushings to limit flex. The wheel and tire combination is identical to the front, with 18×9.5-inch wheels wearing Bridgestone RE71 275/35-18s. The rear brakes are lifted from a Camaro LS1 and also use Hawk HP+ pads. Naturally, ½-inch wheel studs live back there too.
The paint on the 1966 Chevelle is decades old, and the matte finish reflects this. While a nice, shiny paint job may be in the cards, Justin and Sheryl assure us that it will be a long time before that happens. They're way too busy having fun at Street Machine Challenges, and have placed in the top 3 four times. They've enjoyed Optima Ultimate Streetcar Challenge events in the GTV (Vintage) class, SCCA events in the Classic American Muscle (CAM) T-class, and GoodGuys Autocross events in their muscle car class, in addition to competing at the LS Fest Grand Champion competition.
Their current goals include getting into the GoodGuys "Pro" class, and qualifying for the "Duel in Des Moines" as a result. They'd also be happy if they could beat any Miata at the local SCCA autocross events they go to! Sheryl wants to keep getting behind the wheel too and they both love just having fun going fast in a car that was built to do just that.
"I'd like to send out a special thanks to my parents, George and Miriam Nall, my awesome wife Sheryl Nall, and our son Hudson (the future owner of this Chevelle), for keeping the car in the family and continuing to make memories with it. They all put up with long weekends at shows and driving events locally and all across the country. Also, thanks for all the work and support from our local friends who help keep the car running it's best, and keep constantly improving its capability."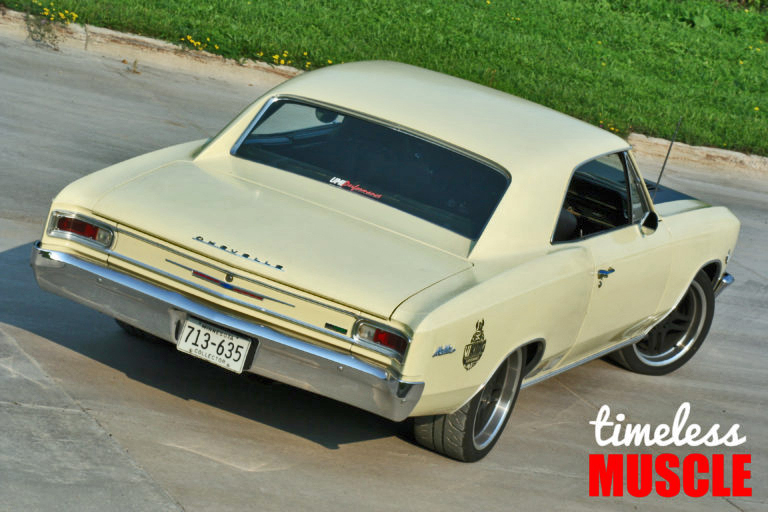 After spending almost a decade in the aerospace industry, Scott Parkhurst chose to learn about racing engines by working in some of Southern California's most respected engine shops. He took on the role of Tech Editor at Popular Hot Rodding magazine back in 1998, and was instrumental in the development of both the Engine Masters Challenge competition and Engine Masters Quarterly magazine. He was also the founding Editor of Street Thunder magazine and Author of the V8 Horsepower Performance Handbook.