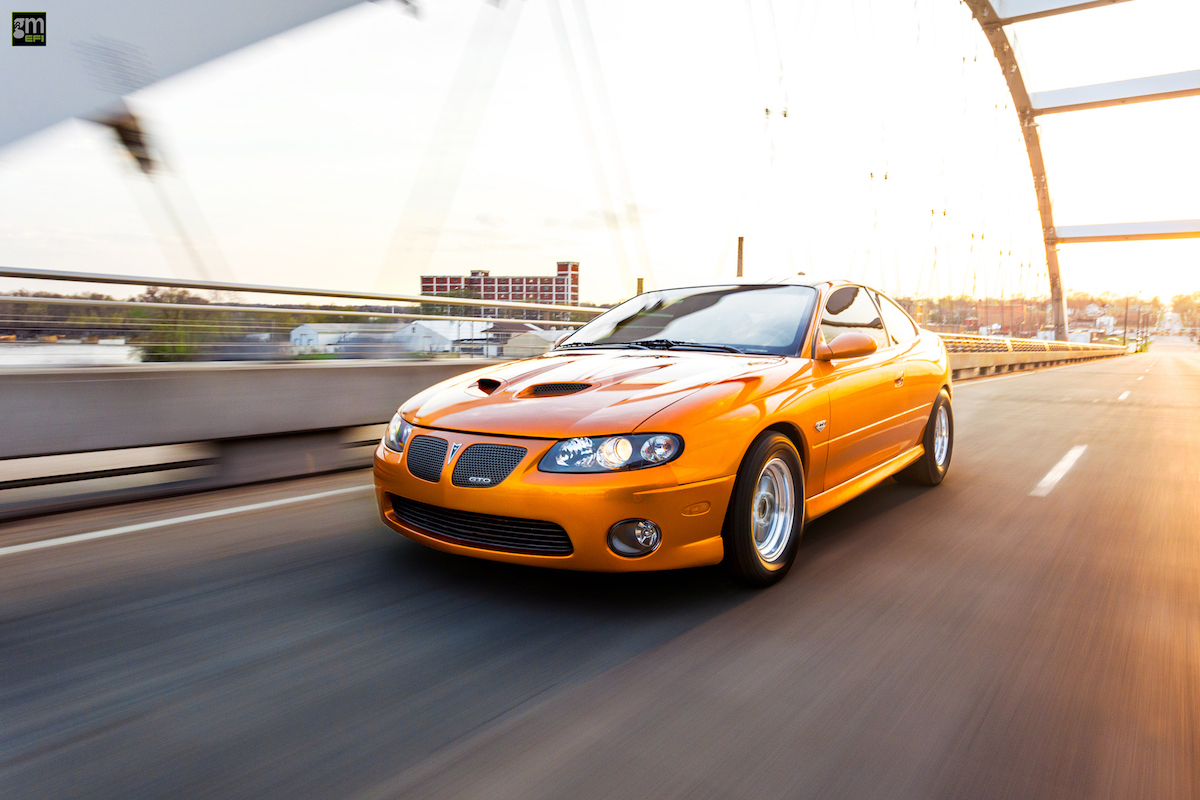 photos by: Daean Chase
From the start, Tad never gave up on his GTO.
As a third-generation gearhead, your author often finds herself wondering if being a car enthusiast is a genetic mutation. Although less popular than it once was, father/son builds, grandfathers getting their granddaughters into racing, and a continuation of the love of horsepower over many generations just seems so natural for some people. Tad Butitta is a thoroughbred enthusiast, growing up in the wrench-turning lifestyle, and his 2006 Pontiac GTO is a byproduct of his gearhead genes.
Tad's roots in wrench turning and the never-ending pursuit of power began before he was ever even born. In 1949, Tad's grandpa opened up an auto repair shop, and that set the events in motion that would turn wrenching in a shop into a lifestyle for Tad's grandfather, dad, and himself. Tad's dad spent his entire life in the company, and took it over in 1984, a few years before Tad was born. This made the auto repair service shop life a part of who Tad was as soon as he was born. He would grow up around it, and end up working in the shop, but at the age of 16, Tad realized that his personal interests did not allow for a career of being an automotive technician. Tad wanted to run a business, and he knew that at an early age.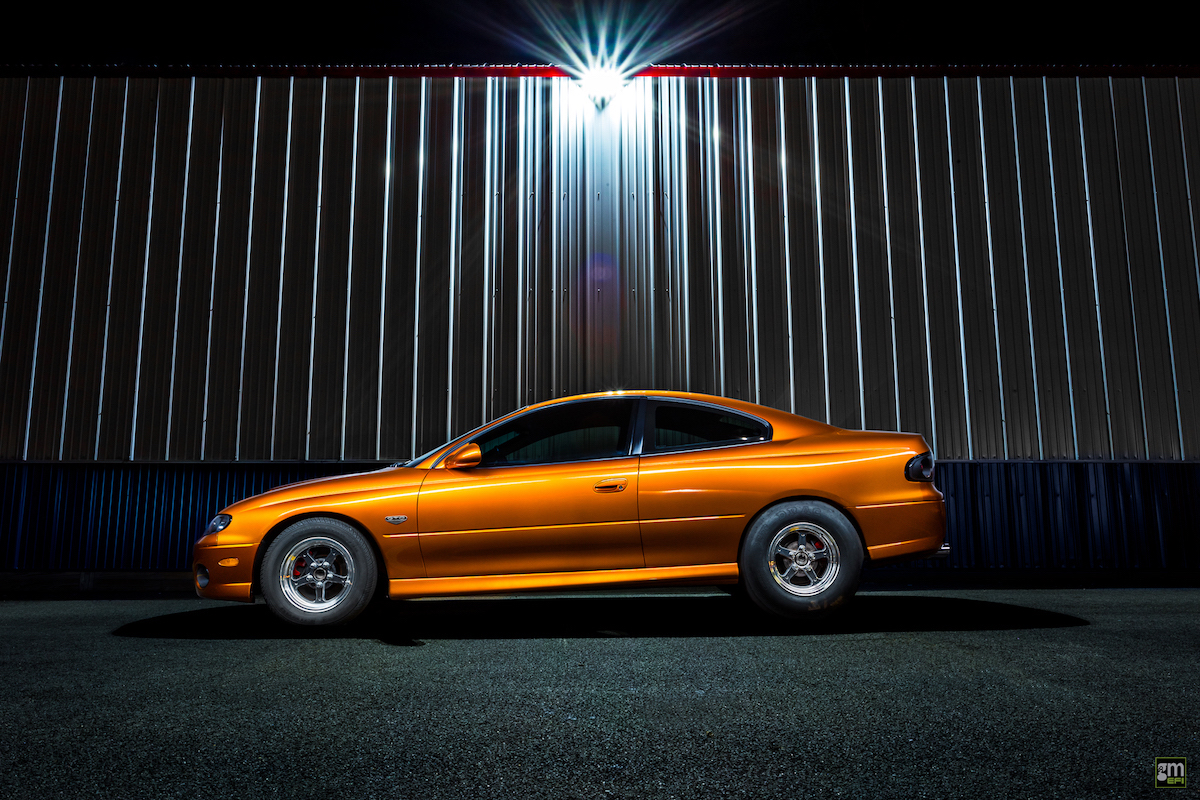 After working at a retail electronics store as a manager for a decade. He went through automotive school, he had a large investment in tools, and total access to work in the family shop whenever he needed to — that meant full access to lifts whenever he wanted! This made it too easy for Tad to fall in love with modifying vehicles. To scratch that itch, he started working on 4-cylinder DSM engines. By the time he reached 18, he had three Eclipse/Talons. He credits getting his license at the same time the Fast and Furious franchise kicked off for his early taste in cars.
It was when he bought his 1998 Corvette that Tad says his life and taste in cars would forever change.
"Owning my first LS engine in my 1998 Corvette was a pivotal milestone in my life." -Tad Butitta
Fast forward to 2009, and Tad found himself buying a 2006 Pontiac GTO from a dealer's auction. He found the car off in a corner a month before it would roll across the auction block, and he knew then this was his car. He even went back to visit his (soon to be) car and check it out every week from the time he found it, until the time it was ready to be sold. The car didn't run, and once he got under the hood, he discovered that the whole intake system was gone, including the intake manifold, throttle body, fuel rails, and even the fuel injectors.
When it finally went through and was eligible for bidding, Tad was going to go for it. When it went up for auction the first week, he was the highest bidder with a bid of $11K, but that wasn't enough to meet the reserve. Back to the auction block it went the next week, again Tad was the highest bidder (this time with a $10K bid), and again he didn't meet the reserve. This continued on again into the next week, this time with an even lower bid of $9,000, still no luck. It carried on like this for several weeks with Tad being the highest bidder, but unable to break the reserve. Finally, after two months, the reserve was lifted and Tad got his GTO for only $5,800.
The beautiful 2006 GTO was sporting a Brazen Orange Metallic paint job, and had a manual T-56 6-speed transmission. The car was one of only 484 GTOs produced in that year with that particular configuration. When Tad bought it, he had just assumed it was going to need a new engine, but as luck would have it, his $5,800, three-year old GTO would only need 2K worth of work to get it running. While some people may have been tempted to turn around and sell the car and make $15k on the sale, that was not Tad's plan — after two months of motional investment into the car just to get it, this was no flipper car.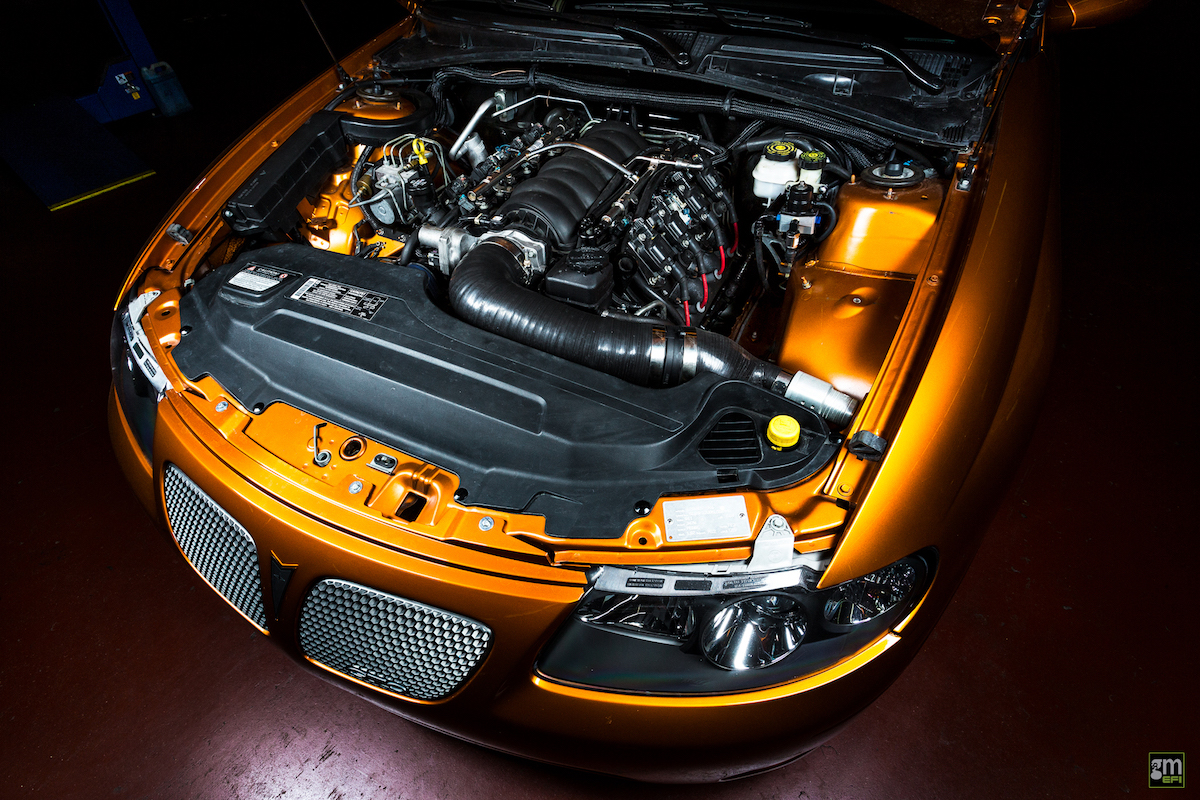 Not even a week went by (after getting it running) and Tad ordered a twin turbo kit for it, and it didn't stop there. He built the car exactly how he wanted it, and ended up with a solid daily driver that puts down 771 horsepower, and is capable of making 10-second 1/4-mile passes.
When Tad got married and started a family, his priorities changed, and the car was listed for sale to come up with a down-payment on a house to make room for their first child. Three weeks later, the car was locked down with a seller who put a $800 deposit down on the car, and a few weeks after that, the GTO was gone.
Immediately, this 2006 GTO that Tad had spent so many hours bidding on, repairing, and modifying would become his "one that got away." He never got to complete the plans for it, and it became a nagging and dreadful feeling as soon as he let it go.
"It was sold too soon. I never had a sense of accomplishment for it, I never met all of my goals, and I always regretted seeing it go!" -Tad Butitta
The new owner kept in touch over the years, and Tad wanted to know first if the car was ever going up for sale. Three years later, the day finally came, the new owner was ready to move on to his next toy, and the GTO was up for grabs, once again. It took Tad a few days to work out financing, and he met the man he sold the GTO to years before at LS Fest to arrange to buy it — he took his new/old love home from the event.
Over the first year of reuniting with his beloved GTO, he just enjoyed the car for what it was. He took it on cruises, raced it a few times, but time came for more to happen with the car. Over the last six months, he has rebuilt the engine, upgraded the turbos, and installed a new dual-stage ZR1 Monster clutch. It also has a Speed Inc. custom ground Comp Cams camshaft with .571/.571" lift, hardened pushrods, and Patriot dual valve springs. A twin Walbro pump fuel system and Aeromotive fuel pressure regulator keeps the engine properly fueled, while MSD plug wires and NGK plugs keep it firing with accuracy. A Nitrous Outlet spray bar kit gives it a little extra juice when needed. APS cast manifolds feed into muffler-less 3" exhaust piping.
The transmission has been built up with a Stage 2 kit from The Gearbox that includes cryo-treated gears. It also has a GMM Ripshift shifter, 28-point billet steel flywheel, Tick master cylinder, and feeds into a 3.75-inch carbon fiber driveshaft. The driveshaft bolts onto a Ford 8.8 rearend, built up with a Hendrix Engineering 8.8 kit. The suspension has a little work, with Pedder's 90/10 drag struts in the front, and a G-Force coil-over kit with QA1 shocks in the rear. He's also removed the front sway bar, and modified the lower control arms.
"Before recent upgrades, the GTO was making almost 800 horsepower, and was totally drivable with all of the luxury and comfort you want from your daily driver." -Tad Butitta
The turbo kit on this car is very special. It's a popular twin-turbo kit from APS that plenty of GTOs have had, but none have been able to get the PTE 6262's to fit (or at least none we know about). It took serious modification, and the build gets a lot of attention. The kit uses a twin 38mm TiAL Sport wastegate, and runs 18-psi. of boost. The new setup dyno'ed at 930RWHP/898RWTQ on 18-psi. (although the dyno had issues reading over 5,900 RPM), and will likely be capable of making 9-second 1/4-mile passes. Tad plans on taking the GTO back to the track in a few weeks to flex the newly upgraded turbos.
Tad wanted to give a special thanks to his dad's shop, Marks Auto Service in Rockford, IL for giving him the time and space to work on his projects. He also wanted to thank Chris Pollare for always lending a hand. Additionally, he wants to thank G-Force Engineering and Hendrix Engineering for parts and support, as well as the many forums that gave him advice over the years. And of course, the best for last, he wants to give a special shoutout to his wife for being tolerant of the time and money he's put into the GTO.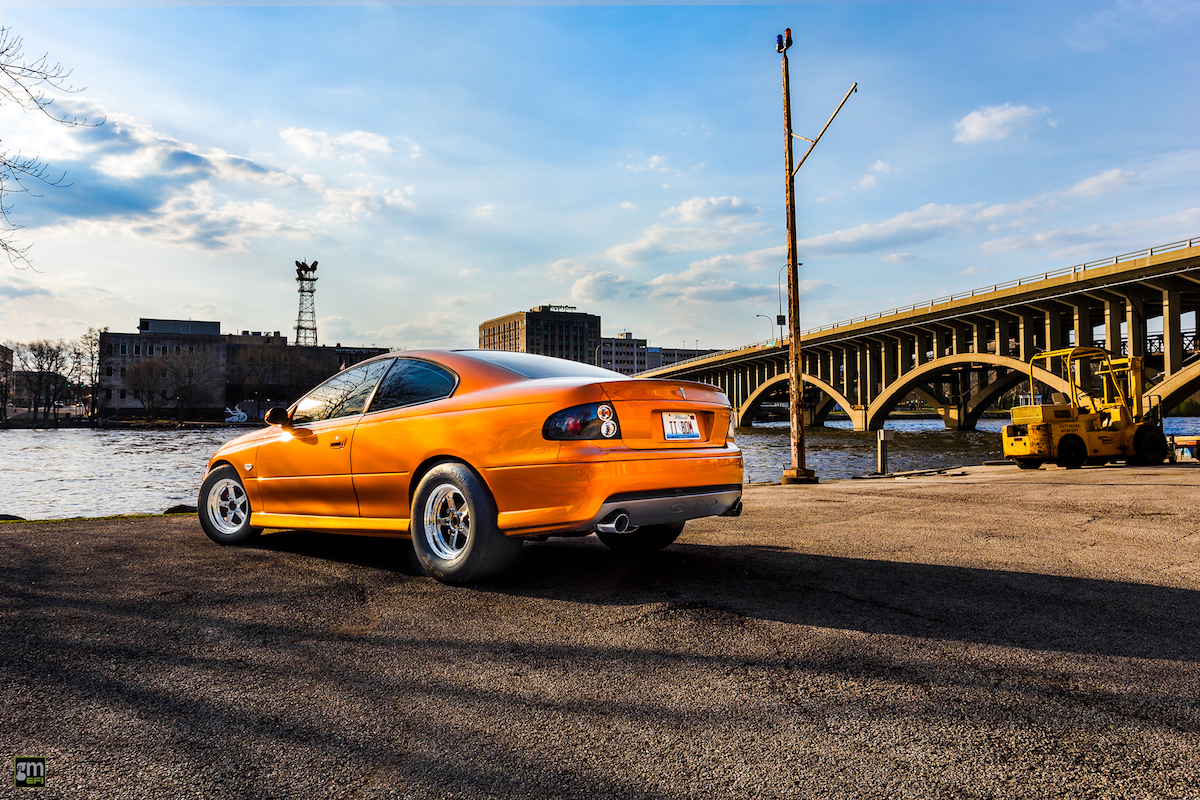 Tech Sheet:
CAR: 2006 Pontiac GTO
OWNER: Tad Butitta
ENGINE BLOCK: LS2
CAMSHAFT: Speed Inc. Ground Comp Cams
CYLINDER HEADS: Stock 243 heads
INDUCTION: APS stock air filter, stock 90mm throttle body, MAF delete
POWER ADDERS: APS twin turbo kit with PTE 6262 unit upgrade, Nitrous Outlet spray bar kit
BOOST: 13-psi.
EXHAUST: APS manifolds, 3" pipe with muffler delete
TRANSMISSION: T-56, rebuilt with The Gearbox Stage 2 rebuild kit
CLUTCH: Monster ZR1 dual disc kit
FLYWHEEL: 28 lbs. billet steel
DRIVESHAFT: 3.75" carbon fiber
REAREND: Ford 8.8 with Hendrix Engineering 8.8 kit
CHASSIS/SUSPENSION: Pedder's 90/10 drag struts (front), G-Force coilover kit with QA1 shocks (rear), sway bar delete, modified lower control arms
BRAKES: Stock
WHEELS: Hendrix Engineering's Champion 15×10″ wheel set
TIRES: Mickey Thompson E/T Drags, 28×10.5×15″
HP/TQ.: 771/702 (old setup) and 930/898 on 18-psi. with the new setup
1/4-Mile E.T.:  10.71 @ 136.50mph (old setup)
60-FT: 1.645 (old setup)
Elizabeth is hardcore horsepower enthusiast with unmatched intensity for making things faster and louder. She wakes up for power and performance and only sleeps to charge up for the next project that's heading to the track. From autocross to drag racing, Elizabeth is there with you, so stay tuned for her unique perspective on horsepower news, builds, tech info, and installs — with her, it'll never be boring!