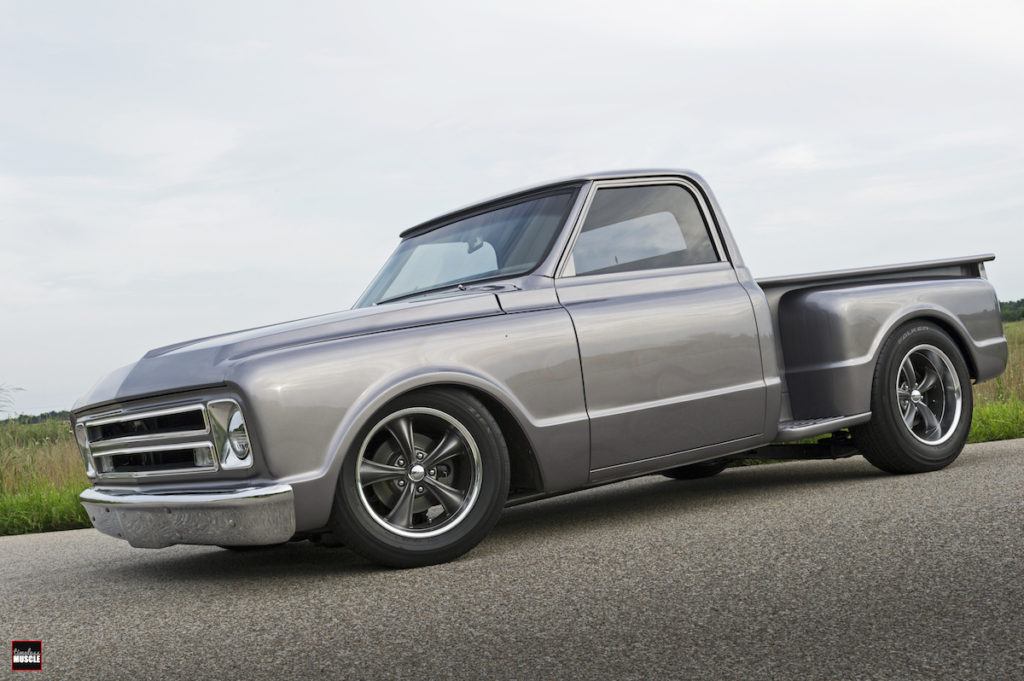 photos by: Grant Cox — story by: Grant Cox and Rick Seitz
A Three-Decade Ride of Evolution Has Produced
Think back when you first learned to drive, was it in a truck?  It certainly was for Fred Shanks. Frank created his own first memories back in 1983 when he first laid eyes on a this '67 Chevy C10 when a high school senior needed to sell the truck.  After looking it over, the deal was done for $1300 and Fred walked away with a truck of his own. Initially powered by a 327 2-bbl SBC, it wasn't long until Fred upgraded the engine with a 4-bbl. carb and intake. That eventually gave way to a 4-bbl 350 — for a while.
Many years went past and Fred used his truck for just about anything and everything.  It wasn't too long before he got bitten by the Customizing Bug and started in with little things to make it look better.  The first things done were taking off the chrome, changing the wheels, and lowering it.
Fred drove the truck in this condition for several years and it wasn't until his nine year old son, Derrick, told him his truck was due for a change up.  So, Fred visited with a good friend Ronnie Childs about some ideas on what he should do.  The plan was to transform the truck from a long bed truck into a short step-side bed.  Fred soon found the bed he was looking for at a local salvage yard and the frame modifications began to adapt the step-side bed on his truck. Once the bed was on, more modifications were added to give the rear of the bed something along the lines of a '50-'51 Ford.
A set of '79 Ford Fairmount tail lights and parking lights from a '68 Pontiac Catalina were cut and frenched into the fenders. Next, the factory antenna was removed from the cowl and recess into the cab corner.  While the custom ideas were in motion the tail-gate was next.  A sixteen-gauge panel was welded in with a license tag box to give it a smooth clean look.
With the addition of some chrome reversed baby moons rims and big/little tires and a bright yellow paint job, Fred got to enjoy his truck in this condition while taking it to local car shows for the next six to seven years. Humble beginnings, for sure, but great things were yet to come.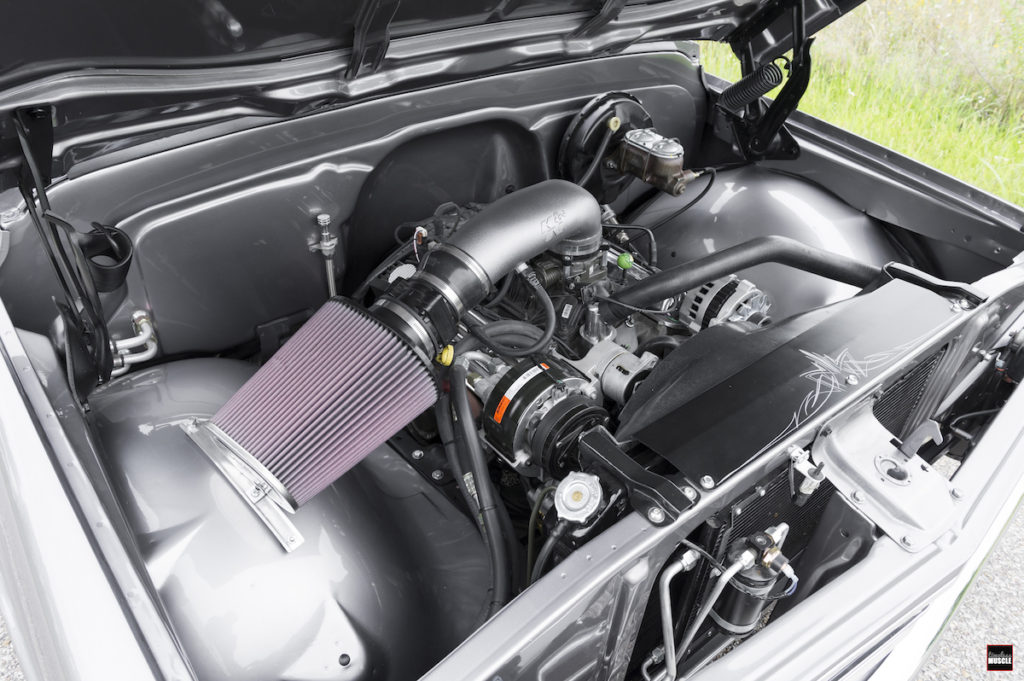 Letting his son drive the truck to and from school had put some wear and tear on his old truck.  After receiving news that his son was involved in a fender bender with another student the truck was repaired and put away in storage until 2011.  That's when Fred had met Chris Carlson, the owner of Chaotic Customs in Mulvane, Kansas.  They started chatting about Fred's history with his C10 and how a changeup was due.  So the truck went into Chris's shop for a third build-up — this time the truck received a complete frame off build.
A new heart transplant was ordered up with the addition of a 5.7L Vortec w/4L60E transmission. Utilizing the mostly stock late-model 350 cubic-inch plant to its fullest potential, the boys at Chaotic installed Speedway Motors valve covers for a classier look, and attached a K&N cold-air induction kit and a custom-bent MagnaFlow exhaust system to help expel the spent fumes a bit quicker. Speaking of which, you'll find a Speedway fuel tank under the bed, too.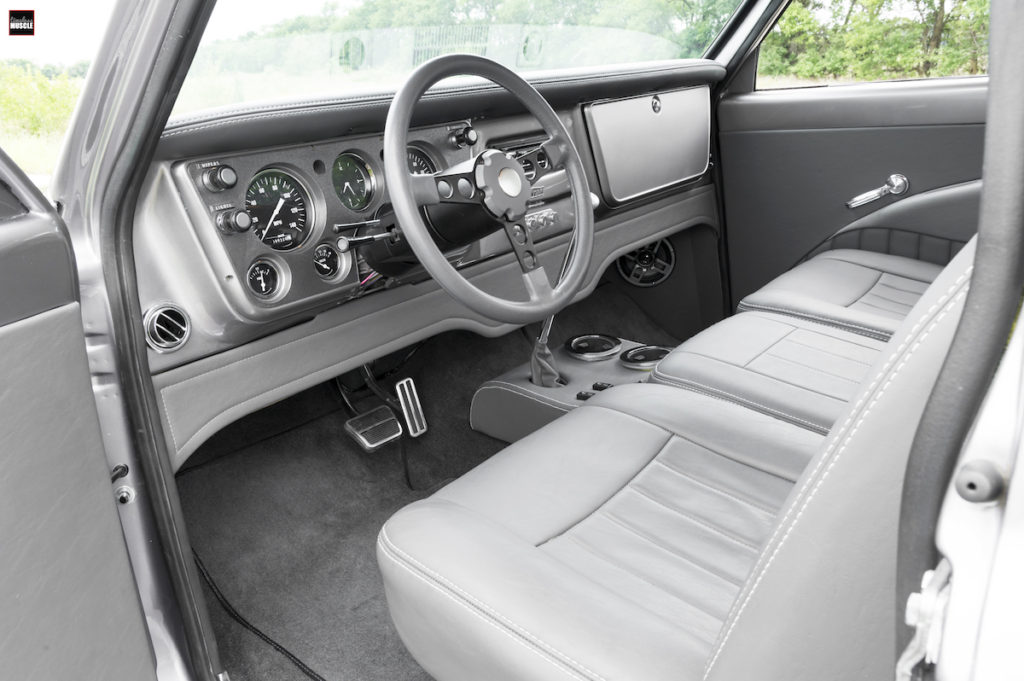 On the inside, a Vintage Air A/C system was was adapted into the C10 to keep Fred cool on those hot August evening cruises. That aforementioned 4L60E gearbox is shifted with a Lokar shifter, while the dashboard has been modified to implement Classic Instruments gauges. Digging through the GM parts bin, the C10 also rocks a '79 Trans Am steering wheel and column, for a more sporting feel and look.
As for the upholstery? Ripped up vinyl? Cloth? A Mexican blanket tucked between the cushions? Nope, this C10 is equipped with fresh custom leather seat covers, console with cup holders) and door panels.
Some body-mods included the cab receiving a two inch chop and filled drip rails. The Chaotic Customs guys spayed on some Sherwin-Williams charcoal paint and laid out a Maple Pearl ghost flames to give the overall look an extra pop.  Once out of the paint booth, Ron Meyers from Tulsa Oklahoma came to Chris's shop and pinstriped Fred's truck for him.
Obviously the old factory steelies wouldn't quite cut it for Fred's truck, so on went a set of BOSS 338 17-inch rollers, wrapped in Falken ZE912s at all four corners. They provide not only a modern look, but much-improved handling dynamics for the old school truck.
Looking back on almost thirty-five years of owning this truck, Fred could not be more proud on how it has turned out. It couldn't have been done with all his friends and family members who supported him along the process.
In the case of Fred's truck, he got to teach both of his children how to drive his '67 C10 and create some great memories doing so.
Being enamored with everything with wheels since he was a kid, Grant Cox has lent his photography and editorial talents to some of the biggest names in the automotive industry, and is one of the latest talents coming on board to GM EFI Magazine.