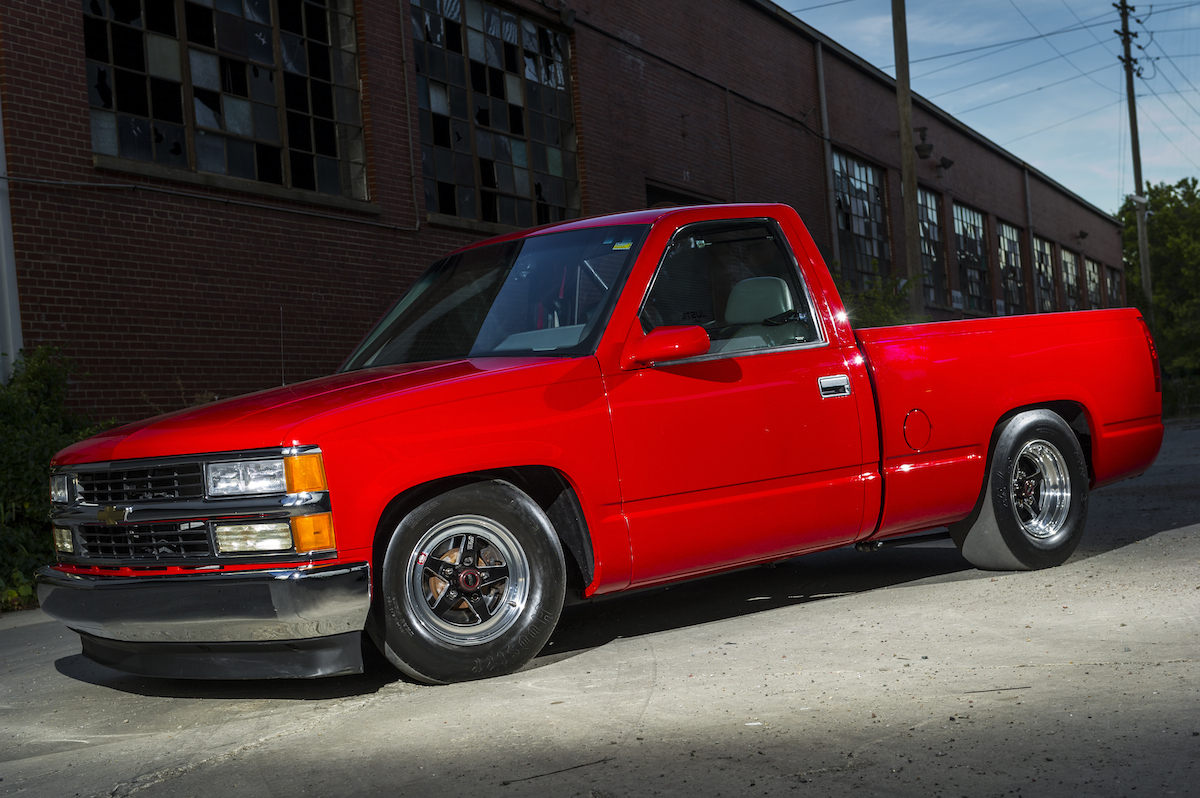 *Photography by: Grant Cox
When you happen to run across something you think would make a suitable daily driver to your pride and joy, you tend not to think too highly of it. More often than not, it's a 4-door beater econobox or a full-sized work truck that you submit to the rigors of everyday life without so much as a second thought.
That's how Justin Kalwei and his '94 Silverado started their tenure together. Back in 2001, while looking for a suitable daily-driver for his then-two year old '99 Camaro SS, Justin happened upon this truck on the secondhand market for dirt cheap.
Sporting the desirable two-wheel drive, regular cab, short bed layout and a clean bill of health, the truck was perfect for the task at hand. Unfortunately, under the hood is where the Silverado fell short,  with a 4.3L V6 chosen to motivate it down the street. It was perfect for the daily grind, but not much else.
Overtime, Justin became fond of his Silverado – putting his prized Camaro up for sale, and swapping in a 5.3L out of a newer SIlverado under the hood of his. Not satisfied with 300 hp at the crank, Justin upped his truck's game with a high-lift camshaft and nitrous – "giving it more juice, and removing the restrictor plate" – immediately earning the nickname, "Red Dragon," amongst his friends and family as a nod to the Will Ferrell movie, Old School.
Still wanting more, Justin installed a turbo kit, which boosted the horsepower count of the truck up to 800 – which put him at a best ET of 10.60 at 133 mph in the quarter-mile. Now he he was getting somewhere! Eventually, that power level "got boring" for Justin, and he then set his goals higher.
Starting all over from scratch, he built the 370 ci. LQ4 he has now, and then had Larry Larson build him the new turbo kit and a 8.50 roll cage  for the truck. These three items alone would set the bar for what was to come.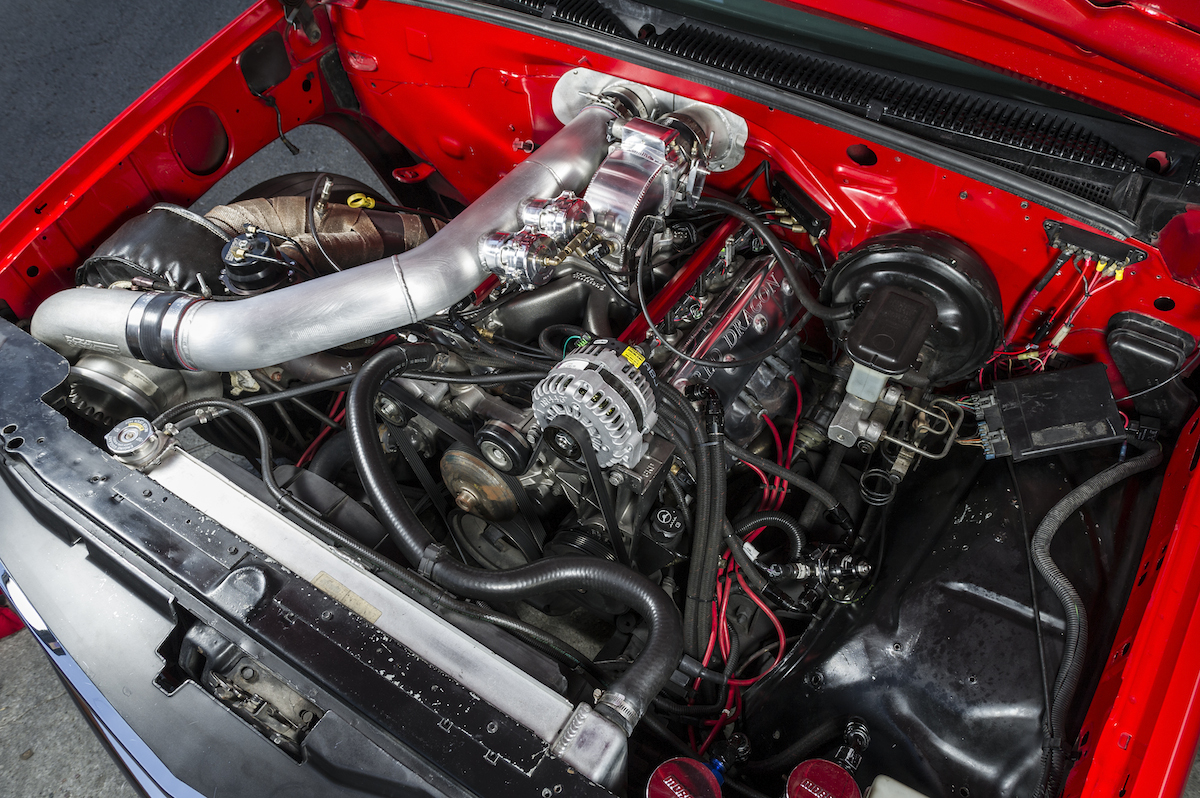 Beginning with foundation of the aforementioned iron LQ4, a Callies Dragon Slayer crankshaft set the tone, while Callies Ultra connecting rods, JE 820210 pistons, and a Bullet camshaft spec'ing in at a 235/233 duration, .621/.611 lift, and a  115 LSA complimented his short-block assembly nicely.
Also bolted on, was a Moroso oil pump, high-flowing Trick Flow 225 heads stuffed with YellaTerra 1.7 rocker arms and 2.05/1.57 intake and exhaust valves. Air is forced in through an air filter-less, speed density-tuned  Nick Williams 102mm throttle body and an Edelbrock LS intake manifold, and a 3-bar MAP sensor. Balancing out tall of that air induction is a set of 160-lb. fuel injectors, twin MagnaFuel 750 pumps, and an Aeromotive adjustable regulator (set at 58-psi.).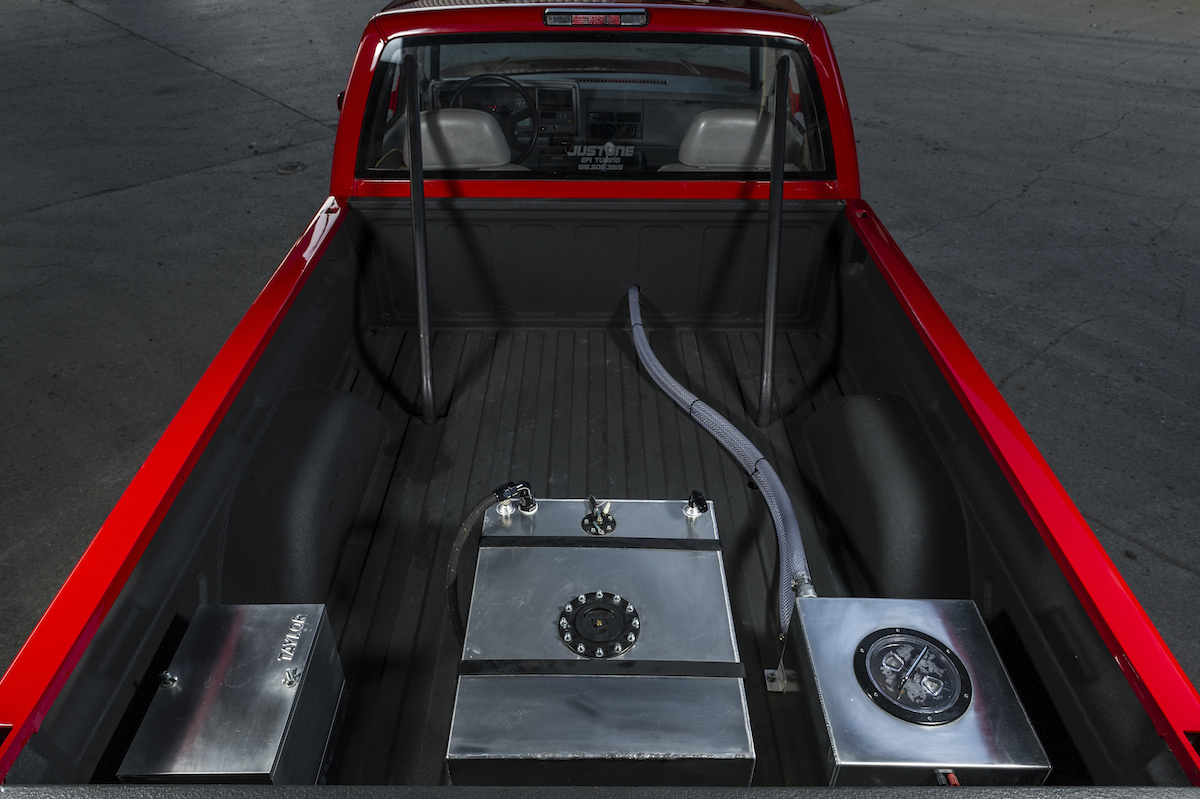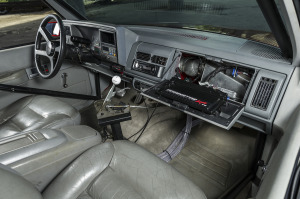 The spent gases exit the engine via stock 6.0L manifolds, a 5-inch diameter exhaust and downpipe that first need to pass though a Larry Larson-built Precision X275 88mm turbocharger, cranked up to 25psi of boost. Twin TiAL Sport 50mm blow off valves, a Precsion 66mm wastegate, and a Chiseled Performance air-to-water intercooler brings the intake charge temps down to optimum  temperatures. Justin relies on 2.5-inch diameter piping to handle the  hot side, while 4-inch diameter is what's called upon on the cold side.
Backing this powerhouse is a Mike Leighty-built TH400 transmission stuffed with a PTC 3600-stall converter and stock flexplate, cooled by a B&M. Justin shifts it with a Hurst Quarter-Stick shifter. A 3.5-inch steel driveshaft sends power to the Fab9 9-inch differential, that houses a pair of Moser Engineering 35-spline axles, spool, and 3.25 gears.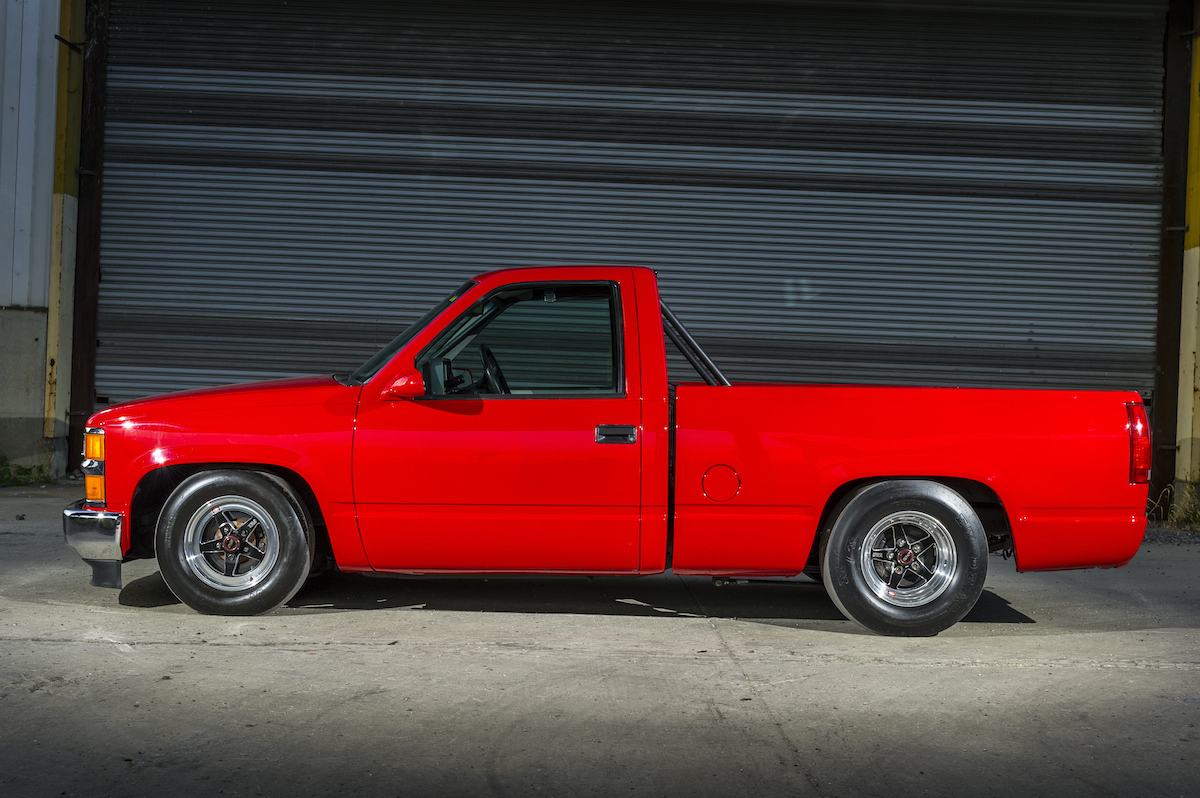 The power is held to the pavement with an Afco "Big Gun" rear shocks, a Competition Engineering sway bar, leaf springs, and Calmax upper and lower control arms. Up front, you'll find that the sway bar has been ditched altogether, the stock control arms remain in place, and that Competition Engineering 90/10 shocks, and DJM springs sit where the otherwise stock components resided.
Fifteen-inch Weld Racing RT-S wheels sit on all four corners, wrapped in Hoosier Front Runners on the 4.5-inch wide rollers forward the cabin, while Justin takes turns swapping out Nitto 555Rs and Hoosier Drag Radials in 28/10.5/15 between the street and 'strip for the rear.
Justine tunes everything on his truck himself (Justune), delivering 1200 hp and 1000-kb-ft. of torque to the rear tires, thanks to a Holley Dominator VCM. This combination was good enough to get him almost exactly at 1200 hp and 1,000lb-ft. of torque to the tires!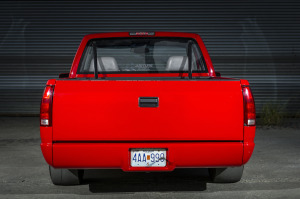 Although he has yet to take it down to the 1320′ just yet, he has run a best of 6.0 at 123 in the 1/8-mile! Which is good for around the mid-9s in the quarter-mile. The truck is still streetable, too, and Justin says that it still behaves like a stocker, with little to no side effects. Future plans? Justin already has his eyes set on a 6-bolt main LSX short block, which should allow him to keep his current top end and help him set the LSX Truck Record for the 1/4-mile.In order to do that, he'll have to get into the very low-8s. Can he do it?
Considering he's made it this far with the truck, we wouldn't put it passed him. We'll just have to keep our eyes peeled in 2015 for this Silverado!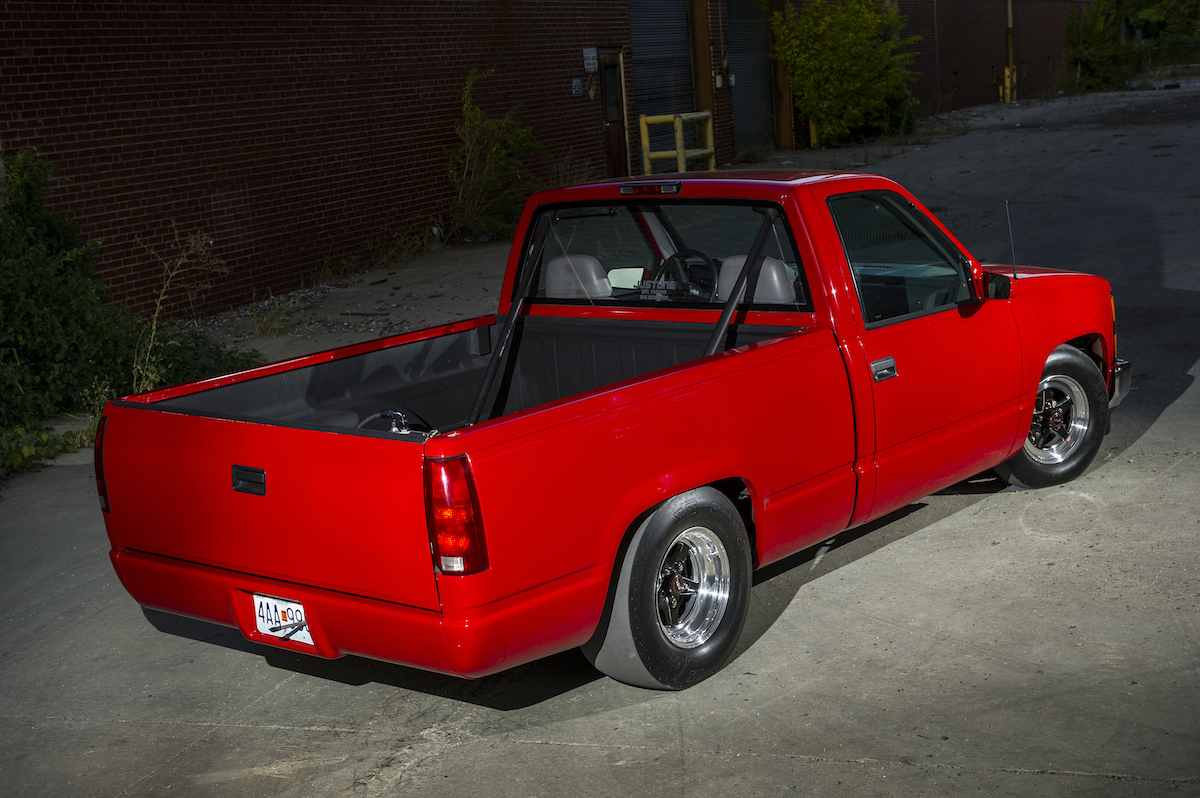 TECH SHEET:
CAR: 1994 Silverado
OWNER: Justin Kalwei
ENGINE BLOCK: LQ4; 370 ci. Built by Dahmer Powertrain
CRANKSHAFT: Callies; Dragon Slayer
PISTONS: JE; 820210
CAMSHAFT: Bullet, hydraulic; 235/233 duration, .621/.611, 115 LSA
CYLINDER HEADS: Trick Flow 225
COMPRESSION RATIO: 9.70:1
INDUCTION: Nick Williams 102mm throttle body, Edelbrock intake manifold, speed density, unfiltered
POWER ADDER: Precision X275 88m; built by Larry Larson
WASTEGATE: Precision 66m, w/twin Tial 50mm blow-off valves
INTERCOOLER: Chiseled Performance; air-to-water, 2.5-inch hot/4-inch cold piping
BOOST: 25-lbs.
IGNITION: Stock coil packs, MSD plug wires
EXHAUST: Stock manifolds; 5-inch diameter exhaust piping and downpipe
FUEL DELIVERY: 160-lb. injectors, duel MagnaFuel 750 in-tank pumps, Aeromotive adjustable regulator (58-psi.)
OILING: Moroso pump
TUNING: Holley Dominator VCM; tuned by Justune
TRANSMISSION: TH400; built by Mike Leighty w/B&M cooler
CONVERTER: PTC, 3600-stall
DRIVESHAFT: 3.5-inch steel
REAREND: Fab 9-inch; Moser spool,35-spline axles, 3.25 gears
SUSPENSION (front): Stock control arms, Competition Engineering 90/10 struts, DJM springs, no sway bar
SUSPENSION (rear): Caltrax lower control arms, Afco Big Gun shocks, leaf springs, Comp Engineering sway bar
CHASSIS MODS: None
BRAKES: Stock (front), Wilwood discs (rear)
WHEELS: Weld Racing RT-S; 15×4.5 (front), 15x10x5(rear)
TIRES: Hoosier Front Runner 28/4.5/15 (front),  Nitto 555R (rear, street)/Hoosier Drag Radials 28/10.5/15 (rear, 'strip)
HP/TQ.: 1198/1000-lb-ft.
BEST 1/8-MILE ET: 6.0 at 123 mph
Rick Seitz is the owner and founder of AutoCentric Media, and has a true love and passion for all vehicles; GM, Ford, Dodge, imports, trucks — you name it! When he isn't clacking away on his keyboard, he's building, tuning, driving or testing his current crop of personal projects!