Air Flow Research, one of the leaders in aftermarket high-performance cylinder head castings, have recently hit the market with their 210 LS1 Enforcer heads. Utilizing a Cathedral port design, these are an efficient, high-performing set of performance heads ready to install for not much more money that what porting your OEM units would run you.
Our friends at Summit Racing are currently stocking these right now, for your cathedral port LS needs. You can score the bare castings for $464.65/each, or the fully-assembled versions for $658.45.
Official Release:
AFR 210 LS1 Enforcer Cylinder Heads: More Airflow for Small-Bore LS Engines
So you have a 5.3L LS truck engine that's in good shape and ready for some performance upgrades, but you have to watch your pennies. You could rework a set of the high-flow factory 243 or 799 heads from an LS6 or LQ9 engine. But for about the same amount of money—and a lot less effort—you can have a pair of AFR 210 LS1 Enforcer Cylinder Heads that offer great airflow and are ready to bolt on right out of the box.
The 210 LS1 Enforcer heads are cast from A356 aluminum using AFR's permanent mold "as-cast" technology to accurately locate the 210cc intake runners, 82cc exhaust runners, and 64cc combustion chambers. AFR assembles the heads with the same parts it uses for its CNC-machined heads including 1.290-inch PAC Racing dual springs; one-piece 2.000-inch intake and 1.570-inch stainless steel valves; chromoly retainers and machined bead valve locks; hardened spring seats; and ductile iron seats. That's a lot of quality for your money.
The AFR 210 LS1 Enforcer Cylinder Heads are also available as bare castings.
Specifications
• Intake Runners: 210cc
• Exhaust Runners: 82cc
• Combustion Chambers: 64cc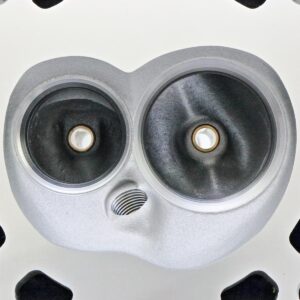 • Valve Sizes: 2.000″ intake/1.570″ exhaust
• Valve Springs: 1.290″ dual for hydraulic roller cams, .600″ maximum lift
• Valve Spring Retainers: 7° chromoly
• Valve Locks: 7° machined steel
• Valve Guides: bronze
• Minimum Bore Size: 3.780″
Airflow Chart
Lift .200 .300 .400 .500 .550 .600
Intake (CFM) 136 199 246 272 276 265
Exhaust (CFM) 93 140 180 204 211 215
Test conducted at 28″ of water (pressure) on Superflow 600 flow bench
Bore Size: 4.060″, 3/4″ radius plate exhaust, 1 3/4″ curved pipe
Rick Seitz is the owner and founder of AutoCentric Media, and has a true love and passion for all vehicles; GM, Ford, Dodge, imports, trucks — you name it! When he isn't clacking away on his keyboard, he's building, tuning, driving or testing his current crop of personal projects!