Looking for a way to improve your 2010-2015 Camaro's handling capabilities, while giving it a more aggressive stance? A set of lowering springs from BMR Suspension provide an affordable way to handle both of those issues at the same time (see what we did there?).
Recently, we've  received an email from BMR regarding their new line of 5th-Gen lowering  springs, and we felt it was only right to pass it along to the Camaro faithful!
Official Release:
Increase cornering ability and improve the cosmetic appeal of your Fifth-Gen Camaro with Lowering Springs from BMR Suspension. Manufactured from chrome silicon high-tensile spring wire, these springs are cold wound on a CNC coiling machine that can adjust the spring diameter in real time to ensure that every spring is exactly the same. These springs will drop your 2010 and newer Camaro 1.25-inches and feature a 220 lb/in front and 460 lb/in rear linear spring rate to give you great handling and a smooth ride.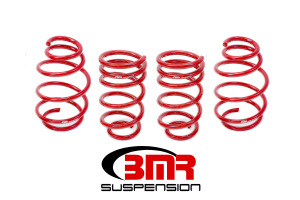 The BMR Lowering Springs (SP077 Set, SP078 Front, and SP079 Rear) lower the center of gravity to allow the body to stay flat and level in the corners, while remaining soft enough for a comfortable ride on any road. BMR designed the SP077, SP078, and SP079 springs for both the street performance and handling applications. Like all BMR lowering springs, they come with a LIFETIME guarantee against spring sag. Available in red powdercoat for long-lasting good looks. Installation time is about 2-3 hours. Proudly made in the U.S.A.!
Pricing:
Features:
Lowers ride height
Improves handling
Provides a comfortable ride
Lifetime guarantee
To preview all of BMR's high-performance suspension parts, please visit www.bmrsuspension.com, email [email protected], or contact them at BMR Suspension, 928 Sligh Ave, Seffner, FL 33584, 813-986-9302, Fax: 813-986-8055.
Rick Seitz is the owner and founder of AutoCentric Media, and has a true love and passion for all vehicles; GM, Ford, Dodge, imports, trucks — you name it! When he isn't clacking away on his keyboard, he's building, tuning, driving or testing his current crop of personal projects!