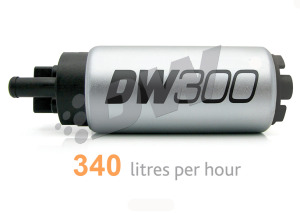 It's been almost 20 years since the last C4 Corvette rolled off of the Bowling Green, Kentucky assembly line, and to say that technology and performance have come a long way since then, is an understatement.
That doesn't mean that current owners of the original EFI Corvette couldn't use an update in technology. That's why companies like our friends over at DeatchWerks continue to make components for them. Such is the case with their recently launched DW300 In-Tank Fuel Pump, that offers up to an additional 20% additional fuel flow over their earlier design.
They're available for all versions of the C4 Corvette from 1984-1996, apart from the ZR-1, and they also offer universal kits, too! Check out the specs in the official press release below.
Official Release:
DW300 Now Featuring 20% Increase in Flow

Oklahoma City – March 12th, 2014 – DeatschWerks has redesigned the DW300 (V2) in-tank fuel pump to offer greater flow with no significant increase in current draw. The new DW300 pump flows 26% more at its peak and 20% more on average across all pressures. The low amperage draw minimizes pump temperatures, maximizes pump life and reduces stress on OE wiring.

The increases in flow were specifically engineered for high pressures (60-90 psi), where forced induction applications need it the most. Conversely, fuel flow has been limited at low pressures (30-50 psi) to minimize heat generation in return fuel systems. This dual zone approach results in a flatter flow curve, which maximizes both performance and reliability for supercharged or turbocharged applications.
There has been no price increase or part number change for the V2 DW300. In preparation for the transition, V2 DW300 fuel pumps have been shipping for several months, so customers can be assured that recent purchases of DW300's are of the V2 design.
All DeatschWerks fuel pumps are ethanol compatible and come with an industry-leading 3-year warranty. More information about the new DW300, including a comparison graph, can be found at:
http://www.deatschwerks.com/new-dw300-release
Features:
3-year warranty
ethanol compatible
same affordable price
increases performance and reliability
flows 26% more at its peak and 20% more on average across all pressures
Rick Seitz is the owner and founder of AutoCentric Media, and has a true love and passion for all vehicles; GM, Ford, Dodge, imports, trucks — you name it! When he isn't clacking away on his keyboard, he's building, tuning, driving or testing his current crop of personal projects!