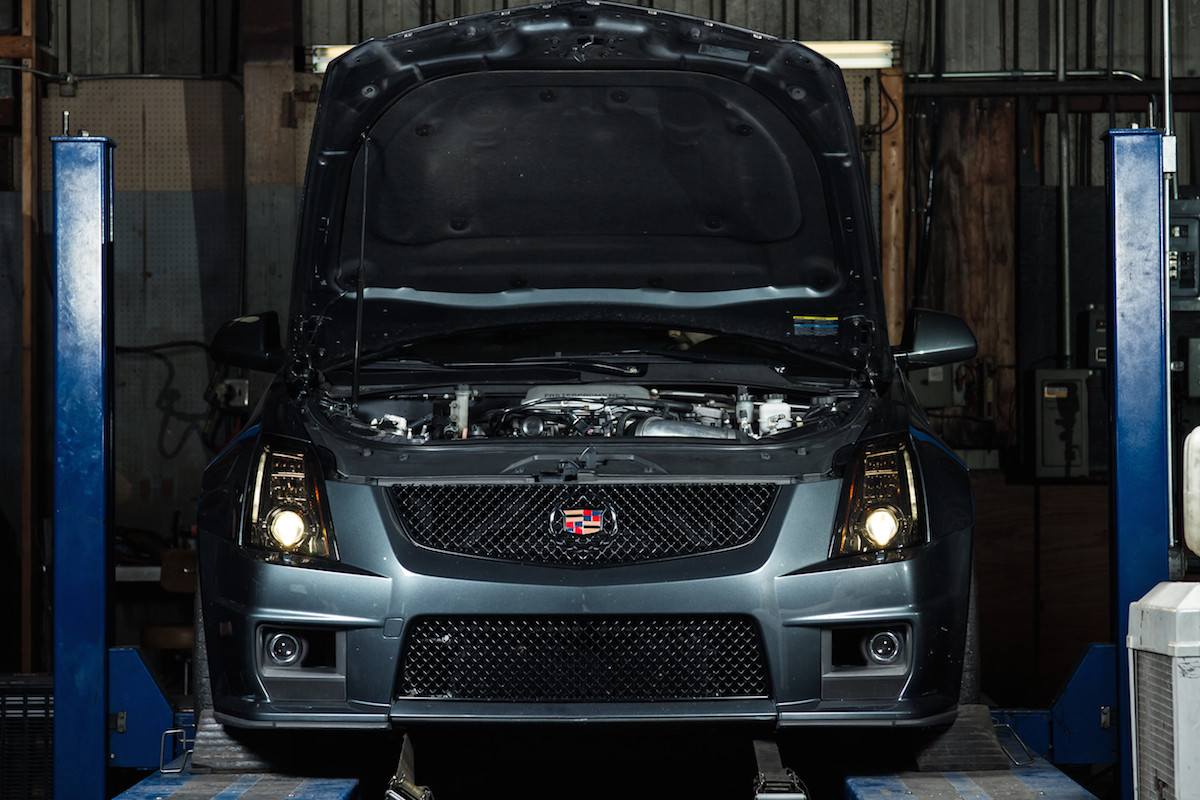 When Cadillac released the first V-model of its CTS, everyone and their mother took notice. Finally, an American four-door sedan with a manual transmission option, rear wheel drive, and a big V8 under the hood! It helped that the cars looked pretty cool too, albeit not much different than the regular CTS model. With a new CTS design released in 2008, many speculated what would power the pending V-model. GM threw everyone a huge curve ball with a gift from the horsepower Gods: a 556-horsepower supercharged LSA. They looked badass, had leather stitched everything, and made sweet noises. Naturally, gearheads still wanted even more power and that's where companies like Fasterproms step in.
Why Port the Blower?
The concept of making horsepower is simple on paper – combine oxygen with a form of fuel and harness the energy generated from the combustion of this mixture. There are plenty of ways to do it, but all internal combustion engines operate this same way. In a naturally aspirated engine, natural atmospheric air (1-bar) is sucked in by the downward stroke of the piston like a pump. The efficiency of this "pump" can be enhanced with use of a power adder such as nitrous, an exhaust-driven turbocharger, or a belt-driven supercharger. These three power adders all accomplish the same goal of forcing more oxygen into the combustion chamber to be converted into power.
So, it would go without much thought that adding more air means potential for more power. This rudimentary idea has proven correct and hot-rodders have long since conceptualized a way to squeeze out more power by increasing their engine's airflow. But, there is a catch! You can't just go hogging out intakes and cylinder heads and expect massive power gains. There is a trade-off with velocity and airflow and understanding this relationship has been the quest for aftermarket tuners since day one.
Calling in the Experts:
Enter Fasterproms of Lutz, Florida. Spearheaded by renowned GM EFI tuner, Jeremy Formato, his company has been porting intake manifolds, throttle bodies, and cylinder heads for over 10 years. His methods started off simple, but as someone who takes the helm of a Sony Vaio laptop with HP Tuners everyday to tweak and tune GM engines, he wanted to push everything further. After countless ported intake manifolds were posting consistent power results, a new challenge presented itself – the Eaton 1900 supercharger found on the '09-'15 Cadillac CTS-V and Camaro '11-'15 ZL1.
Fasterproms is no stranger to the GM performance world. With more than 14 years of experience tinkering and tuning under the hood of performance GM vehicles around the country, Jeremy has amassed a laundry list of happy clients. It has also allowed him to fully encompass himself with the LS motor and learn all of its secrets to unlock power. "We feel it's best to own the cars we work on to really find each cars personality," he explains. With this mindset, Jeremy has owned multiple Corvettes, trucks, SUVs, a GTO, a new C7 Z51, and a CTS-V. The idea of owning a new CTS-V was just that; to learn its personality. With an all new LSA – the poor man's LS9 – between the front struts, Jeremy knew that this was going to be a hot car. There would, however, be a steep learning curve as it was only the second GM V8 to come with a supercharger from the factory, just behind the venerable LS9.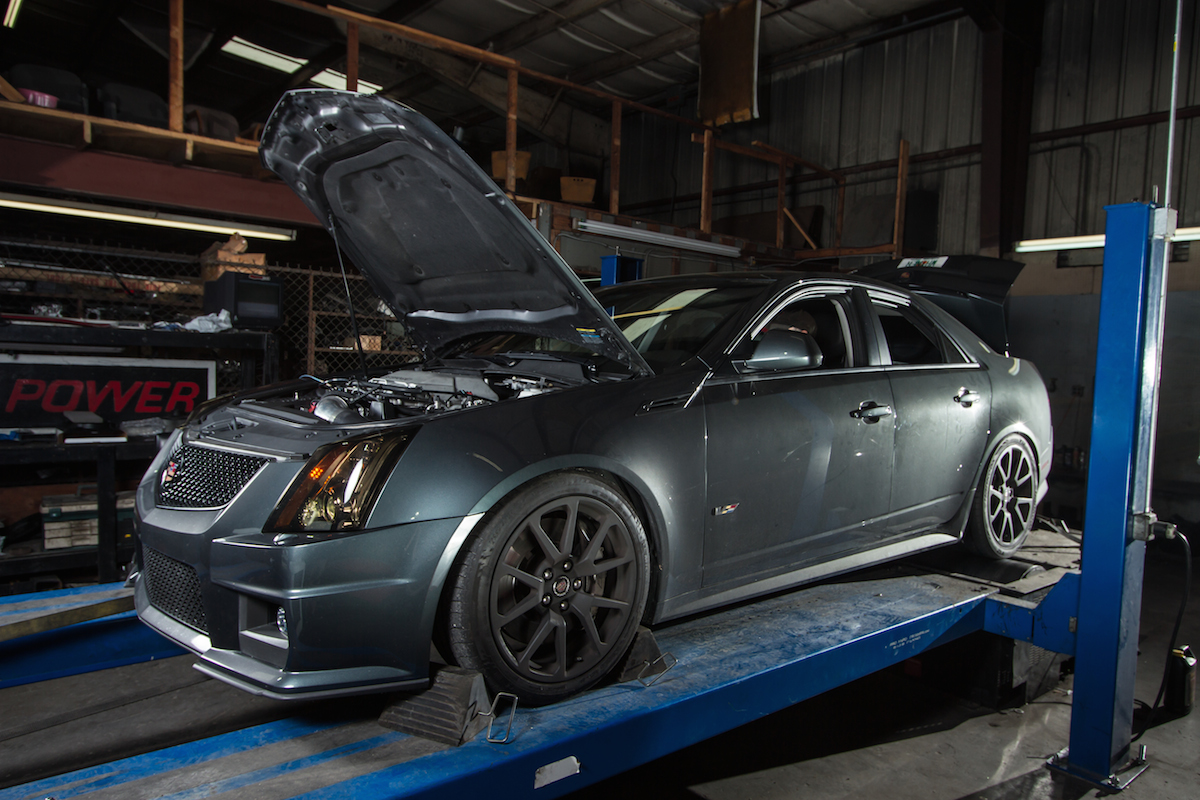 Porting a supercharger is a little more tricky than a composite intake like the one found on an LS3. First of all, if you mess up, you'll have to dish out a lot of coin to replace or repair it. Because of this monetary liability associated with porting a supercharger snout and case, not very many companies have attempted to take the risk. Fasterproms, with its very own development CTS-V were able to tinker with a spare core and go step-by-step to see what worked and what didn't. After much R&D, Fasterproms was happy with the results it can consistently provide its customers – a sneaky, stealthy way to add affordable, reliable power to an LSA-powered GM vehicle – LS9 porting is available, too.
Without giving away the company's trade secrets on how it achieves these repeatable gains, Fasterproms welcomed us into their underground lair to witness the porting process. On a separate day, we then scooted off to their favored local dyno, Proven Power of Tampa. There, right before our eyes, Jeremy made the swap look effortless as he transplanted a ported unit in place of the factory supercharger. This swap is a popular core exchange he provides his customers and can do so at the dyno to show customers real-time results. This was just that kind of opportunity.
"…the V's run pretty hot on inlet temperatures and through the intercooler. I always recommend a good cold-air kit, an expansion tank for the intercooler reservoir, and heat panels to keep areas under the hood sealed off." -Jeremy Formato
Jeremy does suggest cooling upgrades, "the V's run pretty hot on inlet temperatures and through the intercooler. I always recommend a good cold-air kit, an expansion tank for the intercooler reservoir, and heat panels to keep areas under the hood sealed off." These recommendations come as a result of his owning a CTS-V and wanting to squeeze out more power and consistency. His suggestions change from car-to-car and are based on application. If you're interested in the idea of bumping up the power in your V, you'd be wise to give him a call.
With material removed, smoothed, or added in just the right spots, Fasterproms ported superchargers show consistent results. His reputation in the Caddy world is worthy of a bronze statue, as he's helped countless V-owners gain easy and reliable power. What may be even more important than the power gains is the giggle factor. You'll be laughing uncontrollably as you hear the whine of a supercharger under the hood your four-door family sedan as you raise Michelin's stock prices. Porting not only works, it works well.
Getting Started:
Kevin's career got its start by snapping shots of what he referrs to as his "bread and butter" – automotive shoots. With over 10 years of experience behind the lens, four LS-powered vehicles and countless builds, the former GM High-Tech Performance, High Performance Pontiac and Mopar Muscle associate editor and staff photographer is excited to be contributing to the late-model GM hobby again.