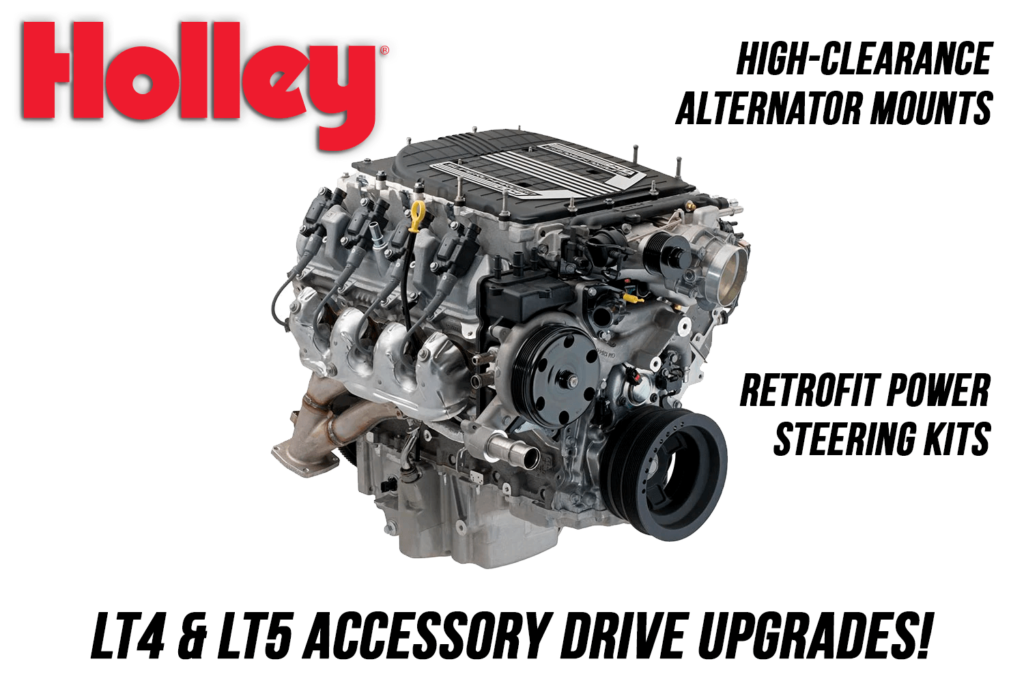 Official Release:
Holley Releases New Accessory Drive Upgrades for LT Gen V Engines!
Holley is pleased to announce the release of two new accessory drive upgrades for GM LT Gen V engines! These retrofit kits are the perfect add-on for your next LT4/LT5 swap – The alternator mount design offers more chassis clearance for LT4 engine swap applications and can be used with existing OE (original equipment) accessories and mounting locations. The hydraulic power steering kits works with original equipment GM LT4/LT5 accessories and brackets, the design incorporates a splined dual bearing system that eliminates belt stresses on the P/S pump's internal bearings, assuring long life.
Premium 150AMP Alternator with High Clearance Bracket
The components have an original equipment look and reliability while relocating the alternator in closer to the engine block for additional chassis clearance. The base kit Holley Part #20-226 is offered with a standard cast finish 105 amp alternator. Our premium kits, Holley #20-224 or #20-224BK offer the choice of a premium 150 amp alternator in cast or black finish. All three kits provide a complete, cost effective accessory solution for you LT4 crate engine with additional chassis clearance your application will need when compared to the OE option.
Retro-Fit Power Steering
Looking to put an LT4/LT5 crate motor or junkyard motor into your vehicle originally equipped with hydraulic power steering? The Holley Retro-fit Hydraulic Power Steering add-on kits for GM LT4/LT5 engines to the rescue. The supercharger drive maintains the original and optimized belt path and tensioner. Included with each P/S system is a throttle body angle correcting adapter that better positions the TB for swap applications. Maintaining OE pulley ratios for optimal performance, this kit also features hard-line adapters to ensure reliability and a factory appearance. Versions of the power steering drives are available for LT4/5 dry-sump & LT4 wet-sump applications.
AutoCentric Media is the fastest-growing all-encompassing digital magazine, catered to automotive enthusiasts from all walks of life, with various interests.