photos by: the author, Neil Clayton and Eddie Smusz
An Update of Project Billy Madison, that Paves the Way for What Lies Ahead!
In the succeeding weeks since we've announced our 1979 Trans Am, dubbed Billy Madison, there has been quite a few things happening with the car; the engine has been pulled and transmission has been rebuilt. The big, grippy binders from Baer Brakes have arrived and the wheel order has been placed.
We've gone through the car and compiled a list of parts that we'll obviously need throughout the process, before we roll up our sleeves and start tearing into this thing. As things progress, surely, the parts list will continue to grow larger.
Furthermore, the engine has since been broken down, and we've had our friends at Classic Engine Works and Minor's Performance figure it out for us, on our behalf. In addition, the transmission has been rebuilt by Gearstar Performance. Both the engine, and the transmission, will be covered in great detail in separate stories here in Timeless Muscle, but for now, we wanted give you a quick update on each that will bridge the gap between the introduction and the final results.
Engine
For 1979, there were several different engine options available for the Trans Am. With the 10th-Anniversary Edition, your choices were limited to just two; the Olds 403 and the Pontiac 400. Our engine is the former. The Olds 403 only cranked out 185hp and was paired with a mandatory TH350 automatic. As odd as it may sound with the LS swap craze in full effect, or a more traditional 455 cubic-inch Pontiac being the norm with the purists, we wanted to veer off the beaten path and dabble with what's already there.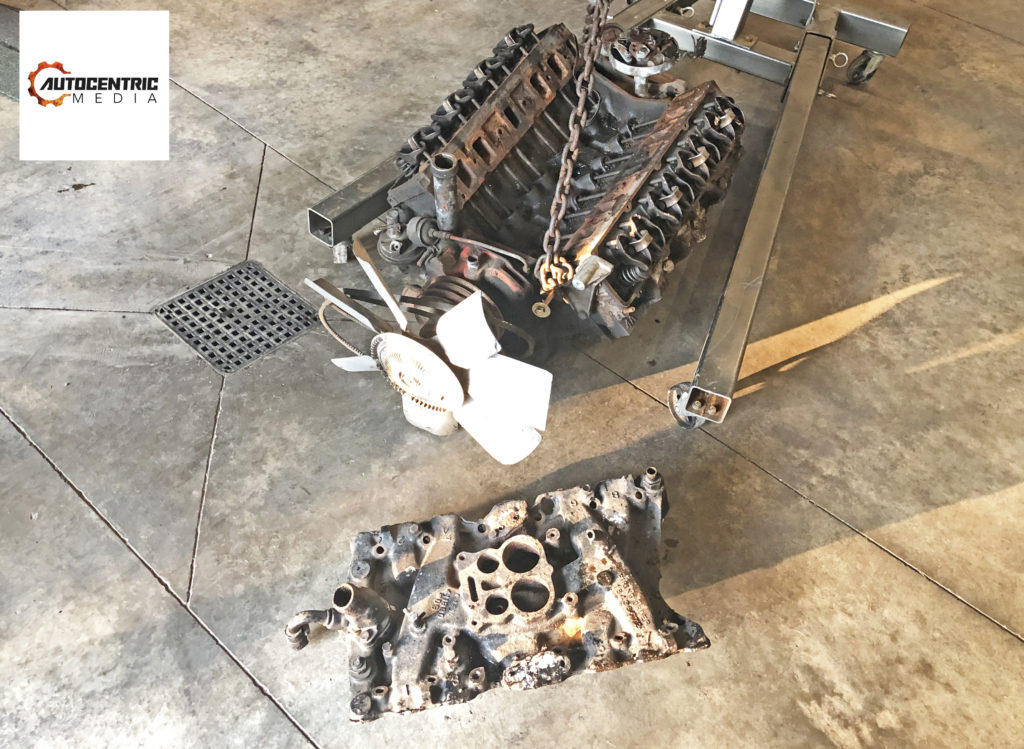 As it turns out, there wasn't much left of the original mill that would be reusable. Partly because it wasn't part of the plan, anyway, but mostly because it was far passed the component's expiration date. In our mind, just as long as the block itself was reusable, we were in good shape.
Once we pulled the engine from the car, set it in the bed of our mule, and dropped it off at Neil Clayton's Classic Engine Works in nearby Champion, Ohio, he and his assistant, Eddie, had set to work tearing the engine down. Upon initial teardown, they've quickly realized that the block has suffered from some water damage; be it from a bad head gasket, or from simply moisture getting inside the engine — or perhaps both.
You have remember, one of the cylinder heads had already been pulled prior to our acquisition, and the car had been sitting with the hood removed for a time. What it was actually exposed to, we will never know but one thing was for certain, the entire bottom-end was toast with the crank  trashed. It had two badly-spun rod bearings, and the engine was completely locked-up as a result.
Interestingly enough, Neil also noticed that the camshaft had been replaced at one point, with a higher-lift hydraulic bumpstick. Between that and the fact that it already had long-tube headers on it, it was clearly evident that the car was used as a street/strip machine in its heyday. After the teardown was complete, we took the bare block to Shawn Minor of Minor's Performance in nearby Lordstown, and he told us that after he did some preliminary measuring, the block had already been bored .030 over years ago.
The relatively severe rusting and porous pitting left on the cylinder walls will certainly be a challenge to remove, and would mean if we were extremely lucky, that the block could clean up with a .060 overbore (over the stock bore sizing), and a few Hail Marys. The good news is, it did clean up about 98% of it. The bad news is, there were still a few small spots left on the walls that nobody particularly liked.
However we were assured they would be fine, just so long as we had no intention of ever running boost, nitrous or planned on thrashing on this car 24/7. Luckily, we don't. That said, this will potentially be this engine block's last hurrah in the long run, when it eventually comes time to rebuild again in the distant future. Oh, and don't be alarmed; the lines you see on the cylinder walls aren't cracks, they're pen marks made by Shawn, pointing out the few spots that he had concerns with.
We're confident that we'll still get many years of enjoyment out of this thing, despite the few tiny flaws. So the plan is to install a solid bottom-end, and a high-flowing, efficient, capable top-end, that will also be paired with modern EFI to offer us the perfect balance of power, performance, and reliability.
We're not shooting for 1,000hp or even 500hp, but we think somewhere in the 350-400hp range to the rear tires, will be very doable and adequate enough for our plans with the Trans Am. If we can squeeze more out of it, we'll take it.
Transmission
In case you may have noticed earlier, the transmission wasn't attached to the engine when we pulled it, and there's a very good reason for that; the previous owner was nice enough to remove it and stick it inside the car's cabin where the seats usually go. Whatever, at least it was with the car and it was the original TH350 unit.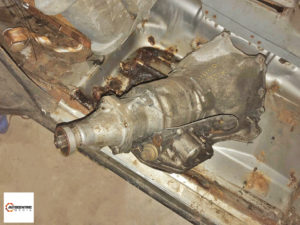 There was a claim that the gearbox had already been rebuilt not too long ago, prior to the car's purchase, but as it usually is, that wasn't the case and Gearstar discovered that factoid almost immediately upon opening it up. Lucky for us, they're one of the biggest names in the performance transmission business, and they can rebuild a TH350 (or TH400, or 4L60E, or whatever it may be) in their sleep.
We grabbed a couple of shots of the transmission before we left, with Gearstar's Zack Farrah ensuring us that it would be in good hands with one of their best techs. A relatively modest Stage 2 build was recommended, based on our projected power and torque numbers, as well as what we ultimately had planned for the car, in terms of our untended purposes.
A torque converter of Gearstar's own design and stall speed would be a part of the formula as well, and we'll delve much deeper into the logistics of the entire combination in a future installment.
Brakes
Our 10th-Anniversary Edition Trans Am was equipped with 4-wheel disc brakes as standard equipment, as a direct result of the mandatory WS6 package. Despite that, there's always room for improvement and with additional power and performance planned, it only made sense to bring our braking system into the 21st century.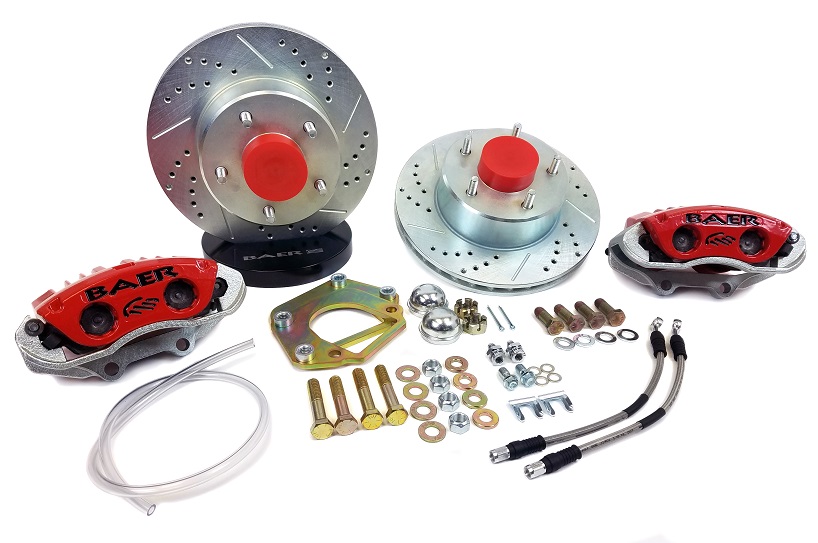 As it turns out, the timing couldn't have been better, with Baer Brakes just unveiling their brand new AFX lines of brakes for '67-81 GM F-body, '64-72 A-body and '62-77 X-body vehicles.
Called the Classic Series, it's a brake kit that improves stopping capabilities substantially, while also providing the ability to tuck nicely behind most 15-inch wheels, and some wheels as small as 14-inches in diameter — essentially offering the end-users greater stopping power without having to move up to larger rollers, if they do't want to.
It's a bolt-on kit, that comes with everything you see, and everything needed for the job, minus the actual tools and the brake fluid. Baer does offer their own brake fluid for a little bit extra, if you're feeling so inclined. Installing the brake kit will happen in another installment, once we begin the rebuild phase.
A Few Small Details
Although not absolutely detrimental to the build, but in order to make things a bit easier to work in our shop, we made a stop at Summit Racing to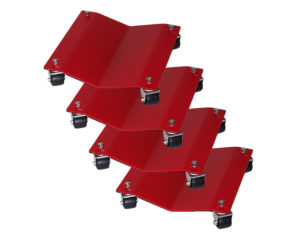 pick up a set of wheel dollies. There were a few options available, but we settled on a set from Merrick. Between the combination of price, quality, and functionality, they have been absolutely amazing, and very helpful when moving the car around the shop.
They arrive unassembled, but putting them together is a non-issue to anyone who's ever held a ratchet in their hands before. Each dolly is capable of supporting 2,500-lbs, which is more than adequate for the Trans Am, as well as everything else that's currently in our shop. Considering that we were now stuck with a rolling shell with wheels and tires that won't even hold air, this was a no-brainer.
However, dealing with a car with rollers that couldn't hold air didn't last very long. As the days passed, we understood that we simply wouldn't be hanging onto the current wheels, anyway, and although we're not really interested in driving the car on factory stockers, either, we still wanted the correct set of wheels for it.


So with a planned upcoming trip to Fairborn, Ohio for the 35th Annual Trans Am Nationals, we reached out to potential show-goers on the Trans Am Nationals Facebook group to see if anyone had a set of the correct, polished 15×8 Turbo wheels.
We struck gold almost immediately, and had two different individuals offer up what they had. One, had a set with tires and two missing center caps, and the other had three bare wheels.
Both were very fairly priced, so we made arrangements with both, in the event one of the deals fell through. We ultimately returned home with all of them, and attached the set with the tires, selling off the ones we didn't need, as well as the aftermarket wheels that were on the car when we bought it.
The good news is, we could always run these wheels on the car at any time even with the larger brakes, in essence, having the option to use the stockers for cruising around town, and reserve our soon-to-be-announced, special-ordered wheels for more relevant appearances.
Moving forward, we'll be tearing down the rest of the car to prepare the shell for media blasting, ordering new body and trim pieces, and assembling the engine. We're also get a closer look at the newly-prepped Stage 2 TH350 from Gearstar, breaking down what goes into such a gearbox and watching it get broken-in on the dyno. It was pretty cool, and you don't want to miss it.
There's actually a lot of great updates planned that you won't want to miss. So we'll see you next time!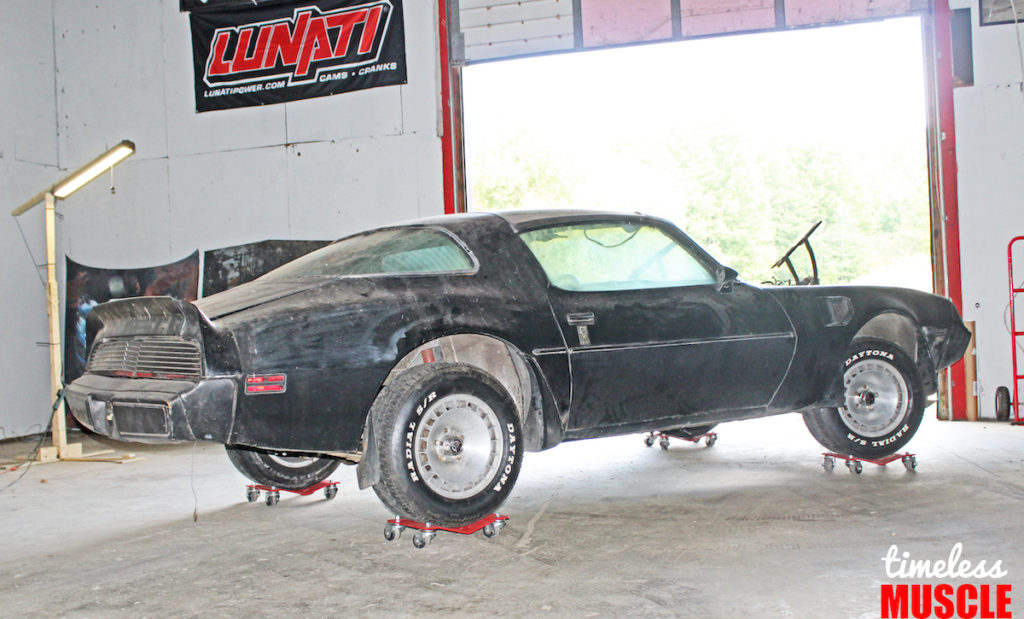 Rick Seitz is the owner and founder of AutoCentric Media, and has a true love and passion for all vehicles; GM, Ford, Dodge, imports, trucks — you name it! When he isn't clacking away on his keyboard, he's building, tuning, driving or testing his current crop of personal projects!