photos by: the author, 78TA.com, GM archives, and various sources
We Unveil Our Plans to Resurrect a 10th-Anniversary Trans Am
Over the course of the last few years, we've been bringing you updates on our other project vehicles, as well as some interesting one-off tech installs. Our '70 Chevelle is still under the knife, and while we're wrapping up a few more details on the '68 Firebird, we're already getting the itch to tear into something else.
Now I should probably come right out and say that this project is something of a personal journey for your author. I've always wanted a second-generation F-body since I was in grade school, and I had owned a 6-cylinder '79 Camaro when I was 15. But that project never really got off of the ground, due to a lack of knowledge and funds, and I ended up selling the car a short time later. Life happened, and I ultimately picked up other projects as the years wore on, but I never gave up on the idea of building a '70-81 Camaro or Firebird.
I've always had my heart set on a later 2nd-gen, though, partly to replace the Camaro I got rid of so many years ago, but mostly because my first memorable experience ever riding in one was in a '79 10th-Anniversary Trans Am — complete with a 400/4-speed combo. I was roughly eight years old and the car was cherry. The owner was selling it and a relative was interested, but didn't pull the trigger. The car ultimately, and ironically, ended up a half-mile from my parent's place.
The car sat outside for years after that, and once I became of driving age I tried to buy it. The owner told me that it wasn't for sale, but then stuck a For Sale sign in the window two weeks later and sold it before I could even go back to make an offer. Oh, well.
This situation has gone on for years, off and on. I almost snagged another one, a 403/auto example, back in the Spring of 2009 but ended up signing the paperwork on an '87 Grand National that I couldn't pass on, instead. I still have that car today, and you probably know it as Project Wicked6 in GMEFI Magazine. Life happened, my career took me all over the country and second-gen F-body ownership took a back seat once again.
The Search
Fast-forward to 2018, and "the search" for the right car resumed. I was open to pretty much any '77-81 Camaro Z28 or Trans Am at this point. It didn't matter the color or options, as I had intended on building a 6-speed and LS-swapped pro-touring car. I wanted a low price point, as just about everything mechanical would have been set on the shelf, anyway, so that's also why I looked at later examples.
Every car we were finding was either priced too high and/or was too nice for what we had planned, too rotted out, or would have worked and was in the relative ballpark to our price point, but the seller just wouldn't budge on the price. We were about to give up, but your author stumbled upon what could best be described as one of the worst surviving, but restorable, examples of a 10th-Anniversary Trans Am in existence on eBay.
There was a no reserve auction on a black '79 Trans Am that the seller was claiming to be a numbers-matching 10th-Anniversary car. He provided images of the VIN and cowl tag. Some quick sleuthing on our end revealed that it was indeed a Trans Am, a 1979 model, and a 10th-Anniversary Edition car. We bid, got outbid once or twice, bid again, the auction ended and we were the winner, for not a whole lot of cash at all. In fact we scored it cheap enough, that there was enough there to sell off to recoup our investment, if need be.
The Car
After the funds were sent over, a car hauler was en route to pick up the T/A, and all of the documents sent over from the seller via priority mail, the only thing we could do was wait for delivery. When the Trans Am finally arrived, we were excited, but quickly began to realize the extent of the project that lay ahead.
There was a set of mismatched '70s-era "Cragar-style" wheels on every corner. On the front, was one 14×7 and one 15×8. On the rear, two 15x10s but one a Cragar, and the other a Cougar. Only three of the tires would hold air. There's not much left of the interior, but what is there, clearly indicated that it's a 10th-Ann car.
The original Turbo 350 was previously removed from the car, and then stuffed inside the cockpit. Apparently the Trans Am was under the knife at one point, but a previous owner gave up and lost interest.
We crawled underneath the car, and noticed that we'll quickly be needing floor pans, a trunk pan and and maybe an inner fender or two. The body seems pretty solid, however, and the rear lower valance behind the rear bumper, which is notorious for completely rotting out, is still solid — which is a good thing. The WS6-exclusive four-wheel disc brakes are there, too, as is the factory 10-bolt rear.
Oh, and that black paint? It looks like it was put on with a roller brush or a spray can, a very long time ago. Apparently there was a fiberglass scoop pop-riveted to the factory hood at one point, which explains the lack of the Shaker scoop. The silver, mirrored T-tops are still in place, which are specific to the 10th-Anniversary Edition Trans Am.  There are a couple of drag strip stickers on the rear window, so it's probably safe to assume that the car was drag raced earlier in its life.
Back inside the cabin, the carpeting and rear seat are long gone, but original paint is clearly evident. You can see the original paint in the door jams as well, and even what's left of the factory, two-tone red and black pinstripes. Also present, are the original interior door panels, front seats, dashboard and center console.  Somebody rattle-canned the kick panels red, evidently. If they're in good shape, we'll restore them back to the factory hue.
The car came with a few boxes of parts, which included the factory air cleaner, valve covers, the accessories, various trim pieces and a few other odds and ends that we may or may not use in the future. Until then, they'll sit on our shelf until we cross that bridge.
Decoding the Car — Is It the Real Thing?
Whenever you're buying a collector car, or a vintage vehicle that's being sold as something a little more "prestigious" than a run-of-the-mill base model, in this case, a Firebird, it's always best to "run the numbers" so to speak. There are countless guides and resources, both in print, and online that you can turn to for information.
With the Trans Am dropped off at the shop, we quickly began to investigate closer. We found the casting numbers on the block, first confirming that it's an Olds 403, and then verifying the production number to the last several digits of the VIN. They matched. We decoded the cowl tag and the X code on the VIN plate revealed the 10th-Anniversary option package. How do you do this? Read on.
Looking at the VIN plate and the cowl tag, the year, make, model, color, engine option and trim package, are all revealed. Using our resources, as well as Hitman's Guide at 78TA.com, let's break down our car, first with the VIN plate, then with the cowl tag. The VIN plate, or VIN tag, is pretty straight forward to decode and we were able to do that quite easily with the information that's out there:
VIN Plate:
2=Pontiac
X=10th-Anniversary Trans Am
87=2-door Sport Coupe
K=403 4-BBL. V8
9=1979
L=Van Nuys, CA Assembly Plant
174059=Assembly/Sequence Number
Cowl Tag:
The cowl tag can be a little trickier; sometimes the numbers, or codes, are jumbled together, sometimes there can be errors (apparently) and sometimes a specific code may be missing entirely. If you need further proof of this, ask an owner of a Special Edition "Bandit" Trans Am.
Depending on year ('77-81), and whether or not it was a hardtop or T-top example, a true Trans Am SE will depict a Y81, Y82 or Y84 code. Some legitimate cars will omit this factoid on their tag, where others will have it. From what we understand, it basically came down to which plant the car was built at, and whoever actually stamped out the tag on that particular day.
When we were first analyzing our car before we took the plunge, we noticed some oddities on the cowl tag. In the case of a 10th-Ann, it may or may not have had Y89 stamped on the tag to decode a true Anniversary Special Edition. Ours doesn't. There's also an "S" where an "X" should be for a 10th-Anniversary Edition car.
However, the interior trim/color, body style (T-Top), two-tone exterior paint scheme and the odd, unidentifiable "X34" code makes us think that the cowl stamper was either new on the job, or under the influence of some sort of substance at the time of the tag's creation. We later legitimized the car's authenticity with PHS. We'll get into that at a later date as well. In the meantime, let's break this thing down:
79=1979
04B= Assembly Date (April, second week)
2F=Make/Model (Pontiac Firebird)
S=Series (S, Firebird — according to most resources, this SHOULD be an X for a 10th-Anniversary T/A)
87= Body Style (2-door coupe)
L=Van Nuys, CA. Assembly
222940=Fisher Body Unit Number
152=Interior Upholstery (Silver Leather Trim Appointments with Trims 12N and 12R Oyster, colored carpet, dash, console)
15L=Exterior Paint Code, Lower (Platinum Poly)
16U=Exterior Paint Code, Upper (Dark Charcoal)
W=Water Based Paint
A51=Bucket Seats
CC1=Fisher T-Tops
X34=??
102552=Fisher Time Date Code
Now that X34 code — possibly it means a 10th-Anniversary X-Code stamped on the incorrect portion of the tag, from what we could gather. Nothing comes up for X34, anywhere, although "X" means 10th-Ann, while "34" means absolutely nothing. If you're in a hurry and were reading off of a sheet, and were brand new on the job, I suppose X34 could look like Y89 under some circumstances. If someone out there knows more about this, we'd love to hear about it.
Factory Specs
Although the '79 Trans Am was available with a 301 cubic-inch Pontiac, a 400-inch Pontiac, and a 403 Oldsmobile engine, the 10th-anniversary Trans Am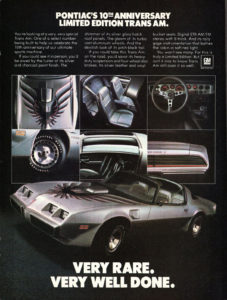 was limited to 6.6L — in either 403 Olds or 400 Pontiac format. You can tell which engine the car has from the outset, in two ways; if it's an Olds 403 car, it was paired with the TH350 automatic transmission, and a "6.6 Litre" callout on the Shaker scoop. If it's the Pontiac 400, it would be paired with a BorgWarner Super T10 4-speed manual, and the callout on the Shaker scoop would read, "T/A 6.6."
In terms of as-delivered performance, the 403 cranked out a rather meager 185hp and 320 lb-ft of torque to the flywheel. The available 400, was the more desirable L78 that delivered 220hp and 320 lb-ft of torque. It should be noted that the L78 was actually a carryover, pre-manufactured engine from 1978, and was originally intended for use exclusively in the 10th-Anniversary Edition car after the '78 model year. However, it became available in all Trans Ams and Formulas for 1979 — except for those in California.
Nineteen seventy-nine also marked the final year that a Firebird would carry either the 400 cubic-inch Pontiac engine, or even displace 6.6 liters at all. After 1979, it would only be the naturally-aspirated 301, turbocharged 301 and for a few Cali customers, a 305 cubic-inch Chevrolet engine for the final two years of second-generation Firebird production.
All 10th-anniversary cars came equipped with the WS6 Performance Package as standard equipment. This provided the car with a quicker-ratio steering box, thicker sway bars, 15×8-inch wheels — polished aluminum Turbo wheels in this case — with GR70-15 Goodyear Eagle tires, as well as 4-wheel disc brakes. The General Motors Regular Production Order (RPO) code for the entire Anniversary treatment was dubbed, Y89.
In terms of performance, there wasn't much. Quarter-mile acceleration was somewhere in the mid-high 15-second zone, with a top speed of around 125 or so. Considered mildly decent for the time, it's about on par with a snail's pace by today's standards.
We should mention that the package consisted of mirrored T-tops on all cars, as well as a two-tone silver/grey paint scheme. Red and black pinstripes adorn nearly aspect of the car's body, and the famous hood bird was extra large for the 10th-Ann, spreading its wings not just over the hood, but onto the top of the fenders, too. Unique 10th-Anniversary decals were attached to each front fender, as well as the rear spoiler.
On the inside, the upholstery is covered in unique silver leather material with bird stitchings on the interior door panels and in the center of the rear seat. Each car was optioned with full power features, and this would mark the first time a Pontiac would be equipped with the famous red readouts on the gauges, that would become a Pontiac staple across the model line by the mid-1980s.
According to everything we've been able to verify, a total production output of 7,500 10th-Anniversary Edition production cars were produced; 1,817 were equipped with the 400/4-speed combo, and 5,683 were equipped with the 403/auto combo.
The Plan
OK, so right off the top we're going to say that this car will need a lot of work. Just about everything will need to be replaced, refurbished or updated. But before we get more into that, we might as well take it from the top. First, after a quick investigation, we confirmed that the car was indeed a numbers-matching example.
The 403 displacement casting was clearly evident on the block, as was the sequence number on the left (driver's side) of the engine block, matching to the VIN. As of this writing, the car's authenticity has since been verified through Pontiac Historical Series (PHS), and the engine has already been torn down and the transmission rebuilt. We'll cover all of that in upcoming stories, but for now, let's focus on putting the plan together.
The overall theme of the car will remain. Well, not the black hack paint job or the throwback rollers, but rather, a relatively factory appearance with a modern twist. I think instead of the vintage Cragars (and a Cougar) we'll be going with something more modernly sized; allowing for an improved aesthetic, increased cornering capability and room for larger brakes. Plus, they'll open the door for much more modern rubber, too. We want something more "Trans Am specific" so I see large-diameter snowflakes in the car's future.
The suspension will be replaced with modern components from an aftermarket supplier, the engine will block will remain, albeit, with a few additional cubic inches, and more than likely, at least twice the power output. A higher-flowing top end kit will go into place, the bottom end rebuilt, the transmission sorted to handle the additional power and torque, and the rear end, well, we'll see on that. At minimum, it'll be rebuilt with the tall highway gears replaced with something a bit more performance-minded.
Why Billy Madison, Though?
Why the name, Billy Madison? Because as some of you may recall, Adam Sandler's character in the film of the same name, Billy Madison, drove a black '79 Trans Am. If you look closely at the car, you can see that the silver leather interior is that of a 10th-Anniversary Edition.
While we find it odd that someone would paint one of these cars black (ours is, after all), we doubt that anybody, especially a movie studio, would make the effort to install the silver leather upholstery in the car for a film — where it would be featured onscreen for all of two minutes. Furthermore, the car used in the movie also had the same 15×10 inch wheels out back, mudflups, and the gold stick-on key lock guards on the doors, like ours.
It makes us almost wonder if it's actually the same car, considering all of the similarities. The entire film was shot in Ontario, while our car was located in Oregon, so it's not entirely unfathomable the car needed up in the top western northern United States. After all, it's been 25 years since the film's release, and anything could have happened to the car between that time.
We've tried to research what happened to the car, but came up empty. If someone out there knows what happened to the actual Billy Madison Trans Am, we'd love to hear about it.
So What's First On the Agenda?
As mentioned earlier in the story, we've already made some progress on the car in various aspects. It's largely still together, sans drivetrain and the hood, but you'll have to wait for the next installment to learn more. We've also picked up a set of correct Turbo wheels for the car, partly because we were sick of dealing with the rapidly deflating tires on the Cragars, but mostly because we wanted to have a set of correct wheels for the Trans Am.
Keep it tuned here at Timeless Muscle for updates throughout the year as the project progresses!
Rick Seitz is the owner and founder of AutoCentric Media, and has a true love and passion for all vehicles; GM, Ford, Dodge, imports, trucks — you name it! When he isn't clacking away on his keyboard, he's building, tuning, driving or testing his current crop of personal projects!