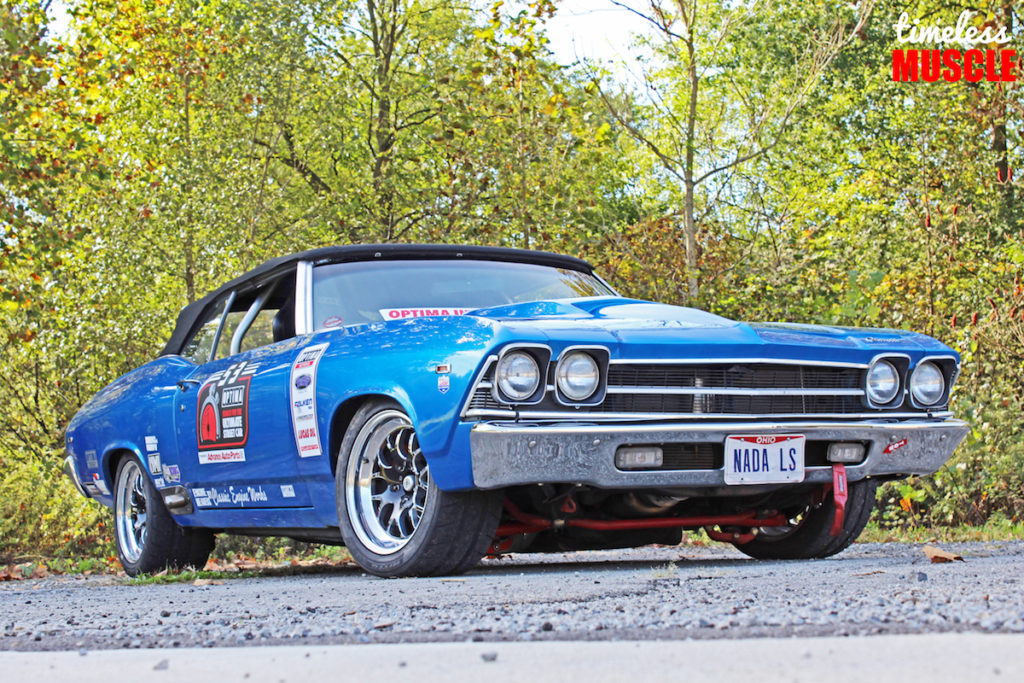 photos by: the author
Nick Kistler's '69 Chevelle Convertible Takes the Road Less Traveled
They say that sometimes, you can find a diamond in a rough when you really look hard enough. In the rough and tumble of Youngstown, Ohio, a small town that was once prominent in the steel industry, are pockets of hot-rodders and gearheads of all stripes. When you spend time at the local car cruises and other events, you observe what can be best described as a collection of cars from another era.
It's the perfect blend of stock restored muscle cars and throw-back style street rods, with some street/strip drag machines and a handful of imports mixed in. Few and far between though, are serious, legitimate pro-touring cars. There are several in Northeast Ohio, like Larry Woo's Camaro and of course, Bob Bertelsen of Code Red, Orange Crush and Green Mamba fame reigns in the same area.
However, you won't catch those guys at the local cruise-in, and you'll be hard-pressed to catch this '69 Chevelle convertible there, either. Owned by none other than Nick Kistler, it's a car that it's an up-and-comer in the road-racing game.
Packing a rather unusual drivetrain for the current era of professional road racing, it features an old school big-block engine with an automatic transmission. No seriously, it does. Oh, it's and also carbureted…
When we first encountered this pro-touring Chevelle with its OUSCI door decals, lowered stance and Weld RT-S rollers buzzing passed our office, we figured for certain it was LS-powered with either a 5- or 6-speed gearbox. Fuel-injected, at minimum. It wasn't until after we caught up with Nick on Facebook that we learned his car was anything but ordinary. It's outside of the box, but let's not be mistaken; it's certainly homegrown with little-to-no support from any sponsors.
That big-block turned out to be a Neil Clayton/Classic Engine Works-built 468 cubic-inch Chevrolet mill, teamed up with a Rossler-fortified TH400. The 468 started life as a 454, that's been bored over with the help of Icon forged pistons. The crank is the stock GM unit that's still tied to the OEM connecting rods.
A Milodon oil pump and 8-quart road race oil pan helps keep the rotating assembly lubricated in the tight corners, which is crucial in a big-block Chevrolet as you can imagine. The stock hydraulic GM camshaft sporting a 285/245 duration, .638/.622 lift and an undisclosed lobe-separation angle still sits in the center. A set of COMP Cams Gold roller rocker arms with a 1.8 ratio help maximize the effort of the GM cam.
Up top, sit a set of aluminum Pro-Filer heads that were assembled by Classic Engine Works, and stuffed with 2.350 intake and 1.850 exhaust valves. Sitting on top of the engine is an aluminum Merlin intake manifold and a Holley 850 cfm carb. Expelling the spent fumes is handled by Neil Clayton fabricated stepped long-tubes, measuring in from 2-1/8 diameter to 2-1/4 diameter. A pair of 3-inch tubes running from each collector hold a 3.5-inch diameter Borla race mufflers.
The aforementioned Rossler Turbo-400 is paired with a B&M ratchet shifter and 2500-2800 stall speed converter. Typically, we would recommend that one who autocrosses or road races go with a manual transmission, however, Nick seems to make it work really well. The TH400 sends the power through the steel driveshaft and into the GM 12-bolt out back, which is equipped with stronger Summit Racing axles and 3.08 gears.
Nick has utilized a K&N filter for increased airflow, while he insisted on a complete array of MSD ignition components fro the plug wires, to the coil, distributor and the ignition box NGK spark plugs ignite the fuel. An Aeromotive adjustable fuel pressure regulator and trunk mounted fuel cell supplies fuel to the engine.
At this point, many of you are probably trying to figure out what kind of suspension system Nick is using to keep his Chevelle competitive in the corners. As it turns out, quite a bit! Despite the heft the big-block Chevy provides, despite the aluminum top end, the nose-heavy Chevelle still holds its own with a complete suspension overhaul.
Nick's Chevelle packs UMI sway bars front and rear, UMI-calibrated Afco coil-overs at the front and Viking Performance coil-overs in the rear. UMI also provided front and rear strut tower braces, and app/lower control arms. Drop spindles from Fat Man Fabrication are also thrown into the mix, provide a lower stance and helping in the Chevelle's cornering abilities. Ironing out the details, is a Turn One steering box and Proforged ball joints.
Naturally, a pro-touring car can't be competitive with out proper brakes or rolling stock.
As we know, grip is important, whether you're a drag racer or a road racer. The 18-inch Weld RT-S S77s are wrapped in Nitto's NT05s, and can be found on all four corner's of Nick's Chevelle, measuring in at 275/40/18 in the front, and 315/35/18 in the rear. Tucked neatly behind them, are Wilwood's 6-piston calipers in the front, and 4-spiston calipers in there rear. The rotors measure in at 12.75-inch front, and 11.5-inch in the rear.
With all of that happening on the outside, the interior is just as simple, but effective. The cockpit includes a pair of Sparco racing seats, Grant GT steering wheels and a full array of Auto Meter carbon fiber gauges. Nick holds FireAde extinguishers at a high standard, as being a quality extinguisher that he trusts — in fact, he made it a point to mention that during our shoot. Speaking of safety, a 4130 1-3/4 chromoly roll cage adds strength and rigidity, as well as help keep Nick safe.
In the 11 years of ownership, Nick tells its that the car has gone though a color change, several different suspension and engine set ups, and has ben torn down ad rebuilt multiple times in the pursuit of improved performance. As we type this, it's getting a fresh engine, once again, and it'll maintain its big-block Chevy motivation.  We think 2019 will hold even bigger things for Nick's Chevelle than what we've already seen.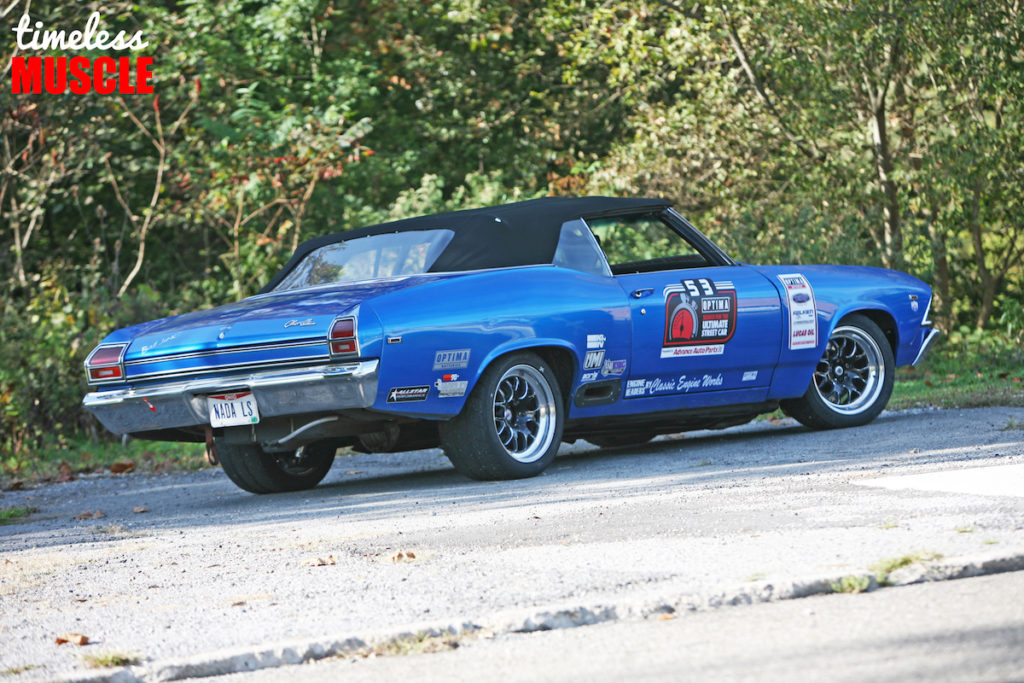 Rick Seitz is the owner and founder of AutoCentric Media, and has a true love and passion for all vehicles; GM, Ford, Dodge, imports, trucks — you name it! When he isn't clacking away on his keyboard, he's building, tuning, driving or testing his current crop of personal projects!