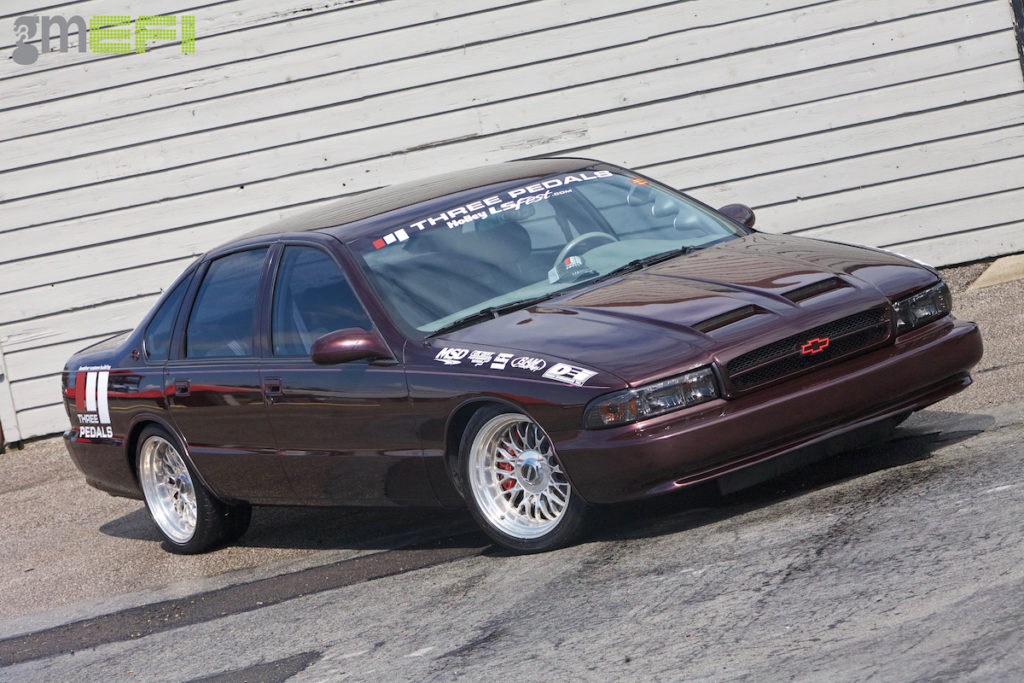 Photos by: the author
Three Pedals Builds an Impala for the Modern Era
Just when you think their time has passed, they pop back up bigger and better than ever. The fan base for the '94-96 Impala SS spans so many different genres, generations and demographics, that its appeal has no bounds or boundaries.
Back in the day, it was a blend of gearheads who wanted or needed a full-sized car to take the kids to school, but thrash on the weekends at the dragstrip. On the flip side, many more ended up in the hands of hip-hop stars who, essentially, wanted an updated version of the classic Bel-Air or Impala from their childhood.
As the years wore on and new cars have replaced the old, there's still a small, but strong and passionate contingent of B-body owners still waving the flag high. Included in that bunch or the racing crazed wheelmen at Three Pedals.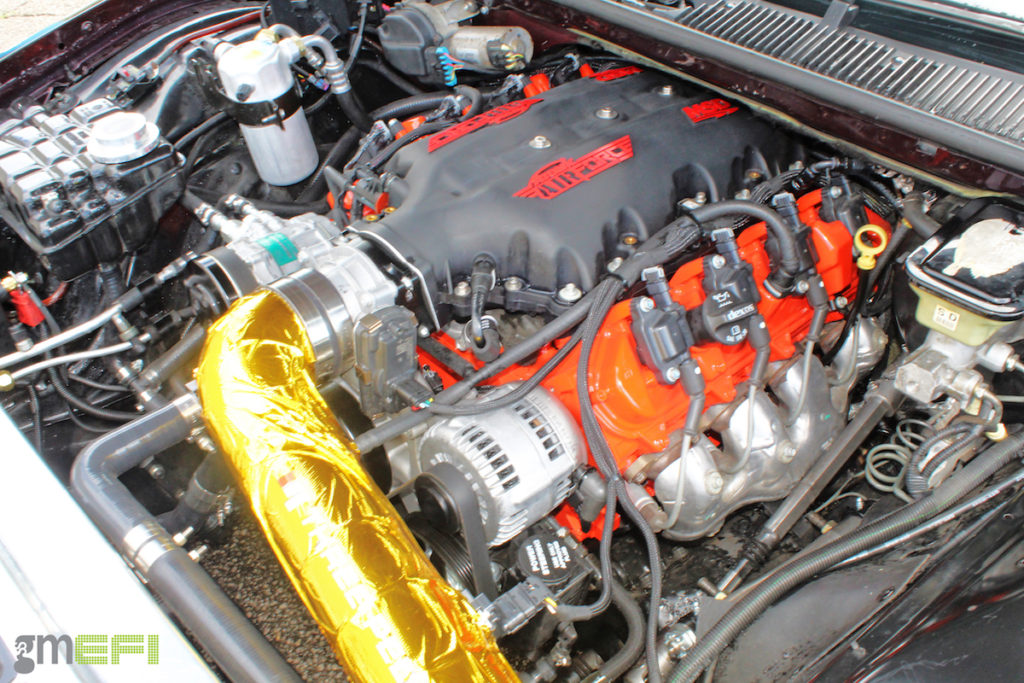 Based in the D.C. area, they've been thrashing hard in not only on their own LS3-powered B-body wagon, but have also burned the midnight oil on other projects — including the Impala SS you're looking at on this page. It was sent to them by a customer from the West Coast, who simply had the 40,000-mile car, a 9,000-mile GEN-V LT1 with the TR6060 and the will to get it finished to pass Cali compliance.
Owned by the original owner, Toby Andrews, this '96 B-body has recently went under the knife, courtesy of Three Pedals. What looks like a simple, lowered and stickered-up Impala with old-school Forgelines can be deceiving. Instead, it arrives to the party with a GEN-V LT1 straight out of a 2016 Camaro SS, backed by a Magnum 6-speed gearbox — equipped with a RAM clutch and flywheel. The TR6060 was later ditched in favor of a T-56 based Magnum, as the TR6060 direct mount shifter location is too far forward and the semi-remote shifter is a good deal of work to install.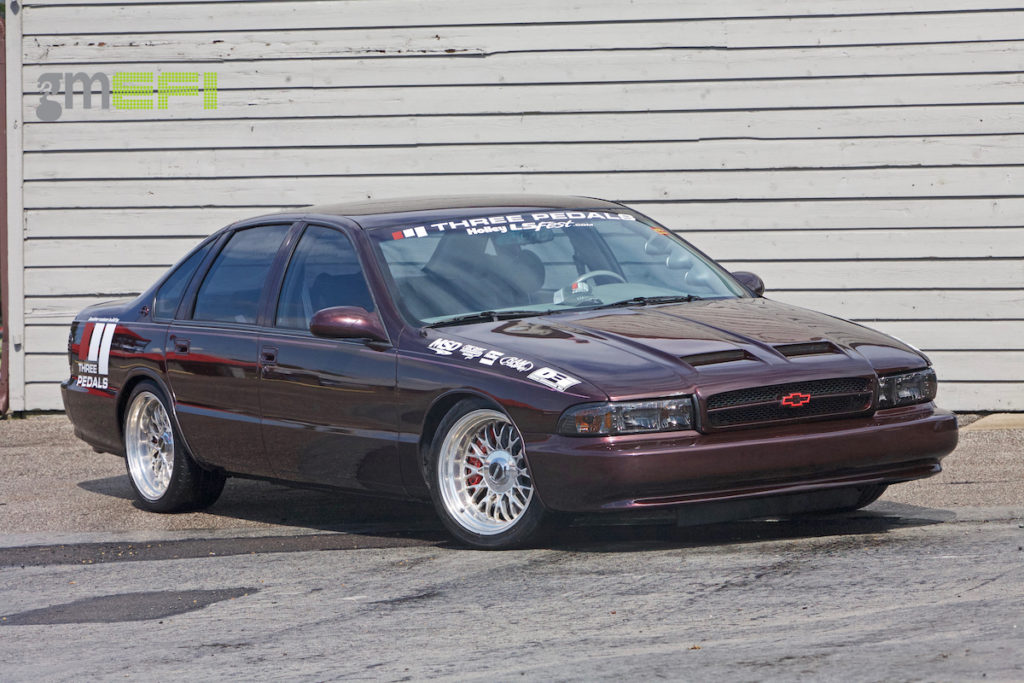 While the swapped-in powerplant is largely left stock, it's everything else that went into the project that makes this car a powerhouse to be reckoned with! Not only does the extra 200 crank horsepower over the original engine provide modern performance, but so does the 6-speed swap, upgraded brakes and modern suspension components.
Starting with the engine, a Current Performance custom wiring harness made the install much simpler, and allows for all of the engine's functions to work with the 20+ year-old Impala. A cold-air induction system, wrapped in DEI Reflect-a-Shield heat wrap forces air into the engine, with the help of an MSD Atomic intake manifold.
The engine is also equipped with a set of MSD plug wires and a Holley oil pan, while a set of Dirty Dingo motor mounts hold it in place, with the help of Holley clamshells and accessory system. The OEM Camaro exhaust manifolds also remain in place, currently, as long-tubes are still in development. Right now, the Impala needs the Camaro manifolds to pass California emissions and CARB standards. It relies on the stock LT1 injectors, LT4 ZL1 pump and a Rick's Tanks fuel tank to keep the 21st century small-block fed.
On the far end of the exhaust, is a Clear Image X-pipe, 304 stainless, 3-inch diameter tubing and a pair of Spintech Sportsman XL mufflers give the Impala the proper growl it deserves. While you're under the car, you'll also notice the Inland Empire 3.5-inch aluminum driveshaft sending power to the GM 10-bolt. It's secured by a BMR loop.
Inside the stock rear axle, is a set of 3.73 gears and an Eaton TruTrac post-traction differential. Being the hardcore track stars that the crew at Three Pedals are, the Impala has received impressive suspension upgrades as well. Those of which, include a set of Herb Adams/VSE front and rear sway bars, Viking coil-overs at all four corners and Dick Miller frame braces for increased rigidity.
Three Pedals also took things to the next level; with the modified Speed Tech front A-arms and VSE anti-sway bar end links. Of course if you're going to build a well-handling, powerful car that's based on a 20-plus year old platform, you'll need to upgrade the brakes.
That's exactly what the builders at Three Pedals have done; swapping out the factory milk bottle tops for a complete C6 Corvette Z06 brake system, front and rear. Kore3 hubs, brackets and a parking brake adapter went into the mix as well. Keeping the car gripping in the corners are a set of Toyo Proxes T1 Sport tires, which wrap the 18-inch Forgeline LS wheels and provide a 255mm (front) and 265mm (rear) widths.
During our very recent visit go both the Impala SS Club of America track day in Mid-Ohio, as well as the 2018 Holley LS Fest, the car held its own in the corners. It laid down a very respectable 353 hp and 515 lb-ft of twist to the rear tires on the Red Line dyno in front of our eyes in Kentucky.
The overall package is both unassuming, and yet, savage It's powerful, but not overly obnoxious. It works on the street and on the track, and yet, can sit up to five passengers comfortably. It's the perfect testament to how long these cars have endured, and will remain relevant for future generations.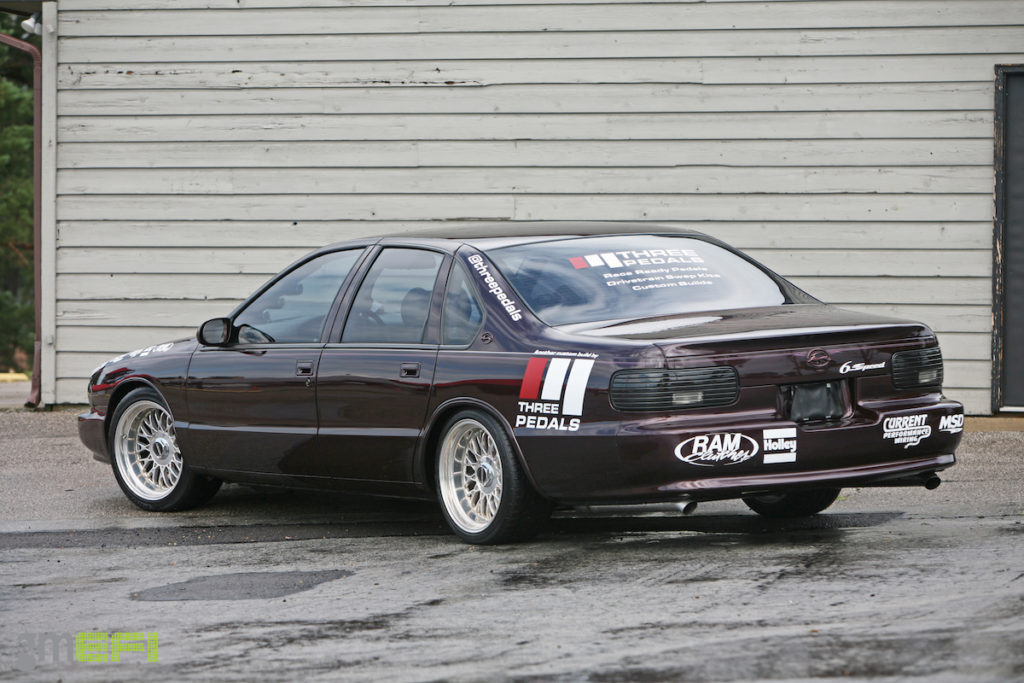 TECH SHEET
CAR: 1996 Impala SS
OWNER: Toby Andrews
ENGINE BLOCK: GM LT1 GEN-V
DISPLACEMENT: 364 cubic-inches (6.2L)
CRANKSHAFT: Stock
PISTONS: Stock
CAMSHAFT: Stock
ROCKER ARMS: Stock
CONNECTING RODS: Stock
CYLINDER HEADS: Stock
COMPRESSION RATIO: Stock
IGNITION: MSD spark plug wires
INDUCTION: MSD Atomic intake manifold

 

OILING: Stock pump and pickup, Holley 302-22 pan
EXHAUST: Stock 6th-gen Camaro exhaust manifolds, Clear Image X-pipe, 304 stainless 3-inch tubing, Spintech Sportsman XL
FUEL DELIVERY: Stock GEN-V injectors, ZL1 pump and Rick's Tanks stainless tank
TRANSMISSION: T-56 Magnum
CLUTCH: RAM twin-disc clutch and flywheel
DRIVESHAFT: 3.5-inch aluminum by Inland Empire Driveline Services, BMR loop
REAREND: GM 10-bolt, 3.73 gears, Eaton TruTrac post-traction
SUSPENSION: Herb Adams front and rear sway bars, end links, Viking Performance coil-overs front and rear, Dick Miller frame braces, Speed Tech A-arms
BRAKES: C6 Z06 6-piston (front) and 4-piston (rear), Tilton Series 78 master cylinder, Kore3 hubs, brackets and parking brake adapter
WHEELS: Forgeline LS 18×9 (rear), 18×8 (front)
TIRES: Toyo Proxes T1 Sport; 255/40/18 (front), 265/35/18 (rear)
HP/TQ.: 353/515 (at the wheels)
Rick Seitz is the owner and founder of AutoCentric Media, and has a true love and passion for all vehicles; GM, Ford, Dodge, imports, trucks — you name it! When he isn't clacking away on his keyboard, he's building, tuning, driving or testing his current crop of personal projects!