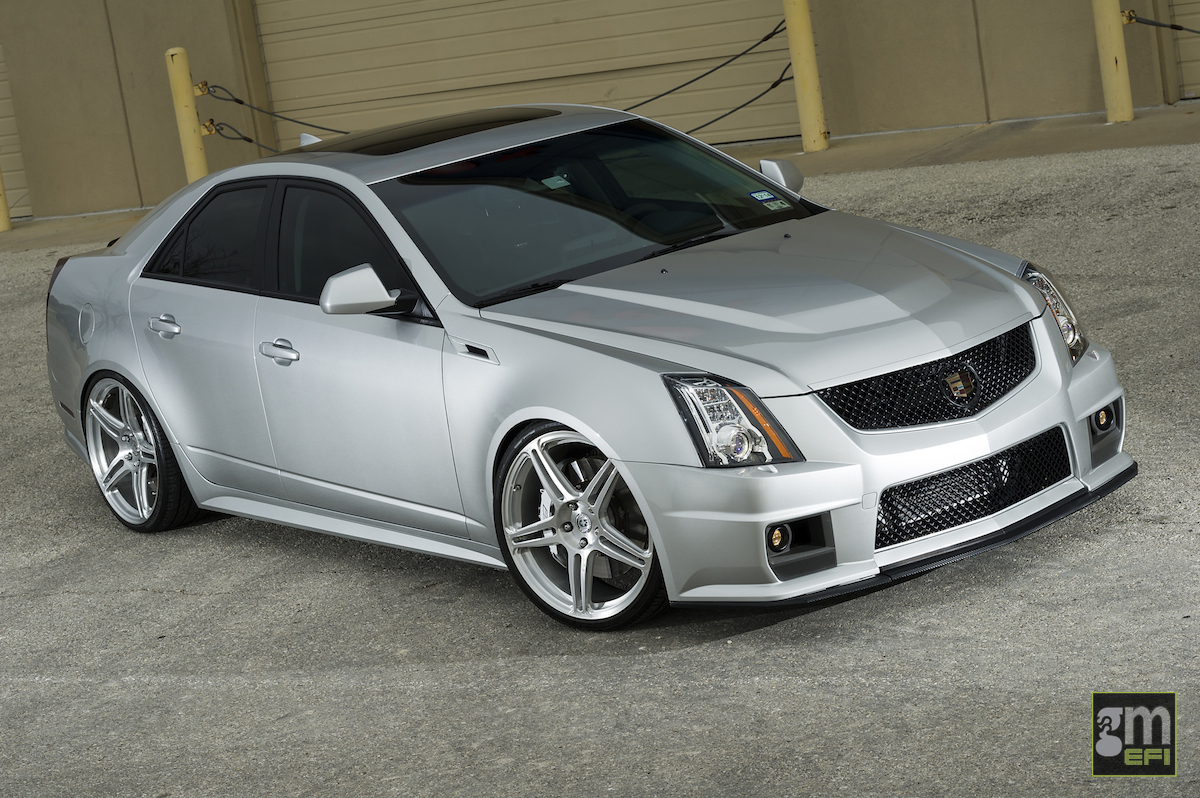 *photos by: Grant Cox Photography
Cadillac was once the standard of the world; a brand of prestige, elegance and excellence. Offering its buyers the latest technology, the most powerful engines and luxury appointments that set the brand to the highlest level of regard, Cadillac became a marque that everybody coveted. During the '70s, '80s, '90s, and the initial half of the previous decade, Cadillac had found its way in a rut and at the back of the pack in terms of luxurious automotive refinement.
The brand has come a long way since the days of pleather and velour upholstery, and the V-series Caddies of the modern era are not only helping Cadillac regain market share, but its reputation and rightful place on the luxury totem pole. When you have buyers cross-shopping AMG Mercs and M-series BMWs with Cadillacs, you know you're doing something right.
 "It's a sleeper; it looks subtle and the sound is incredible." -SW
One of those buyers was Sriyantha Weerasurin, or "SW" for short. Being the founder and owner of Elite Motorsports in Austin, Texas, a high-end muscle, luxury and super car dealership, SW can pretty much drive whatever he wants. Being a huge car fan himself; owning everything from pro-touring 2nd-gen Trans Ams, late-model Vipers, Supras and other examples of modern and vintage iron that range in power from 800-1600 hp to the tires, this daily-driven CTS-V remains his favorite.
Why? Because as SW simply puts it, "It's a sleeper; it looks subtle and the sound is incredible." In order to find out how a silver CTS-V can take precedence over other such remarkable high-horsespower vehicles in his collection, we'll have to dig deeper – and so we shall.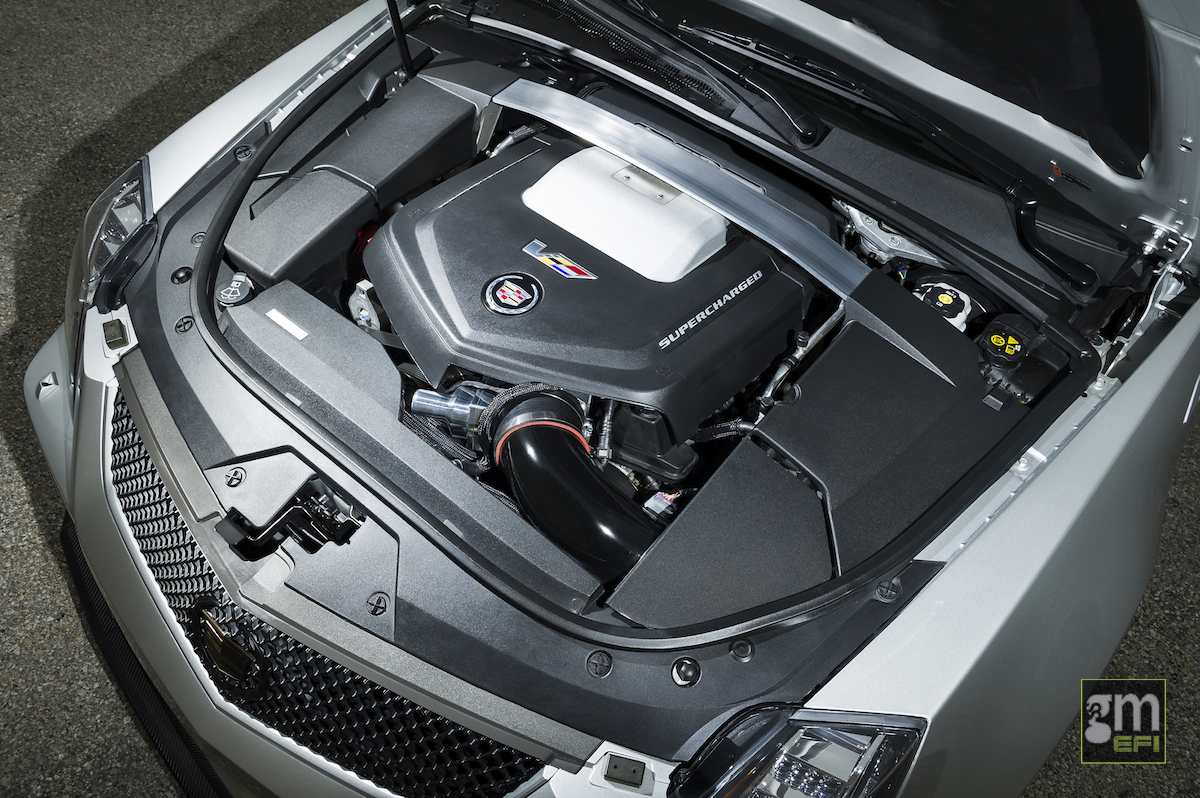 Picking up the 'V brand new back in November 2012 from the local Cadillac dealership, SW almost immediately went in search of more power from his daily-driven ride. After all, how can a 556 hp Caddy suffice when you're used to something with 1600 hp, right? So he enlisted the help of 21st Century Muscle Cars (21MC) for a serious boost in performance, pun intended.
GM Engineering really did an excellent job with the LSA powerplant, maybe that's why so many car builders leave the bottom end untouched – even with increased boost pressure? Such is the case with SW's car.
Under the hood is an LSA with a completely stock bottom end. The factory original block, crank, pistons, rings, connecting rods, bearings, et al., are all accounted for.  The OEM cam has been removed, however, and a custom boost-oriented bumpstick spec'd by 21MC has went in its place. The cylinder heads were pulled, ported, polished, stuffed with 2.165 intake/1.59 exhaust valves with a 3-angle valve job and then reinstalled.
The OEM TVS 1900 blower was removed and given a makeover; 21MC ported the housing, the lid and snout, while an LPE LS9 solid blower isolator coupling, 8-rib belt, 21MC spacer were all added to the recipe. The stock heat exchanger was ditched in favor of a front-mount, high capacity unit with an "Ice Box" reservoir upgrade. The stock boost pressure was turned up to 15.5-psi. while engine spark is provided via the stock coil packs, MSD wires and NGK plugs.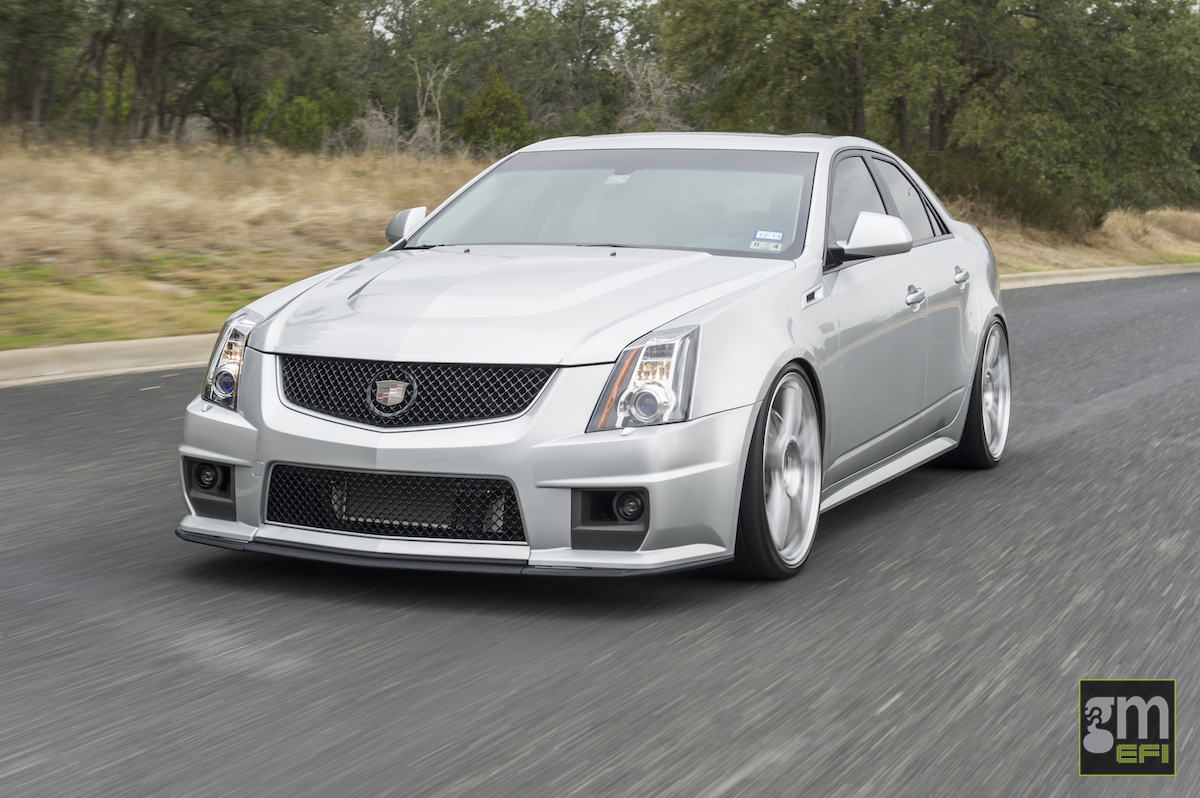 Breathing air into the 6.2L mill is a custom air box and intake tube, that feeds, cool dense oxygen into a 102mm throttle body. The air/fuel ratio is balanced out by a set of FAST 65-lb injectors and believe it or not, the stock fuel pump. Tuning is handled by John Page at 21st Century Musclecars. The spent fumes exit the engine through a pair of stainless Kooks 2-inch, long-tube headers, high-flow cats and the stock catback.
Underneath the car, the chassis/subframe have been left completely alone as well as most of the suspension itself. The only changes were made to the springs, shocks and struts, with KW Suspension coil-over components going in at all four corners, lowering the car while improving handling capabilities.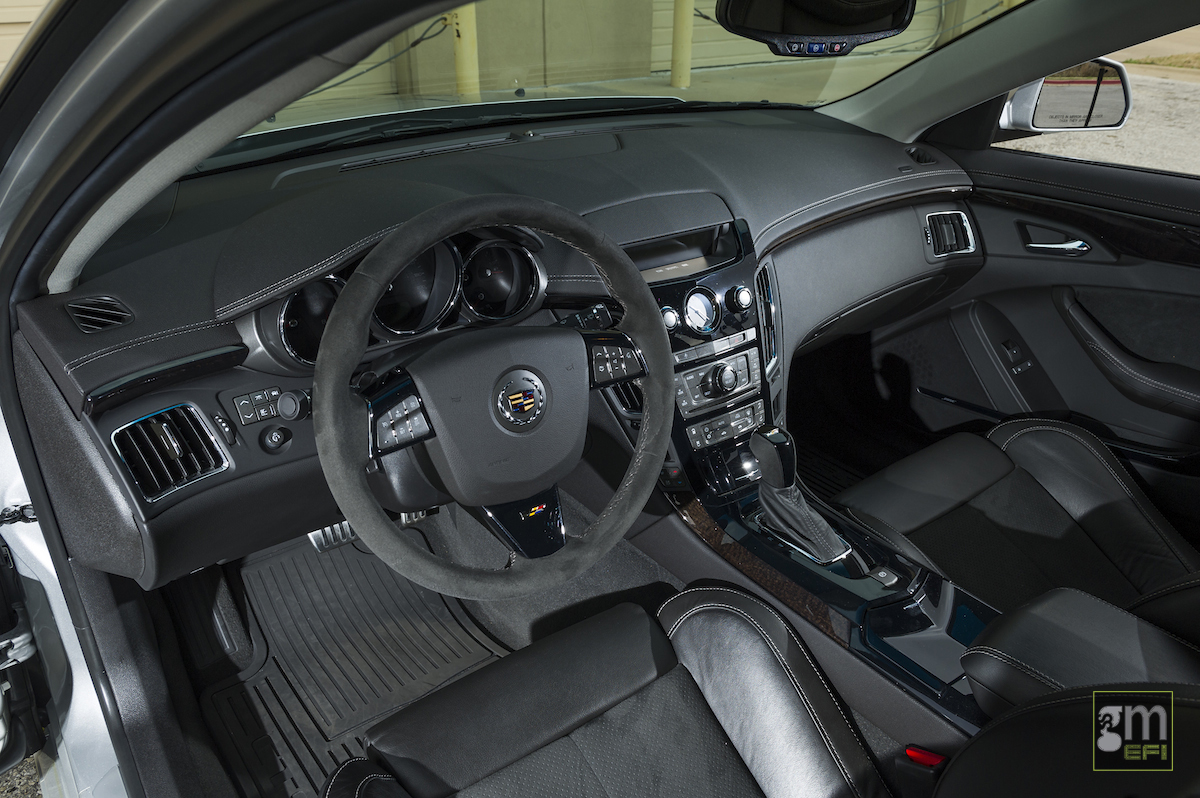 Thanks to the debadged body and HRE P47SC wheels measuring in at 21×9-inches in the front and 21×11-inches out back, SW's Cadillac looks much more sinister than a standard CTS-V, aiding front end downforce along the way. Pirelli PZero rubber covers the HRE wheels and keep the power gripping the pavement, while a front splitter gives a hint of the car's capabilities that lie within.
The interior is completely stock-appearing and quite plush as all Cadillacs are. The black leather/alacantara combination upholstery really enhances the the quality of the cabin, making occupants feel that they're in a car that costs twice as much.
By now you're probably wondering how much power emits from the boosted LS, and that magic number would be 733 horsepower 649 lb-ft. of twist to the rear HREs. That number translates to 10.30 at 135.7 mph in the quarter-mile – or roughly quick enough to get SW to work through the week until he straps into one of his uber-horsepower missiles.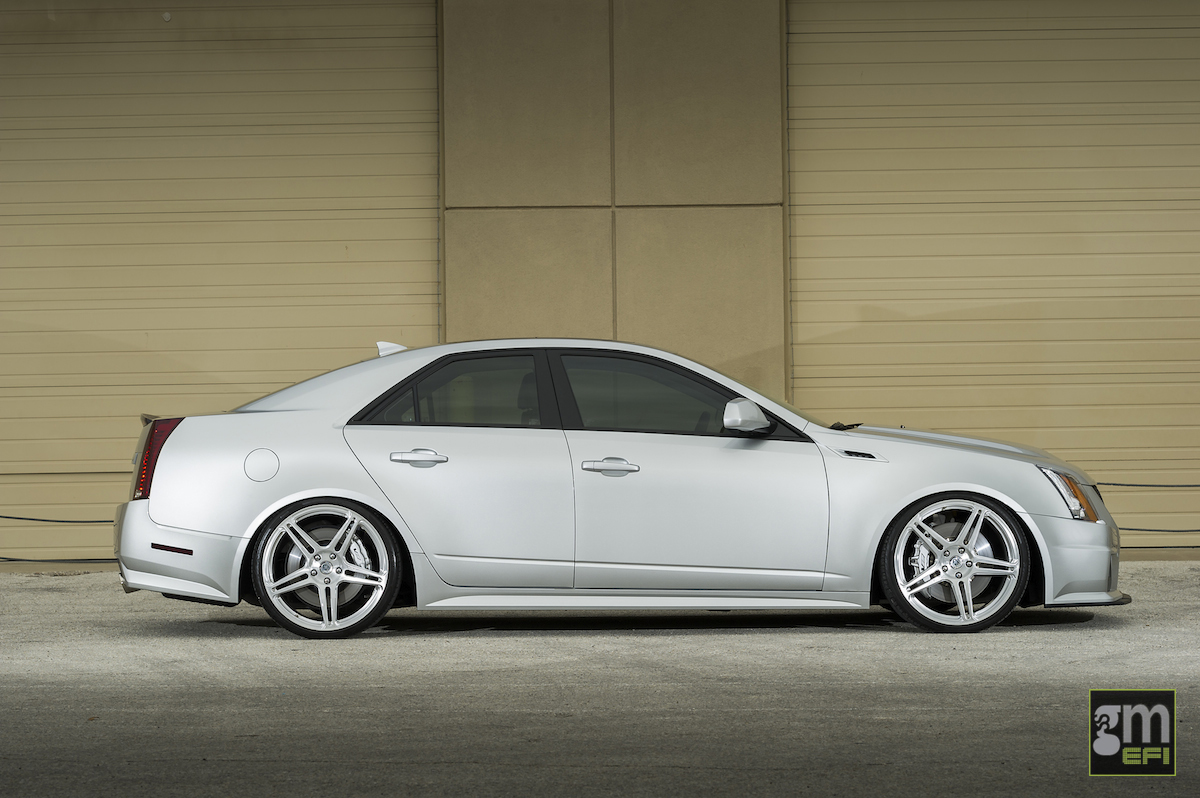 TECH SHEET:
CAR: 2013 CTS-V
OWNER: Sriyantha Weerasurin
ENGINE BLOCK: Stock, LSA
CRANKSHAFT: Stock, LSA
PISTONS: Stock, LSA
CAMSHAFT: 21CMC; custom-grind
CYLINDER HEADS: LSA; Stage 2 ported and polished, 2.165 intake/1.59 exhaust valves
COMPRESSION RATIO: 9.1:1
INDUCTION: Custom 4.5-inch airbox, 102mm throttle body
POWER ADDER: Stock TVS 1900 blower; ported, with a ported lid and snout, LPE LS9 solid blower isolator coupling, 8-rib belt, 21MC spacer
INTERCOOLER:  custom; front-mount heat exchanger
BOOST: 15.5-lbs.
IGNITION: Stock coil packs, MSD plug wires
EXHAUST: Kooks long-tube headers, high-flow catalytic converters, stock catback
FUEL DELIVERY: FAST 85-lb. injectors, stock pump
OILING: Stock
TUNING: John Page, 21st Century Musclecars
TRANSMISSION: Stock, 6L90E
CONVERTER: Stock
DRIVESHAFT: Stock
REAREND: Stock
SUSPENSION: KW adjustable coilovers at all four corners
CHASSIS MODS: None
BRAKES: stock
WHEELS: HRE P47SC 21×9 (front), 21×11 (rear)
TIRES: Pirelli PZero 255/30/21 (front), 295/25/21 (rear)
HP/TQ.: 733/649
BEST 1/4-MILE ET: 10.30 at 135.7
BEST 60-FT.: 1.62
Rick Seitz is the owner and founder of AutoCentric Media, and has a true love and passion for all vehicles; GM, Ford, Dodge, imports, trucks — you name it! When he isn't clacking away on his keyboard, he's building, tuning, driving or testing his current crop of personal projects!