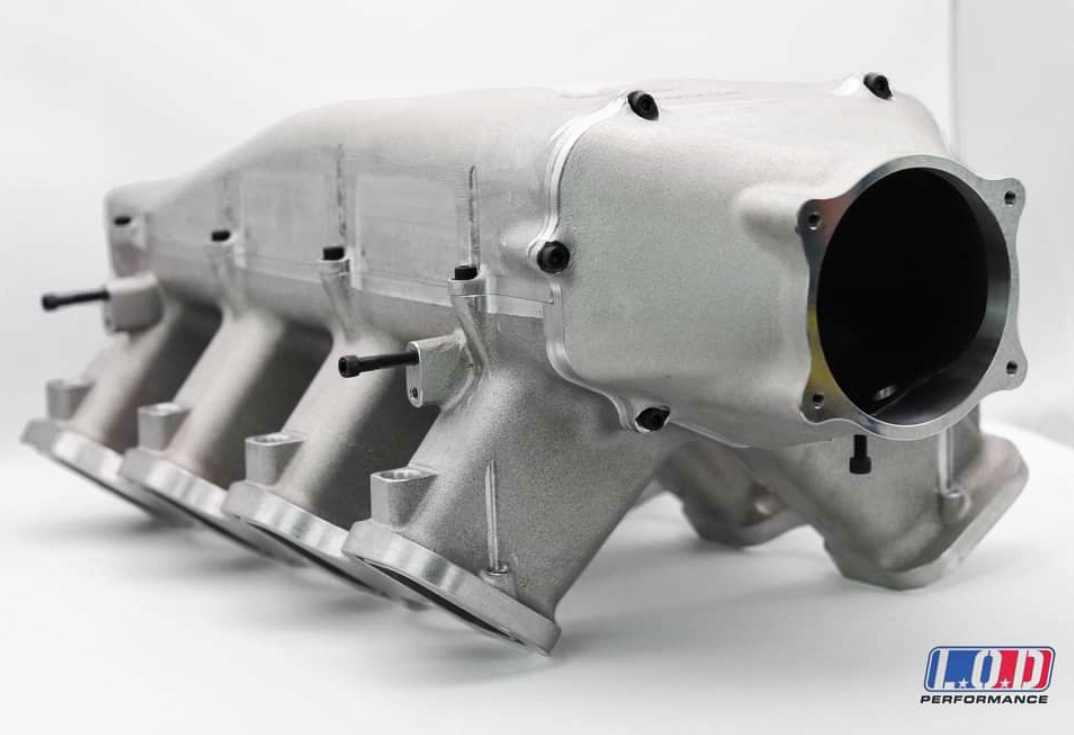 There's no shortage of aftermarket performance products for the LS-series engine. Just about everywhere you turn, products continue to hit the catalogs and online retailers. With further development and continued improvements in technology, flow bench testing and so on, it's no wonder. We've recently caught wind of a new LS3 intake manifold being released with a large amount of interest from our readers and followers on social media.
Developed by a small company called L.O.D Performance, they've recently pit it against some of the more-popular intakes currently on the market.
Official Release:
LOD Performance Aluminum LS3 X1 Intake Manifold
Our company is called L.O.D Performance,  we're a veteran owned company based out of Houston, Texas. The X1 Manifold is the creation of company owner, Raf Fischetto. It's designed as a three-piece modular configuration. The snout comes in two optional sizes 103- or 105-mm. The lid shown in the pictures is the current production piece that is intended for the zeta platform cars. 5th gen camaro, chevy SS, Pontiac G8, CTSV and gto. C5/6 Corvettes require a small cowl hood. This translates to no cutting of the cowl and losing windshield wipers. Common for anyone running some of the more popular aluminum intake manifolds. The base is flanged for the LS3 square port — LS7 and LT variants are under development currently.
The flange is machined to use the factory GM O-ring gaskets for a leak free seal. Evey mating surface has an O-ring groove. This thing has already seen over 40-psi. with zero issues. On YouTube you can find GPI did a manifold shootout with our X1 beating everything except a CID full-race piece 4150 flanged carb-style that that only made 10 more horsepower. Our X1 basically performs on High-Ram level while fitting under most car hoods. The casting quality is excellent and is 100-percent American made by Buddy Bar in California.  Future things to look for include newly configured lids i.e.,  intercooled lids for the boost guys and a Corvette-specific lid, even a dual 4-barrel lid for the SBE racers. Snouts are also in design, twin throttle bodies or monster oval throttle bodies are possible as well.
Our price point is $1595, however, we compete with manifolds in the $2-3k range in performance and quality.
Rick Seitz is the owner and founder of AutoCentric Media, and has a true love and passion for all vehicles; GM, Ford, Dodge, imports, trucks — you name it! When he isn't clacking away on his keyboard, he's building, tuning, driving or testing his current crop of personal projects!