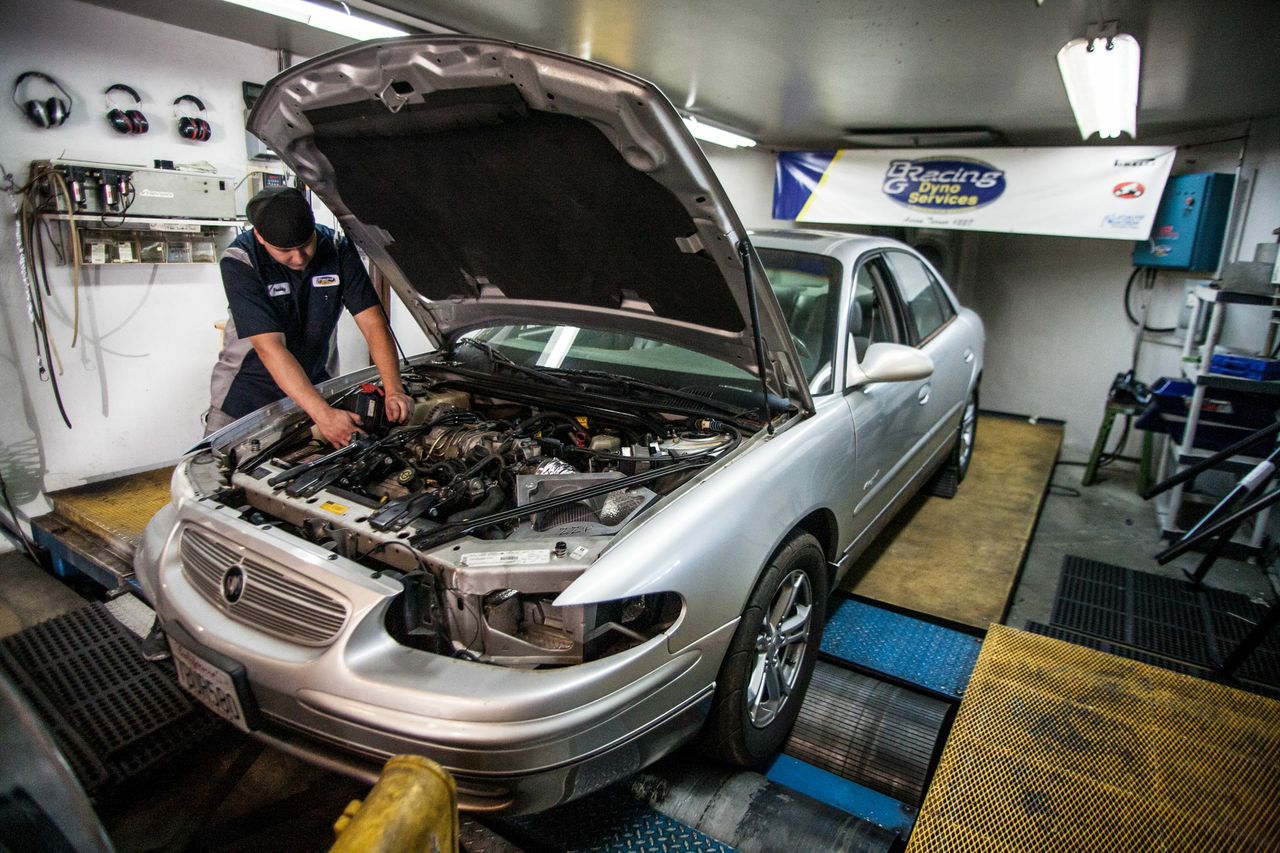 Taking a Buick Regal GS from a Grocery Getter to a Tire Fryer.
The mission was simple, but that didn't mean it was going to be easy: build the ultimate sleeper that wasn't V8-powered. To make it even more interesting, we also decided to make it front-wheel drive (FWD). Crazy, right? Not really, as it turns out.
"The W-body GM cars are hidden gems, since their supercharged 3800 V6 engines are durable, respond well to mods, and can still get upper 20s [mpg] on the highway," Steve Hickman of ZZ Performance said.
The first thing that pops into most people's heads when someone says, fast Buick, is likely a Grand National, GNX, or T-Type, but to others, a Regal GS is also a worthy contender. Why? Because they're cheap to buy, stone reliable, and economical to operate. Oh yeah, and the most important aspect; with basic mods they're perfect sleeper because 12s come easy and high 11s are possible with the right combo.
We briefly considered a Cobalt SS or Saturn Ion Redline, but prices on the used-car market were deeper than our pocketbooks, not to mention neither fit the bill of a sleeper since both are widely regarded as fast cars with simple bolt-ons.
And so this project was born; to build an affordable, four-door, grocery getter that runs bottom 12s or possibly high 11s, knocks down nearly 30mpg and epitomizes the term, sleeper.
For those unaware of the W-body, it's a FWD, full size car that GM introduced in 1988 and is still producing for fleet sales under the Impala moniker. As with many GM platforms, the W-body was shared between multiple marquees and body types from two-door coupes to four-door sedans. As for motors, the W-body also saw different iterations from four-bangers and small displacement V6s to larger displacement sixes in both naturally aspirated and supercharged forms, and even the LS4 V8.
Really though, all you need to know is that starting in 1996, certain Pontiac, Oldsmobile, Chevrolet and Buicks received the now infamous L67 V6. This 3.8-liter, pushrod V6 features the same bore, stroke and all cast-iron construction as its higher-compression brethren, the L36. The General dropped compression by nearly a point to 8.5:1 in order to account for the non-intercooled Eaton M90 supercharger that's pullied to produce roughly 7-8 psi of boost. The result was a conservatively-rated 240hp and a pancake-flat torque curve that peaked at 280 lb-ft.
The engines are as hardy as any LS motor, and respond just as well to mods. However, if the W-bodies had an Achilles heel, it would be their sensitivity to temperatures and knock-retard, especially considering their all cast construction and the unintercooled M90 blower. The next weakest link would be their factory 4T65-E transmissions that are OK at moderate power levels, but big boost and solid hook from drag radials can quickly wreck havoc. Thankfully the aftermarket has fixes for all of the above and then some.
The Subject:
After an exhaustive online search we found examples on both sides of the fence; either ratted out with a ton of miles or one-owner specials that were as clean as they were expensive. Eventually we found the right blend of clean and cheap with our box-stock 2000 Buick Regal GS. It had amassed 152,000 miles, but had plenty of service documentation and the gray-on-gray interior and exterior were in good shape considering the age. A few minutes of haggling ensued and eventually we left with our pockets $3000 lighter and the proud owners of a supercharged W-body.
The Plan:
Like most bench-racing sessions, it all started innocent enough, and of course, ballooned to colossal proportions in no time. The thought of a 10-second turbocharged beast was tempting, but we decided that keeping it simple and staying supercharged was our best bet. Keeping the budget in check and the mod-list to a minimum was as important as outright performance.
After careful consideration we decided to pair with the W-body gurus at ZZ Performance to help us extract serious power from our grandma grocery getter. Rather than throw everything on at once, we've broken it into stages to both measure the effectiveness of the mods and give our piggybanks a break.
We're hoping with the right combination of mods, traction, and weather conditions, high 11s just might be possible. However, if we land solidly in the 12s on pump gas and without nitrous, we'd still be happy.
Baseline Figures:
Back in its heyday, the Regal GS was said to run high-14s at the 'strip, and our seasoned exampled with 152,000 miles on the clock certainly didn't disappoint. Not knowing what we were working with, we paid a visit to Sacramento Raceway, Northern California's premiere dragstrip for some baseline drag testing.
With the traction control off, excessive wheel spin was just a throttle stab away. We quickly found that leaving the traction control on netted the best results, as the Regal bogged and then clawed its way out with the street tires whaling in protest. The results were an unimpressive best short time of 2.24, but once the Regal was hooked up, it rolled out to the tune of 14.68 @ 92.55 mph. Considering the abysmal traction and the amount of miles on the clock, that's beyond impressive. Heck, simply adding some Mickey Thompson drag radials to the stock car would've dropped the Regal into the bottom 14s–that ain't bad!
After our fruitful trip to Sacramento Raceway, we rolled onto the Mustang Dyno at BRG Racing to see how many ponies our high-mileage hauler was putting down. After discovering just how tall the Regal was geared (140+ mph in 3rd gear!), it belted out an impressive 215 hp and 360 lb-ft at the front wheels. The torque figure seems a bit high, but it remained the same throughout our dyno pulls, so we left it. In the end, a dyno is a tool to compare your own results against themselves rather than against other dynos–we'll be paying closer attention to overall gains and track times than outright dyno numbers.
As for BRG Racing, they've got decades of experience tuning, building and racing all kinds of cars from modern GMs to classics, motorcycles and even Brand X stuff. We knew we were in good hands with BRG.
What's next?
So where do we go from here? Up! That's where. We'll be starting with some basic mods to ward off spark-related problems before relieving restriction and introducing more boost. We're also going to add some much needed traction before we really turn up the wick. Stay tuned, things are about to get interesting and if all goes well, we'll be hurting plenty of feelings with this grandma grocery getter turned stealthy sleeper.
Raised in a house of hotrods, classics and motorcycles, it only made sense that he would blend his love for writing and photography with his love for all things automotive. Armed with a degree in journalism and graphic design, he embarked on a journey into motorsports journalism and has worked for many magazines and Websites chronicling his love for the industry.