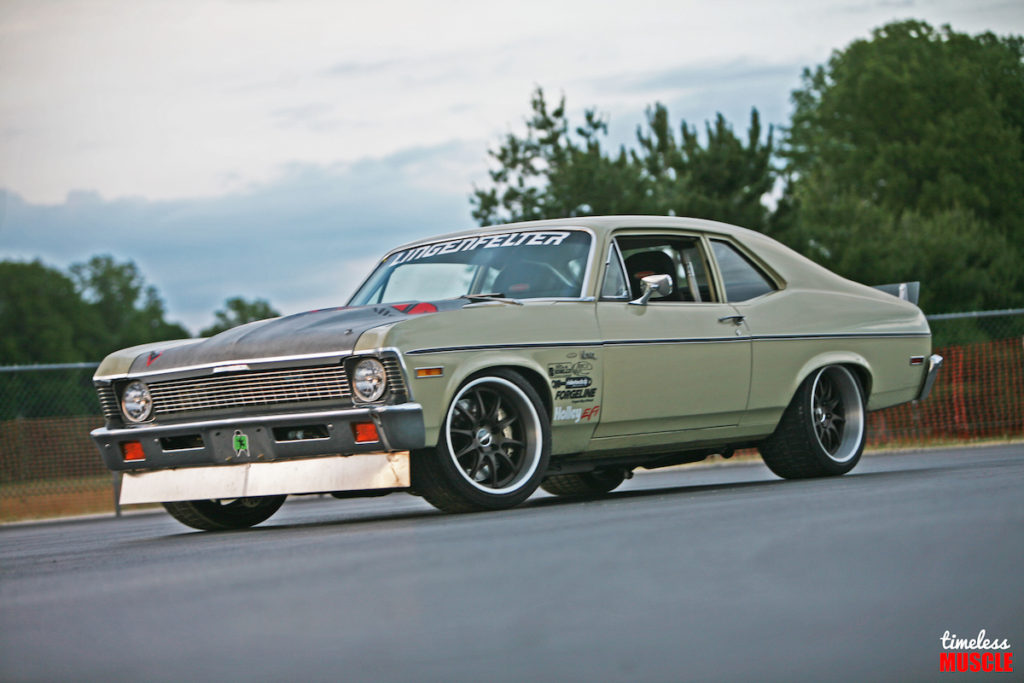 photos by: the author
Dan Ballard's Nova Has Gone from Tame to Insane, In Quick Order
We've all been there; finding the right project car that starts from humble beginnings, be it in a classified section of a newspaper, an eBay listing or abandoned in a field. They're usually purchased as a roller or a low-performing carcass of what was once a very humble automobile.
That's quite thea similar tale with this '72 Nova, owned by Dan Ballard. No longer running a smogger small-block, Dan's GM X-body has quite the story, and quite the patina. Oh and by patina, we mean the real patina, not that break-out-the-sander-and-let-it-sit-out-in-the-weather-for-two-months kind of patina.
Dan scored his Nova back in 2011, with the intent on running autocross. First came simple upgrades like springs, sway bars and the like. A modest wheel tire combination eventually followed as well. Ultimately however, the original paint-and-interior Chevy II would get scheduled for some 21st-Century hardware.
Knowing he wanted to go LS, but one that provided both low-end torque and a high-RPM top end, Dan ordered up a built LS7 directly from Lingenfelter. However, those trolly guys over at Roadkill apparently were trying to meet a deadline, and needed a huge favor from their friend Mike at LPE. Remember the LS7-powered Chevy van? Yup, that's where that one ended up.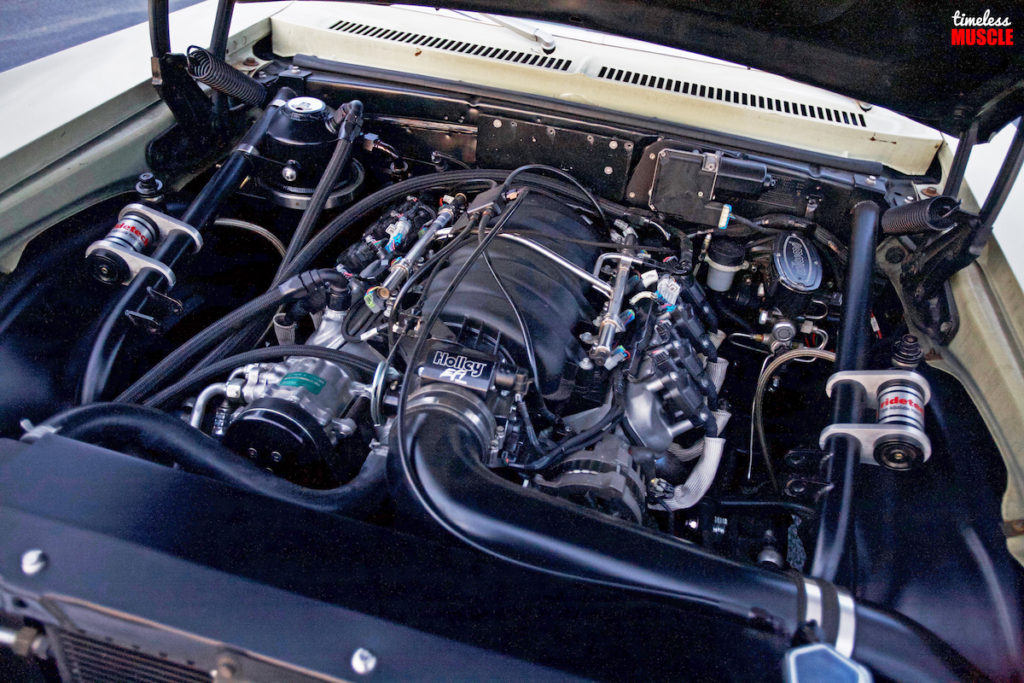 But all ribbing aside, the wait for the perfect LS7 was worth it, as LPE stepped up their game for Dan's build. Starting with a forged Callies Dragon Slayer crankshaft, JE pistons and Oliver connecting rods, the foundation for a track star was put into place.
A pair of CNC-ported LS7 heads with a COMP Cams trunnion upgrade, 1.8 rockers and an LPE hydraulic camshaft with 243/259 duration, 691/702 lift and a 112 lobe-separation angle complete the top end. Oh, and so does a ported LS7 intake. The engine breathes through a Spectre cold-air intake, Holley 105mm throttle body and a LS7 MAF sensor.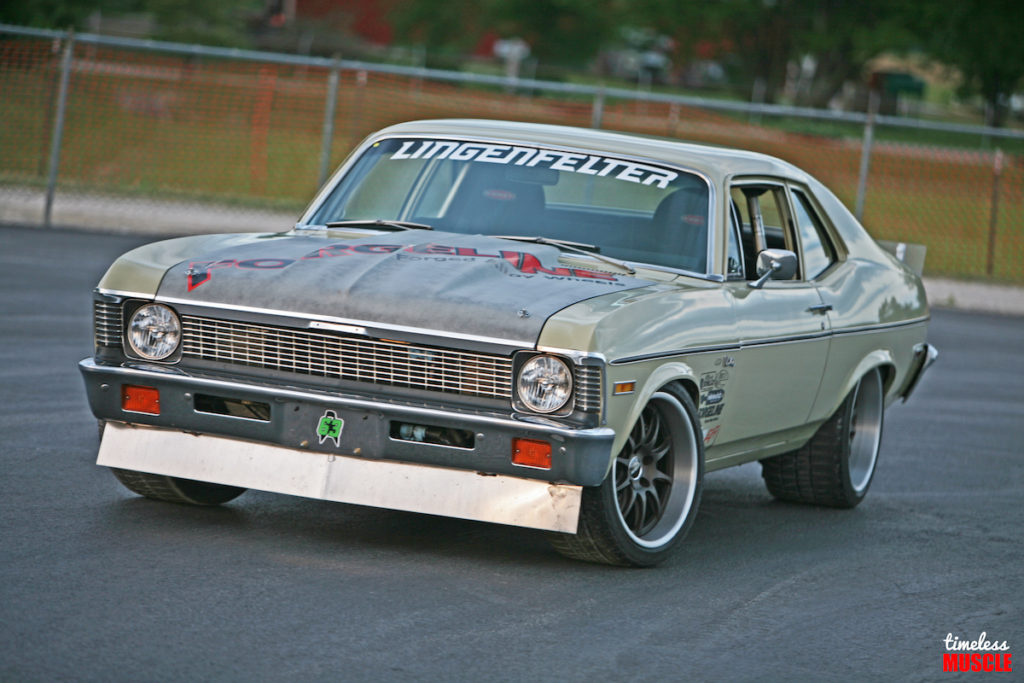 With a tremendous amount of airflow coming in on the intake side, the exhaust would need to be equally impressive. Custom-built full-length headers with 1-7/8 primaries feed into a custom X-pipe, and Borla XR-1 mufflers provide both the soundtrack and the flow needed for such an animal.
Of course, a solid air/fuel ratio is an importing thing, and Dan tackled the fuel flow with LS9 65-lb injectors, a 5th-gen Camaro SS (LS3) pump, and a 4th-gen Camaro (LS1) regulator with the pressure set at 58-psi.
A Holley ignition box, NGK plugs and OEM LSA coils and plug wires provide the right amount of spark needed to help produce 571 horsepower to the rear tires. When it come to the ECU and the tuning, again, Holley had stepped up to the plate with their Dominator EFI system.
Conveniently enough, both Dan and his brother Mike have a full shop at their disposal, with Above Average Motorsports bearing the name. So apart from the heavy lifting of the engine performed by LPE, the rest of the car was homegrown by the Ballard brothers!
Sitting behind the impressive LS is a Tremec T-56 with a Quarter Master 7.25-inch triple disc clutch and a GM flexplate, that Dan says, is used just for the starter gear. The sturdy gearbox is shifted, via, a Pro 5.0 shifter.
Connecting the transmission to the GM 12-bolt is a 3-inch steel Dynatech driveshaft. Stuffed inside the aforementioned rear end, is a set of 3.55 gears, Moser axles and a Detroit TruTrac spool. All of this means that Dan's car is quite a solid performer, ready to tackle anything thrown at it without too much fear of anything breaking, least not the rear axle.
Dig a little further, though, and you'll see things that'll make your heart smile. Now we're talking about that Forgeline rolling stock, Ridetech suspension (sway bars, 4-link, shocks, spindles, upper and lower control arms, and a TruTurn) and Baer 6R calipers and 14-inch rotor brake combination (front and rear). At our shoot, the car sported Forgeline GZ3s in 18-inch diameter — with 10-inches of width up front and 12-inches out back!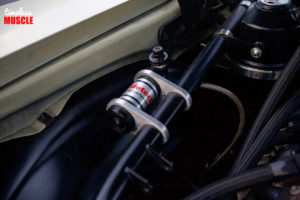 Some DSE hardware was thrown in for good measure; such as subframe connectors, a steering box and Hyperco springs at all four corners. This car is mostly built for one thing; road racing and autocross. Dan has done both with this car, tackling cones and road courses all over the Midwest.
We've spotted him everywhere from LS Fest, Midwest Muscle Car Challenge and even the Super Summit Show, where we were finally able to nail him down for a quick shoot before we were blasted with rain!
That said, it didn't keep him from taking the car down the dragstrip — just to see what it could do, even in an road-race style format. With the 571 screaming horses hitting the pavement and with very little sidewall to speak of from the BFGoodrich Rival S compound, the Nova went through the traps at 11.40 at 127 mph. Keep in mind, dialing in the suspension for the track and the drag strip require completely different settings in most cases. In this situation, that's quite a respectable time all things considered.
On the inside, it's all business as well; with a Racepak gauge cluster, Kirkey race seats to hold the occupants in place and a removable Sparco steering wheel allows Dan the ease of entering and exiting the cockpit. For those days that are extra humid, a Vintage Air system keeps the cockpit cool.
Now don't get it twisted; this car is a purpose-built track warrior, but it's still a street-driven car and carries a zero-Fs given approach to its bodywork.
The car is solid, through and through, but it's still rocking the original paint and is even sporting an unpainted fiberglass hood — (gasp!). We asked Dan about that, and he insists on never-changing it; no respray, no color change, no wrap, no painted-to-match hood — nothing. What you see is basically the finished product.
With the lowered stance from the Ridtech suspension, combined with the massive Forgline rolling stock, rear wicker and front splitter provide more than enough in terms of aesthetics. Any less, and it would appear as if though something was missing. Any more, and it would be "too much." We think it's perfect. If you're at an autocross event in the Midwest, be sure to keep on the lookout for Dan's Nova. We think you'll agree.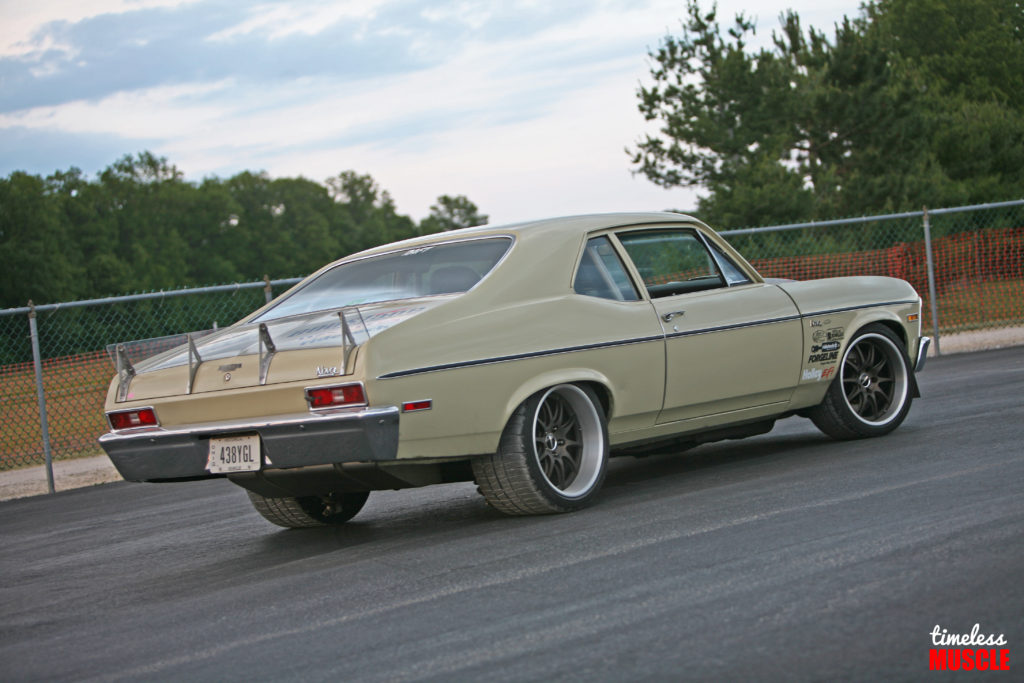 Rick Seitz is the owner and founder of AutoCentric Media, and has a true love and passion for all vehicles; GM, Ford, Dodge, imports, trucks — you name it! When he isn't clacking away on his keyboard, he's building, tuning, driving or testing his current crop of personal projects!